Hairstyles
2024 Cornrows: Chic Braids for Fashion-Forward Women 17 Ideas
As the new year approaches, the world of fashion and hairstyling buzzes with anticipation for the latest trends. Among them, cornrows braids hairstyles for 2024 stand out with their intricate patterns and versatile designs. This article delves into a curated collection of cornrow braid styles that are set to define the year ahead. These styles are not just a fashion statement but a narrative of heritage, skill, and modern flair that resonates with women aged 25 to 55 across the U.S. who are not just followers of trends but setters of them.
Classic Fulani Braids with a Modern Twist
The Fulani braids are a timeless style that has been given a modern uplift. Imagine braids starting with neat, small cornrows at the front, merging into exquisitely patterned lines that frame the face. These braids are not just a hairstyle; they're a masterpiece showcasing a blend of tradition and contemporary chic, perfect for the woman who commands respect and exudes confidence.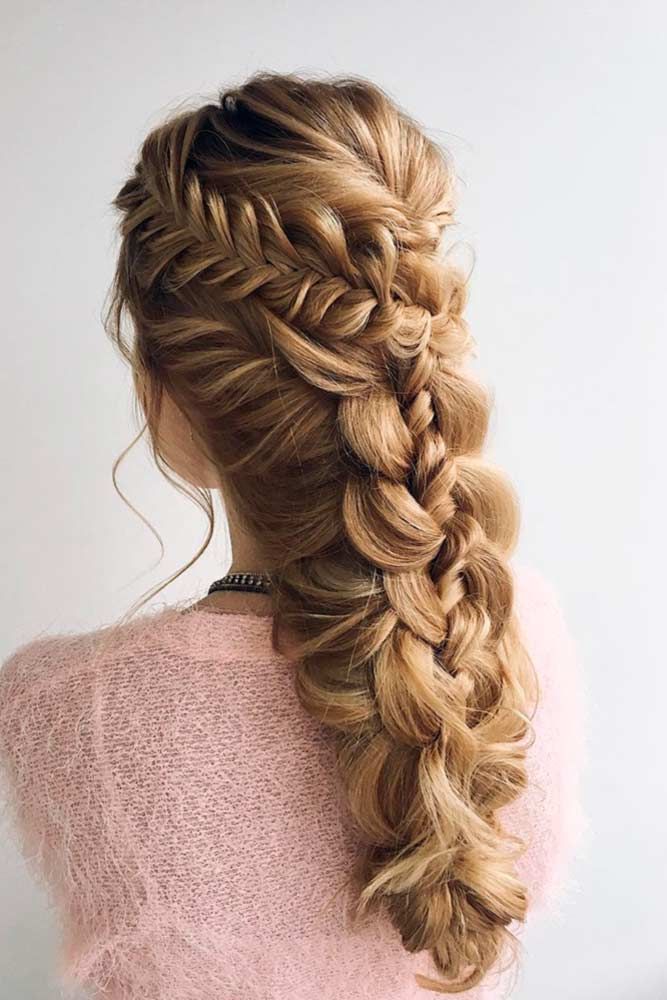 Zigzag Cornrows for the Bold and Beautiful
Zigzag cornrows are for those who dare to stand out. The sharp turns and bold lines are a testament to the wearer's fierce personality. This style speaks to women who embrace their power and are ready to make a statement, whether in the boardroom or at a brunch.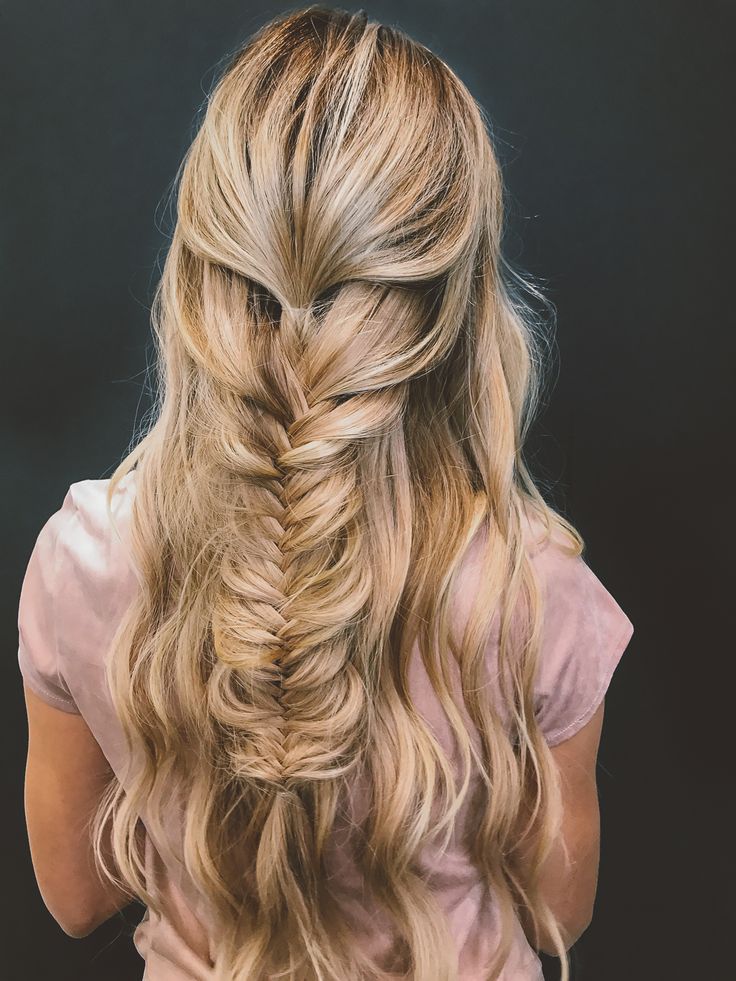 The Elegance of Simple All Back Cornrows
The simple all back cornrows offer a sleek and elegant option that proves beauty lies in simplicity. These braids, running straight back from the hairline, present a polished look ideal for professionals who prefer a neat, understated elegance that transitions seamlessly from day to night.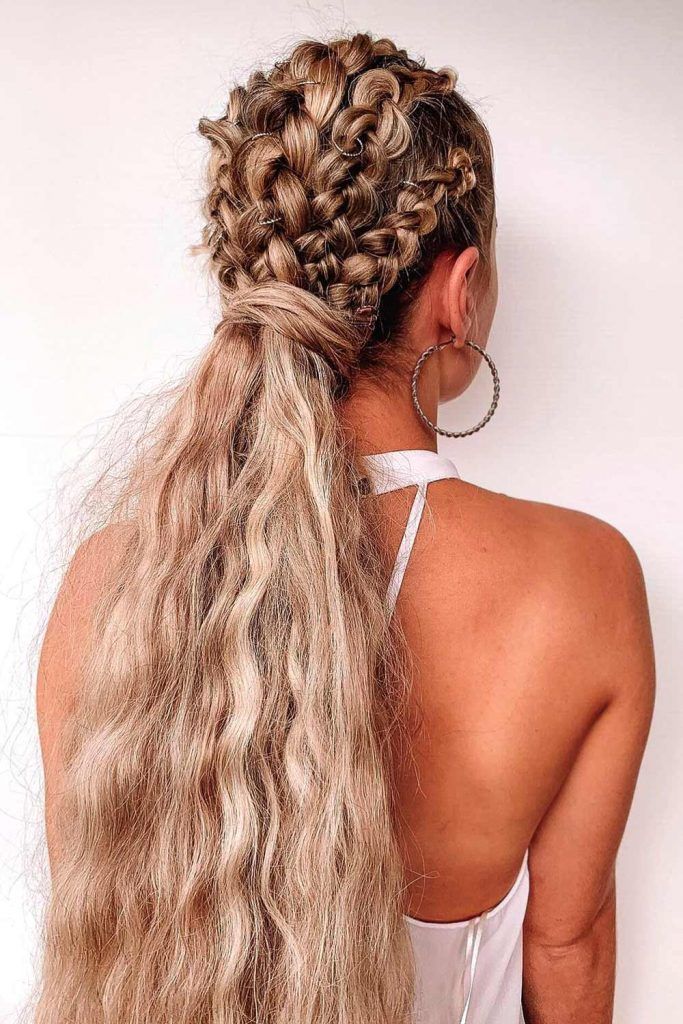 Half Braided, Half Loose for the Free-Spirited
Capturing the essence of versatility, the half braided and half loose style is a symphony of structure and freedom. This style is perfect for the creative soul, striking a balance between the formality of braids and the carefree waves of loose hair, embodying a spirit that is both grounded and unbound.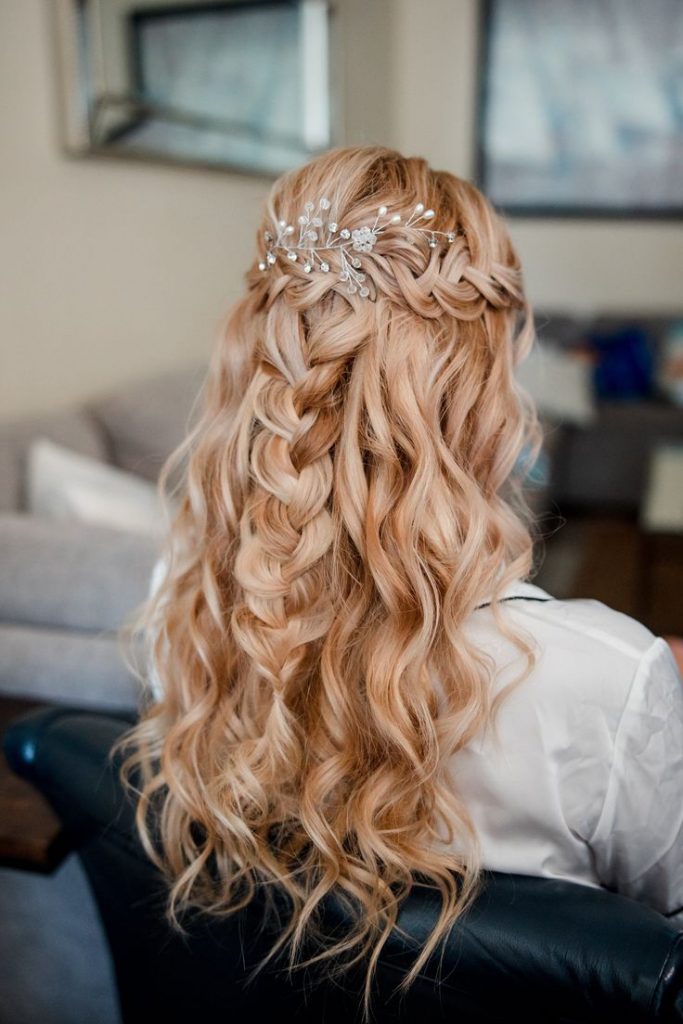 Tiny All Back Cornrows for a Subtle Charm
The tiny all back cornrows are a delicate and intricate style that speaks volumes of the wearer's attention to detail and love for understated charm. This hairstyle is perfect for educators, creatives, and those who find beauty in the minutiae of life.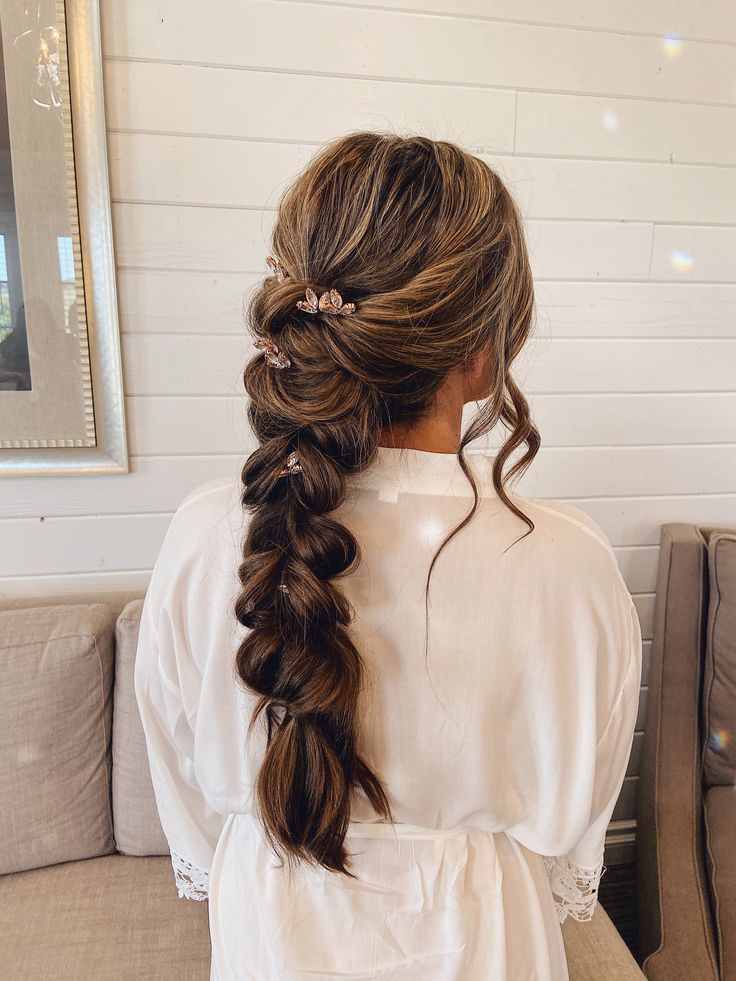 Straight Back Braids with a Touch of Sophistication
Straight back braids offer a canvas of sophistication. Imagine cornrows that are a testament to precision, leading to a cascade of curls that soften the overall look. This style suits the woman who is both fierce and feminine, making it an excellent choice for any corporate or casual setting.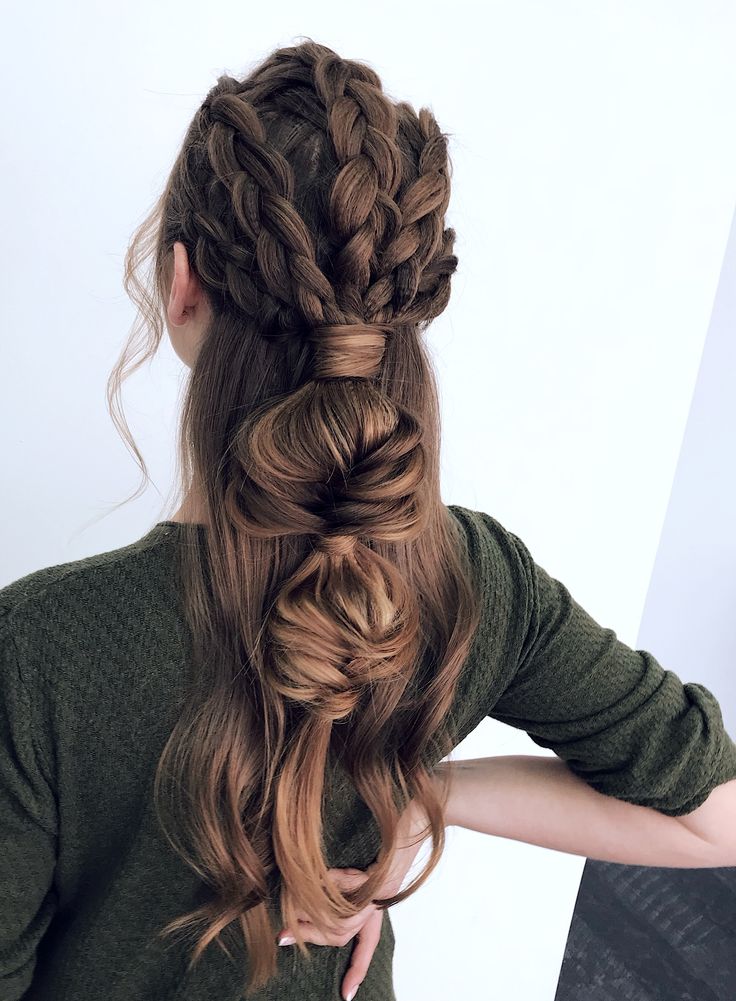 Invisible Cornrows with an Air of Mystery
Invisible cornrows are for those who revel in a touch of mystery. These braids blend seamlessly with the natural hair, creating an illusion that's both enchanting and enigmatic. It's a style that's as suitable for a night out as it is for a day at the office.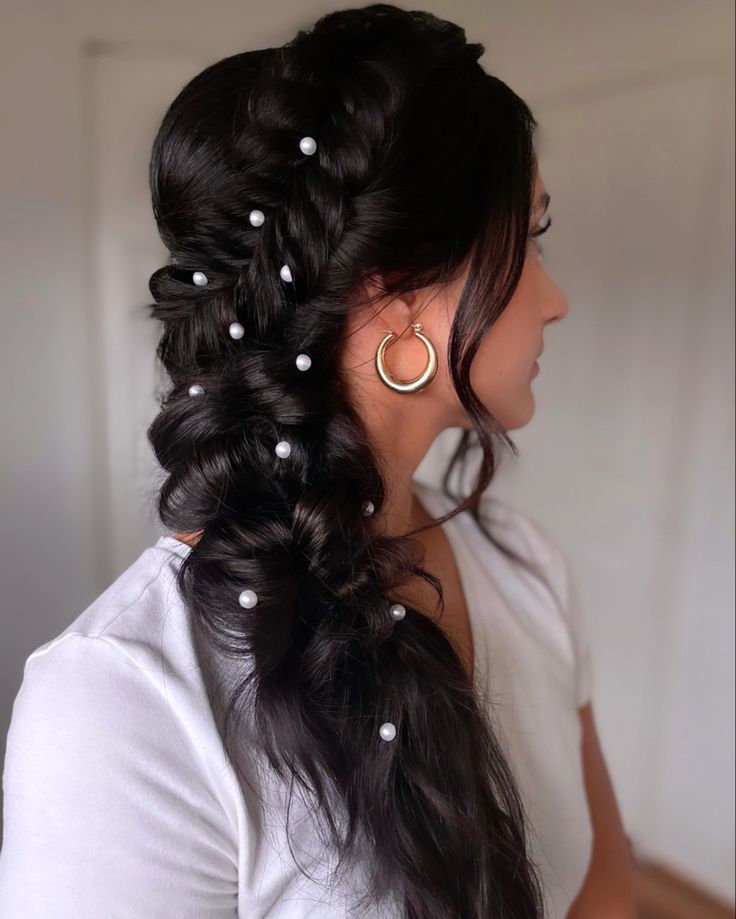 The Playful Charm of Braided Cornrows for Kids
Cornrows aren't just for adults; they're a cute and practical choice for kids as well. This style is low-maintenance, durable, and absolutely adorable, making it perfect for the little ones in school or during playtime.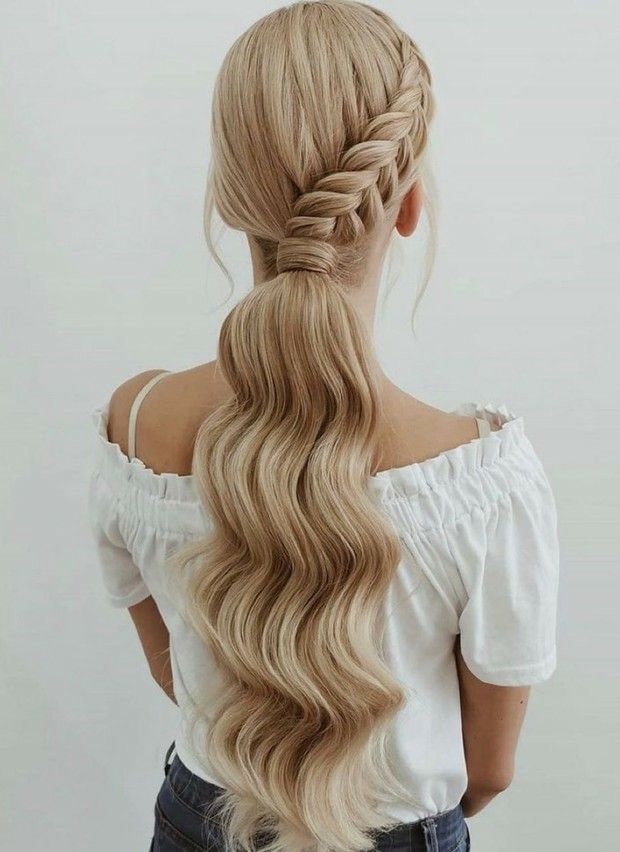 Embellished Cornrows for a Touch of Glamour
Lastly, we have cornrows that are not just braided but embellished. Beads or metallic accents woven into the braids add a touch of glamour and sophistication. This style is ideal for events where you want to shine, reflecting the personality of someone who is both grounded and in love with the finer things in life.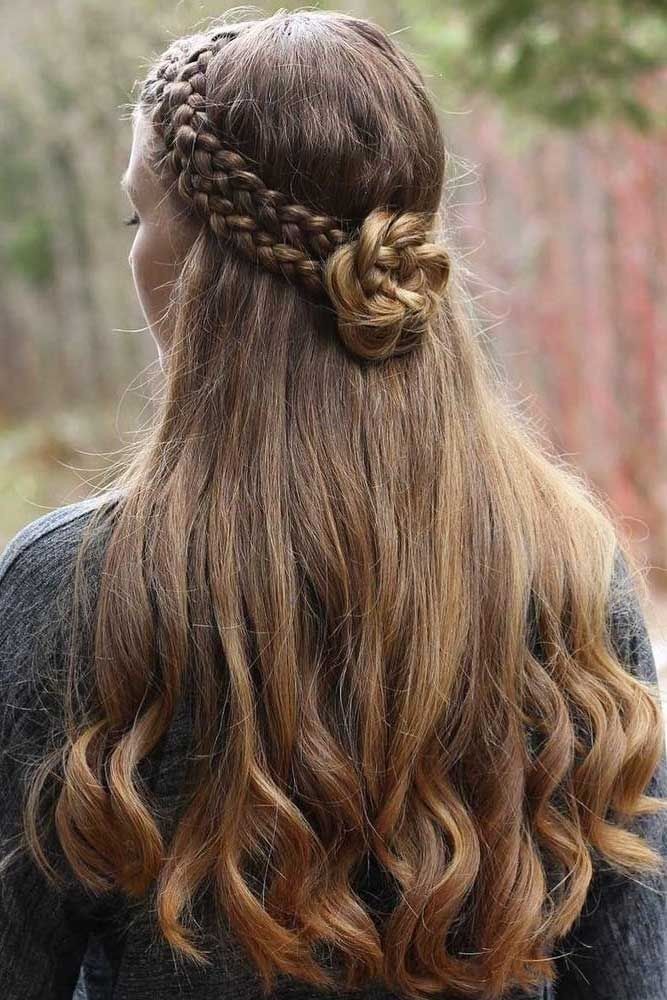 Bridal Elegance with Whimsical Braids
In a fusion of elegance and whimsy, this hairstyle is a bride's dream come true. The braid cascades like a gentle stream, intertwined with delicate gypsophila, evoking images of a serene bridal march down the aisle. It's a style that captures the essence of simple beauty, tailored for the woman who embodies grace on her special day.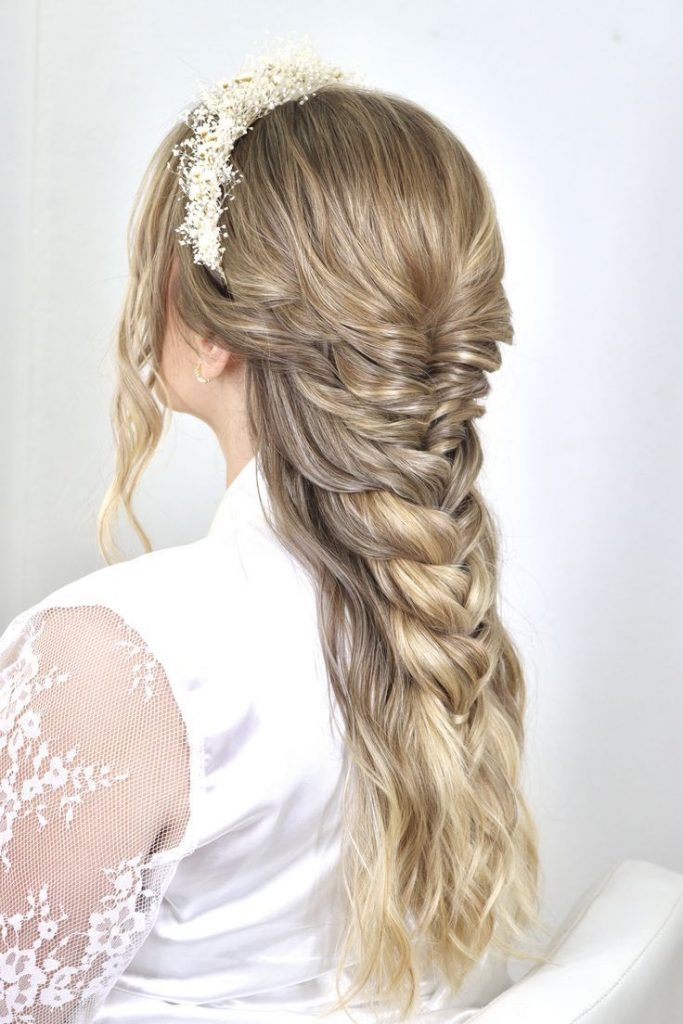 Nautical Chic with Floral Cornrows
This look takes inspiration from the timeless nautical theme, with a braid that weaves together like the ropes on a ship, adorned with floral accessories that would make any sea-inspired outing or casual boardwalk walk a moment to remember. It's an effortlessly cute and simple style that's perfect for a summer day.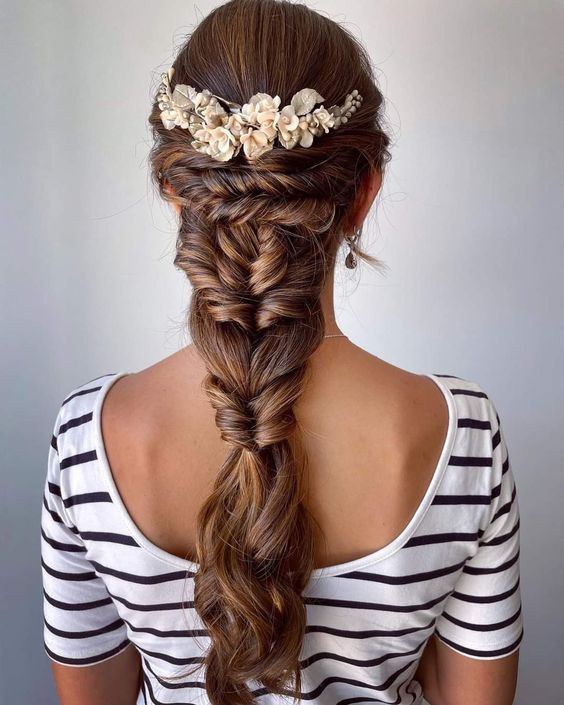 Cascading Elegance for the Casual Romantic
Here's a style that whispers romantic tales with its loose, cascading waves, punctuated by a braid that adds just the right touch of sophistication. This hairstyle is perfect for a casual date or a quiet evening stroll, offering a look that's both easy and nice.
Bohemian Rhapsody in Braids
For the bohemian at heart, this hairstyle is a symphony of free-spirited beauty. With its voluminous waves and intricate braid, it's a style that sings of open fields and music festivals. It's easy to wear yet leaves a lasting impression of an untamed, adventurous spirit.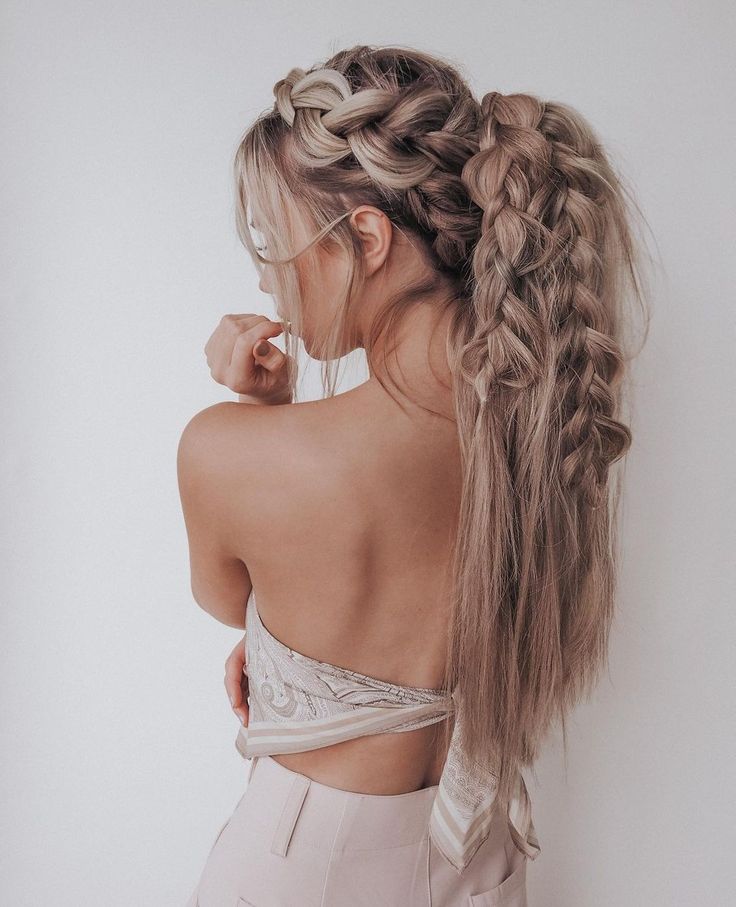 Soft Waves and Bold Braids for Everyday Chic
Blending soft waves with bold braids, this hairstyle is a perfect match for the everyday woman who seeks both comfort and style. It's a go-to look for a day at work or an impromptu evening out, versatile and simple yet undeniably cute.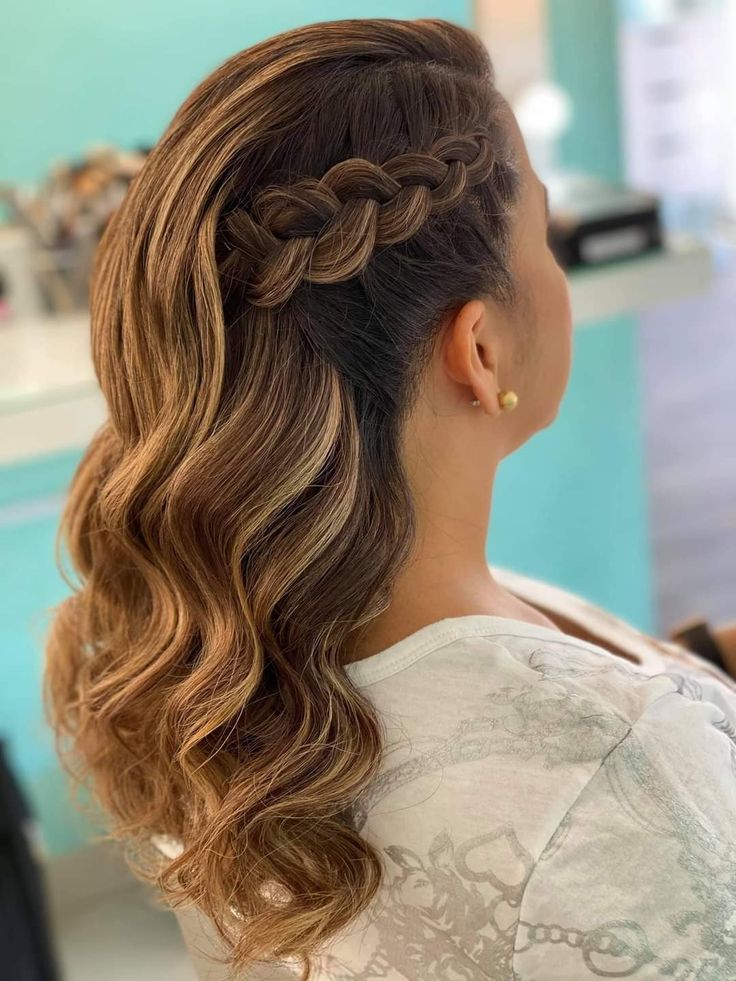 Sculpted Rosette Braid for Artistic Flair
This hairstyle is a true work of art. The braid wraps around itself, forming a sculpted rosette that stands out as a statement piece. It's a look that's tailor-made for the woman who views her style as an extension of her creative soul.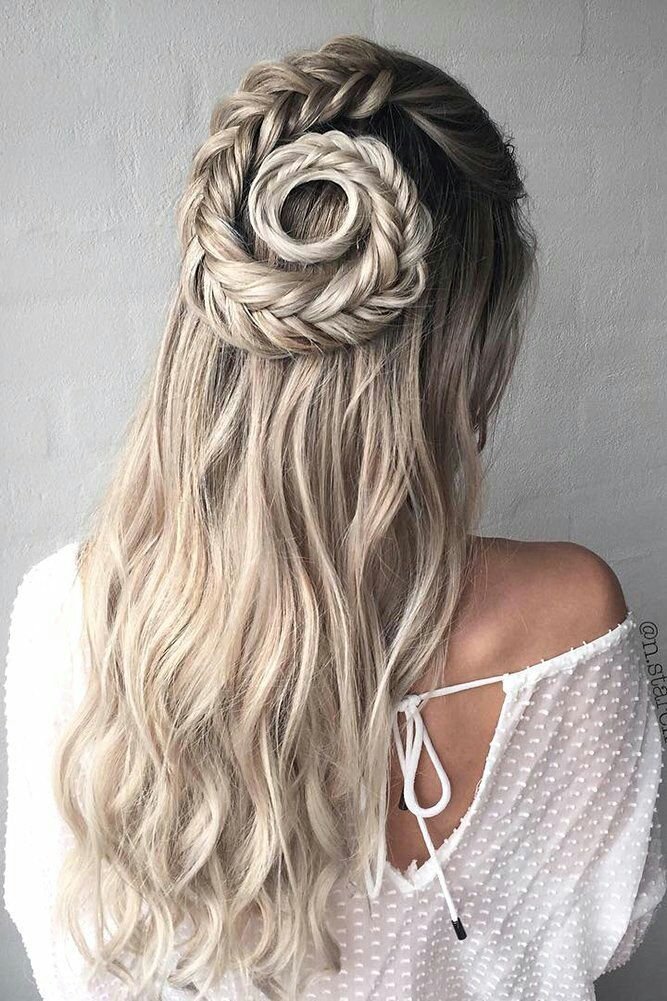 Conclusion
From the aisle to the office, from the festival ground to the city streets, these cornrows braids hairstyles for 2024 offer a diverse palette for self-expression. They reflect a blend of tradition, innovation, and personal flair. We hope this journey through braids has inspired you to embrace these styles and make them your own. Share your thoughts, or better yet, share your own braided creations. Let's weave together a community of style enthusiasts who appreciate the beauty and versatility of braids.
Save Pin