Hairstyles
New Hairstyles 2024: Cutting-Edge 20 Ideas to Revamp Your Look
As the year unfolds, the world of fashion continues to evolve, bringing forward a fresh palette of new hairstyles for 2024. For women who consider style as an extension of their personality, staying abreast with the latest trends is not just about aesthetics but a form of self-expression. This article delves into the most anticipated women trends of the upcoming year, focusing on short, long, and medium length hair, ensuring that every woman looking to update her look will find inspiration. Whether you're prepping for a wedding, prom, or simply seeking a trendy refresh, these hairstyles promise to be the talk of the town from summer to winter.
The Revamped Pixie
Reimagined for 2024, the pixie cut has undergone a chic transformation. This short bob version breathes life into the classic style, perfect for the modern woman. It's a versatile look that can easily transition from day to night, embodying a mix of sophistication and playfulness. Ideal for those looking to make a statement without the upkeep of long hair, this style emphasises the facial features and pairs beautifully with minimalistic jewelry and makeup.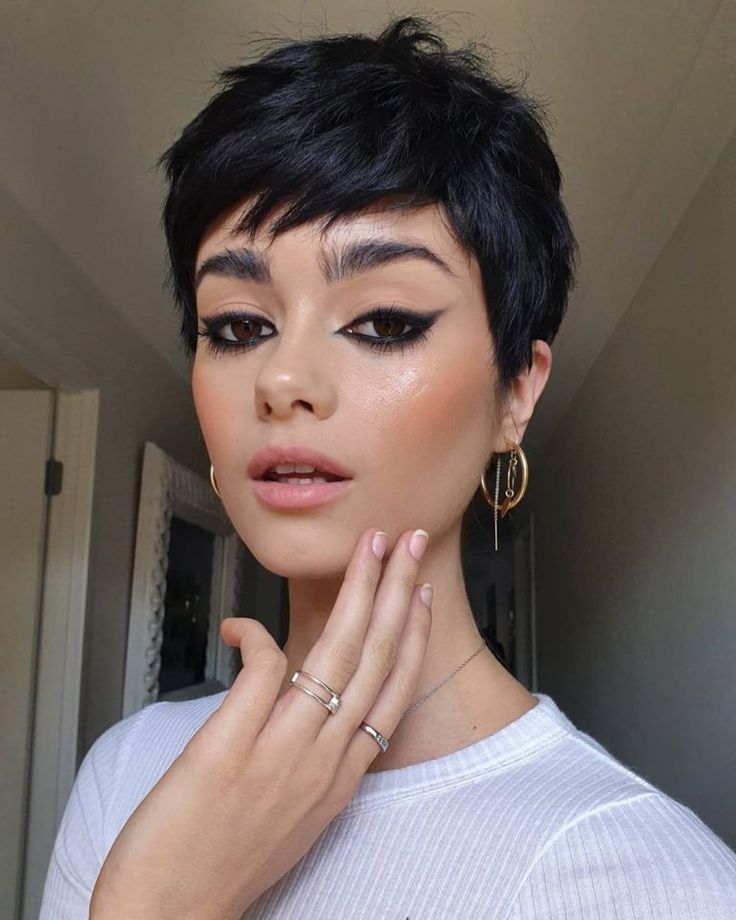 The Modern Shag
The shag haircut, with its rock'n'roll roots, has seen a resurgence, tailored for medium length hair. Its layered texture offers movement and an edgy vibe, appealing to the woman who is both bold and laid-back. It's a trendy choice for those wanting a low-maintenance yet stylish look. With the potential to flatter various face shapes, the shag is a testament to the hairstyle's adaptability and enduring appeal.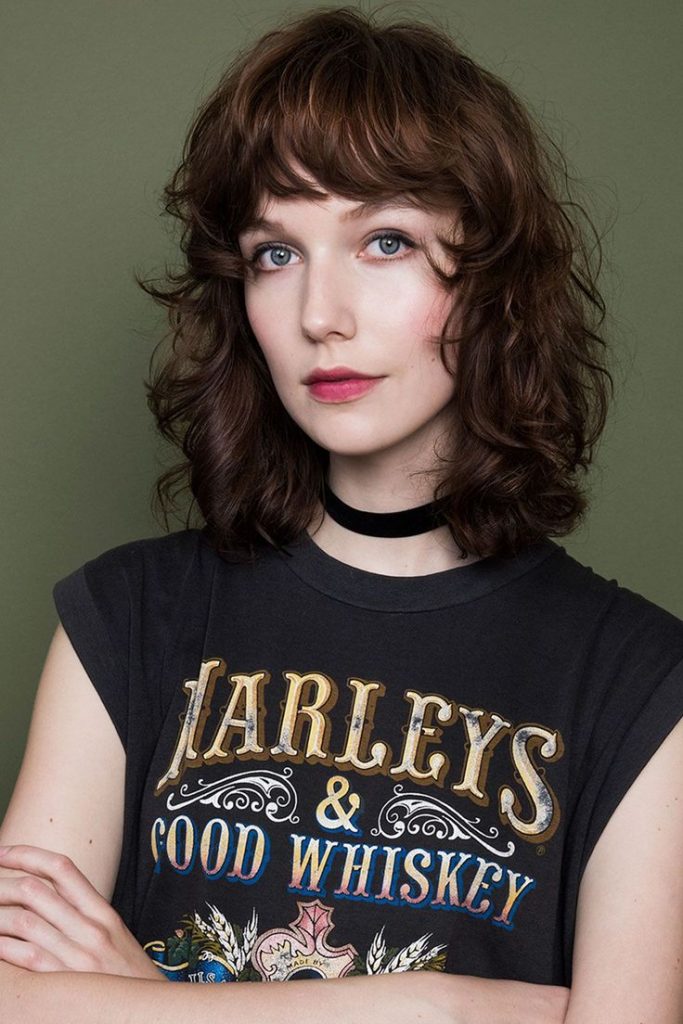 The Elegant Long Bob
Elegance meets ease with the long bob. This bridal-worthy hairstyle is a sophisticated choice for those with medium length hair. It's a versatile 'do that works well for both formal and casual occasions, offering a balance between long and short styles. It's perfect for the woman who enjoys a timeless look with a modern twist.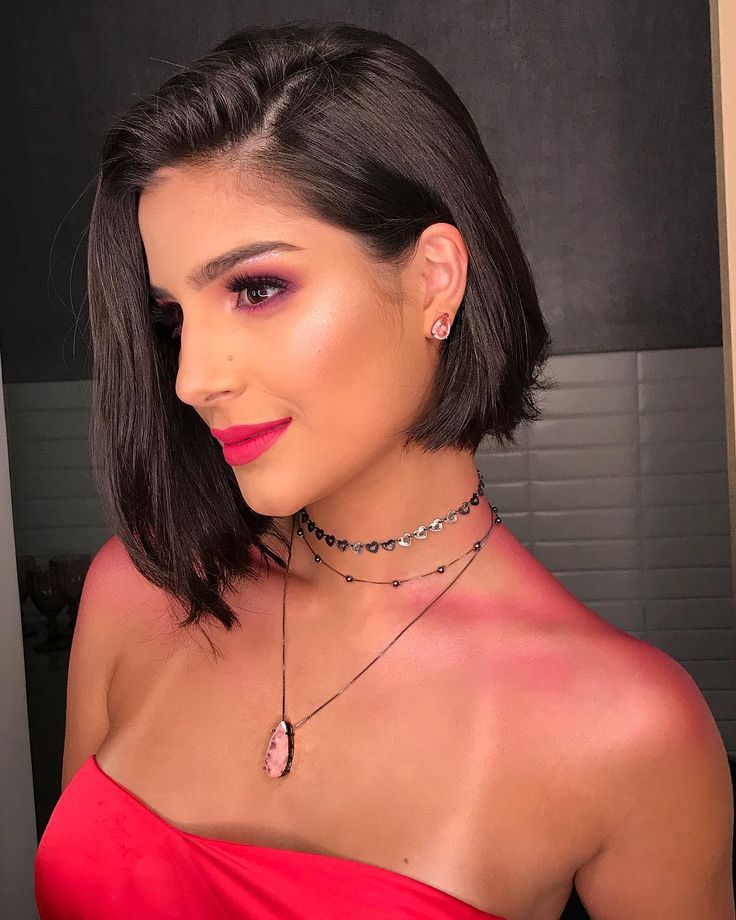 The Curly Confidence
Curly hair takes centre stage in 2024 with an emphasis on natural texture and volume. This look celebrates the beauty of curls, offering a playful yet polished style for long hair. It's a refreshing change for those who wish to embrace their natural curls and make a bold statement.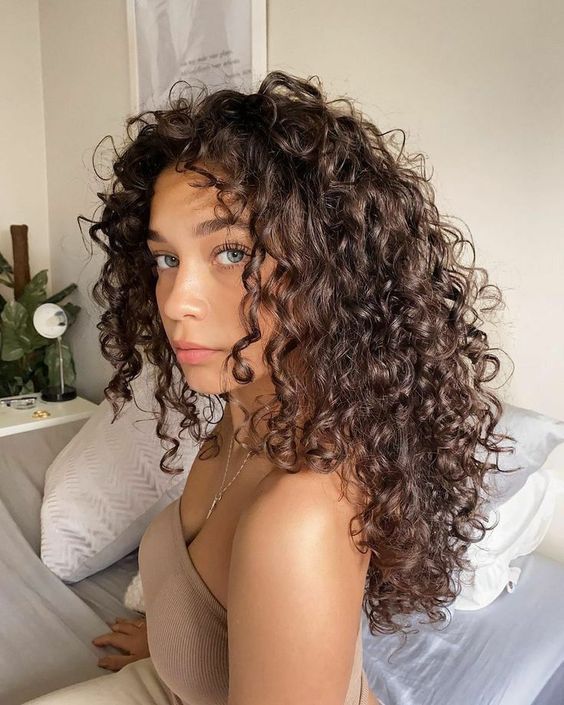 The Sleek and Chic
For the woman who embodies grace and sophistication, a sleek and straight hairstyle remains a staple. This look, perfect for long hair, exudes elegance and is ideal for both office environments and glamorous evenings out. It's also a canvas for showcasing stunning accessories, from classic studs to statement necklaces.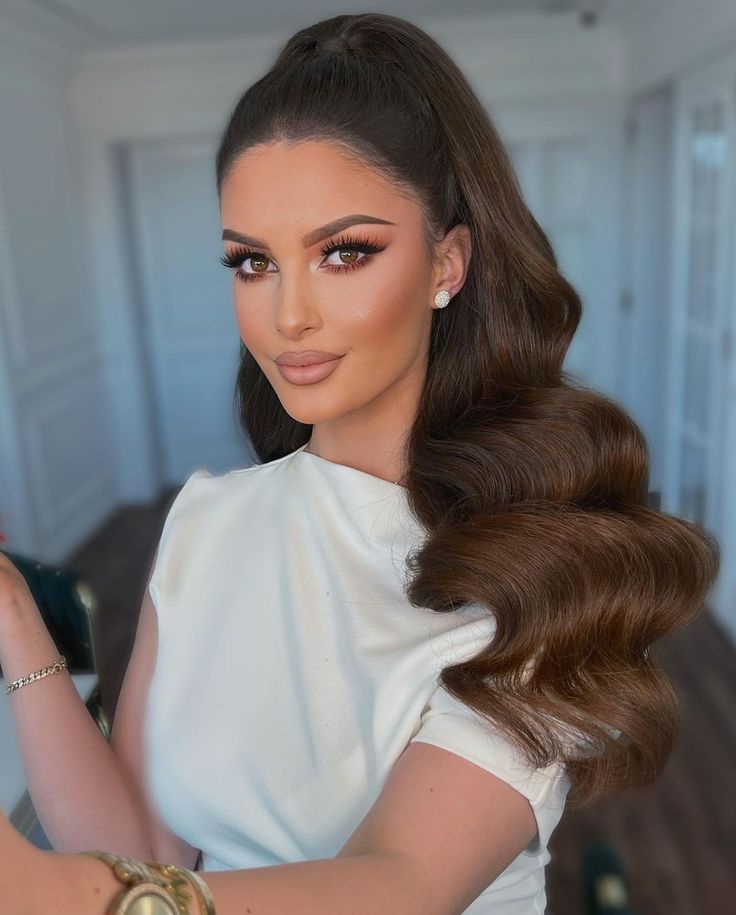 The Bold Braids
Braids in 2024 are not just for the traditional bride or prom night but have infiltrated everyday style with a fresh perspective. This hairstyle incorporates intricate patterns that are both bold and beautiful, suitable for long hair. It's a creative and expressive way to weave personality into your look.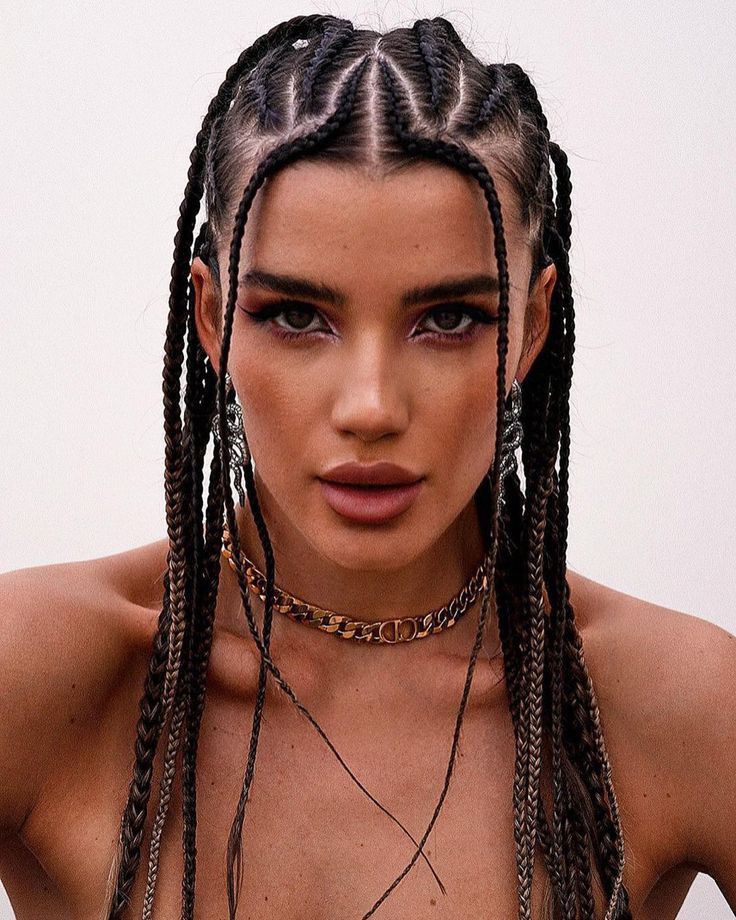 The Glamorous Waves
Waves continue to be a beloved choice for those seeking a wedding or special event hairstyle. This glamorous look adds volume and drama to long hair, perfect for making a grand entrance. The waves can be tailored to suit any preference, from soft and subtle to bold and voluminous.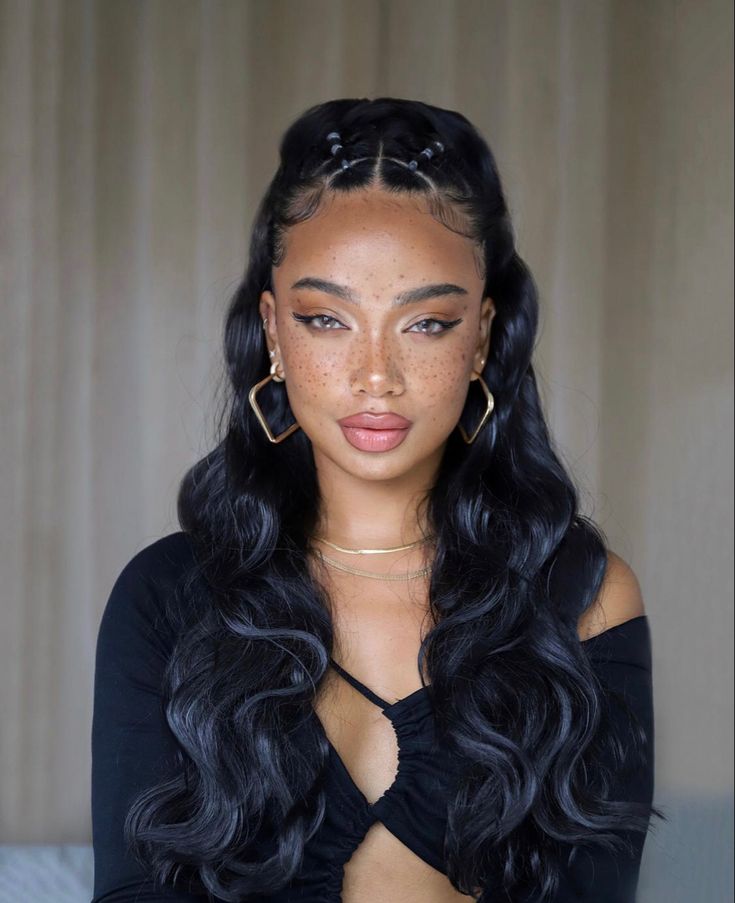 The Futuristic Updo
The updo gets a futuristic twist in 2024, combining sleek lines with unexpected details. This short hair style is perfect for the avant-garde woman who loves to stand out. The updo is not only stylish but also practical, keeping you cool during the hot summer months.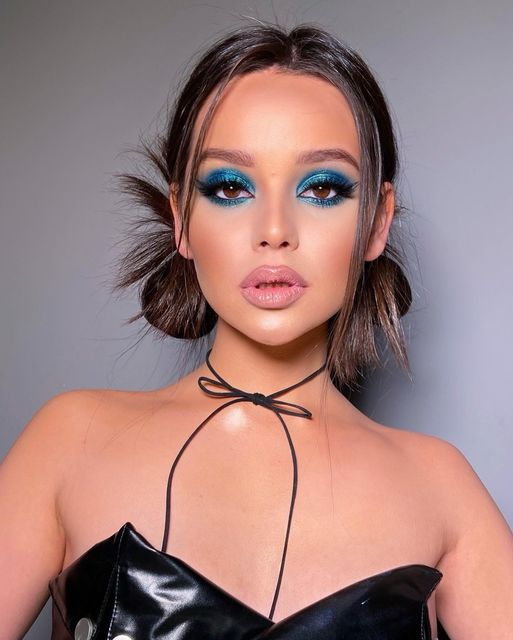 The Voluminous Glamour
Commanding attention with its voluptuous curls and elevated crown, this style is a nod to the bygone era of Hollywood's golden age, reinterpreted for today's trendy woman. Ideal for those with long hair, this hairstyle is perfect for a summer soirée or a wedding, promising to keep you at the centre of attention.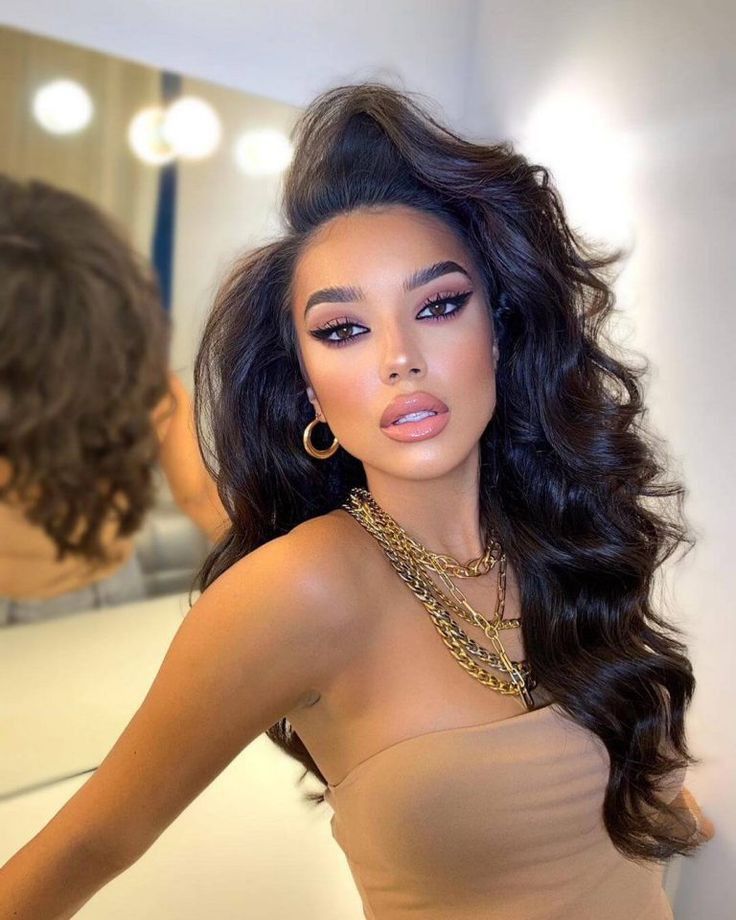 The Sleek Retro Wave
This sleek wave is the epitome of polished elegance. With a smooth finish that's perfect for medium length hair, it offers a contemporary twist on classic prom styles. It's a versatile look that can be dressed up or down, depending on the occasion, making it a staple for the fashion-forward woman.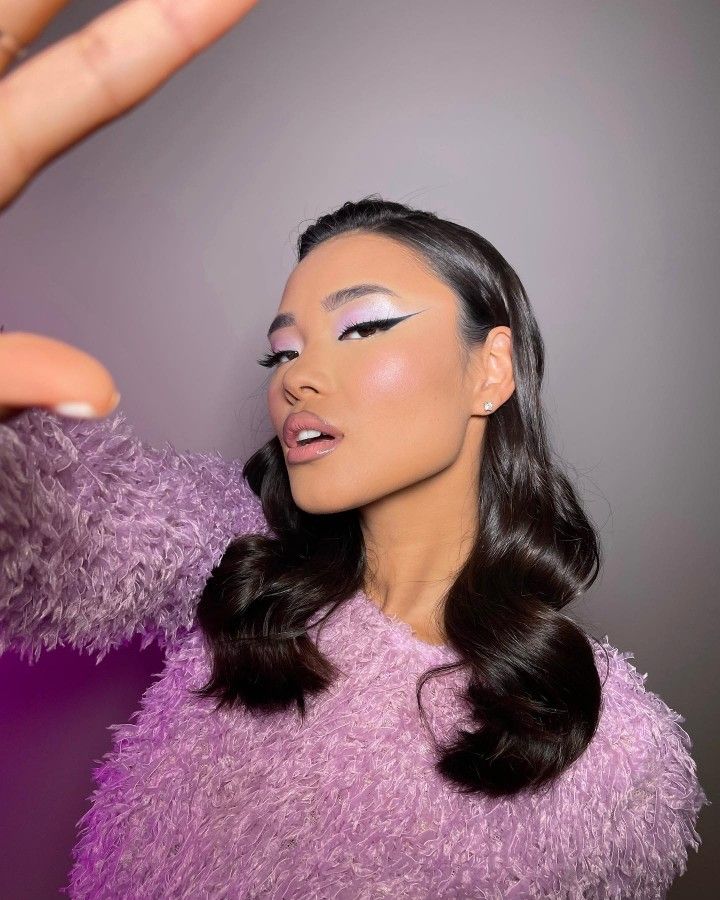 The Contemporary Straight
Embrace the essence of minimalism with this sleek, straight hairstyle. Its simplicity is its strength, providing a clean and chic look for long hair that's perfect for both the boardroom and the bar. This style's versatility is unmatched, and it's a testament to the enduring appeal of straight hair.
The High Ponytail with a Twist
Taking the classic ponytail to new heights, this hairstyle adds an edge with its sleek finish and intricate detail at the crown. It's a style that exudes confidence and is an ideal choice for those looking for a short but impactful hairstyle that's both sporty and chic.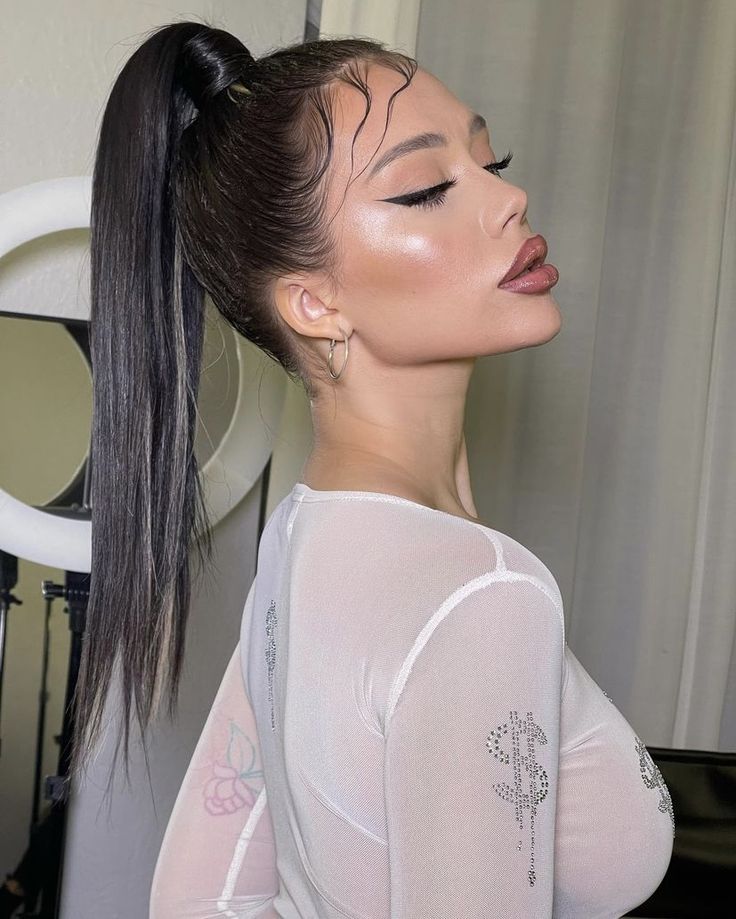 The Softly Tousled Bob
The bob cut remains a favourite, and in 2024 it's all about soft waves that add volume and movement. This look is perfect for short hair and works wonderfully for an everyday style that's both effortless and stylish. It's particularly flattering for women who prefer a low-maintenance but fashionable hairstyle.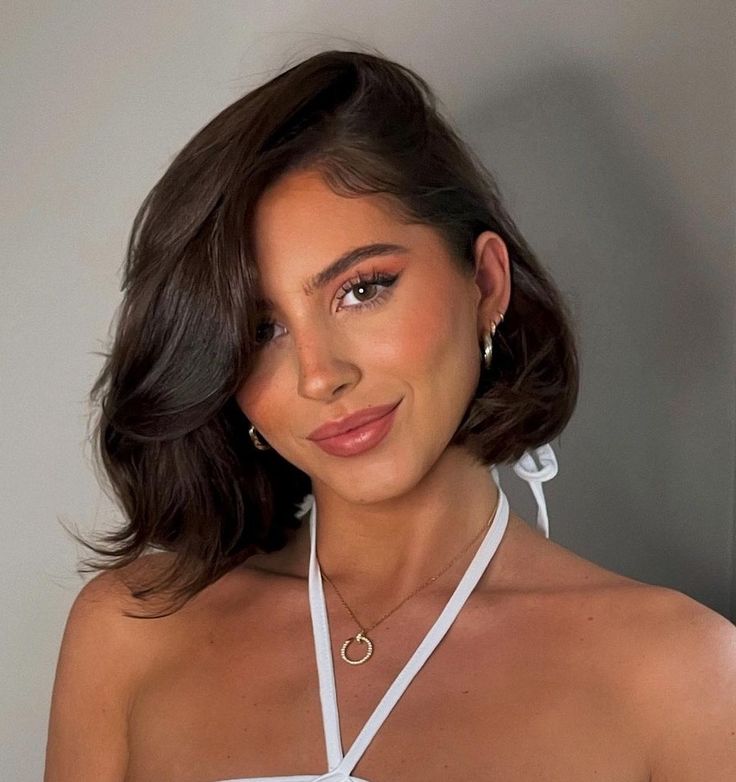 The Power Ponytail
Long, flowing, and undeniably powerful, the power ponytail makes a bold statement. It's ideal for long hair and works well for both casual and formal settings. This style showcases the wearer's features while providing a sleek, pulled-together look that's both strong and feminine.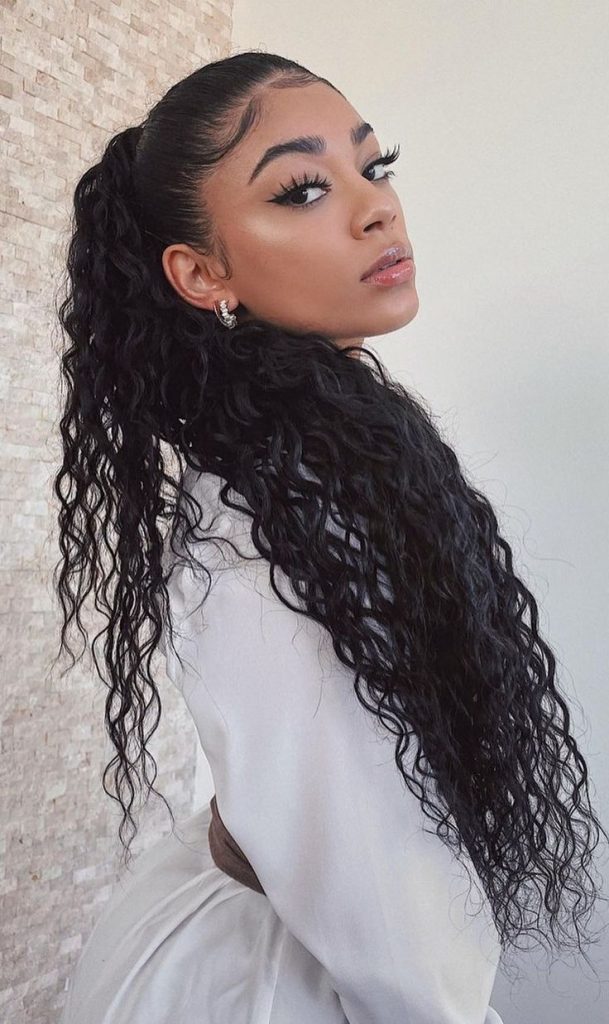 The Classic Sleek
Nothing speaks of timeless elegance quite like the classic sleek look. Perfect for long hair, it's the go-to style for a woman who champions sophistication. Whether it's a corporate meeting or an upscale evening event, this look pairs impeccably with statement earrings and an understated ensemble.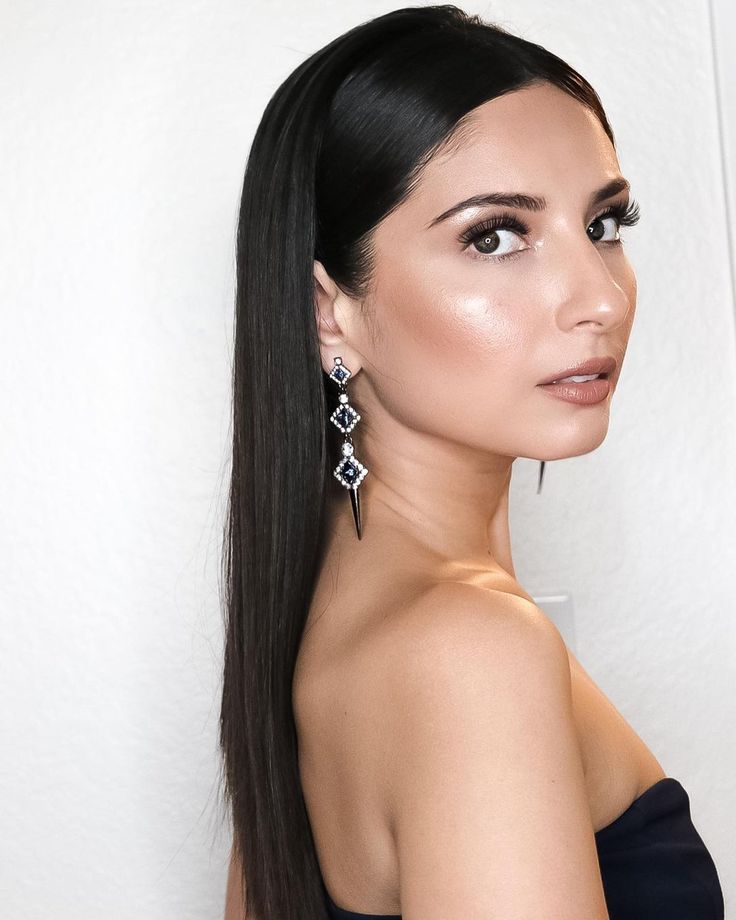 The High Ponytail with a Curve
The high ponytail, reinvented with a curve, offers a playful yet polished look. It's a versatile style that's both youthful and mature, suitable for a casual brunch or a night out. For those with long hair, it's an opportunity to flaunt their length while keeping it stylishly practical.
The Sleek and Long Ponytail
This hairstyle adds a dash of drama to the classic ponytail with its length and sleekness. Ideal for long hair, this look is suited for those who want to make a bold statement without compromising on elegance. It works beautifully for both winter festivities and summer parties.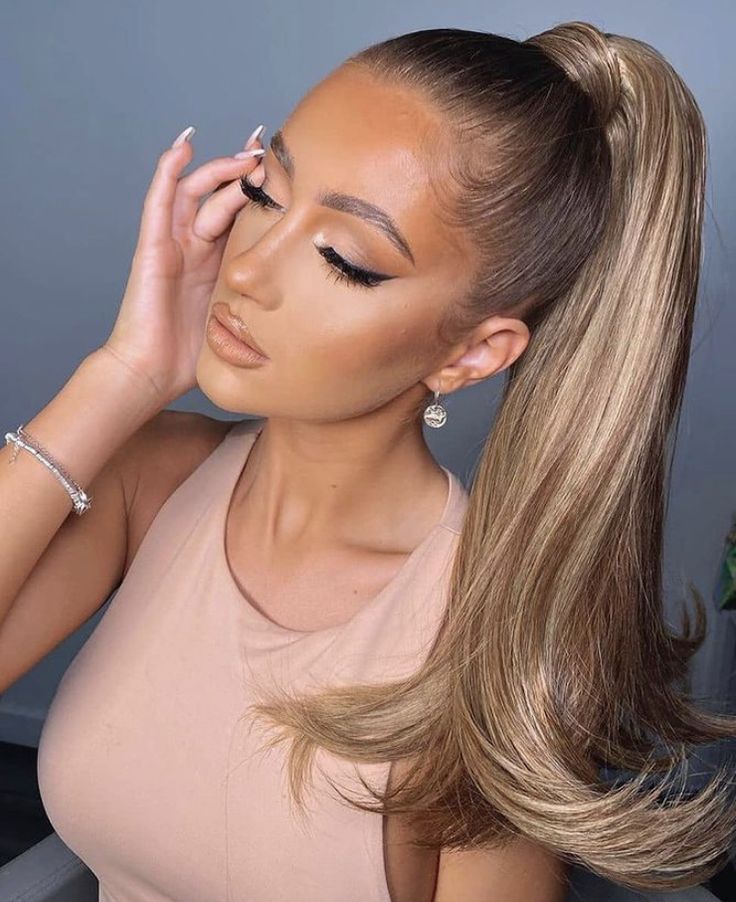 The Top Knot with a Twist
The top knot is given a fresh update with this style, incorporating soft bangs that frame the face beautifully. This hairstyle is best suited for those with medium length hair, who are looking for a chic yet casual updo. It's an excellent choice for the creative professional.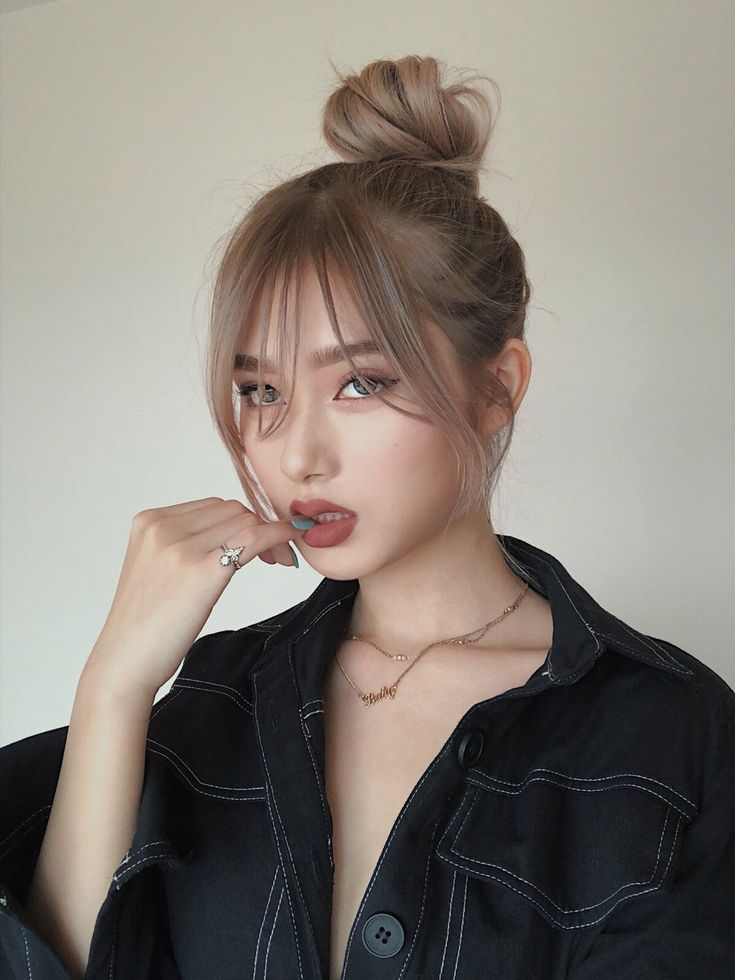 The Voluminous High Ponytail
Oozing glamour and volume, this high ponytail is for the woman who loves to stand out. It's a great match for long hair, creating a stunning profile that's fit for any red carpet event. Paired with a dramatic makeup look, it's the epitome of modern elegance.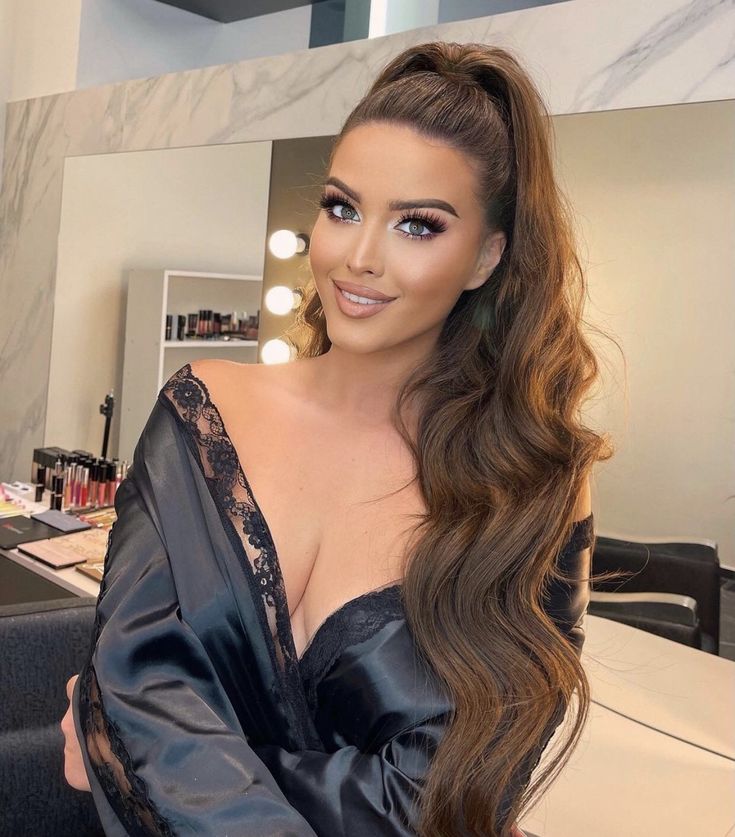 The Blonde Bob
The bob cut makes a sharp comeback with this blonde iteration, perfect for those who prefer short hair. It's a statement of chic simplicity and works well in any setting, from the office to the after-party. This style particularly suits those looking to add a touch of class to their everyday look.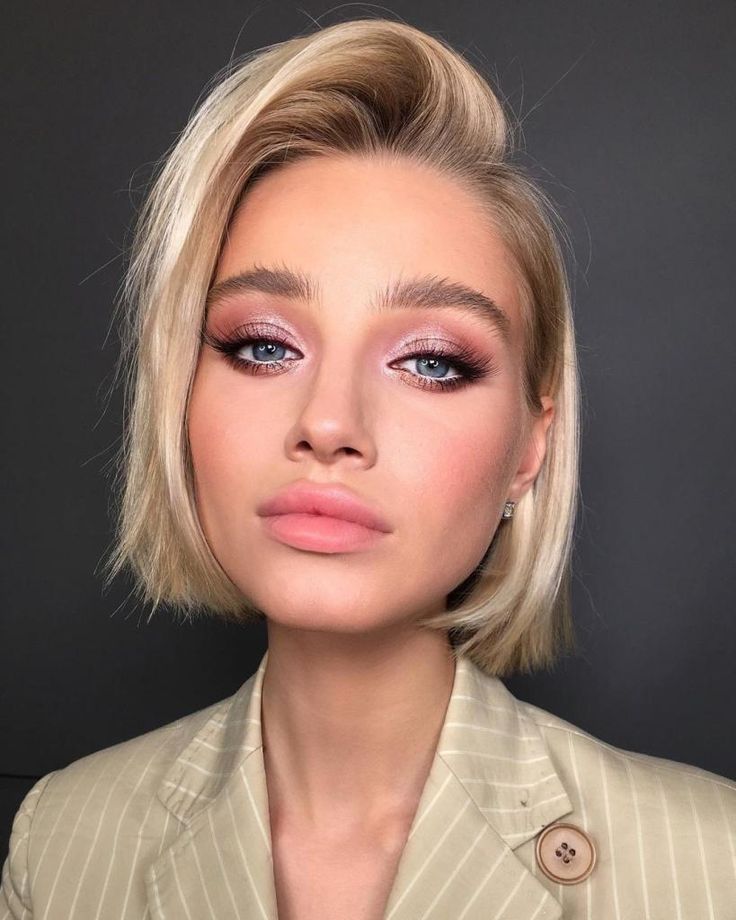 In conclusion, the array of hairstyles for 2024 is a testament to the creative and dynamic nature of hair fashion. From sleek ponytails to playful bobs, each style presents an opportunity for women to express their individuality and confidence. As we have explored these trends, it's clear that whether you're dressing for a special occasion or everyday wear, there's a hairstyle to match your mood and moment. We encourage you to step into the new year with a sense of adventure and experiment with these looks. Share your favourite styles and the compliments they've garnered in the comments below, and let's continue to inspire each other with our hair tales.
Save Pin