Nails
Barbie Nails Design 15 Ideas: Embrace Elegance and Glamour
When it comes to fashion and style, Barbie has always been a timeless icon. From her impeccable wardrobe to her signature accessories, Barbie's influence extends even to the world of nail art. Barbie nails are all about embracing elegance and glamour, making a bold statement with your fingertips. In this article, we will explore fifteen stunning Barbie nail design ideas that will elevate your manicure game and make you feel like a modern-day princess.
Pretty in Pink: Classic Barbie
The classic Barbie look is synonymous with a splash of pink. Opt for a soft, pastel pink base and add some glitter or shimmer to capture the essence of Barbie's feminine charm. Accentuate one nail on each hand with a tiny Barbie silhouette for an adorable touch.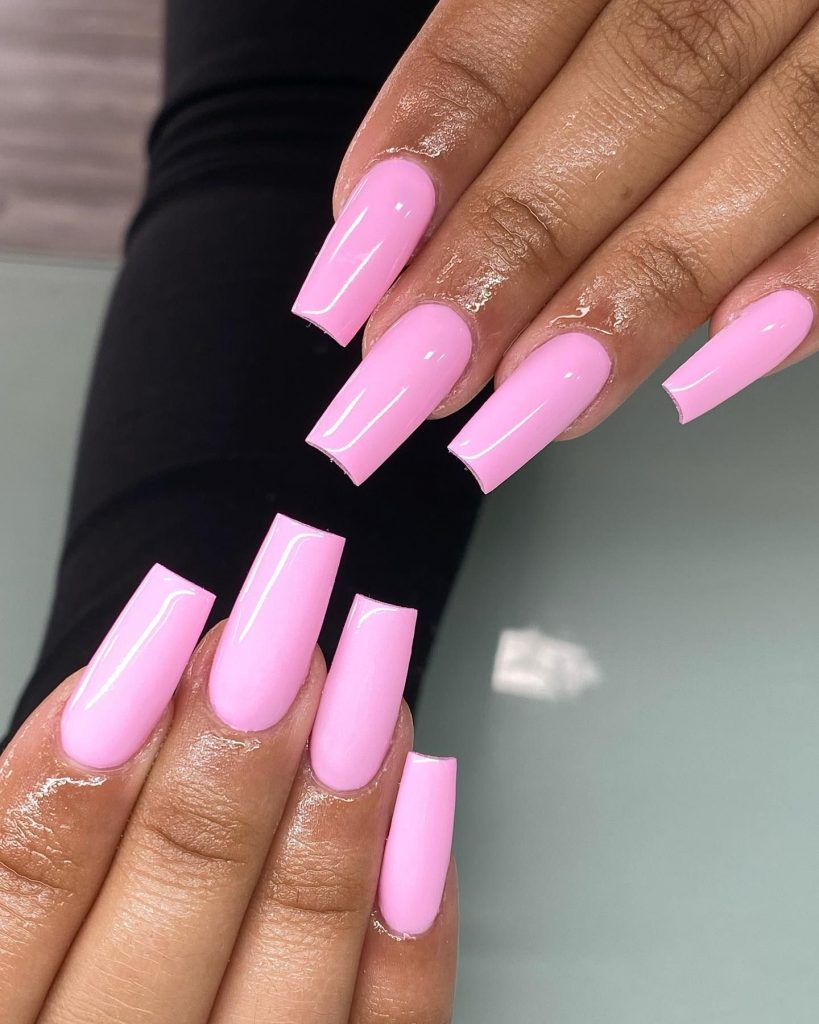 Barbie Dreamhouse: Rainbow Ombre
Bring the vibrant colors of Barbie's dreamhouse to your nails with a mesmerizing rainbow ombre design. Blend pastel shades from the tips of your nails towards the cuticles, creating a stunning gradient effect that is sure to catch everyone's attention.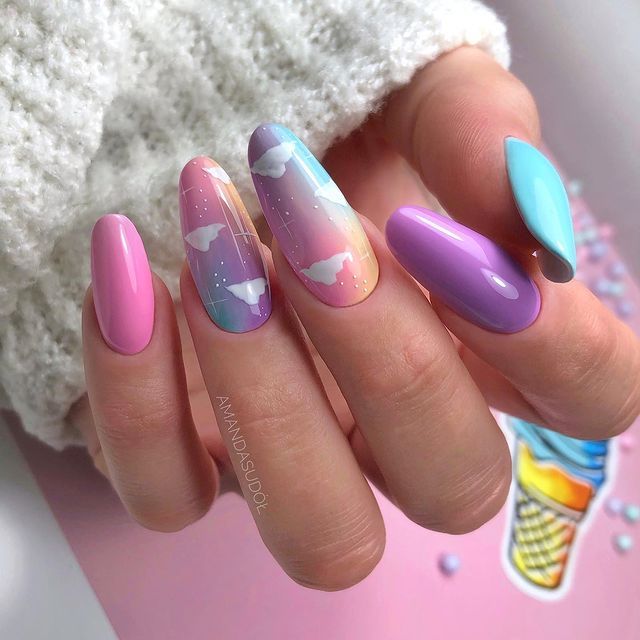 Glamorous Glitterati: Sparkle and Shine
Barbie is all about glitz and glamour, and so are her nails. Embrace the power of glitter by applying it to the entire nail or just the tips. Experiment with holographic glitters or mix different colors to create a dazzling display on your fingertips.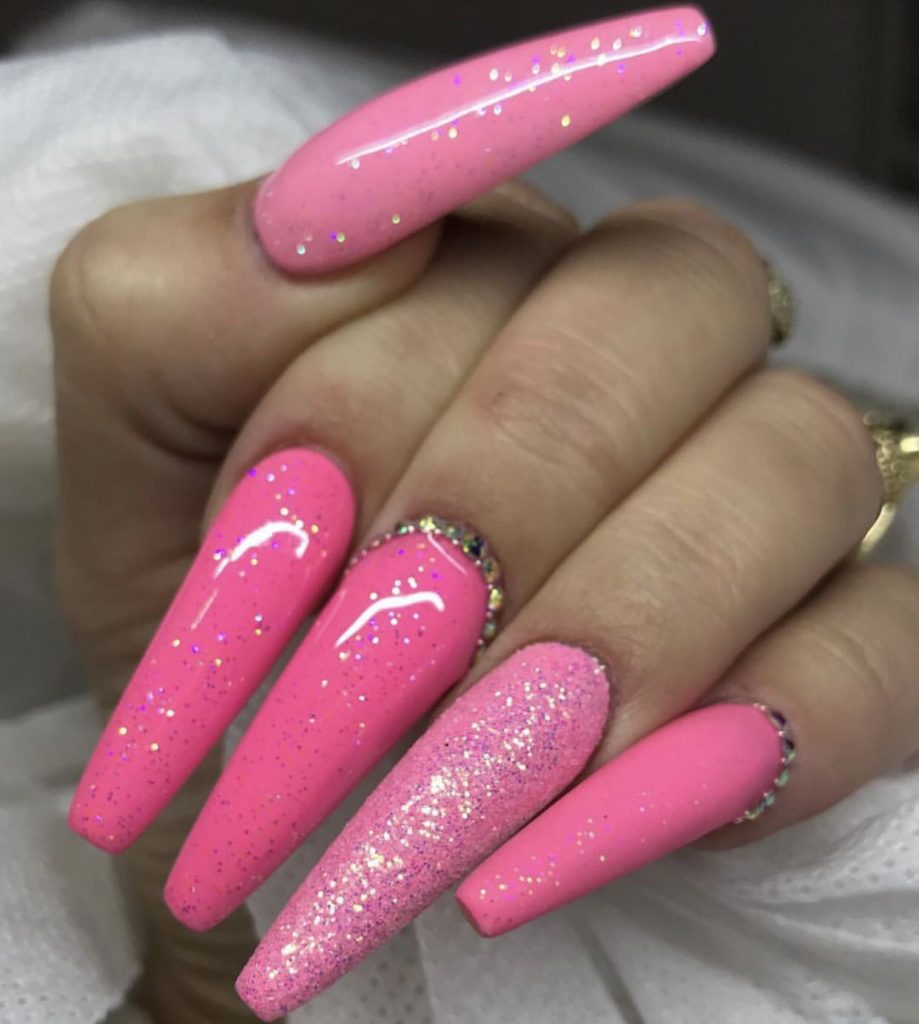 Barbie and Ken: Couple's Nail Art
Celebrate the iconic love story of Barbie and Ken with couple's nail art. Paint Barbie's signature logo on one nail and Ken's on another. Use complementary colors for a cohesive look that pays tribute to their timeless romance.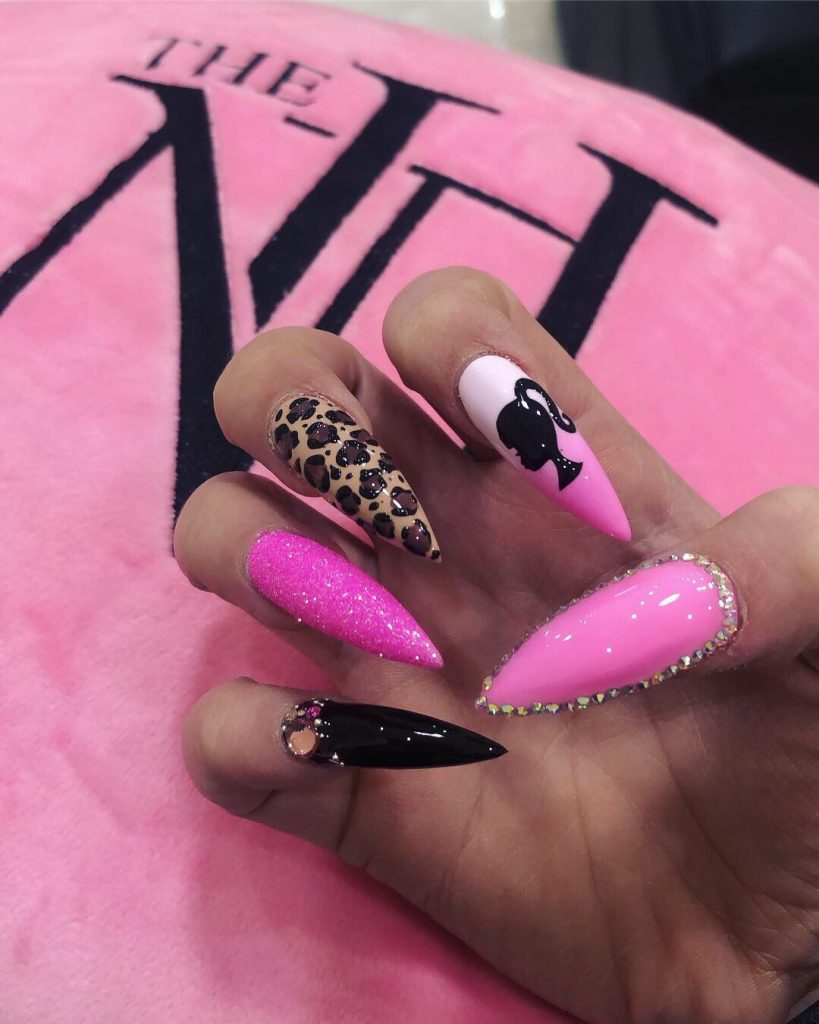 Fashionista Frenzy: Runway Ready
Barbie is a true fashionista, and her runway-ready style can inspire your nails too. Create mini fashion designs on your nails, complete with tiny bows, pearls, or even miniature 3D purses. Let your nails become a canvas for haute couture.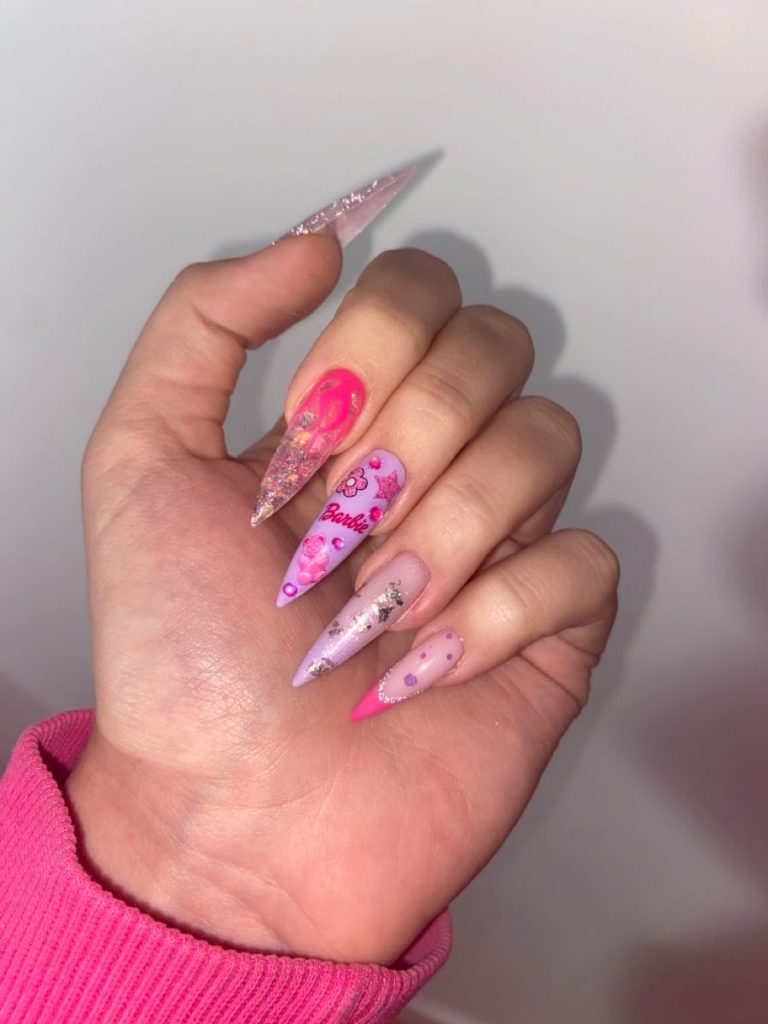 Barbie's Bows: Cute and Chic
Barbie is never seen without her bows, and you can adopt this chic accessory for your nails as well. Add delicate bows on a couple of nails or go all out with an oversized bow on each nail for a cute and playful look.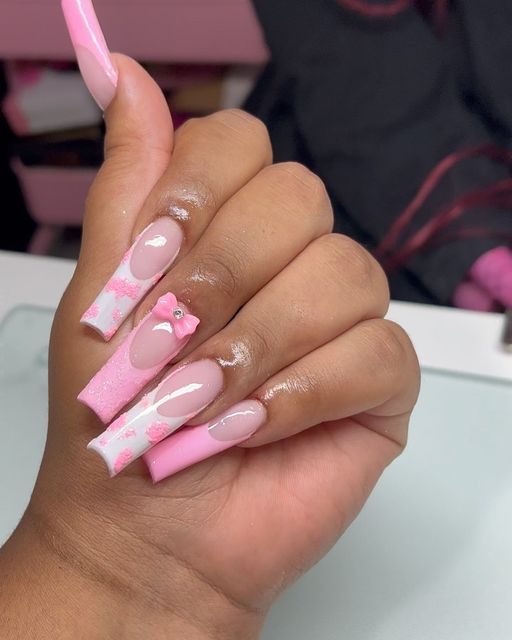 Barbie's Beach Vacation: Tropical Vibes
Bring the spirit of Barbie's beach vacation to your nails with tropical-themed designs. Think palm trees, exotic flowers, and colorful sunsets. This design is perfect for the summer or when you need a touch of paradise during the colder months.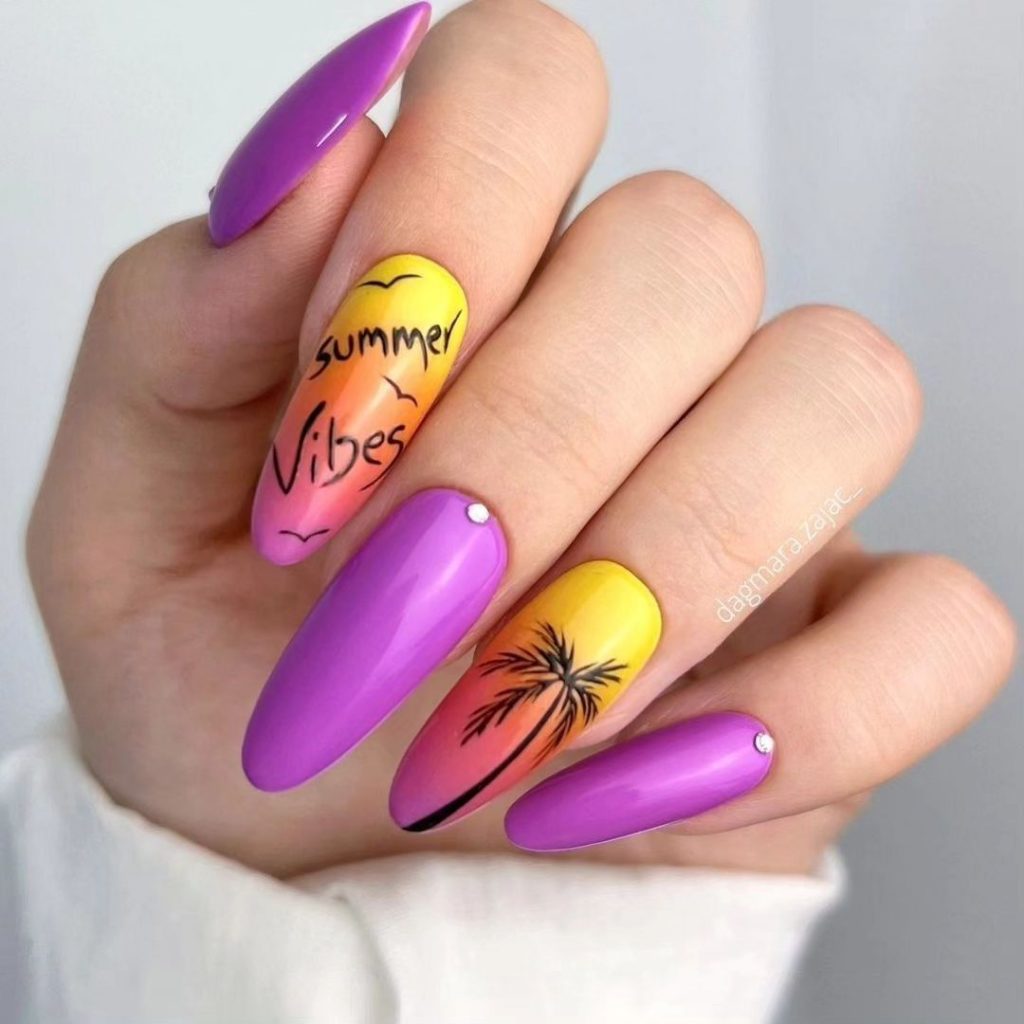 Black and Pink Diva: Edgy Barbie
Who says Barbie can't have an edgy side? Combine black and pink in your nail art for a fierce and bold look. Experiment with geometric patterns, studs, or spikes to add a rebellious twist to your Barbie-inspired nails.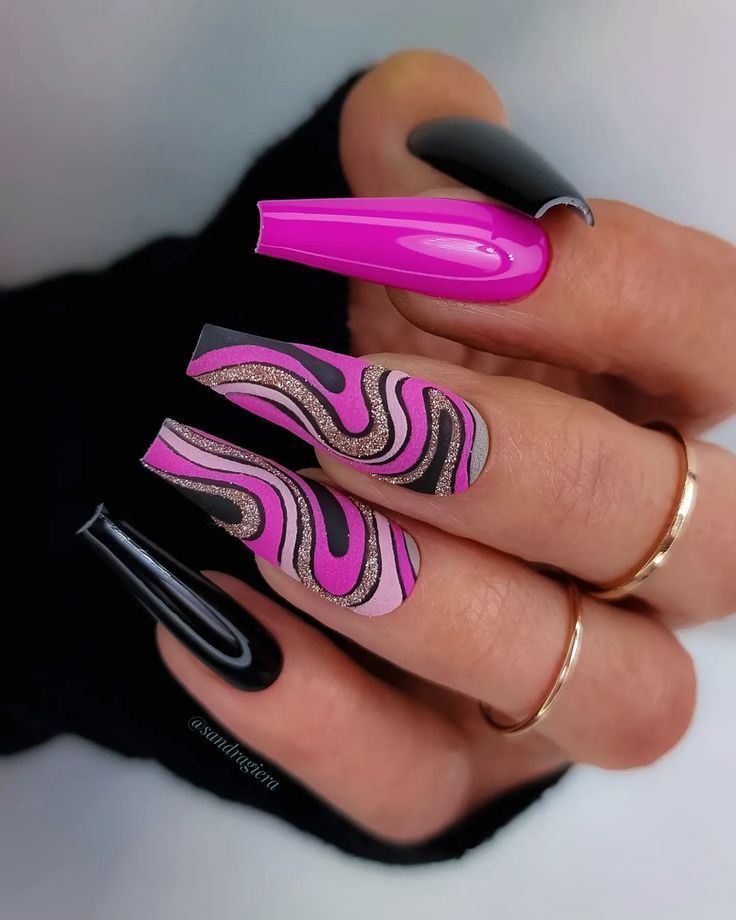 Barbie Princess: Regal Elegance
Barbie is a princess in her own right, and you can channel her regal elegance through your nails. Opt for a soft, shimmery base color and add delicate crown or tiara motifs to exude a royal vibe.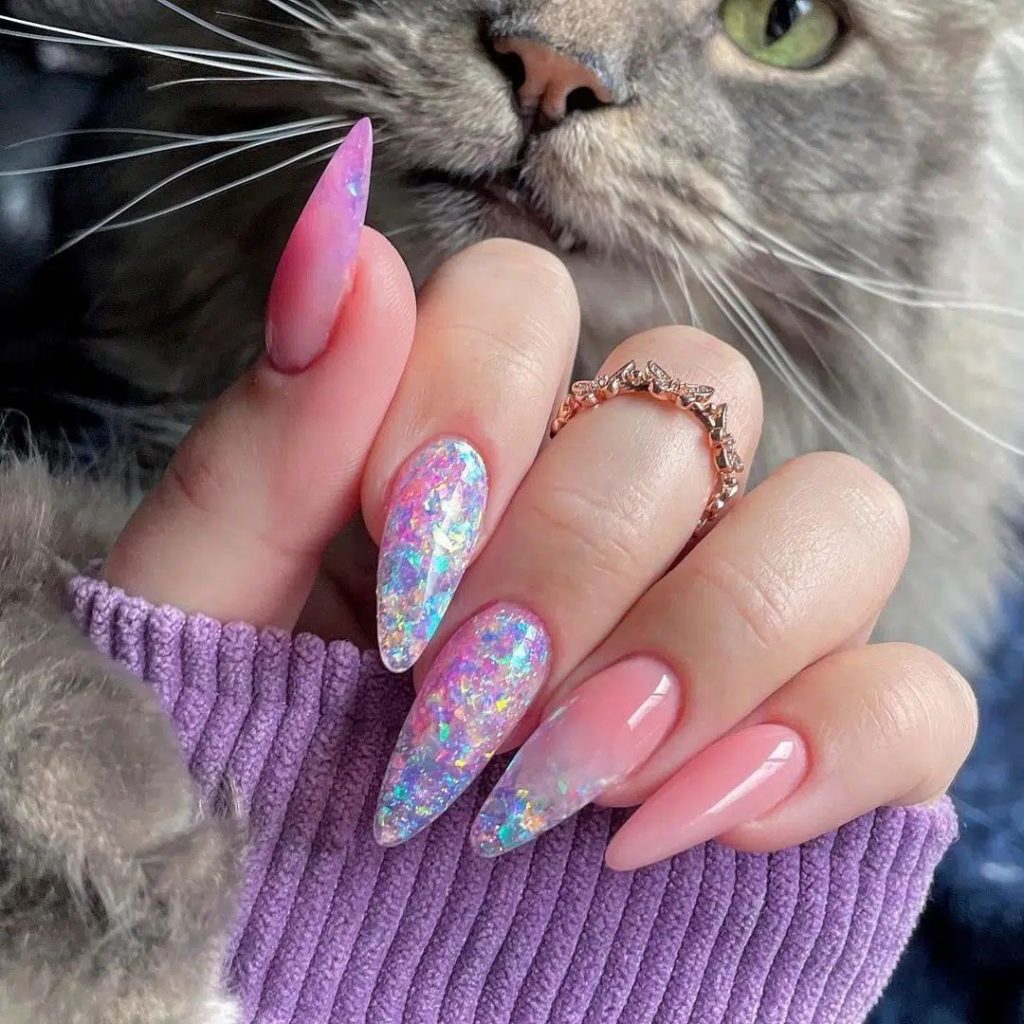 Barbie's Pet Pals: Cute Critters
Barbie's world is not complete without her adorable pet pals. Incorporate cute animal motifs like puppies, kittens, or bunnies into your nail art. These charming designs will surely bring a smile to your face.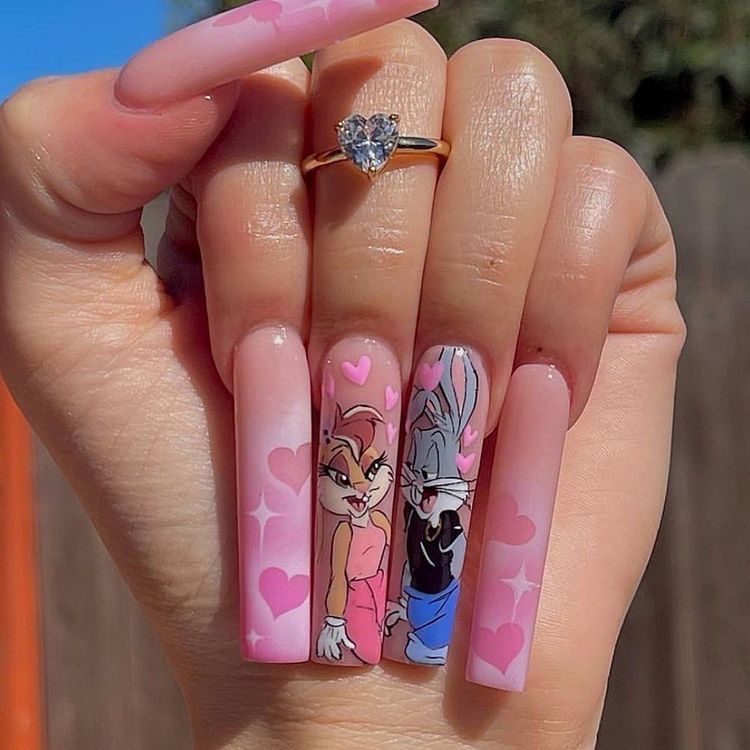 Barbie's Jet Set: Travel Chic
Barbie is always on the go, and her jet-set lifestyle can inspire your nail art too. Use metallic shades and create airplane or luggage-themed designs to portray the wanderlust spirit of Barbie.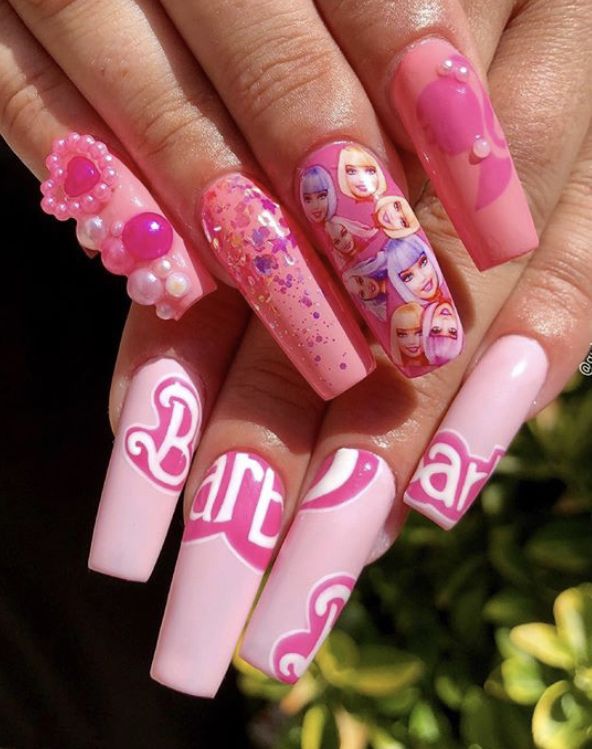 Barbie's Ballerina: Graceful and Delicate
Embrace the elegance of Barbie's ballerina persona with delicate and graceful nail art. Incorporate ballet shoes, tutus, or even ballerina silhouettes into your design for a touch of sophistication.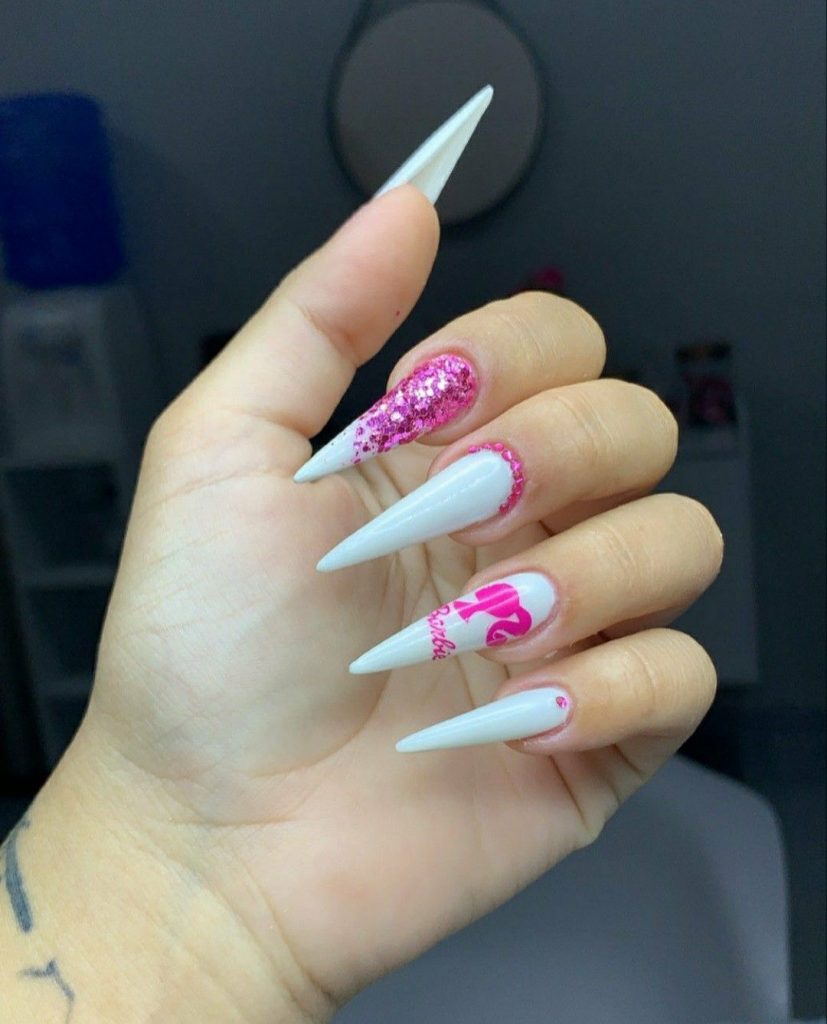 Pastel Perfection: Soft and Serene
Pastel shades are quintessentially Barbie, and they never go out of style. Create a pastel-themed nail art using different shades of pink, blue, lavender, and mint for a serene and dreamy look.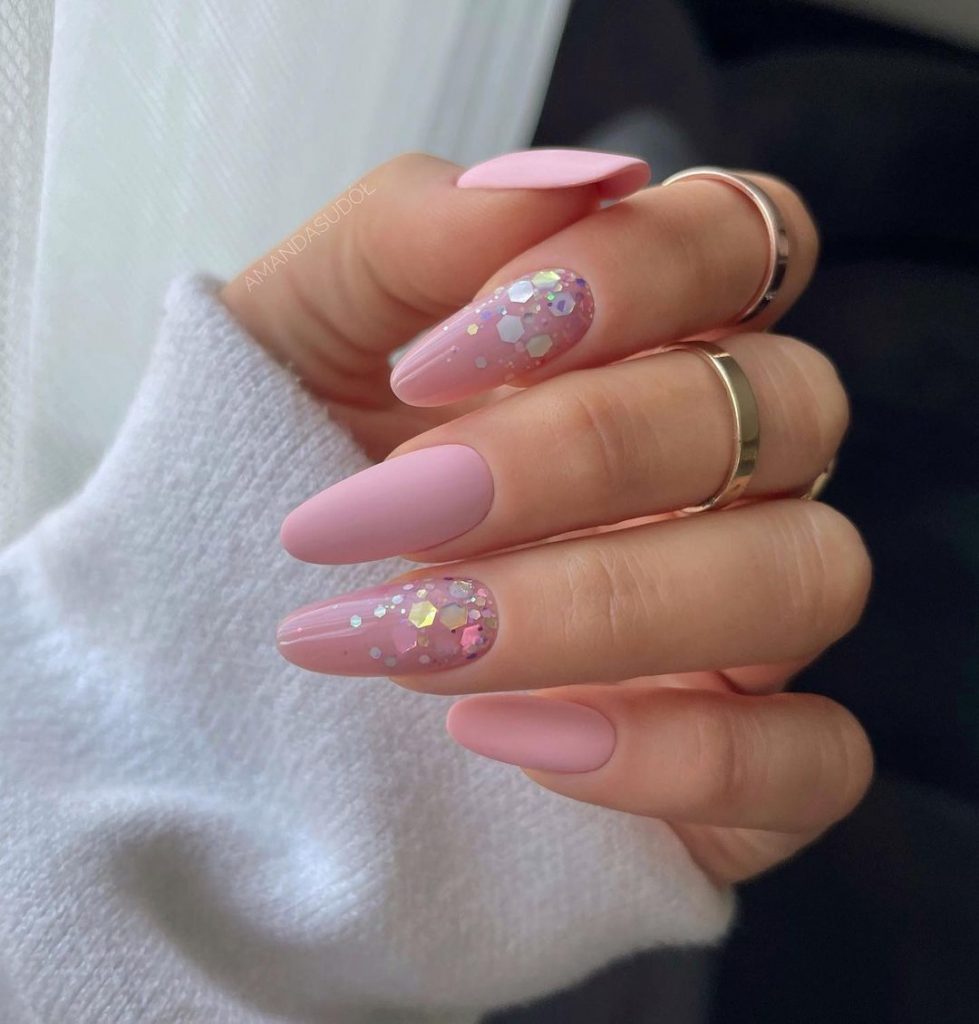 Barbie's Ice Cream Party: Sweet Treats
Indulge in the sweetness of Barbie's ice cream party with delicious nail art. Paint ice cream cones, popsicles, or sundaes on your nails to satisfy your cravings for something delightful.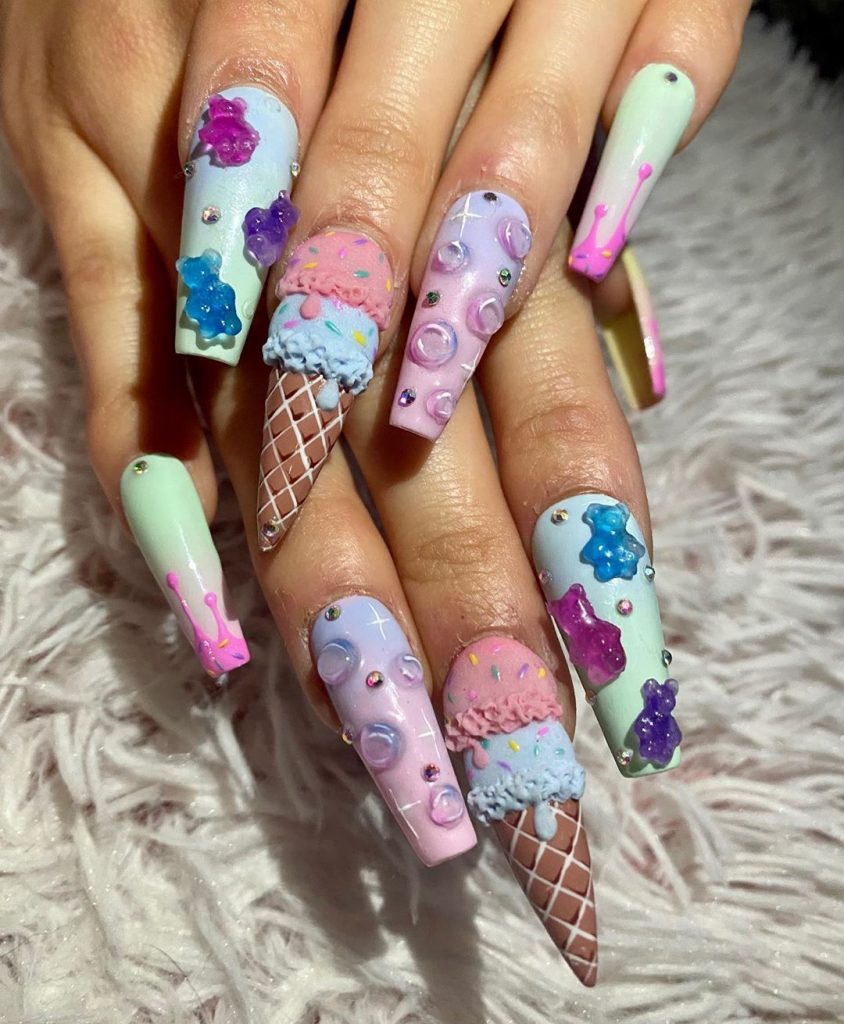 Barbie's Sparkling Mermaid: Enchanting Tails
For a magical and enchanting look, draw inspiration from Barbie's sparkling mermaid persona. Create mesmerizing underwater scenes with shimmering scales and seashell accents for a truly captivating nail design.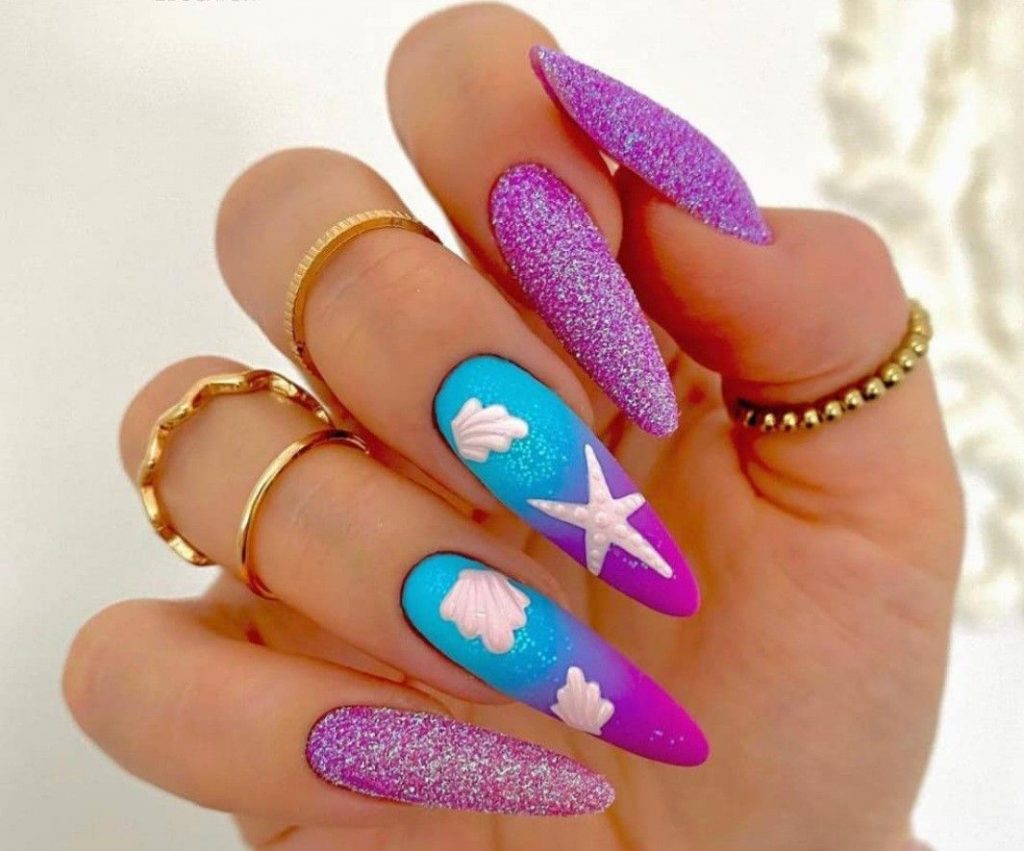 Save Pin