Nails
Black Nails Dark Skin 16 Ideas: Embrace Your Boldness
Black nails can be a stunning choice for those with dark skin tones. The rich and bold nature of black polish can complement your complexion and add an edgy touch to your overall look. In this article, we will explore various ideas and inspirations for black nails on dark skin, helping you embrace your unique beauty.
Why Black Nails?
Black nails are versatile and timeless, making them a popular choice among individuals with different skin tones. On dark skin, black nails create a striking contrast that highlights the beauty of your hands. They exude elegance, sophistication, and a touch of mystery. Whether you're going for a minimalist look or an intricate nail art design, black nails can elevate your style and make a bold statement.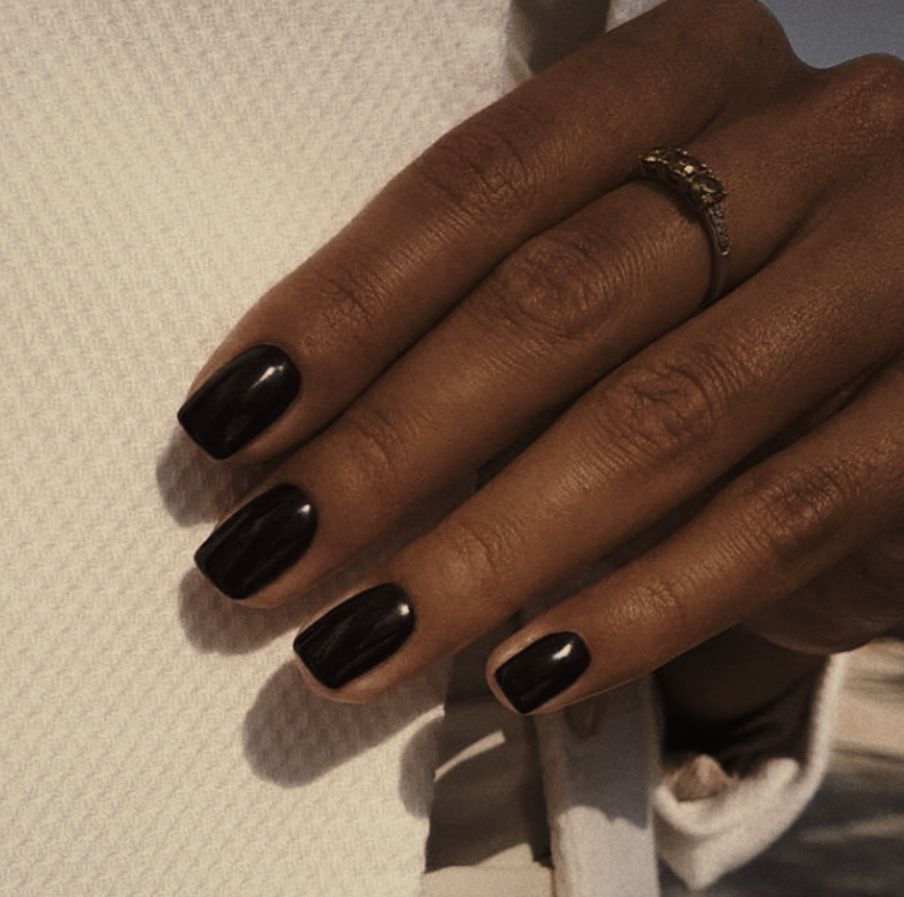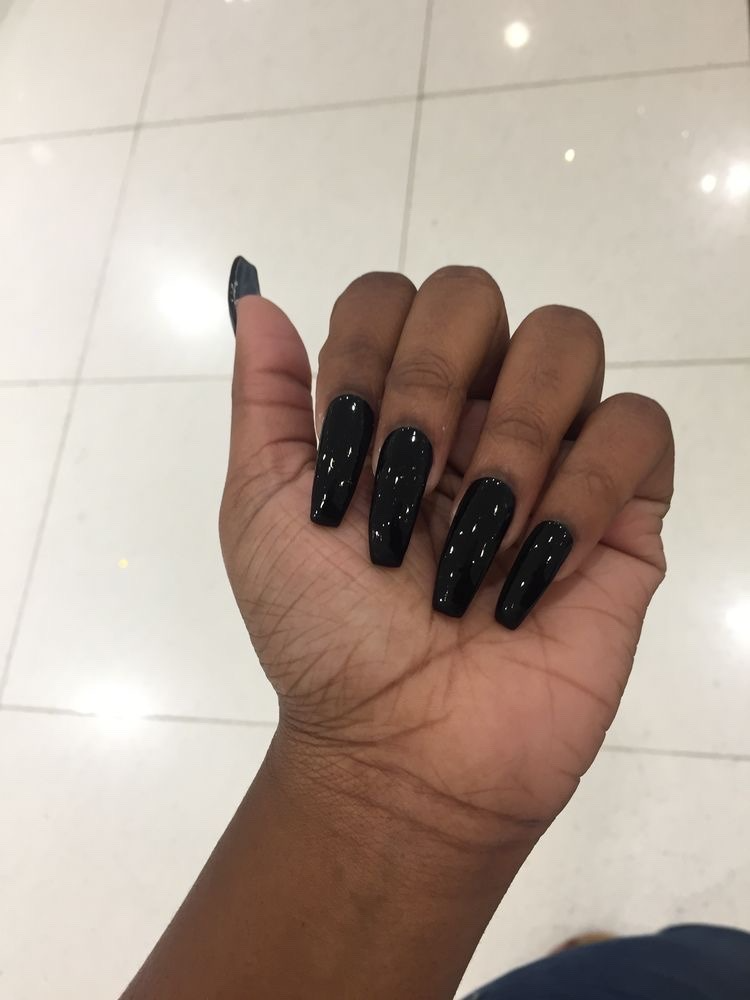 Nail Shape and Length
Before delving into specific black nail ideas, it's essential to consider the shape and length of your nails. Different nail shapes can complement your hands in various ways. For shorter nails, square or rounded shapes are classic and chic. If you prefer longer nails, almond or stiletto shapes can enhance the drama and elegance of black polish.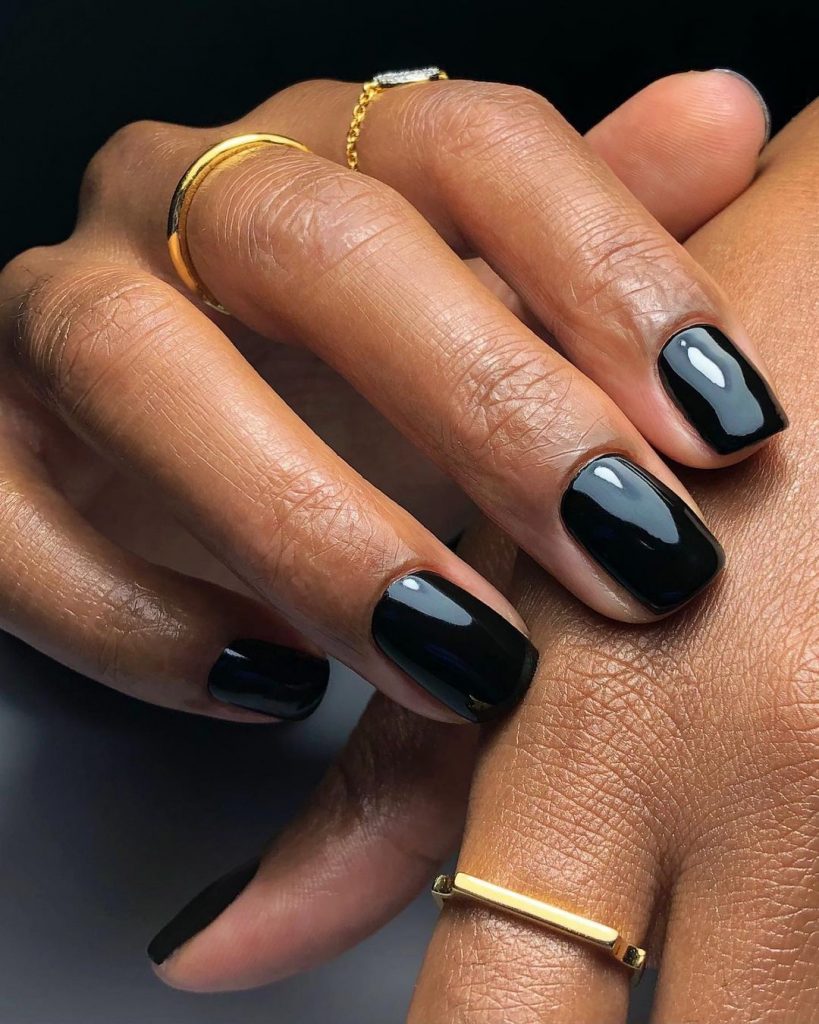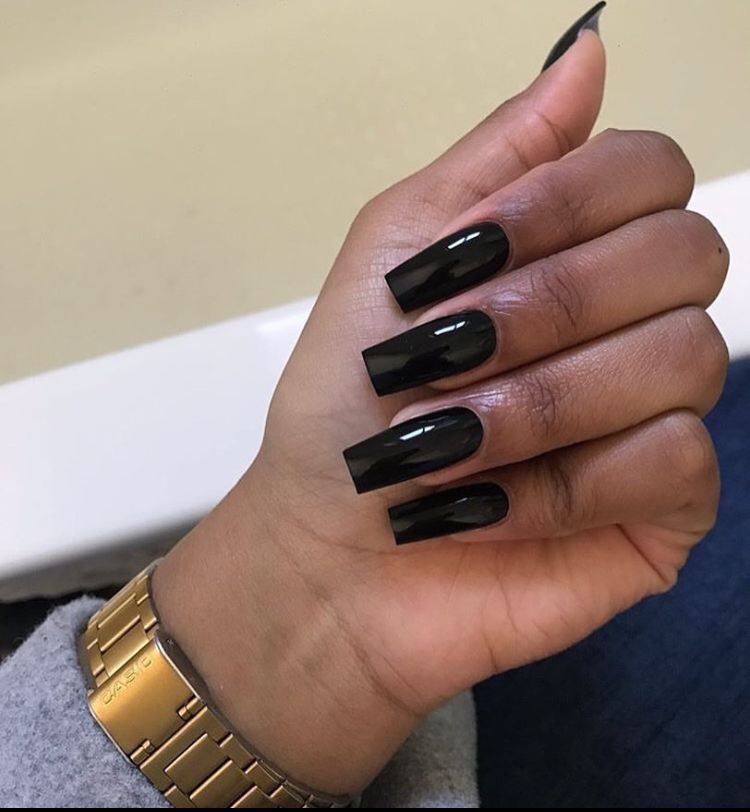 Matte Black Nails
Matte black nails offer a refined and understated look. They have a velvety texture that adds depth and dimension to your nails. Matte black can be paired with any outfit and is suitable for both formal and casual occasions. Whether you opt for an all-black manicure or incorporate subtle designs, matte black nails exude a sense of sophistication and modernity.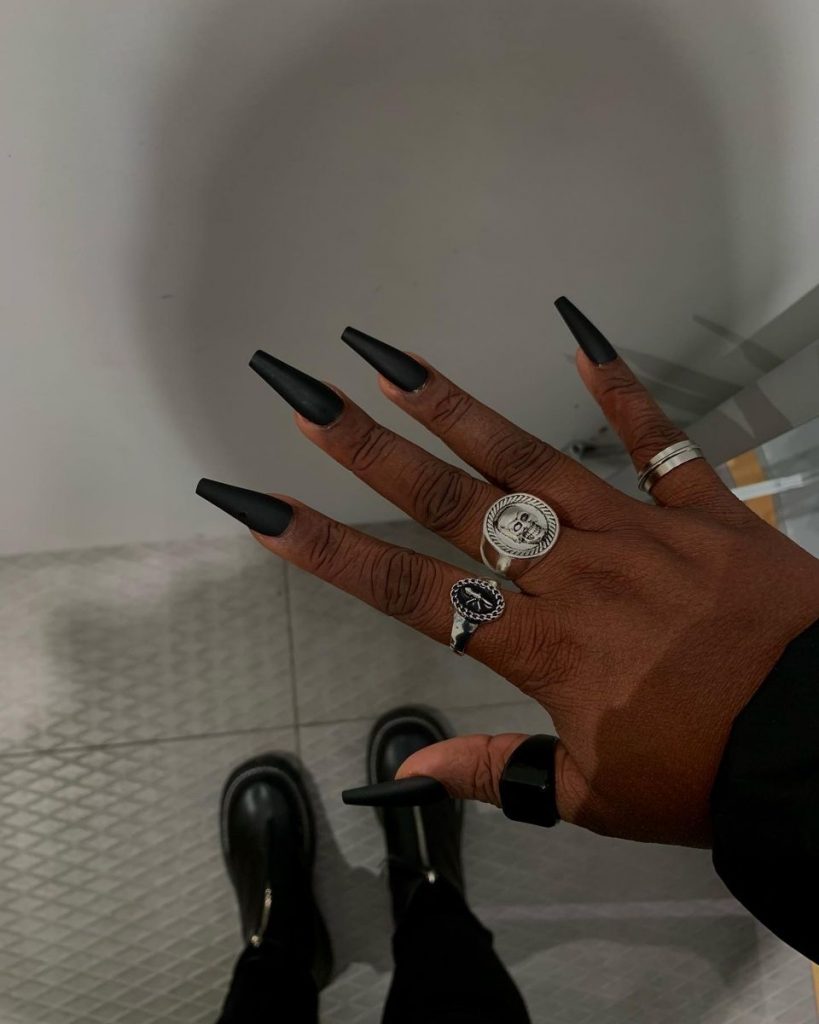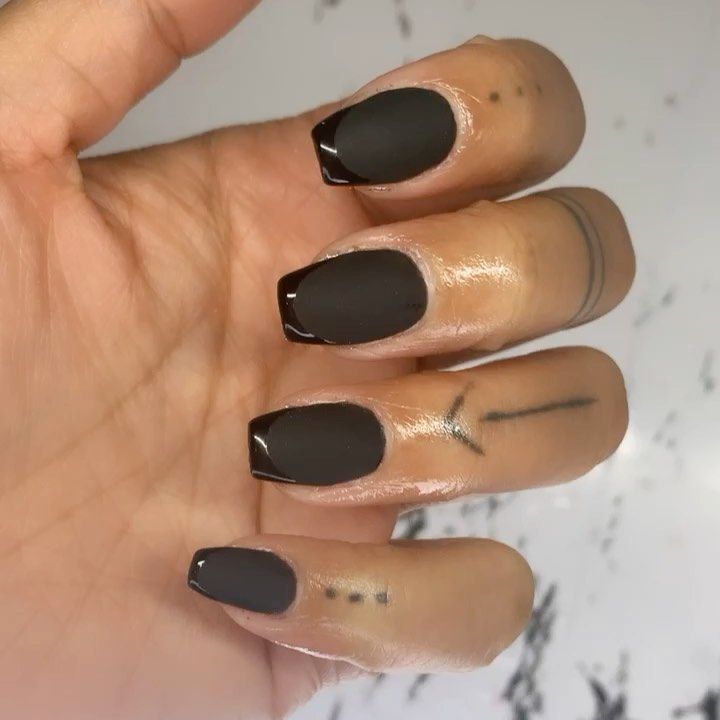 Glossy Black Nails
For a sleek and polished appearance, glossy black nails are an excellent choice. The high shine of black nail polish can catch the light and create a stunning visual impact. Glossy black nails are versatile and can be worn with any outfit, from everyday attire to glamorous evening wear. They bring an element of glamour and confidence to your overall look.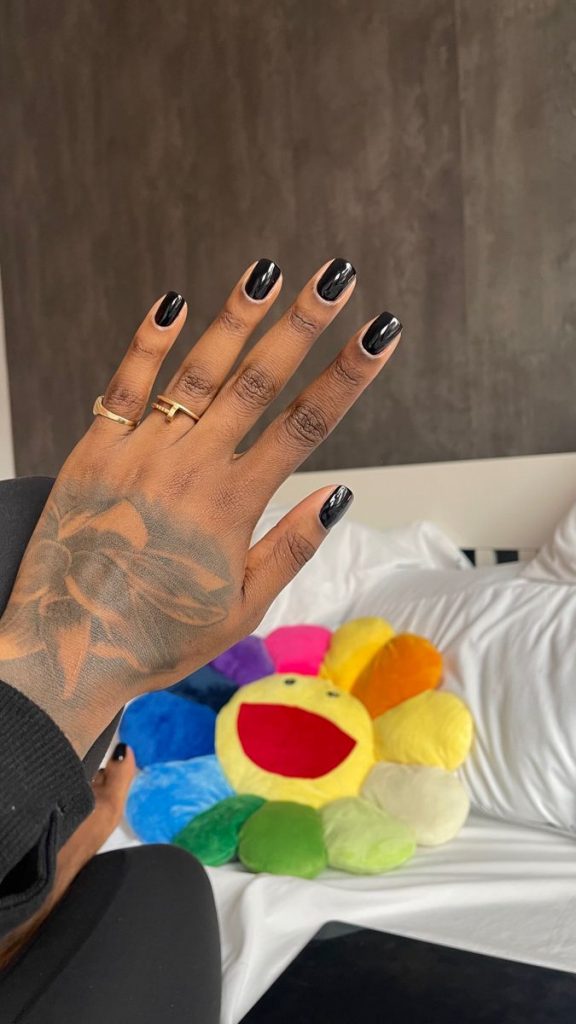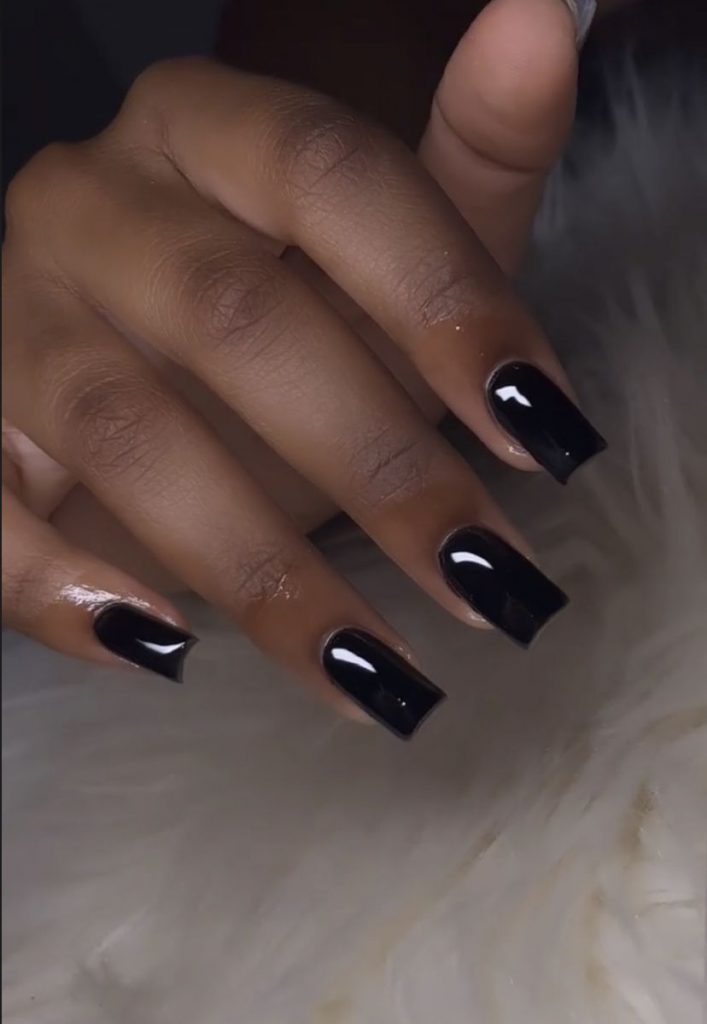 Metallic Black Nails
If you want to add a touch of extravagance to your black nails, consider metallic finishes. Metallic black nails offer a captivating and futuristic appeal. The shimmering effect can transform your nails into statement pieces. Whether you prefer a chrome, holographic, or glittery finish, metallic black nails will make you stand out with their uniqueness and opulence.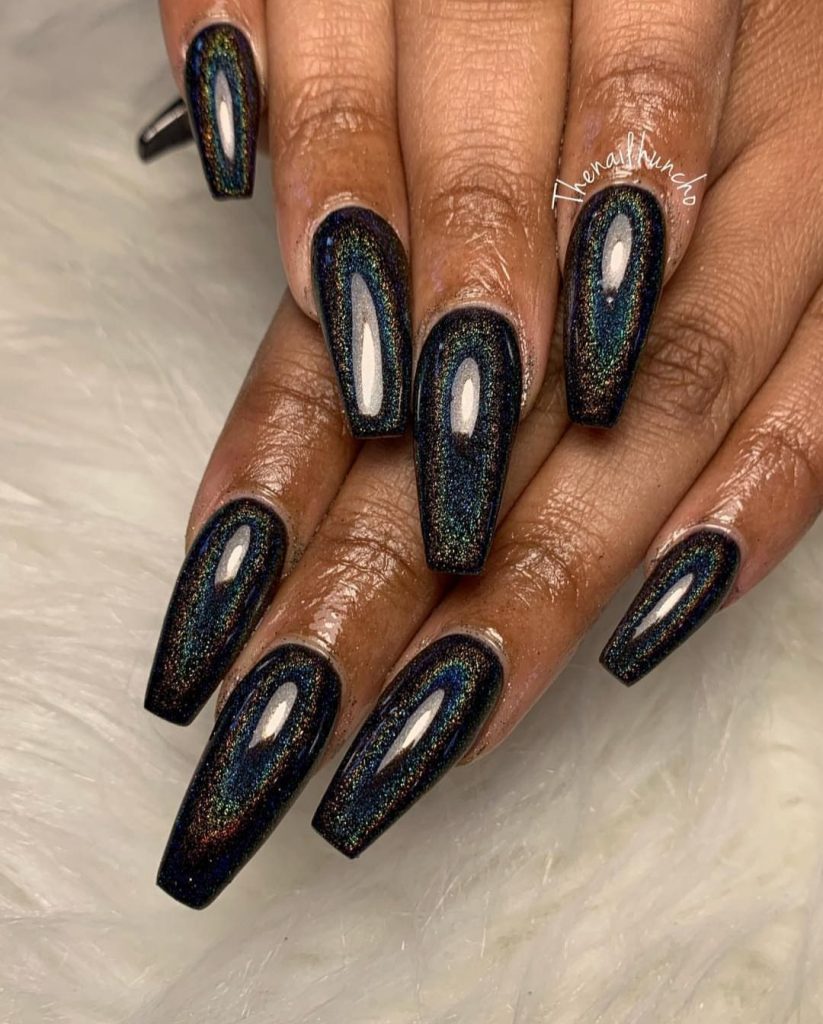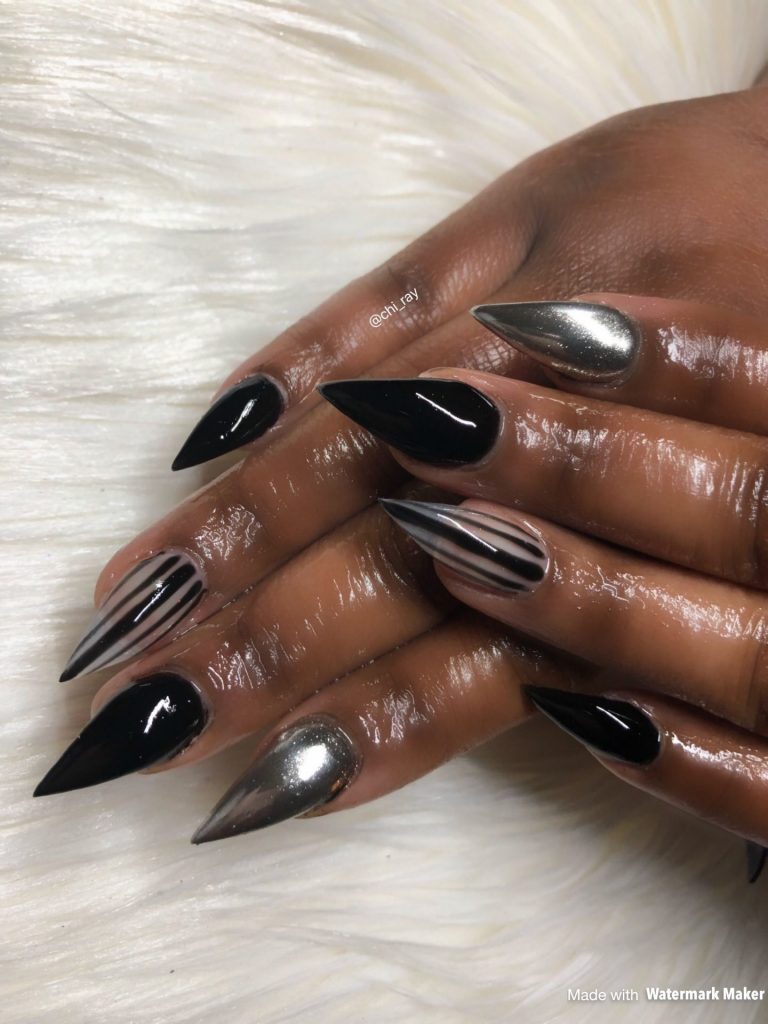 Black Nail Art Designs
Black nail art allows you to unleash your creativity and personalize your manicure. There are numerous design options to explore, ranging from geometric patterns to intricate motifs. Consider accent nails with gold or silver foil, negative space designs, or delicate floral details. Black nail art designs on dark skin create a visually stunning contrast, making your nails the center of attention.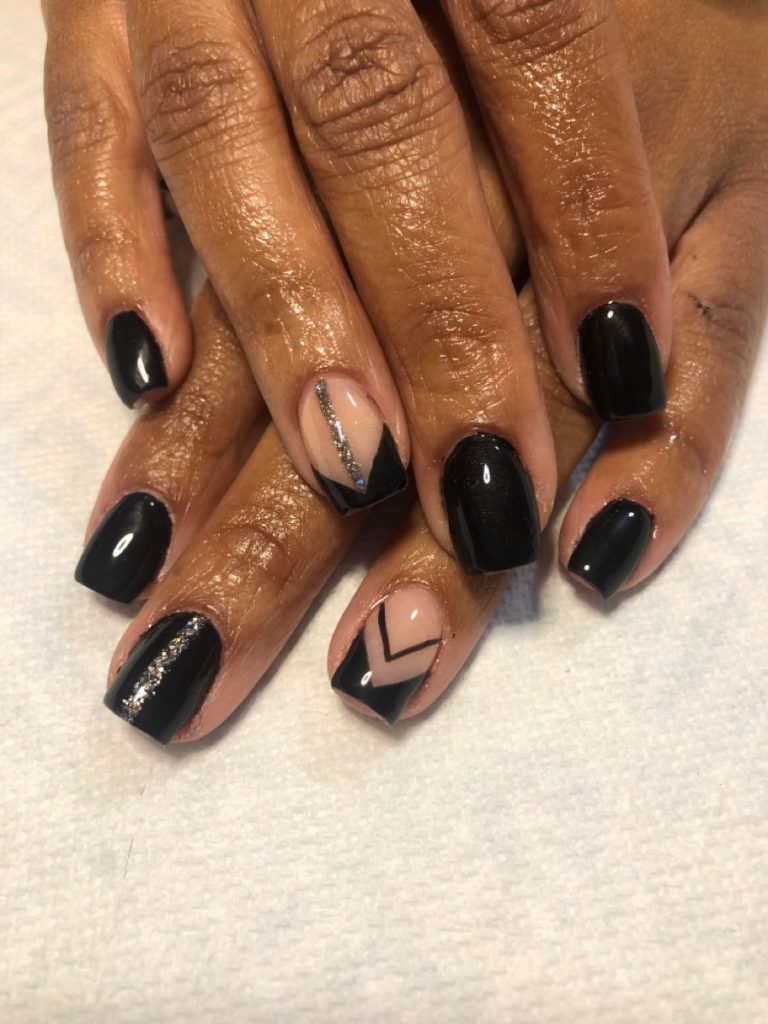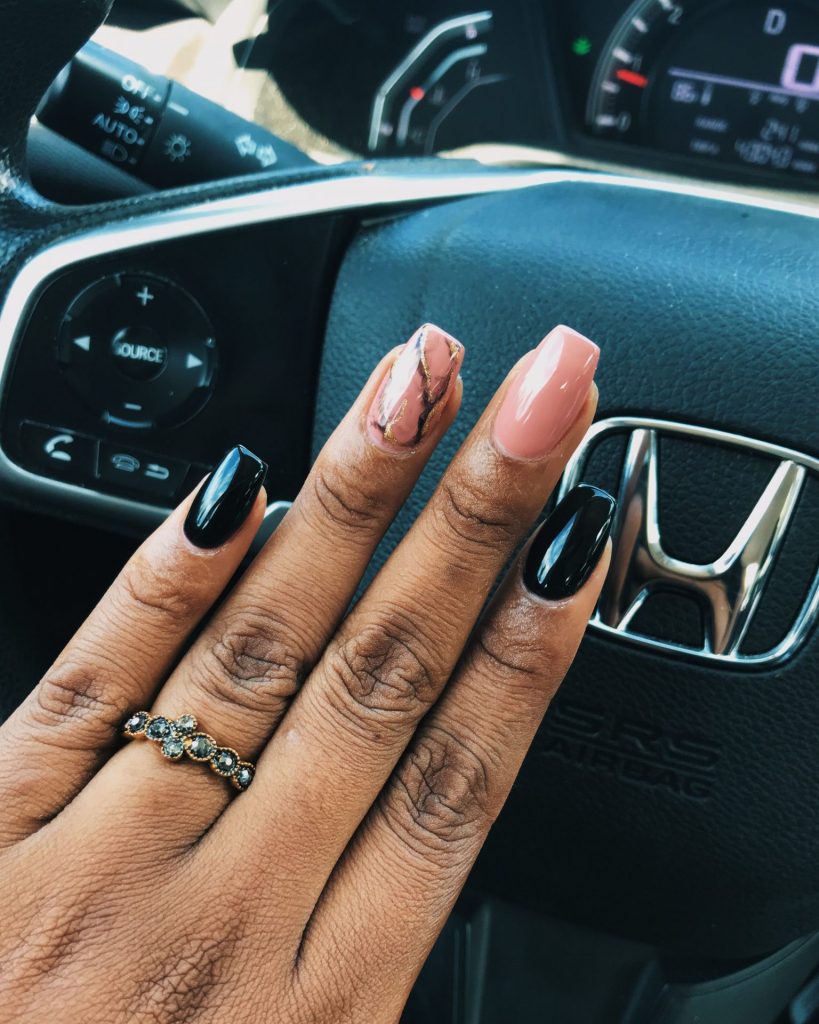 Accent Colors for Dark Skin Tones
While black nails are captivating on their own, incorporating accent colors can enhance their impact even further. Certain hues complement dark skin tones exceptionally well. For a bold and vibrant look, pair black nails with jewel tones like emerald green, deep purple, or royal blue. For a softer touch, pastel shades like blush pink or lavender can create a lovely contrast.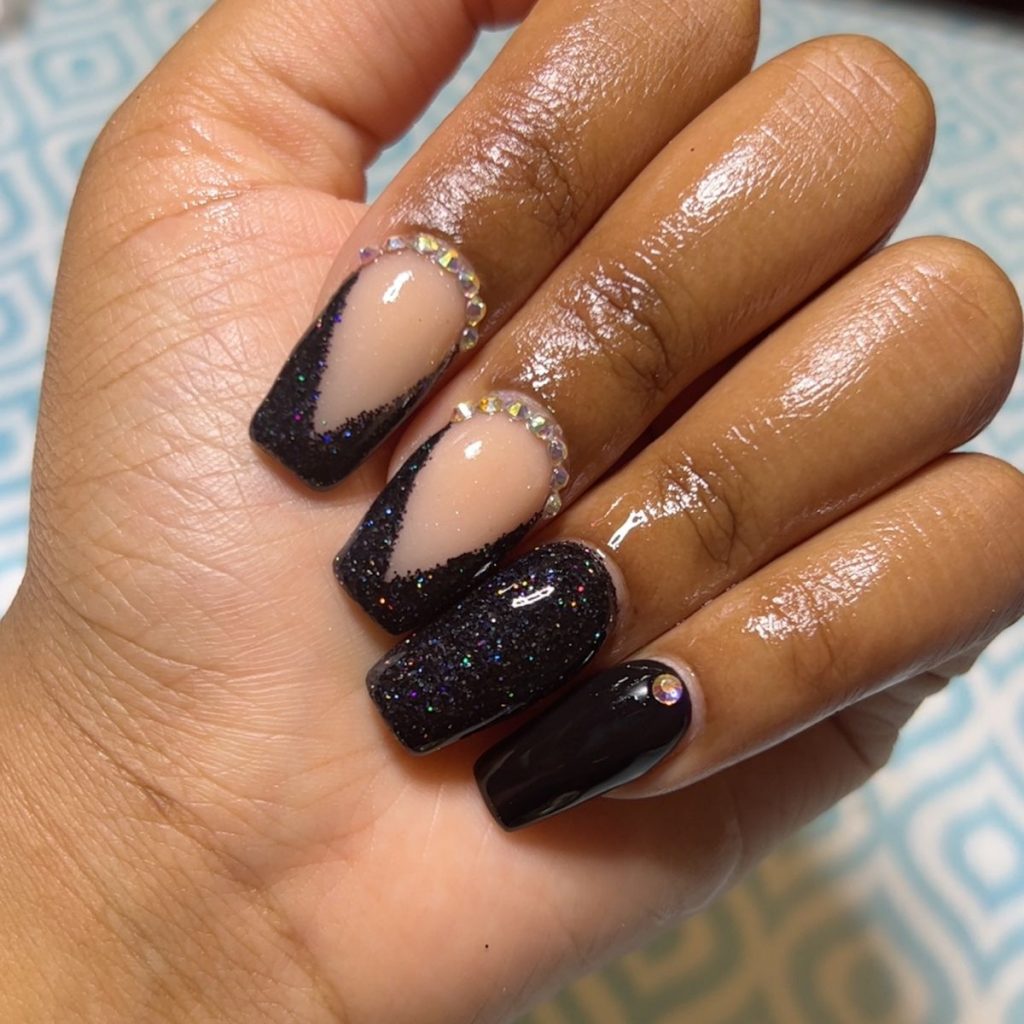 Black Nail Care Tips
To ensure your black nails look their best, proper nail care is crucial. Here are some tips to keep in mind: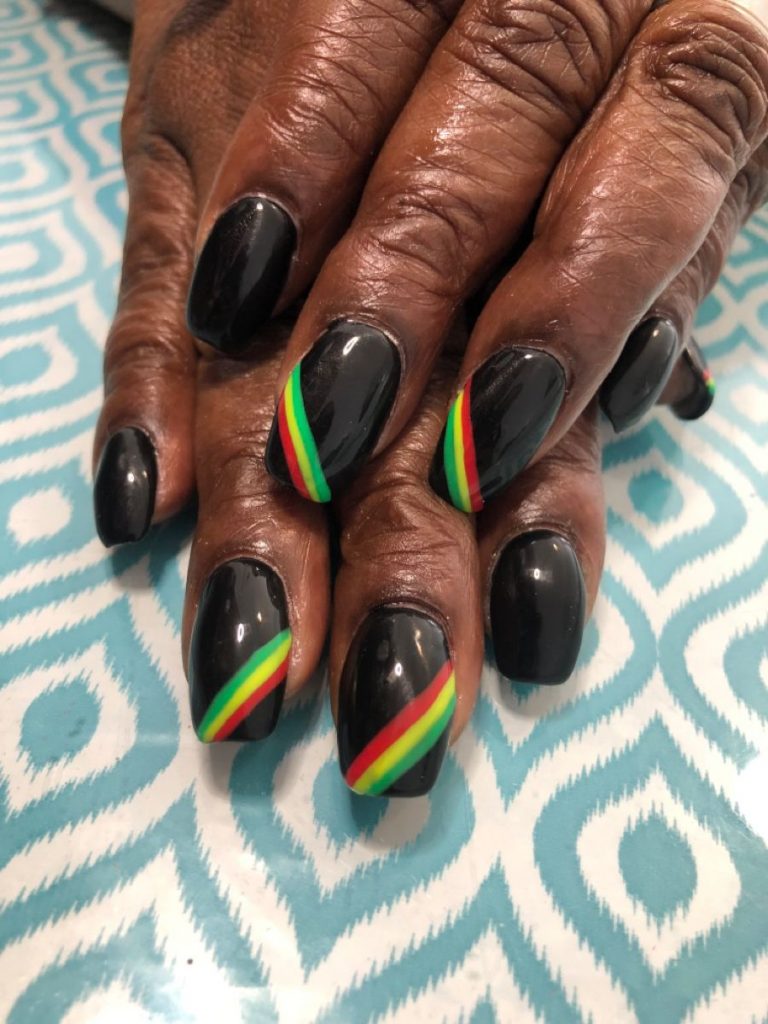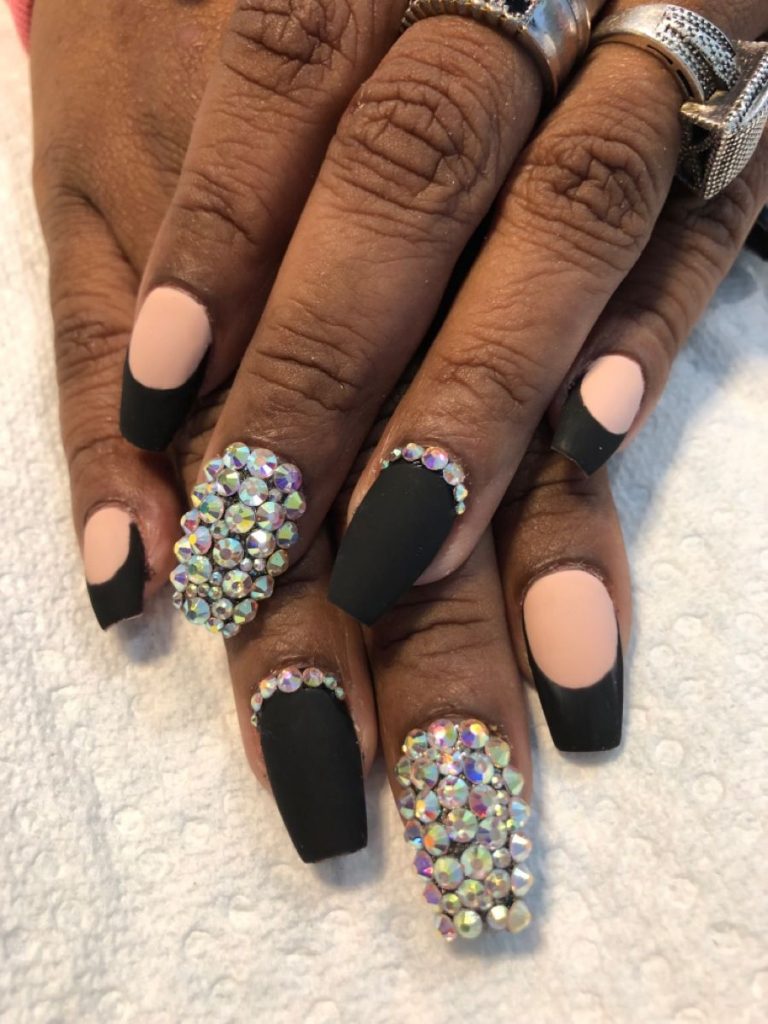 Always use a base coat before applying black nail polish to prevent staining.
Apply thin coats of polish to achieve a smooth and even finish.
Allow each layer to dry fully before applying the next.
Use a high-quality top coat to protect your manicure and prolong its longevity.
Moisturize your cuticles regularly to maintain healthy nails and prevent dryness.