Nails
Dark Cherry Red Nails 24 Ideas: Add a Touch of Glamour to Your Style
Dark cherry red nails have become a popular choice among fashion-forward individuals who want to add a touch of sophistication and allure to their overall style. This deep, luscious shade of red is versatile and can be paired with various outfits and occasions. Whether you're attending a formal event or simply want to feel confident in your day-to-day life, dark cherry red nails are a fantastic choice.
Classic Dark Cherry Red Nails
The classic dark cherry red manicure is timeless and elegant. This simple yet stunning look involves applying a rich, glossy coat of dark cherry red polish to your nails. The result is a chic and sophisticated appearance that never goes out of style. Whether you opt for short nails or long, almond-shaped ones, the classic dark cherry red nails will always make a statement.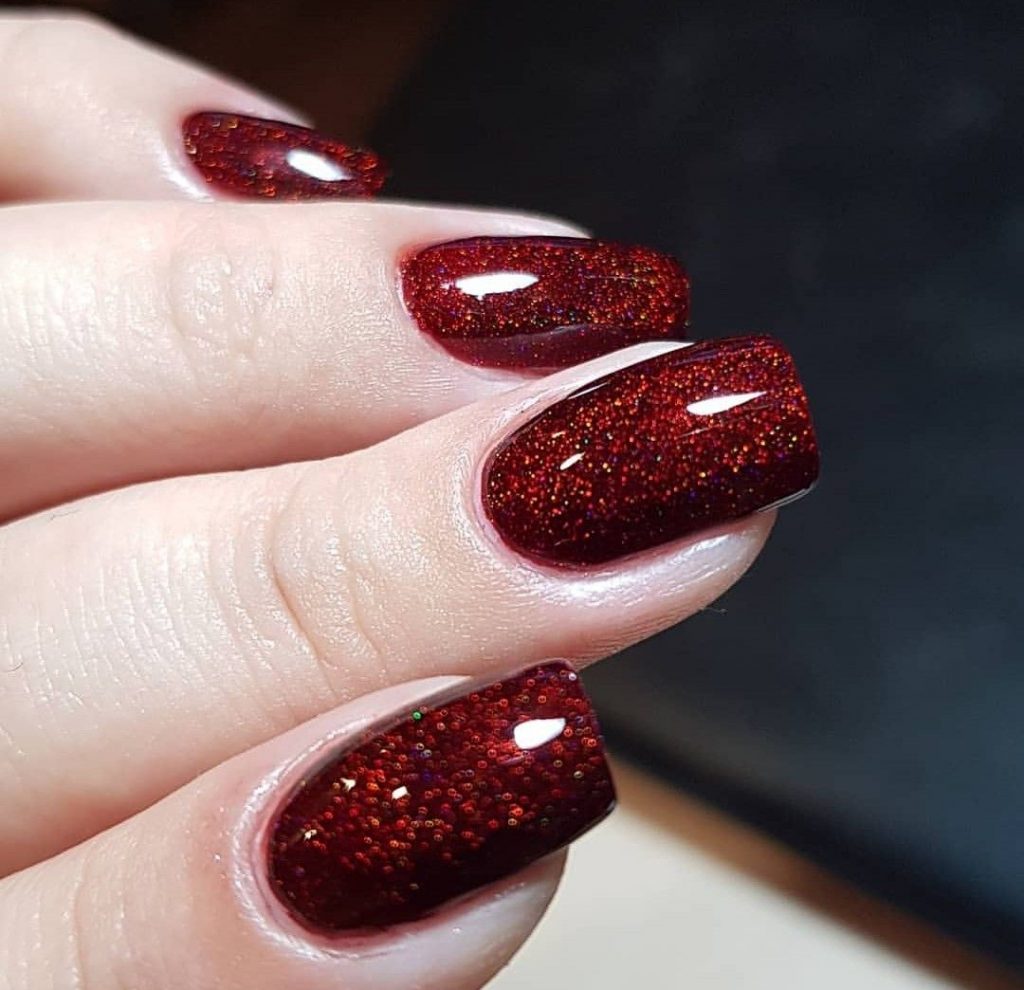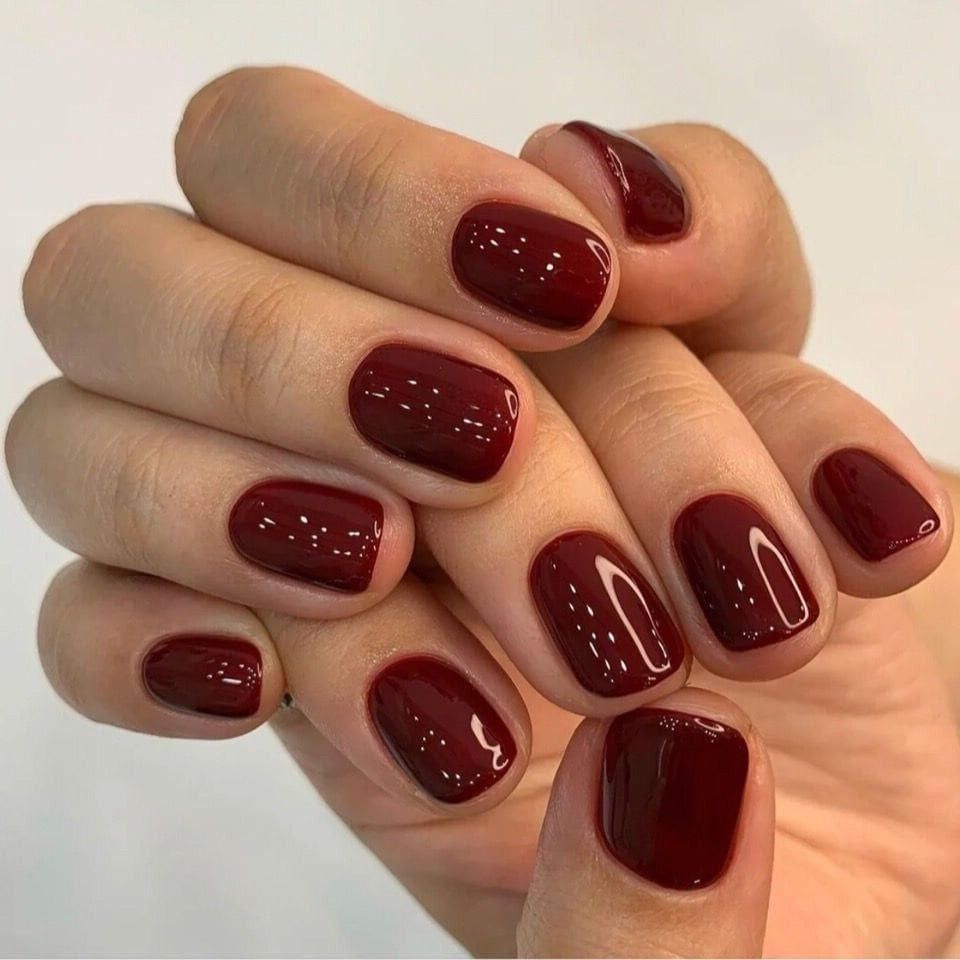 Matte Finish with a Twist
For a modern twist on the classic dark cherry red nails, consider a matte finish. Matte nails have gained popularity in recent years due to their unique and edgy appearance. By choosing a matte dark cherry red polish, you can achieve a sleek and sophisticated look that stands out from the crowd. This understated elegance is perfect for those who prefer a more subtle approach to their manicure.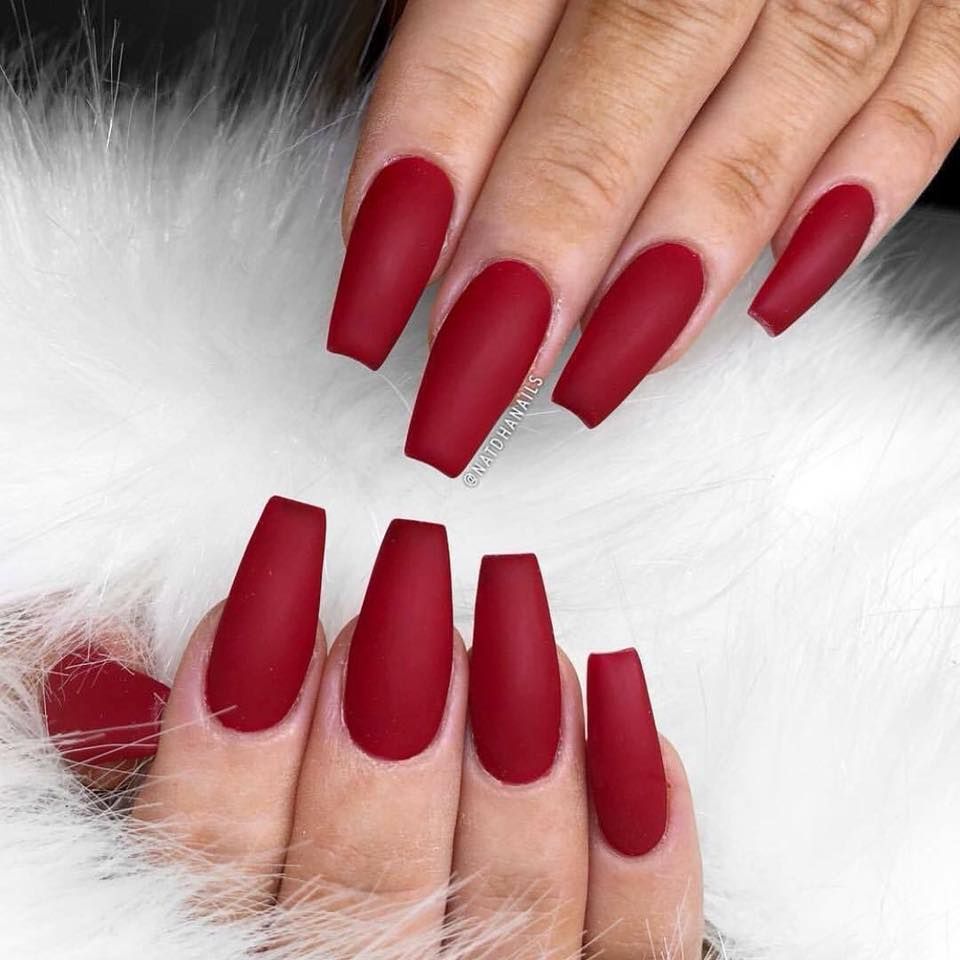 Glittery Accents for Sparkling Nails
If you want to add a touch of glamour and sparkle to your dark cherry red nails, consider incorporating glittery accents. Whether it's a glitter gradient, glitter tips, or glittery nail art designs, the combination of dark cherry red and shimmering glitter creates a dazzling effect. This look is ideal for special occasions or when you simply want to embrace your inner diva and make a bold fashion statement.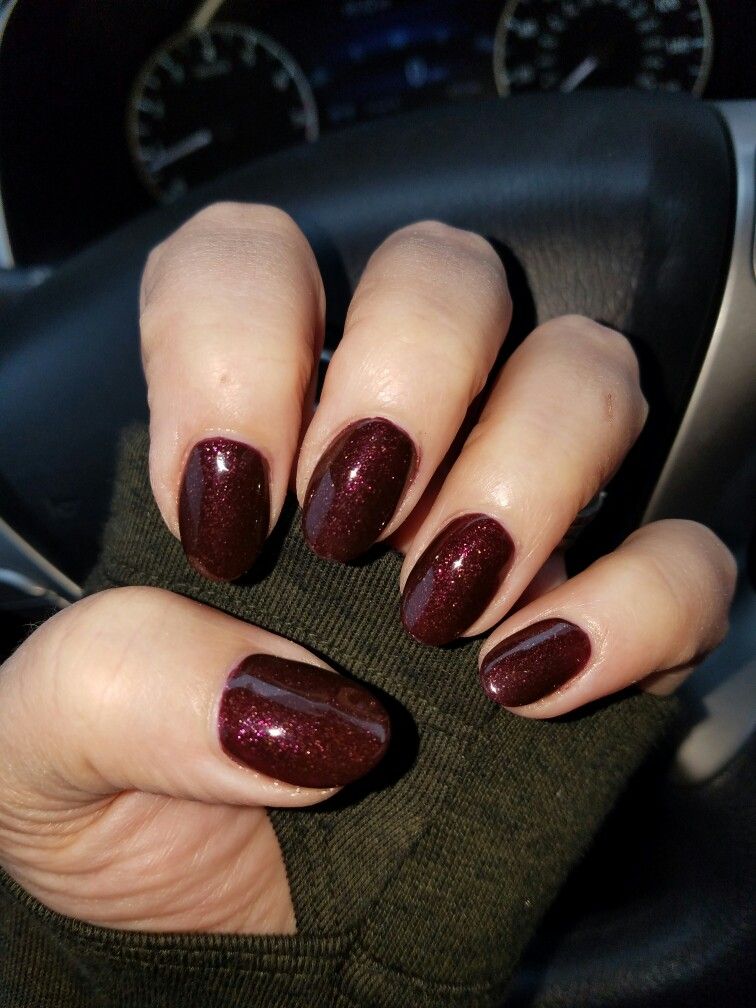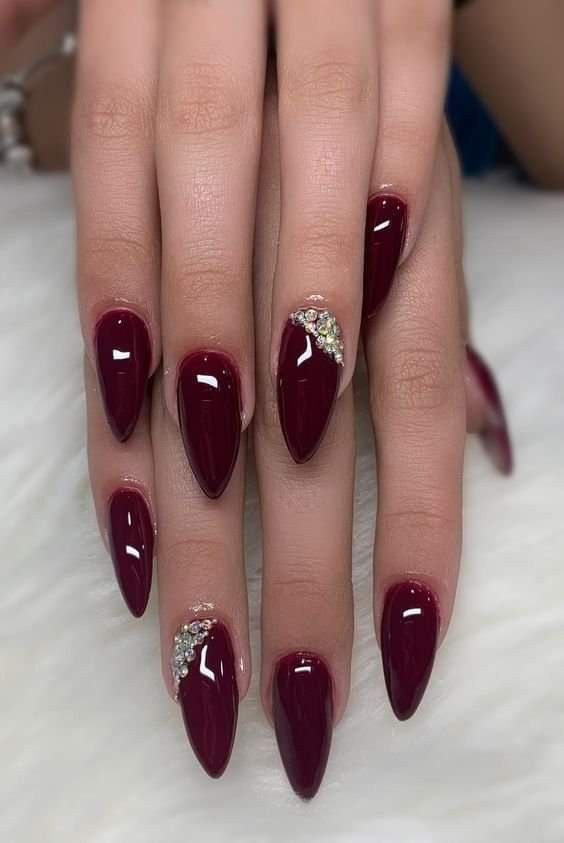 Edgy and Elegant Stiletto Nails
Stiletto nails have gained immense popularity for their fierce and dramatic appearance. When paired with dark cherry red polish, stiletto nails create a captivating and edgy look that demands attention. These sharp, pointed nails exude confidence and add a touch of rebellion to your style. Whether you prefer a glossy finish or experiment with different nail art designs, dark cherry red stiletto nails will undoubtedly make heads turn.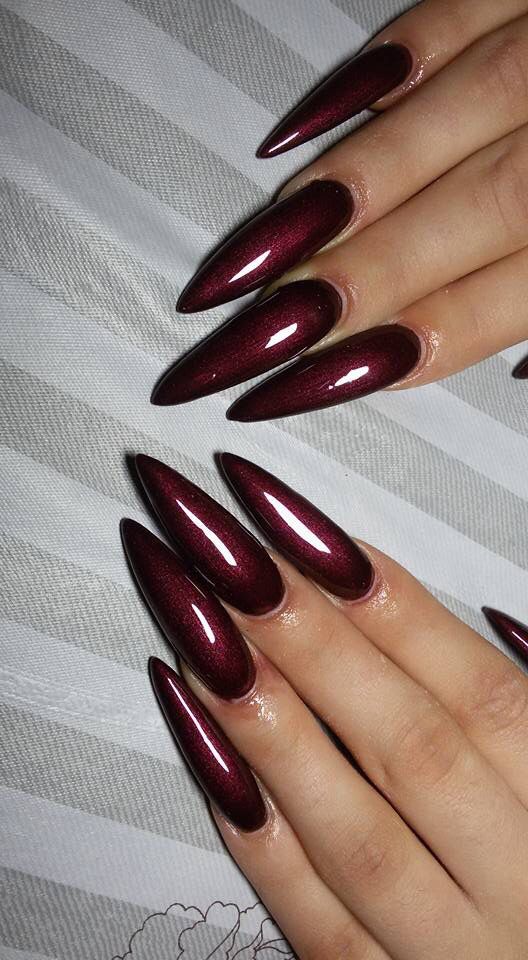 Floral Patterns for a Feminine Touch
For a feminine and romantic vibe, consider incorporating floral patterns into your dark cherry red manicure. Delicate flowers, vines, or roses can be hand-painted or applied as nail decals to create a stunning nail art design. The combination of dark cherry red and intricate floral details adds a touch of elegance and grace to your nails. This look is perfect for weddings, parties, or any occasion where you want to showcase your feminine side.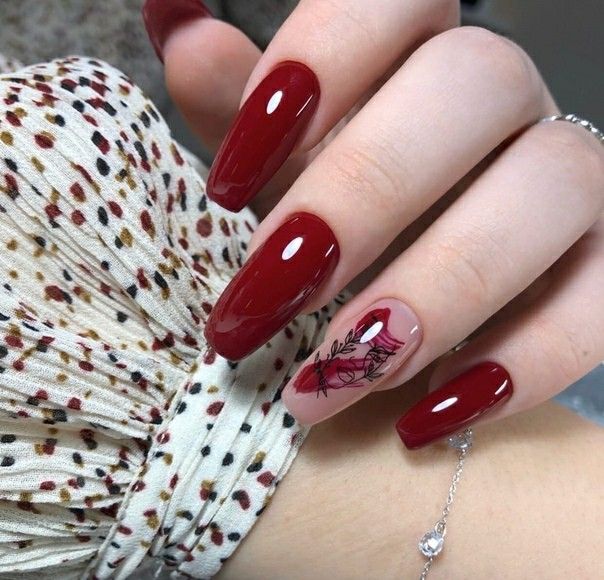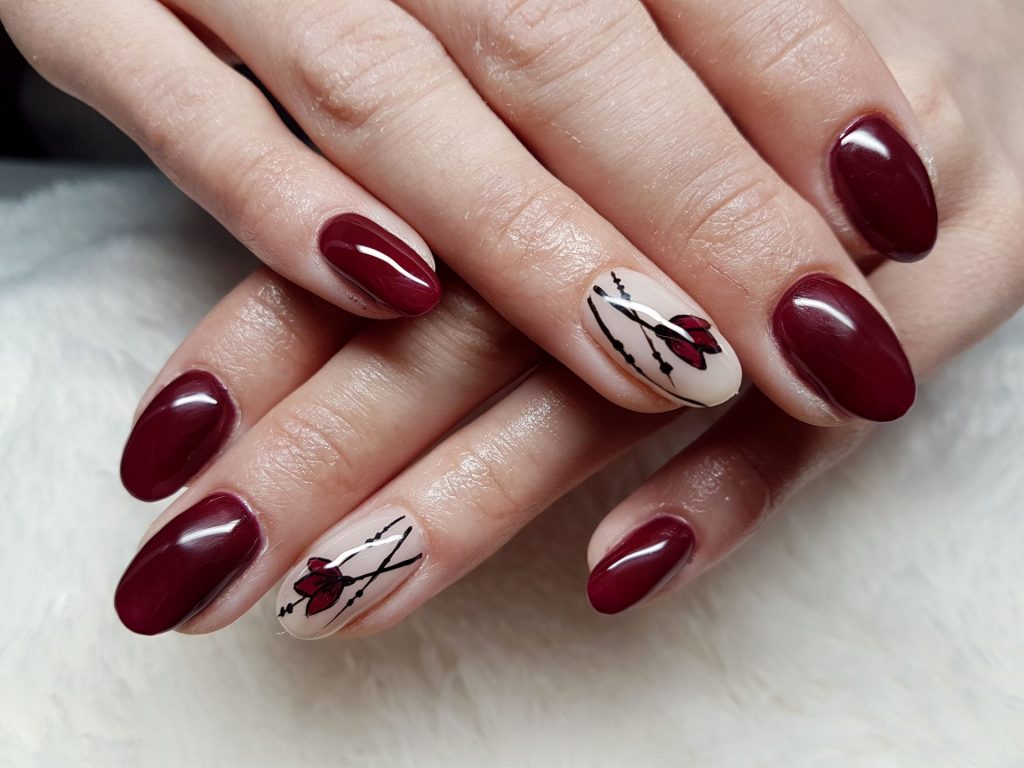 Geometric Nail Art with Dark Cherry Red
If you prefer a more modern and abstract approach to your nail art, geometric designs are an excellent choice. Incorporating geometric patterns and shapes into your dark cherry red manicure adds a contemporary and artistic touch. From triangles and squares to lines and dots, the possibilities are endless. Let your creativity shine and create a unique geometric nail art design that reflects your personal style.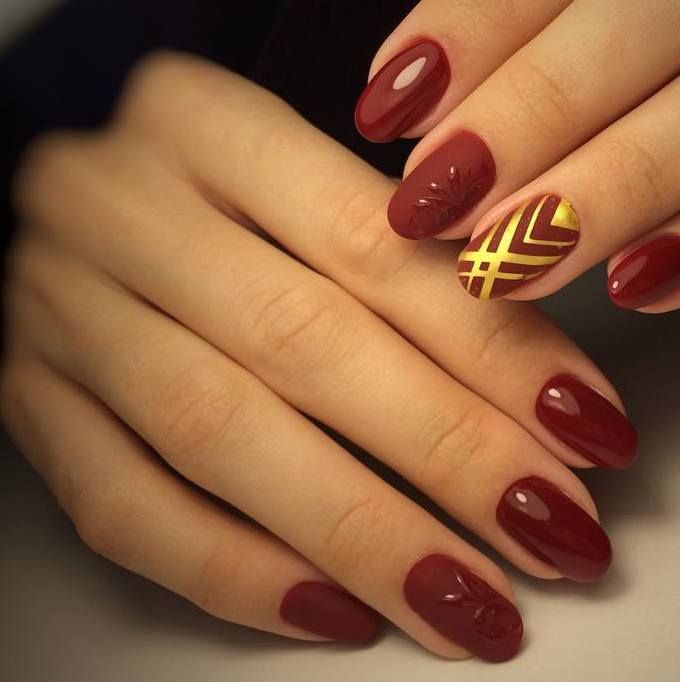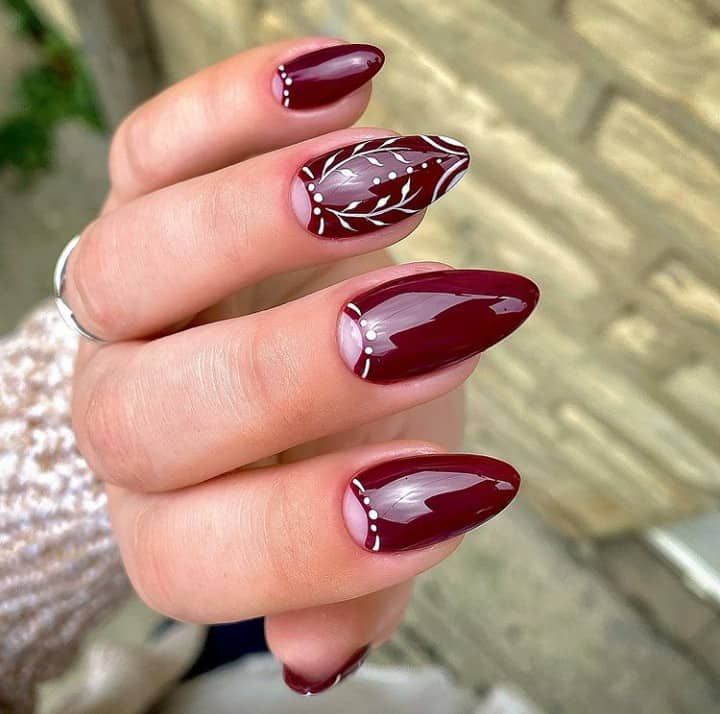 Ombré Nails: Gradual Color Transition
Ombré nails have been a popular trend for quite some time, and they can be beautifully executed with dark cherry red polish. This technique involves a gradual color transition from a lighter shade of red to a deeper, darker cherry red at the tips of your nails. The result is a stunning and eye-catching manicure that adds depth and dimension to your overall look.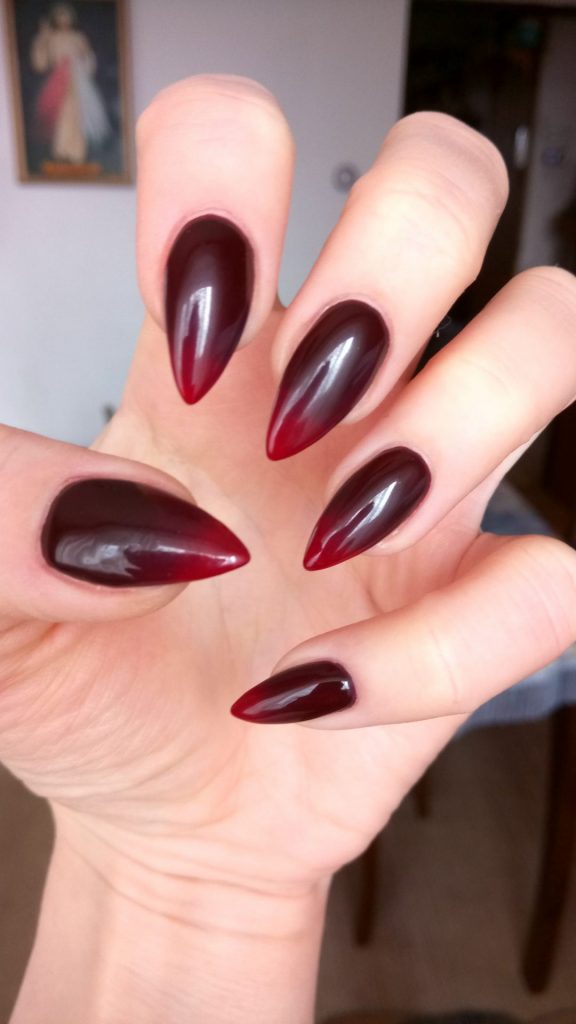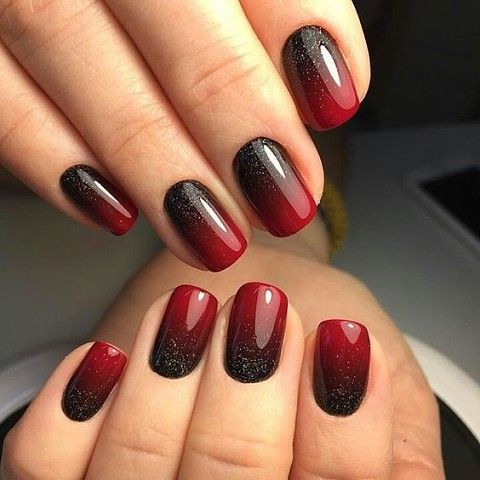 Negative Space Nail Design
Negative space nail art is a minimalist approach that creates a modern and chic look. By strategically leaving parts of your nails unpainted or using clear polish, you can create unique designs with dark cherry red accents. Negative space designs are versatile and can range from simple lines and shapes to more intricate patterns. This style is perfect for those who appreciate simplicity with a twist.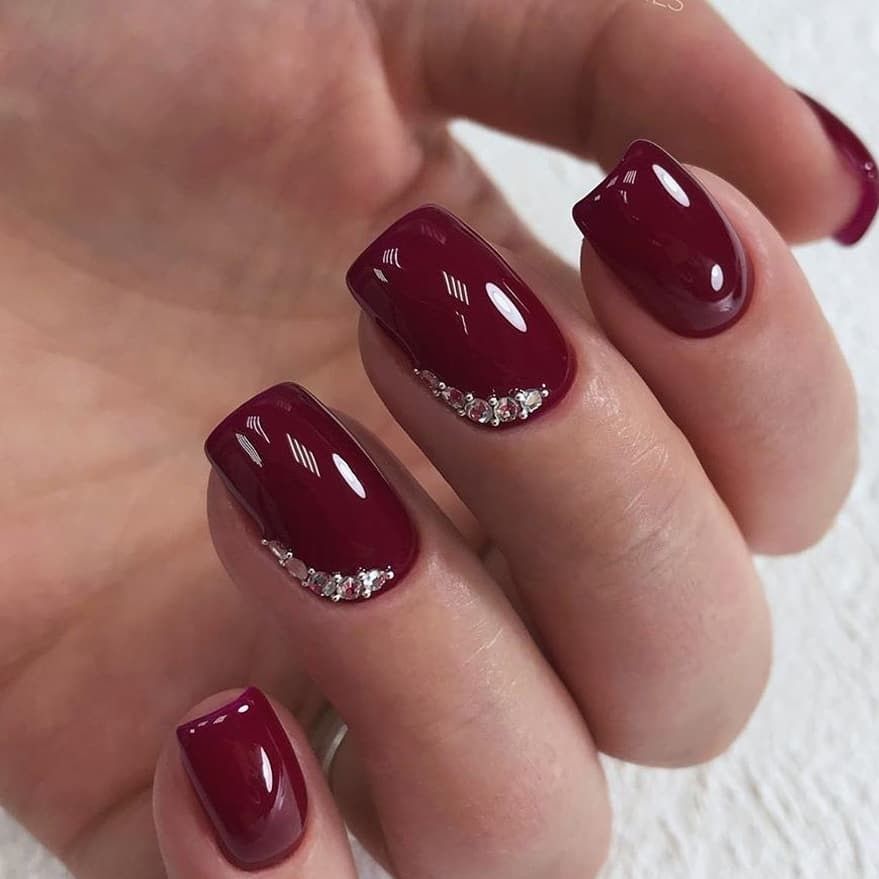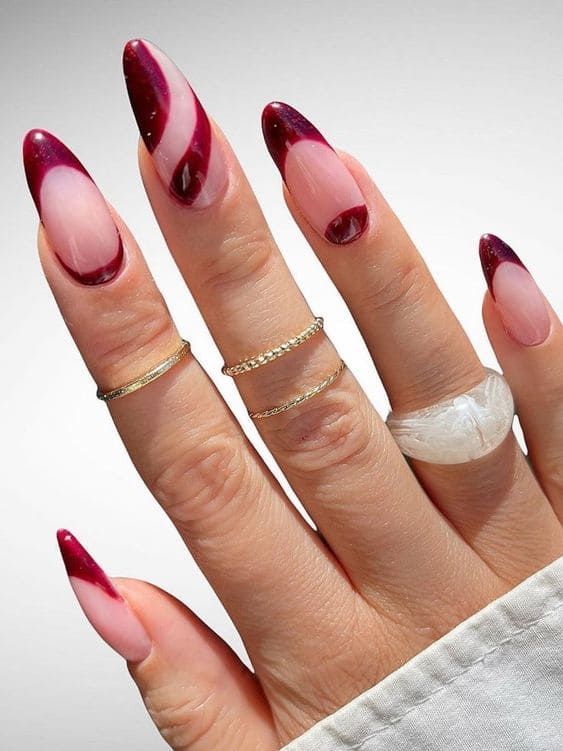 Metallic Touch for a Modern Look
For a trendy and modern appearance, consider adding a metallic touch to your dark cherry red manicure. Metallic shades like gold, silver, or rose gold can be used as accents or incorporated into nail art designs to create a stunning contrast. This combination of dark cherry red and metallic elements adds a luxurious and contemporary feel to your nails.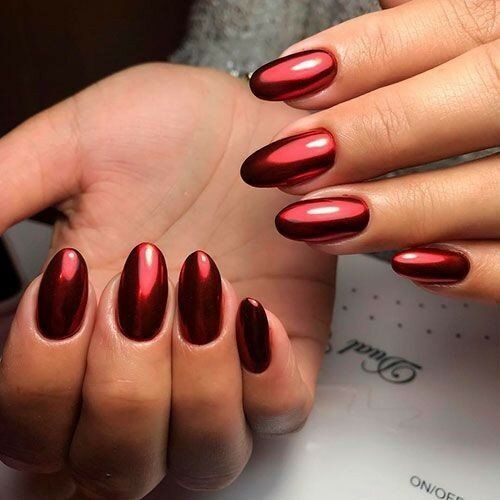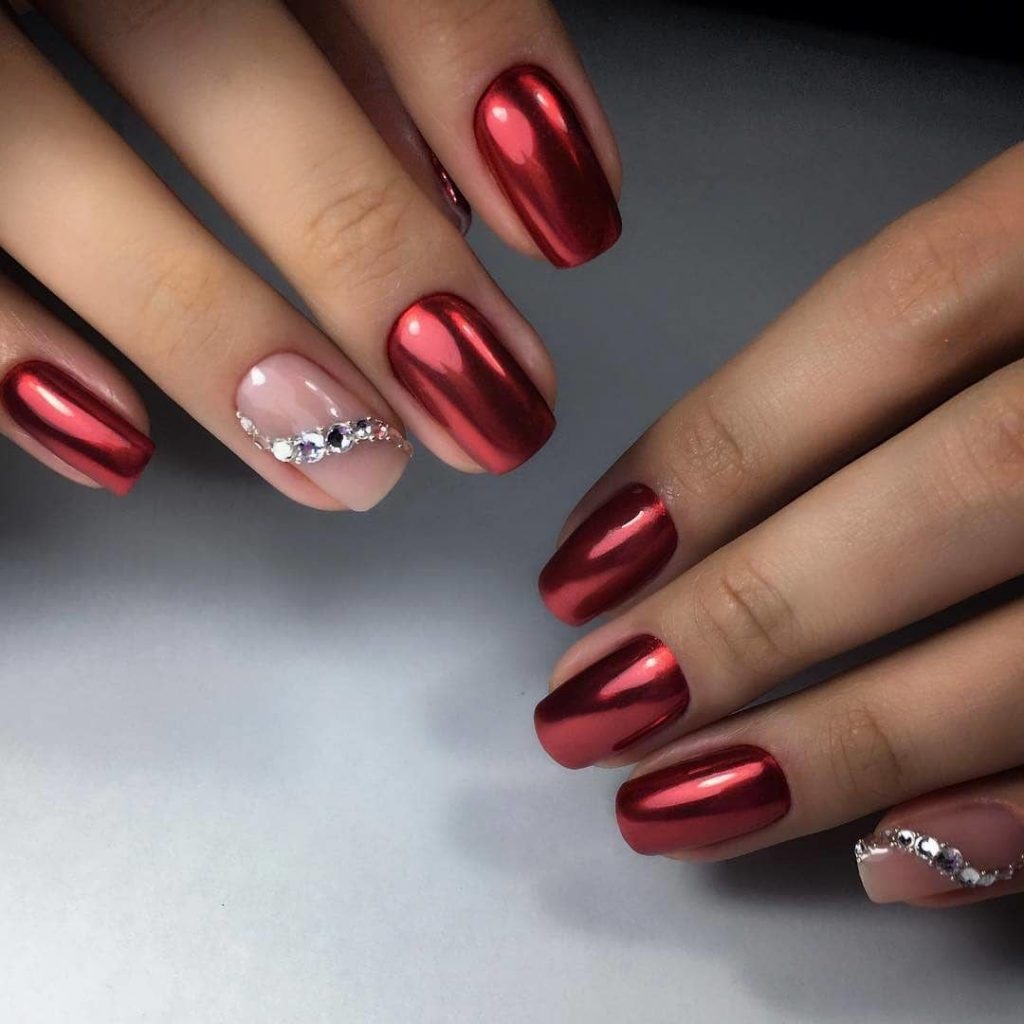 Marble Nail Art with Dark Cherry Red
Marble nail art has become incredibly popular due to its elegant and sophisticated look. By using a marbling technique with dark cherry red and white or light-colored polish, you can achieve a beautiful marble effect on your nails. This unique and artistic design is perfect for those who want to make a statement and showcase their creativity.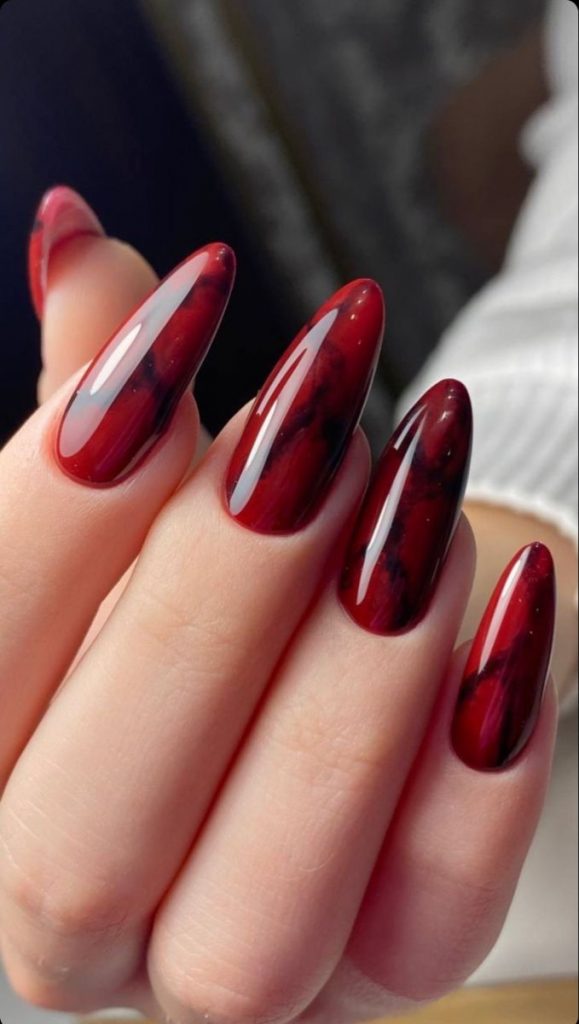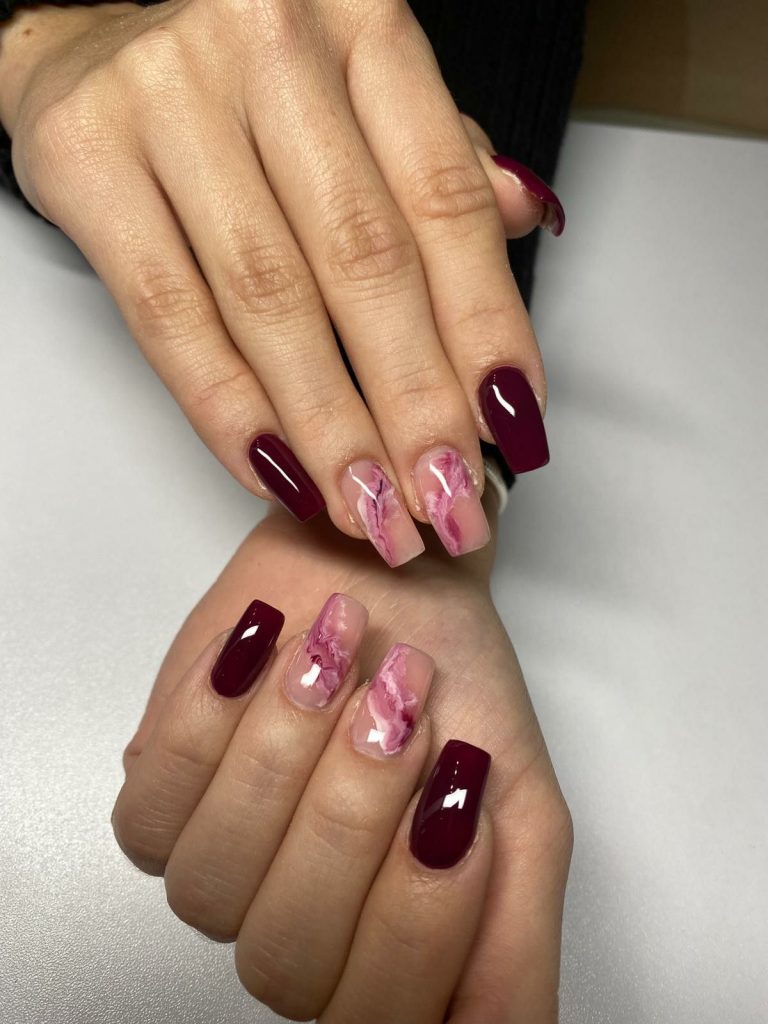 French Manicure with a Twist
Put a modern twist on the classic French manicure by incorporating dark cherry red into the design. Instead of the traditional white tips, opt for dark cherry red tips against a neutral or nude base. This variation adds a touch of boldness and uniqueness to the timeless French manicure. It's a perfect choice for those who want to embrace tradition while adding a contemporary twist.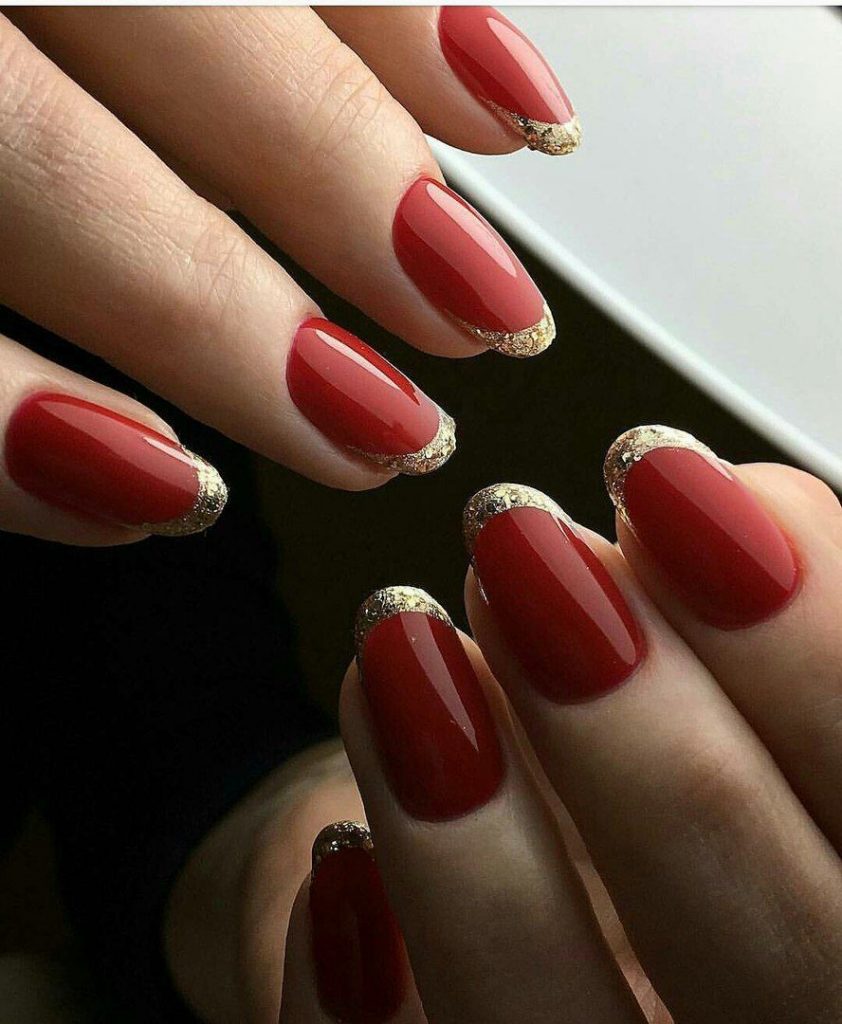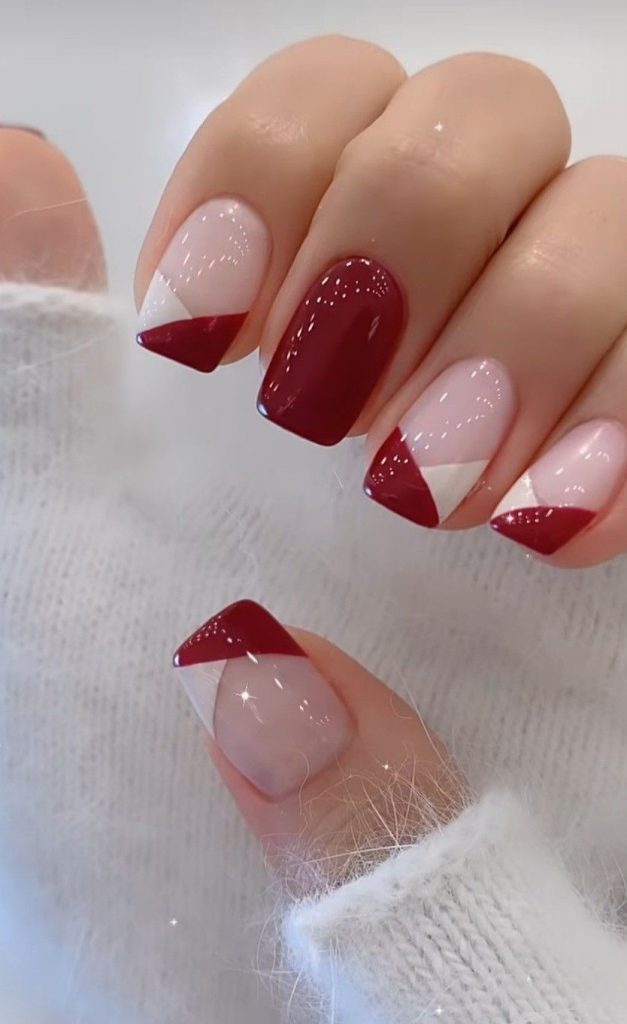 Abstract Nail Designs
If you're a fan of abstract art, why not translate that love onto your nails? Abstract nail designs allow you to let your imagination run wild and create unique patterns and shapes using dark cherry red polish. From bold brushstrokes to random splatters of color, abstract nail art is all about self-expression and creativity. Let your nails become a canvas for your artistic side.