Nails
Fall Nail Designs Almond Shape 2023 19 Ideas: Stylish Trends for the Season
Are you ready to update your nail game with the latest trends? Fall is the perfect time to experiment with new nail designs, and one of the most popular and versatile shapes is the almond shape. Almond-shaped nails are elegant, feminine, and can complement any outfit or occasion. In this article, we will explore some trendy fall nail designs specifically tailored for almond-shaped nails. So, let's dive in and discover the stylish ideas for your fall manicure!
Embracing the Almond Shape
Almond-shaped nails are characterized by their tapered sides and rounded tips, resembling the shape of an almond. This shape elongates the fingers and provides a flattering and sophisticated look to your nails. Whether you prefer a shorter or longer length, almond-shaped nails offer versatility and style.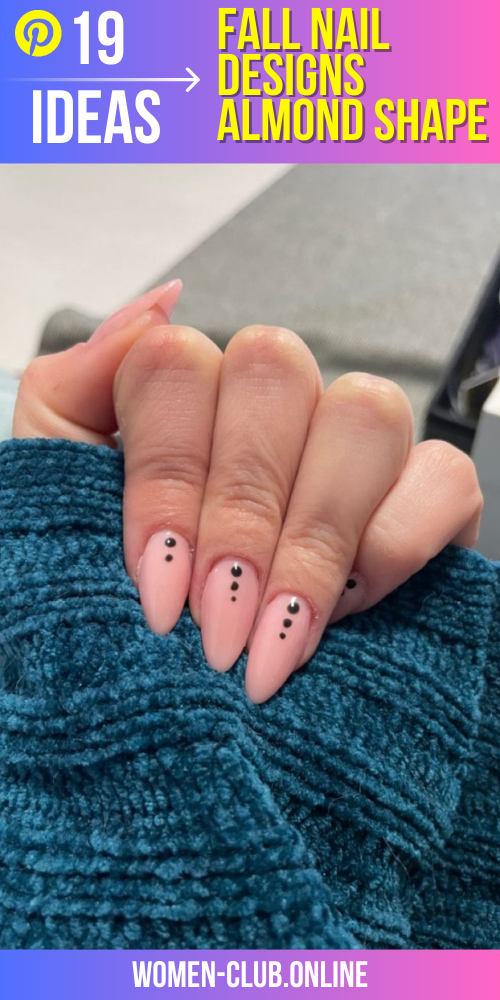 Classic Fall Colors for Almond Nails
When it comes to fall nail designs, classic colors never go out of style. Deep, rich hues like burgundy, plum, and olive green are perfect choices for creating a timeless fall manicure. These colors exude warmth and complement the cozy vibes of the season. You can opt for solid colors or experiment with different shades by incorporating them into nail art designs.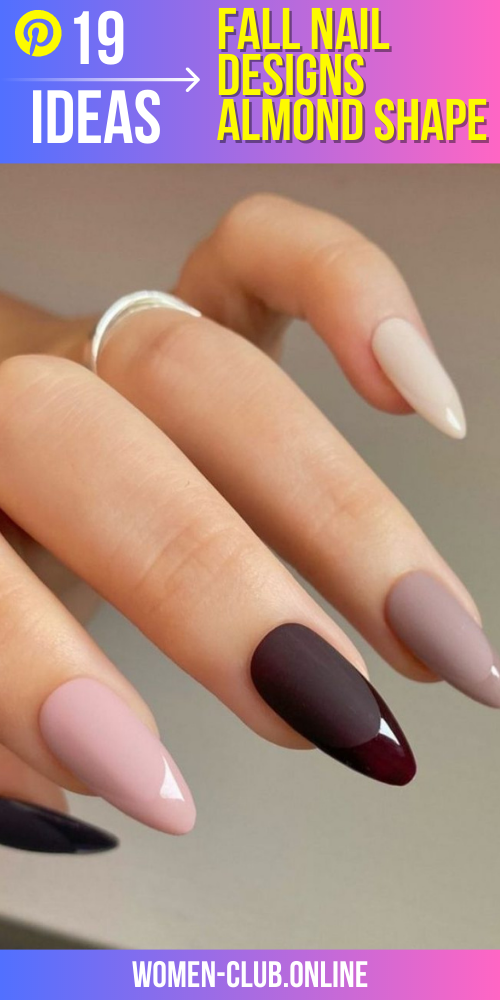 Nature-Inspired Nail Designs
Fall is a season of change and beautiful transformations in nature. Take inspiration from the stunning colors of falling leaves, autumn landscapes, and seasonal motifs. Incorporate earthy tones, such as burnt orange, mustard yellow, and rustic brown, into your almond-shaped nails. Create leaf patterns, tree silhouettes, or intricate designs inspired by nature's wonders.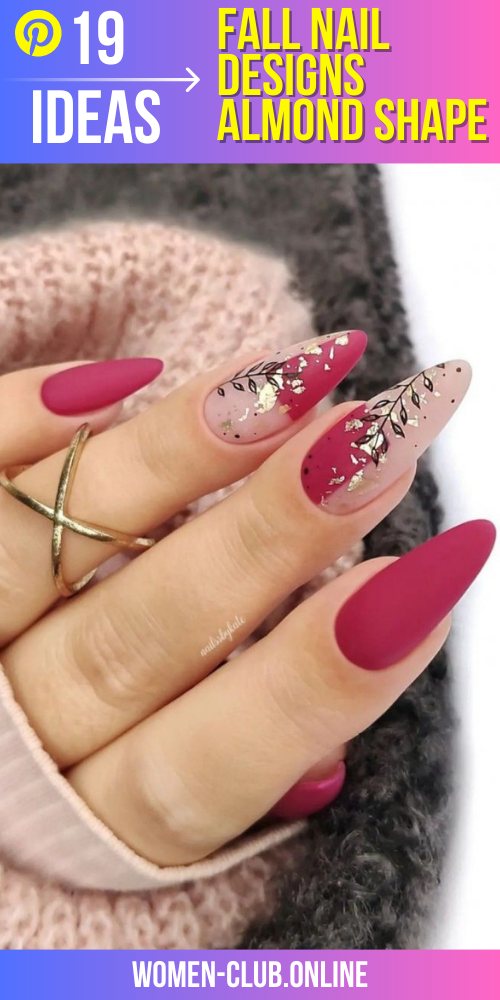 Geometric Patterns and Minimalistic Art
For those who prefer a modern and clean look, geometric patterns and minimalistic nail art are excellent options. Try geometric shapes like triangles, squares, or stripes in fall-inspired colors. Alternatively, keep it simple with single line art or negative space designs. These styles add a touch of sophistication and can be easily customized to match your personal style.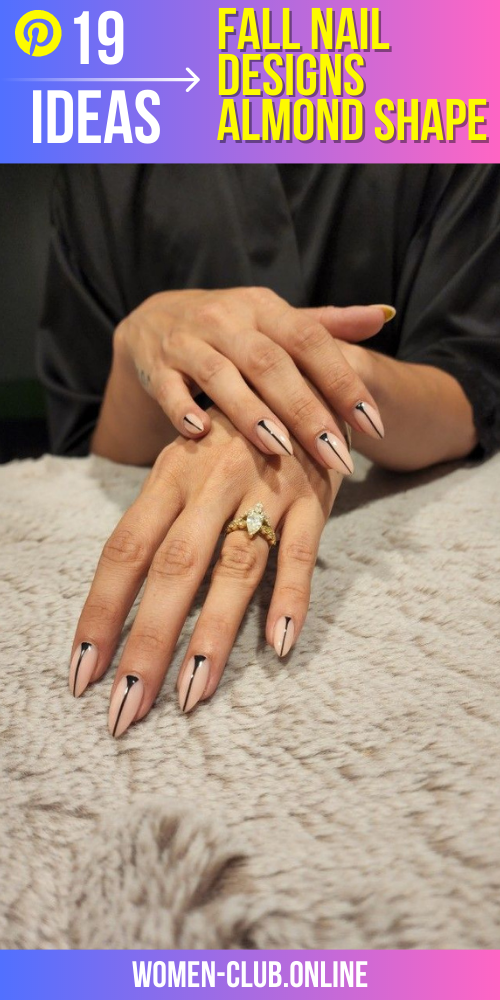 Metallic Accents and Foil Nail Art
If you want to add a touch of glamour to your fall nails, metallic accents and foil nail art are perfect choices. Metallic shades like gold, rose gold, and bronze can instantly elevate your manicure. You can incorporate metallic details into your nail design by using foil, glitter, or metallic nail polishes. Experiment with abstract patterns, accent nails, or create geometric shapes with metallic elements.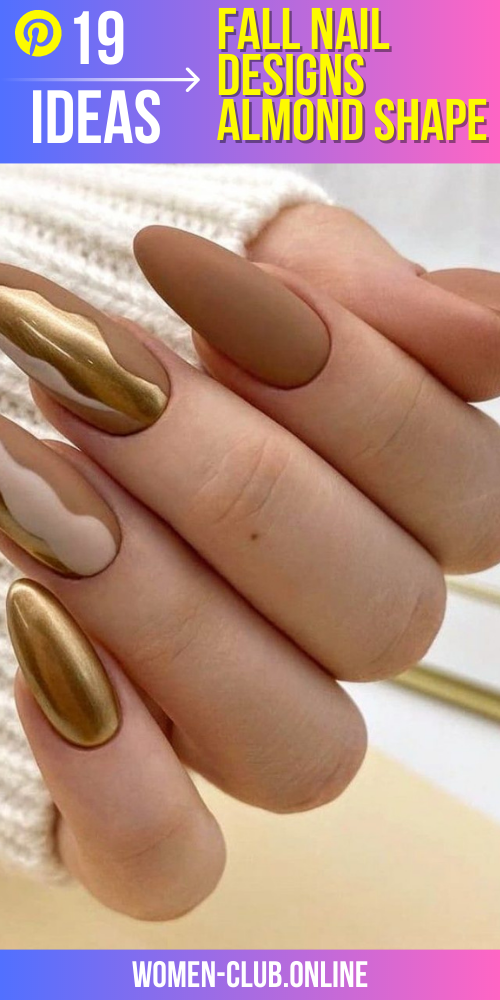 Matte Finish and Negative Space Designs
Matte nails are a trendy and chic option for fall. The matte finish adds an understated elegance to your almond-shaped nails. Combine matte colors with glossy accents or create negative space designs for a unique look. Negative space allows parts of your natural nail to show through, creating an intriguing and eye-catching effect.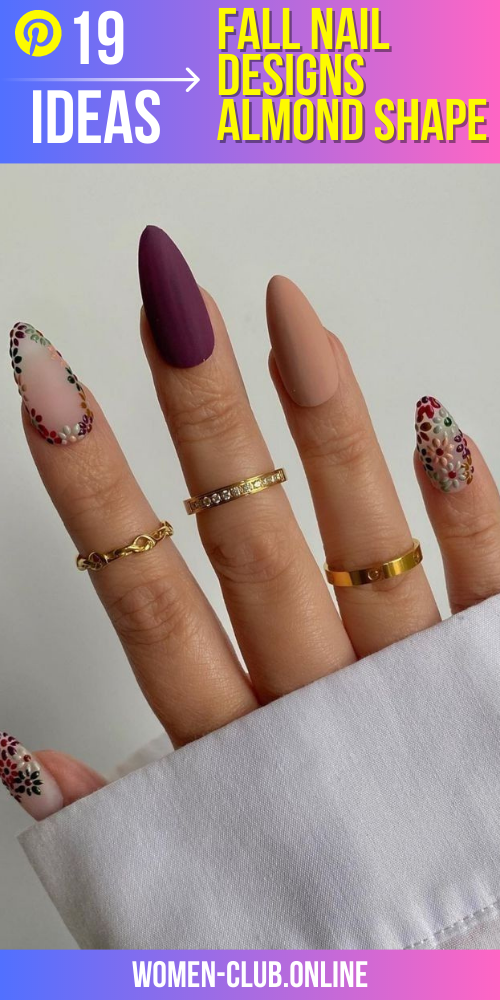 French Tips with a Twist
Put a modern twist on the classic French manicure by incorporating fall-inspired colors and unique nail art elements. Instead of the traditional white tips, experiment with different shades or add decorative details like metallic stripes, dots, or delicate patterns. This fresh take on the French manicure will give your almond-shaped nails a stylish and trendy look.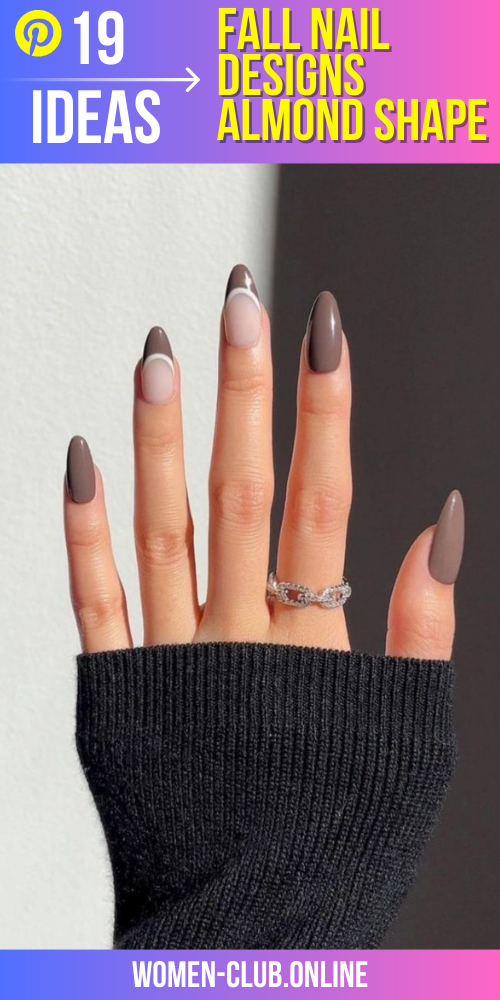 Animal Print and Abstract Designs
Animal prints are timeless and can add a fierce and bold touch to your fall nail designs. Leopard spots, zebra stripes, or snake patterns are popular choices for creating an edgy and glamorous manicure. Abstract designs, such as marble patterns or watercolor effects, are also trendy options to explore. These designs allow you to play with colors and create unique nail art that stands out.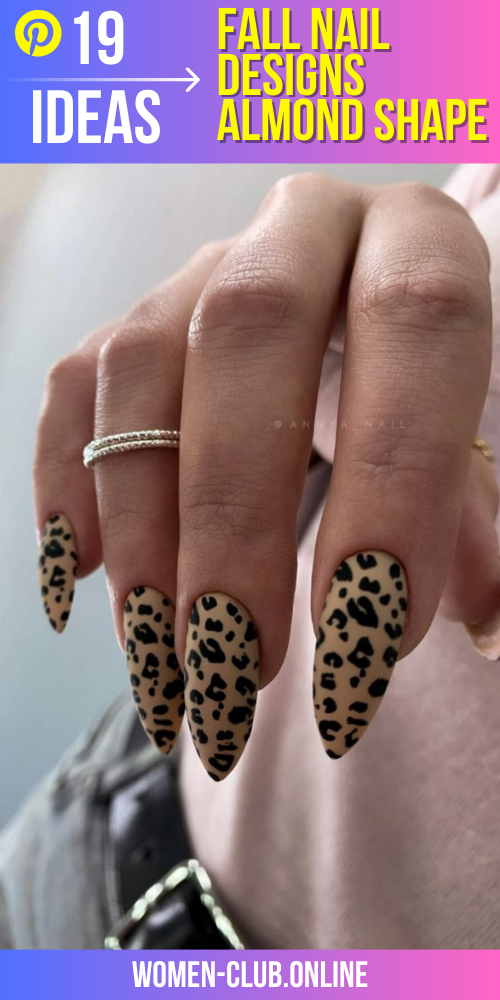 Floral and Botanical Nail Art
Floral and botanical nail art is always a hit, no matter the season. For fall, consider using deeper floral hues like burgundy, deep purple, or dark blue. You can create intricate floral patterns, incorporate leaves and berries, or go for a more abstract floral design. Floral nails add a touch of femininity and elegance to your almond-shaped nails.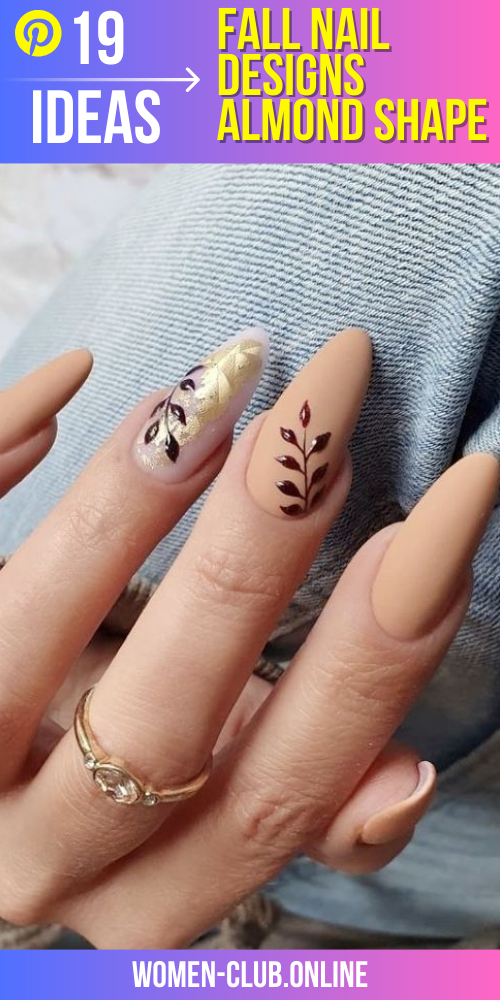 Glitter and Rhinestone Embellishments
For those who love a bit of sparkle and glamour, glitter and rhinestone embellishments are fantastic options. Whether you prefer subtle shimmer or bold glitter accents, there are endless possibilities for creating dazzling fall nail designs. You can apply glitter to the entire nail, create gradient effects, or use rhinestones to accent specific areas. These embellishments will make your almond-shaped nails shine.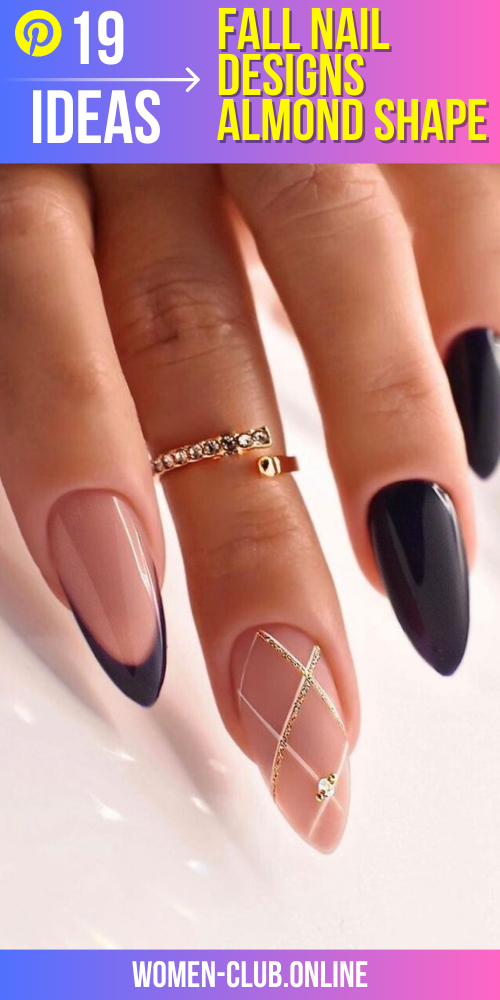 Elegant Ombre and Gradient Nails
Ombre and gradient nails continue to be popular choices for nail enthusiasts. These techniques allow you to blend multiple colors seamlessly, creating a smooth transition from one shade to another. Experiment with autumnal hues, such as deep red, orange, and brown, to achieve a stunning gradient effect. You can also combine ombre with other nail art techniques for a more intricate and eye-catching design.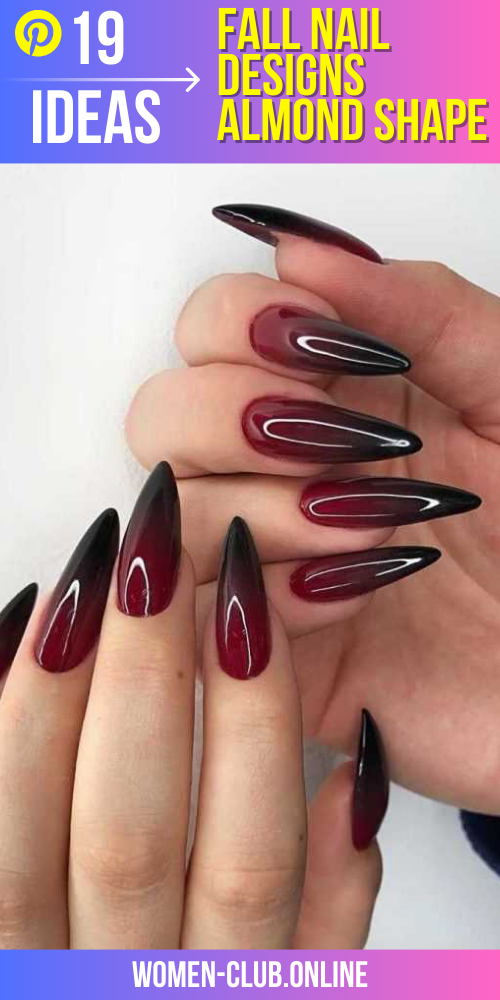 Festive Nails for Halloween and Thanksgiving
Fall brings along two exciting celebrations: Halloween and Thanksgiving. Embrace the festive spirit by creating nail designs inspired by these occasions. For Halloween, you can incorporate spooky motifs like bats, cobwebs, pumpkins, or witches. On the other hand, for Thanksgiving, consider using harvest-inspired colors like warm oranges, browns, and yellows. Adorn your nails with turkey feathers, fall leaves, or festive patterns.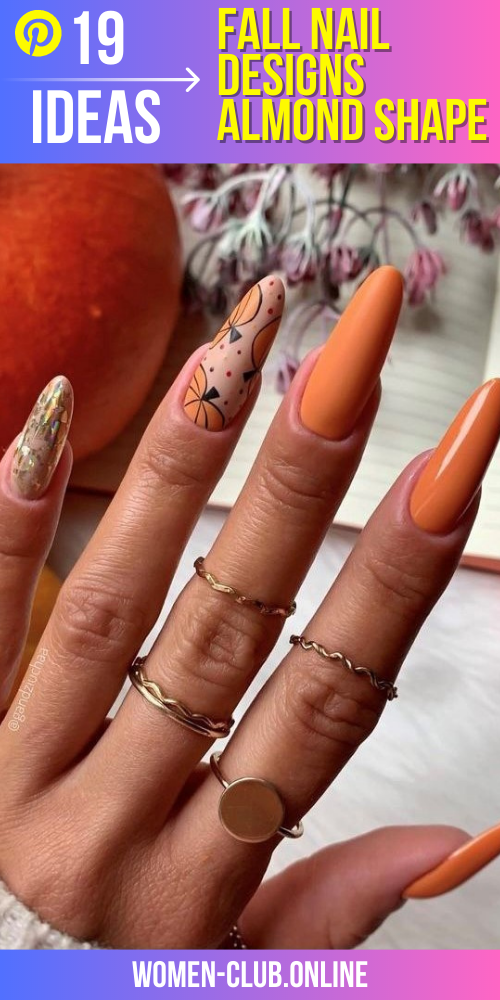 Seasonal Accent Nails
Accent nails are a great way to add a pop of creativity to your fall manicure. Choose one or two nails to feature a unique design that complements the rest of your nails. You can opt for different textures, like velvet or suede, or experiment with 3D nail art elements. The accent nails will draw attention and showcase your individual style.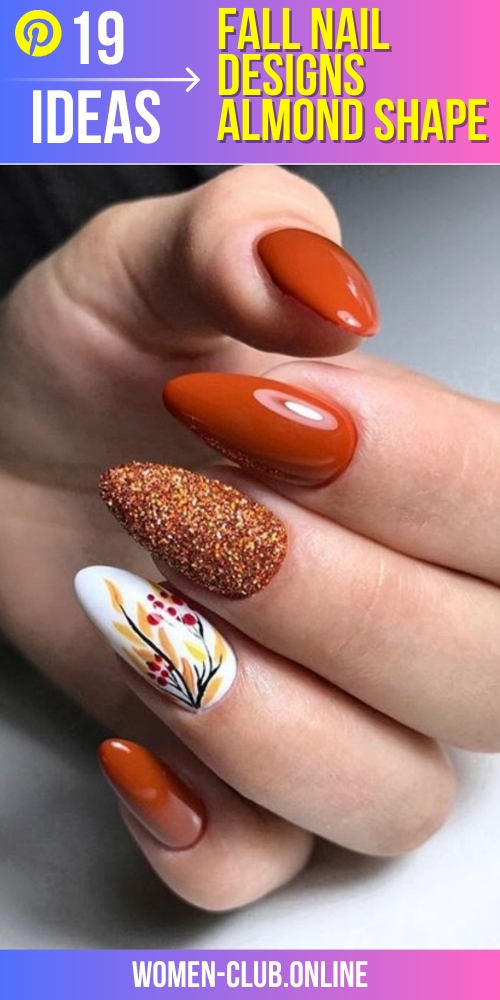 Nail Care Tips for Maintaining Almond-Shaped Nails
Maintaining almond-shaped nails requires proper care to keep them looking their best. Here are some essential tips to help you maintain your nail health: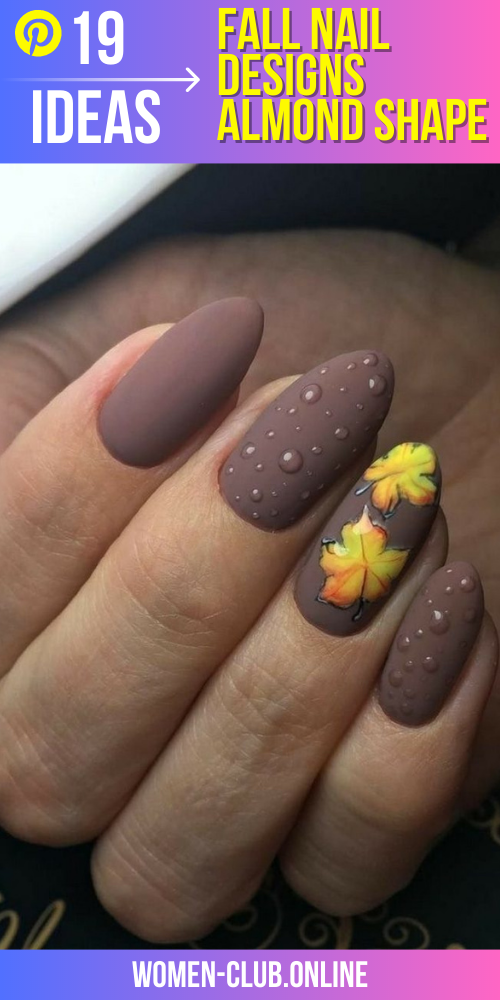 Regularly moisturize your hands and cuticles to prevent dryness and cracking.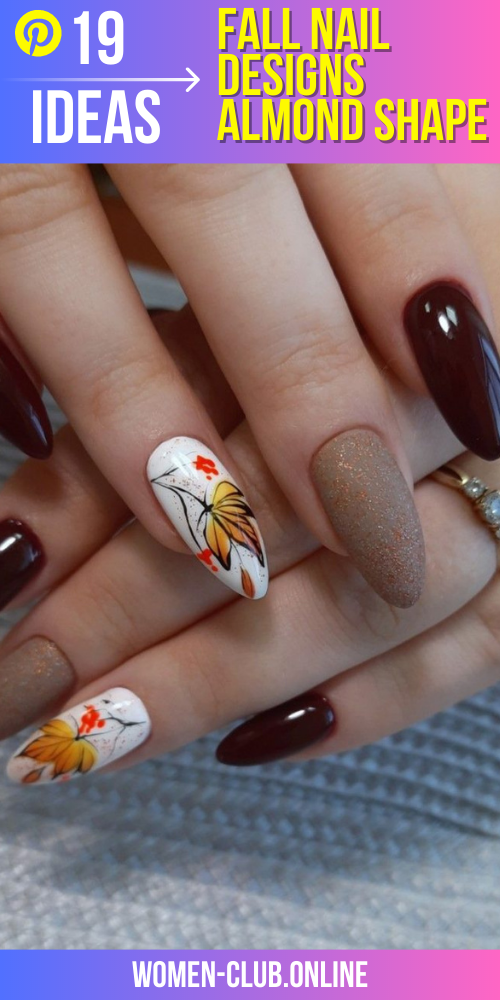 Use a strengthening base coat before applying nail polish to protect your nails from damage.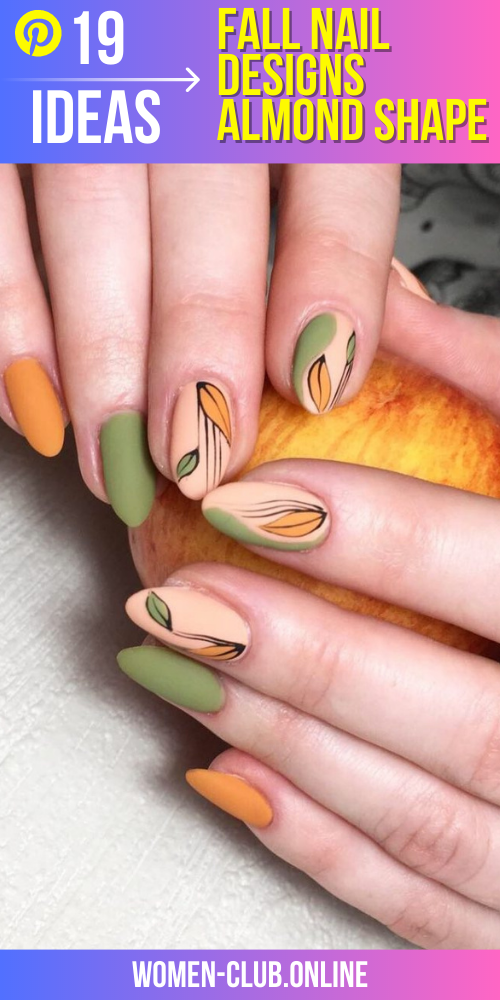 Avoid using your nails as tools to prevent breakage and chipping.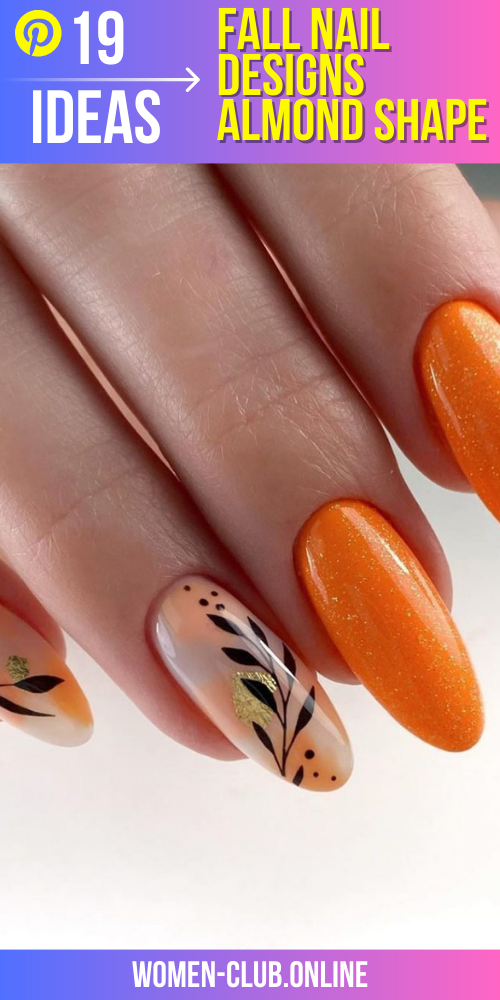 Trim and shape your nails regularly to maintain their almond shape.
Apply a top coat to seal and protect your manicure, extending its longevity.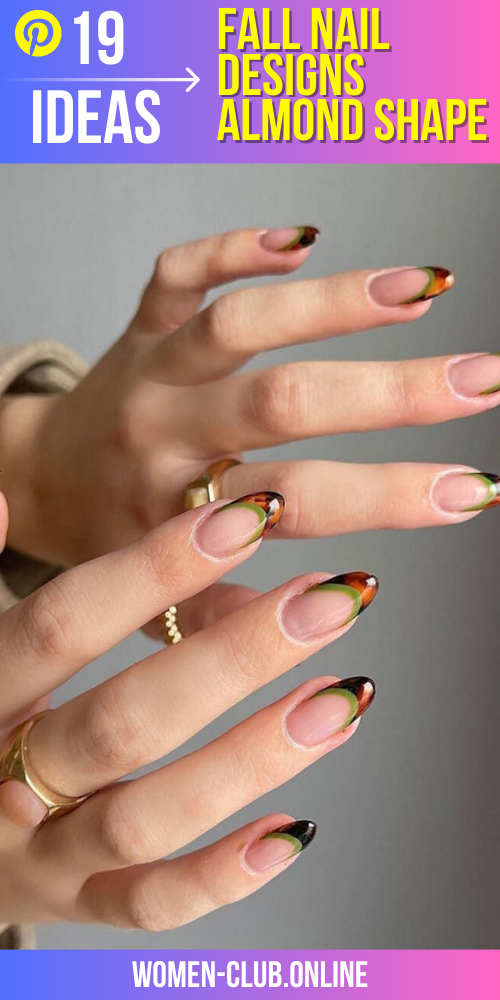 By following these tips, you can ensure that your almond-shaped nails stay healthy and beautiful.