Nails
Unleashing Autumn Vibes: Discover Top Trending Fall Nail Designs and Colors for 2023
Fall is a wonderful time of year when the leaves change color, cozy sweaters come out of the closet, and pumpkin spice lattes become a staple. It's also the perfect season to switch up your nail color and design to match the warm and vibrant hues of autumn. If you're looking for inspiration for your fall nails in 2023, we've got you covered. In this article, we'll explore the latest trends in nail colors, nail art designs, nail shapes, and provide you with some useful tips for maintaining beautiful fall nails.
Trending Nail Colors for Fall 2023
When it comes to fall nail colors, bold and dark shades are in vogue. Embrace the moody vibes of the season with deep hues that exude elegance and sophistication.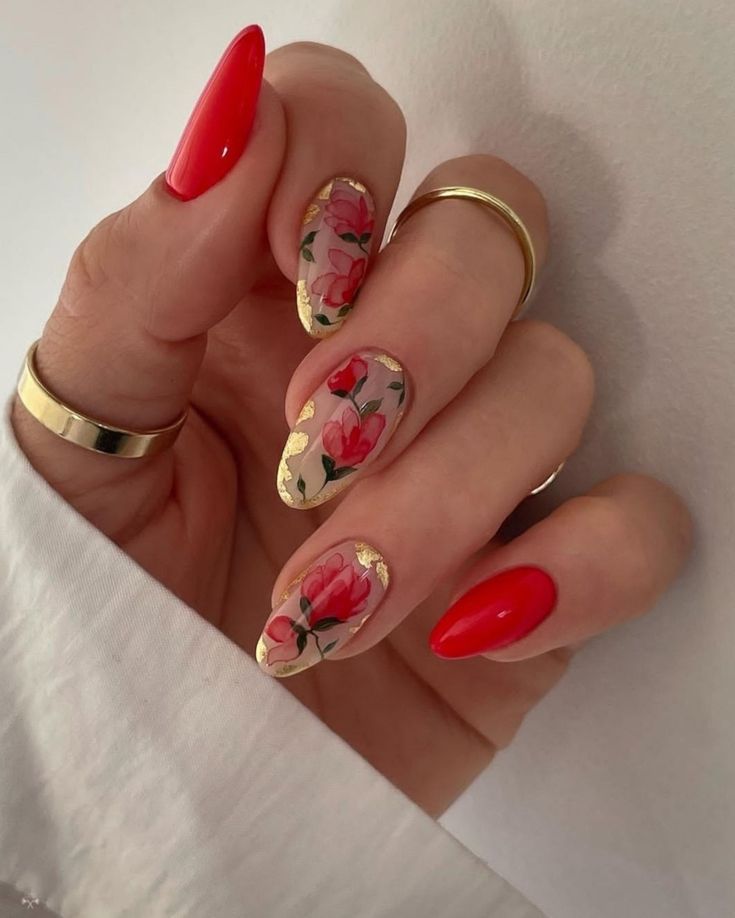 Black and Charcoal Gray
Black and charcoal gray are timeless classics that never go out of style. These colors are perfect for those who prefer a chic and edgy look. They provide a striking contrast against the pale backdrop of fall.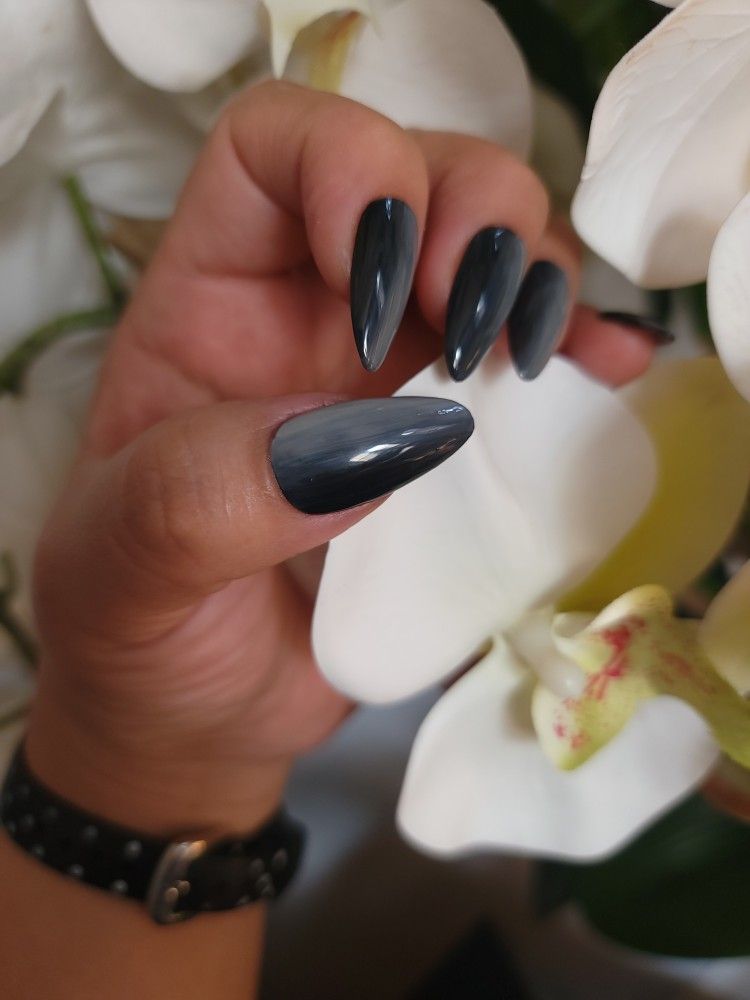 Deep Burgundy
Deep burgundy is a rich and luxurious shade that embodies the essence of autumn. It's a versatile color that complements various skin tones and outfits. Whether you opt for a glossy or matte finish, deep burgundy will make a statement.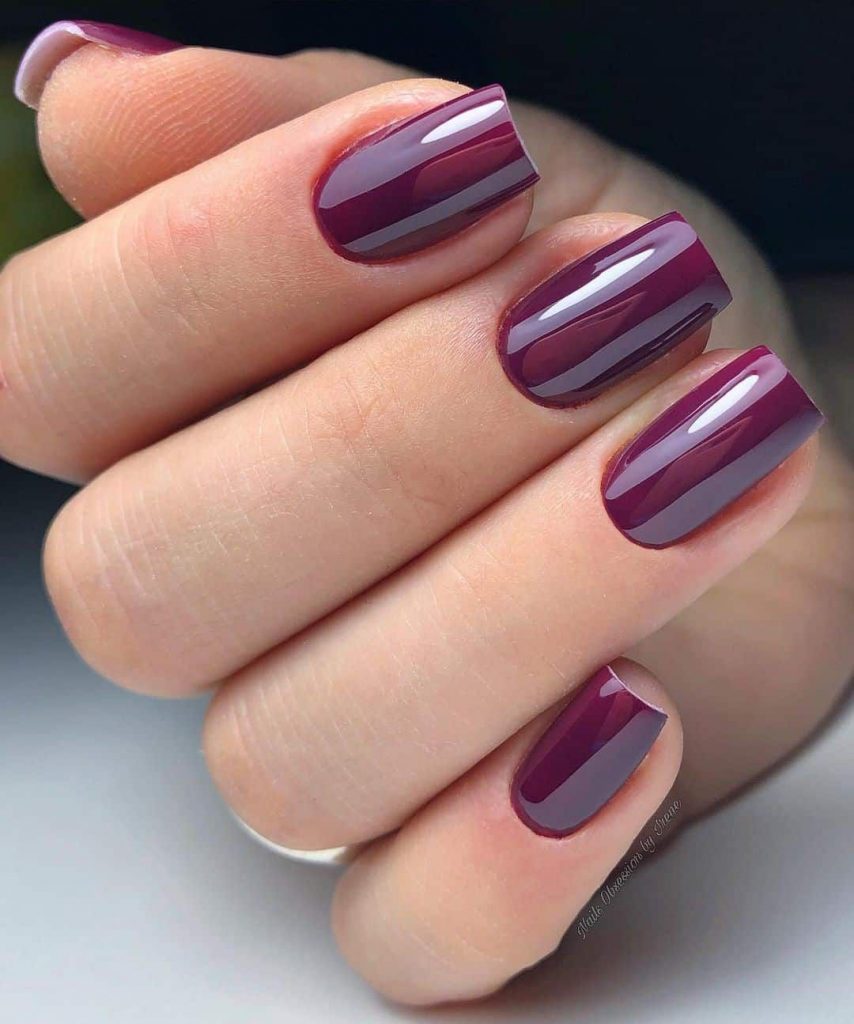 Forest Green
Forest green is an earthy hue that captures the beauty of nature during fall. It represents growth, renewal, and a connection to the outdoors. This color looks stunning on all nail lengths and shapes.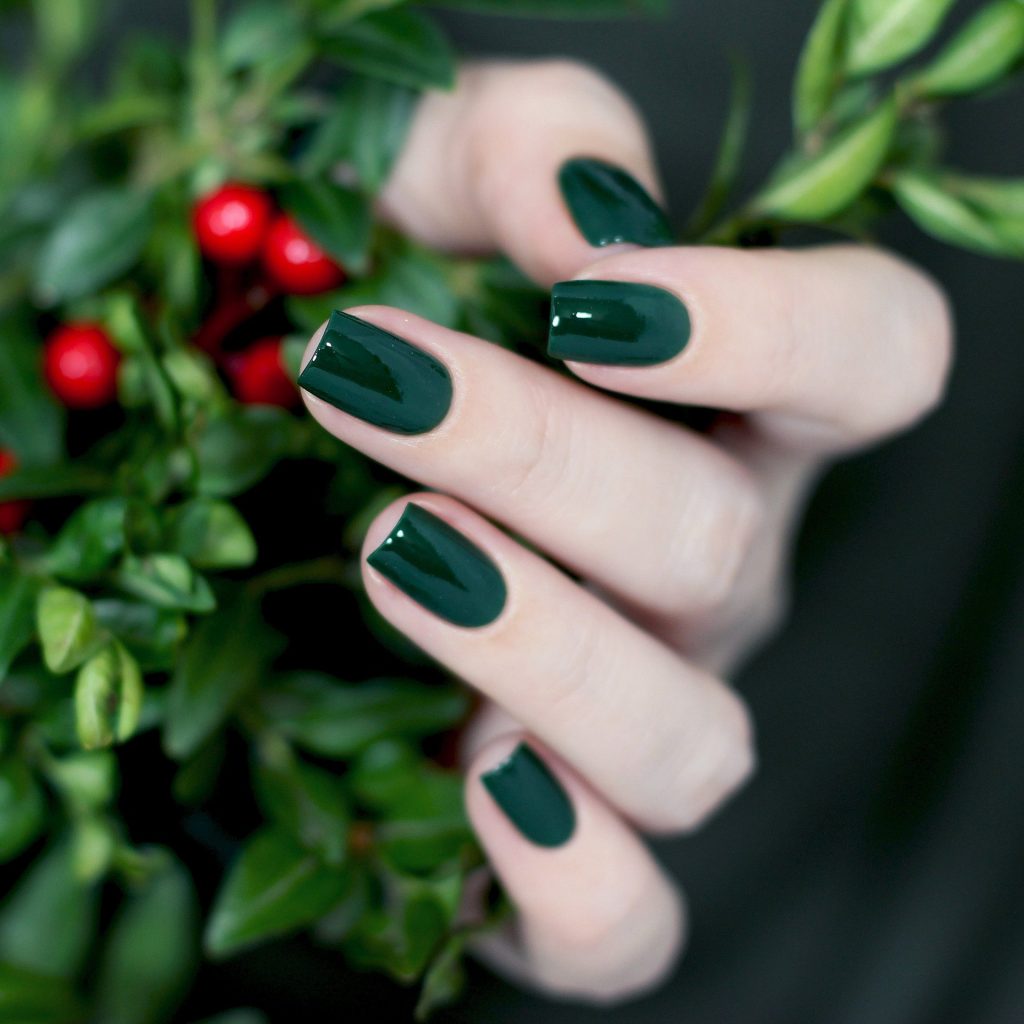 In addition to bold and dark shades, rich jewel tones are also in vogue this fall.
Sapphire Blue
Sapphire blue is a regal and captivating color that adds a touch of opulence to your nails. It's a versatile shade that pairs well with both casual and formal attire. Wear it confidently to make a bold fashion statement.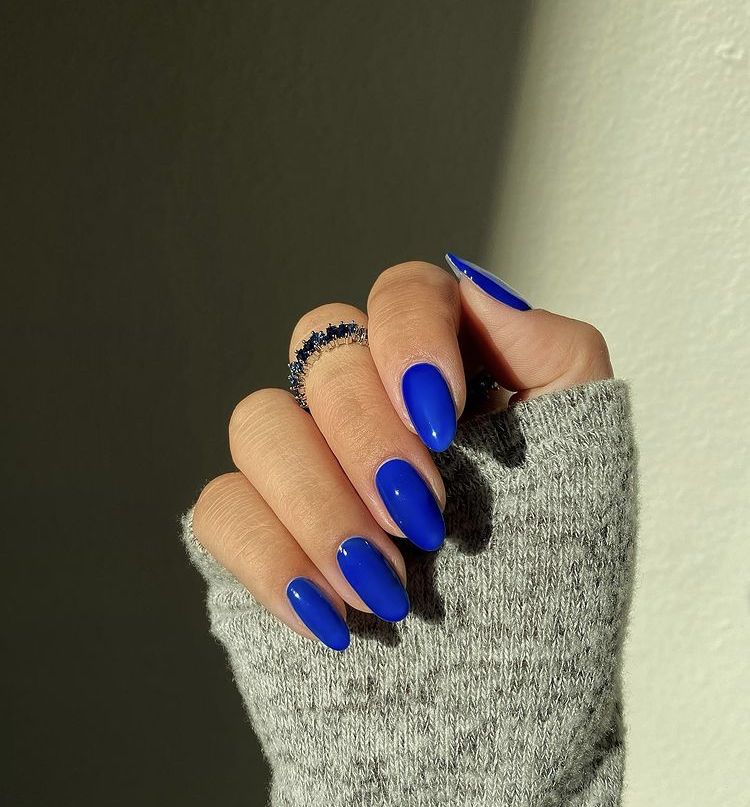 Amethyst Purple
Amethyst purple is a captivating shade that symbolizes creativity and spirituality. It's an elegant color that suits various skin tones. Experiment with different shades of amethyst to find the one that complements your style.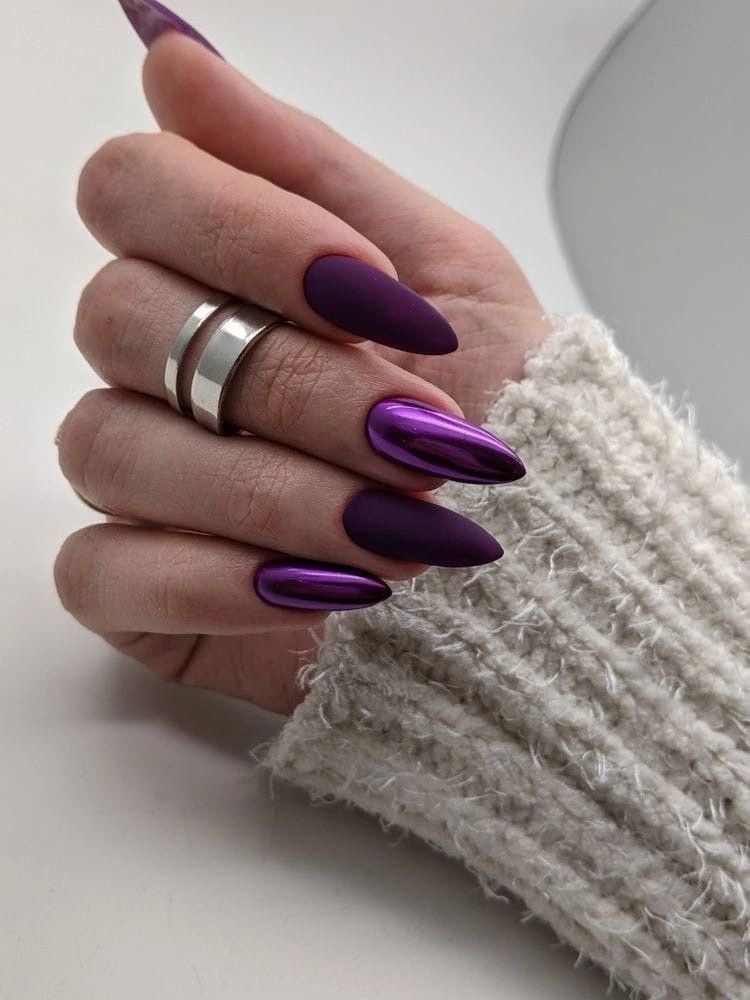 Emerald Green
Emerald green is a mesmerizing hue that represents harmony and balance. It's a refreshing color that adds a pop of vibrancy to your fall nails. Whether you opt for a solid emerald shade or incorporate it into nail art designs, it's sure to turn heads.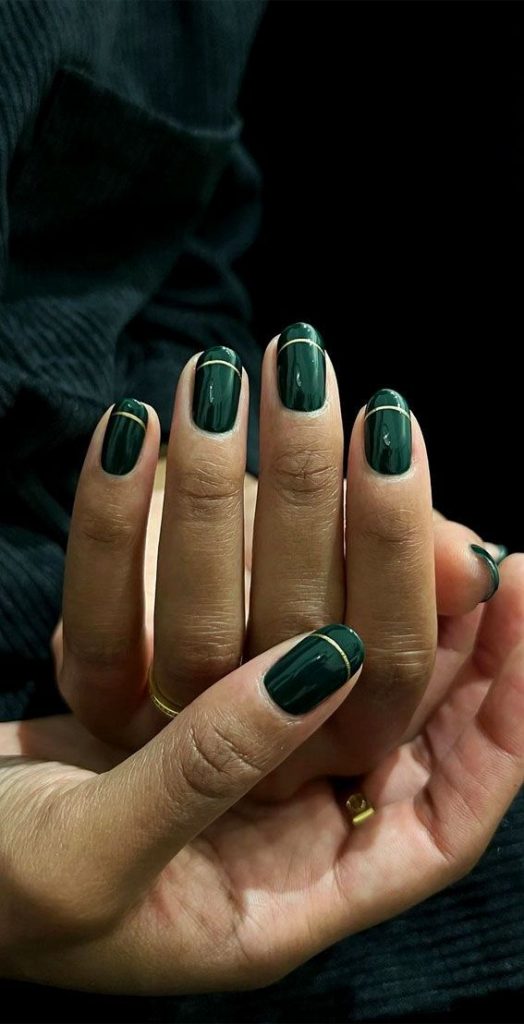 For those who prefer warm and earthy tones, there are plenty of options to choose from.
Terracotta
Terracotta is a warm and inviting color that mimics the hues of autumn foliage. It's a versatile shade that looks stunning on any skin tone. Terracotta nails can effortlessly transition from day to night.
Burnt Orange
Burnt orange is a quintessential fall color that embodies the spirit of the season. It's a warm and cozy shade that complements the changing leaves. Whether you opt for a solid burnt orange shade or use it as an accent color, it will add warmth to your nails.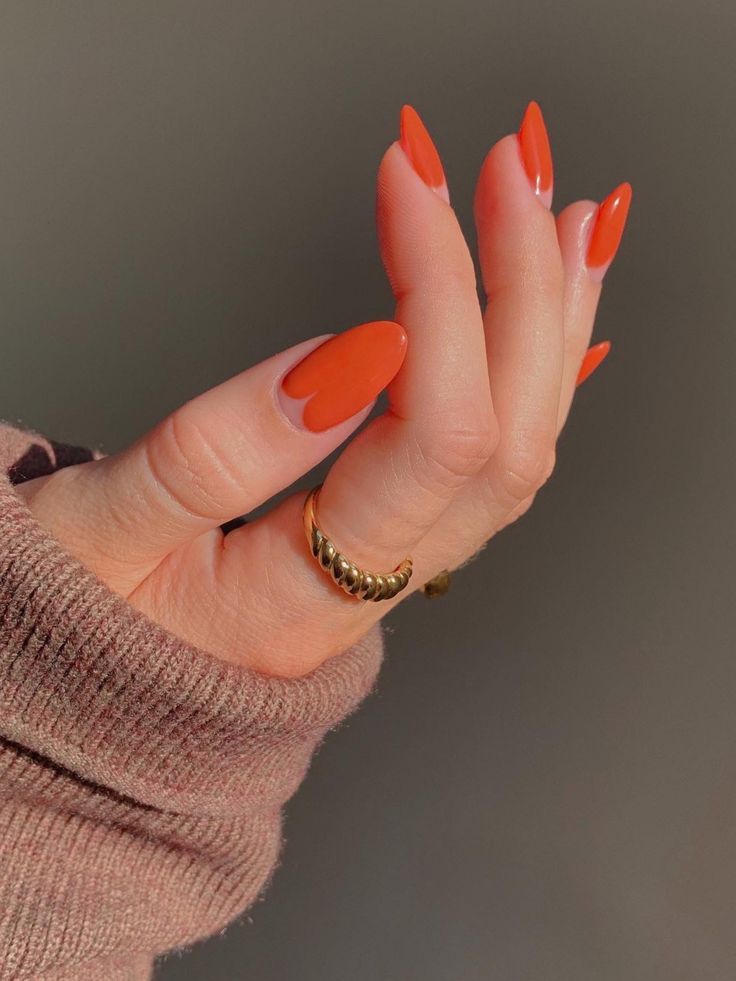 Mustard Yellow
Mustard yellow is a bold and energetic color that brings a sunny touch to your fall nails. It's a vibrant shade that works well with a variety of nail art designs. Experiment with different patterns and accents to make your nails stand out.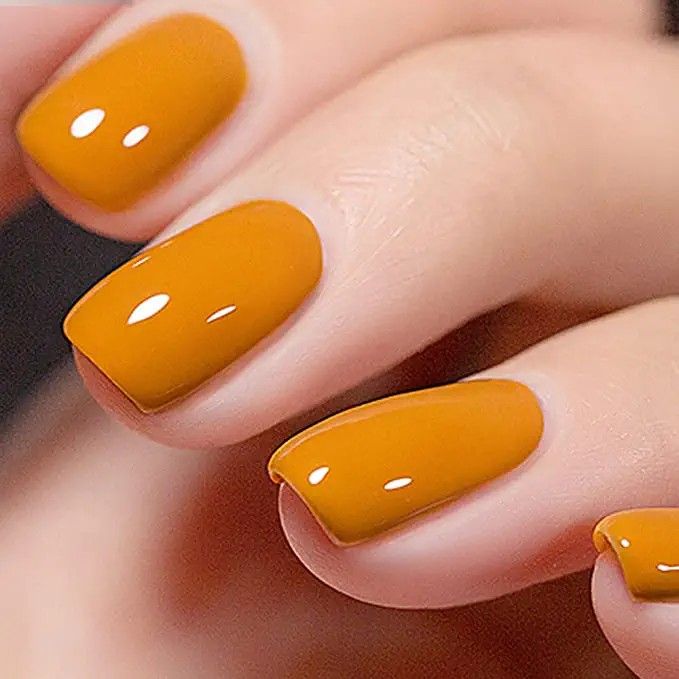 Nail Art Designs for Fall 2023
When it comes to nail art designs for fall 2023, there are endless possibilities. From minimalist accents to nature-inspired art, you can find a design that suits your personal style.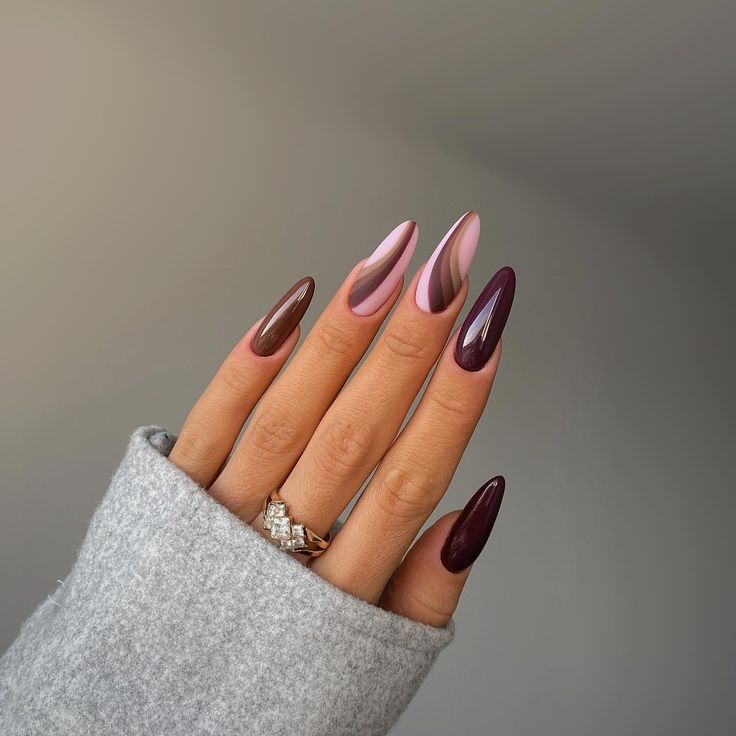 Minimalist Accents
Minimalism is a popular trend that has made its way into the world of nail art. Simple and understated designs can create a sophisticated and elegant look.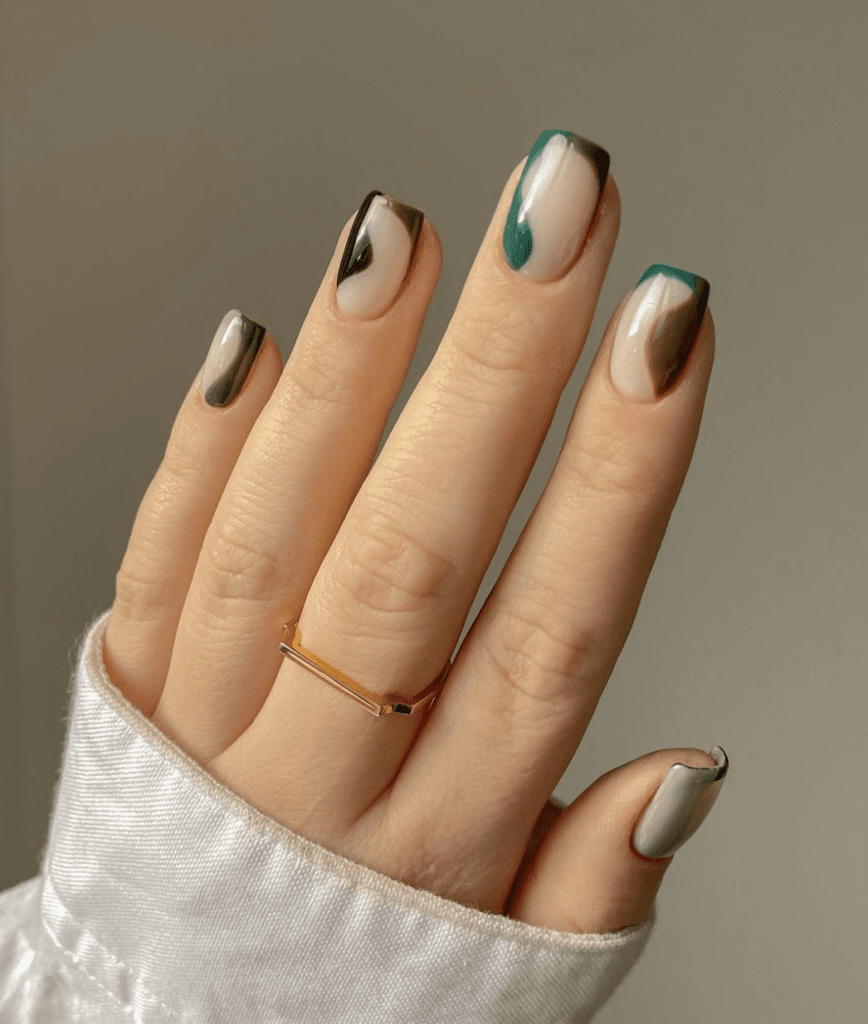 Single Accent Nail
Create a statement by painting one nail with a different color or design. It could be a metallic accent, a delicate pattern, or a pop of glitter. This minimalist approach adds a touch of uniqueness to your overall look.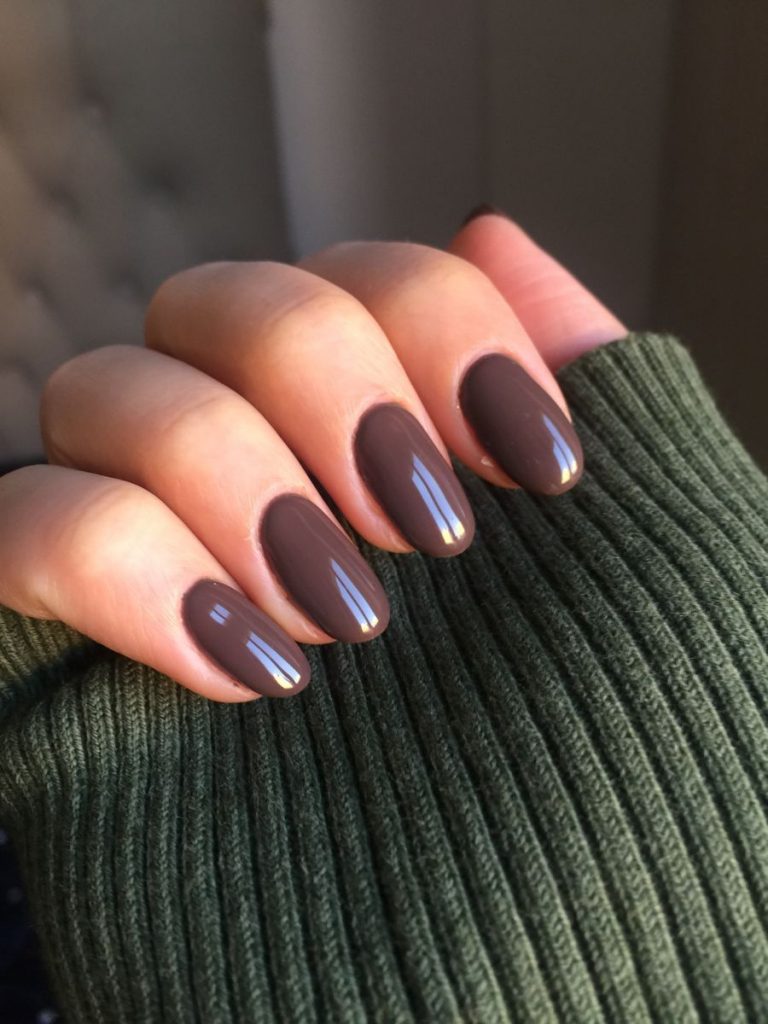 Negative Space Design
Negative space designs involve leaving some part of the nail bare, creating a minimalist and contemporary look. You can experiment with geometric shapes, lines, or even letters. Negative space designs are versatile and can be customized to match your personal style.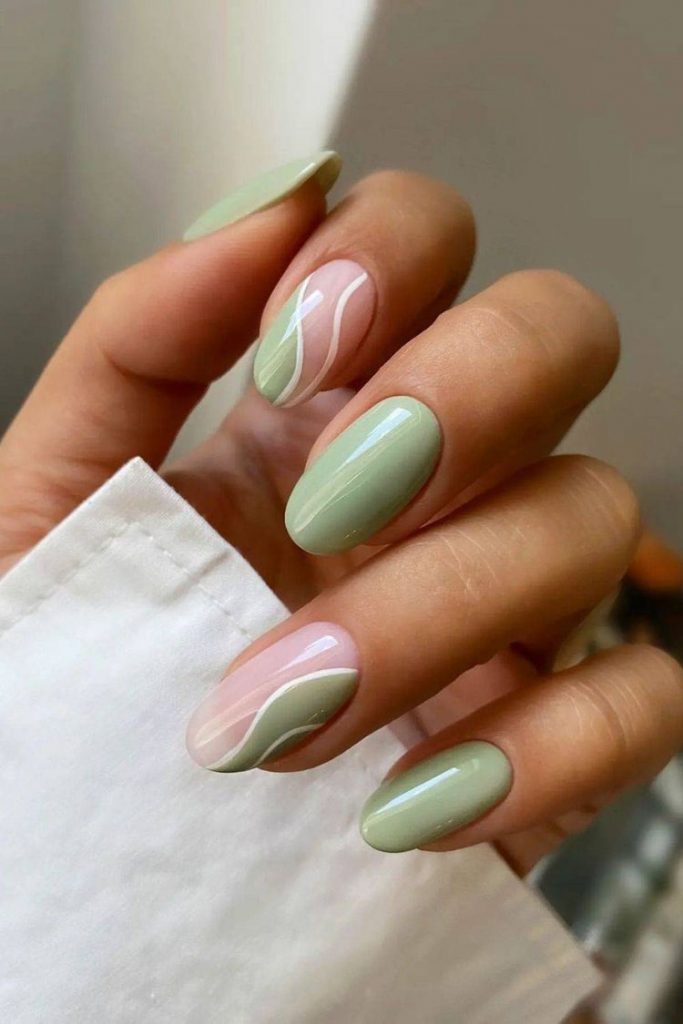 Geometric Patterns
Geometric patterns are a popular choice for those who want a modern and edgy nail art design. From triangles and squares to abstract shapes, there are endless possibilities to explore. Combine different colors and shapes to create a striking and eye-catching look.
Nature-inspired Art
Embrace the beauty of nature with nail art designs that draw inspiration from the elements of fall.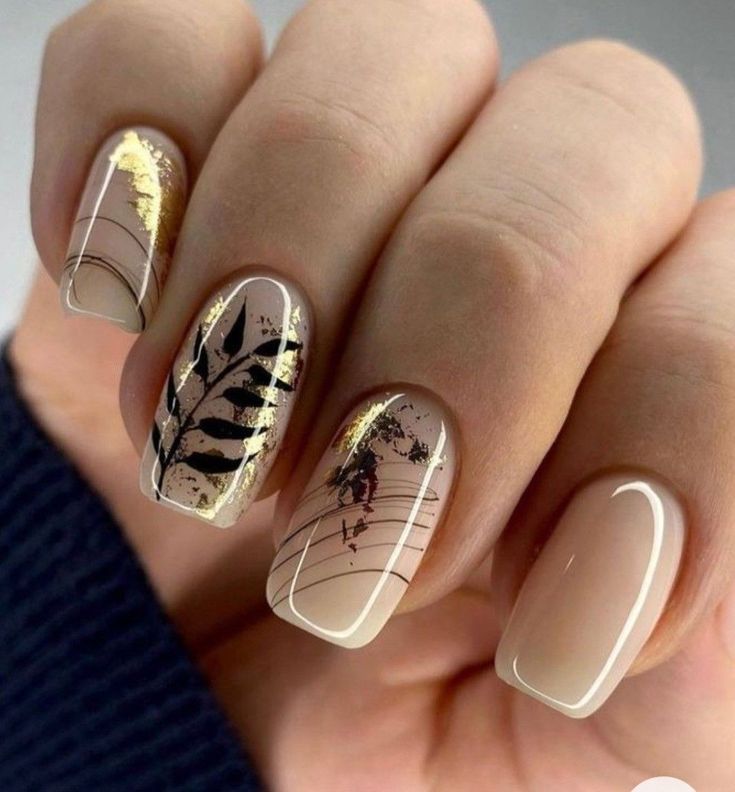 Leaf Patterns
Fall is synonymous with colorful leaves, making leaf patterns a perfect choice for your nails. You can opt for realistic leaf designs or more abstract interpretations. Experiment with different colors and sizes to create a unique look.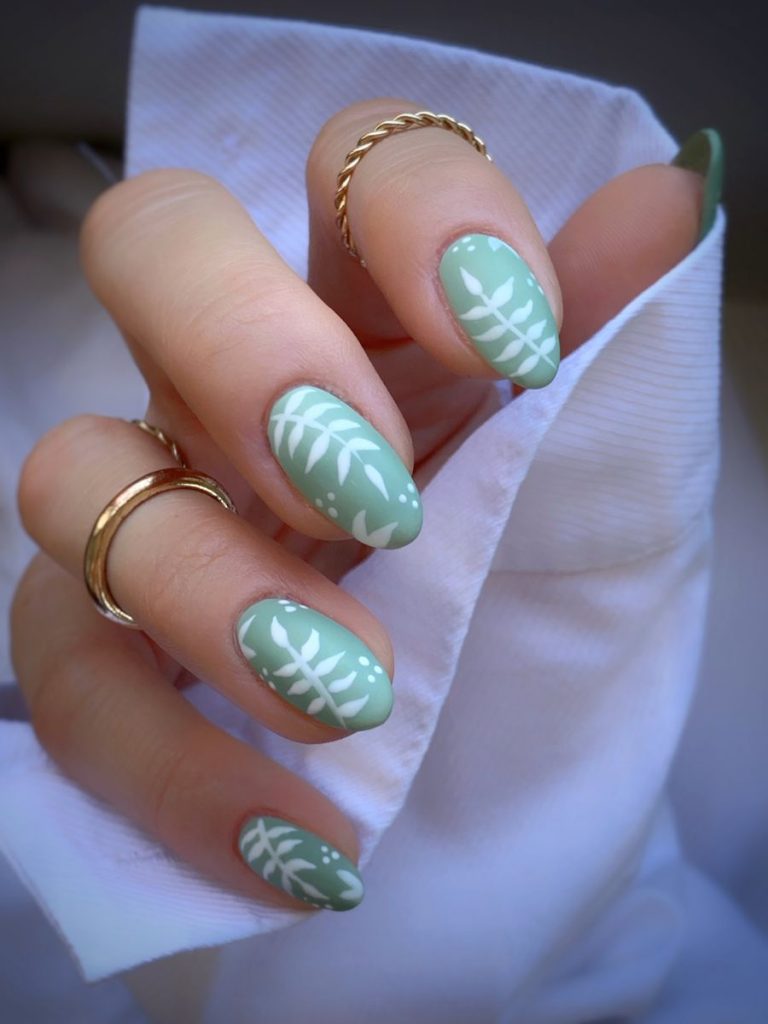 Pumpkin and Harvest Designs
Capture the essence of the harvest season by incorporating pumpkin and harvest-inspired designs into your nail art. Whether it's a cute pumpkin face, cornucopia, or autumn fruits, these designs will add a playful touch to your nails.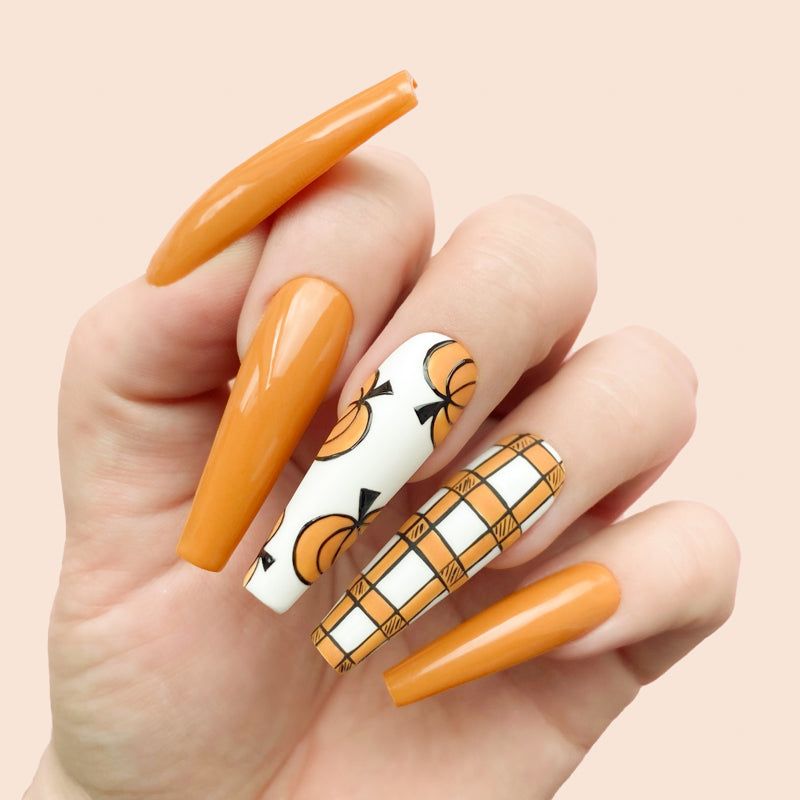 Textured Nails
Texture can add depth and interest to your fall nails. Experiment with different finishes to create a unique look.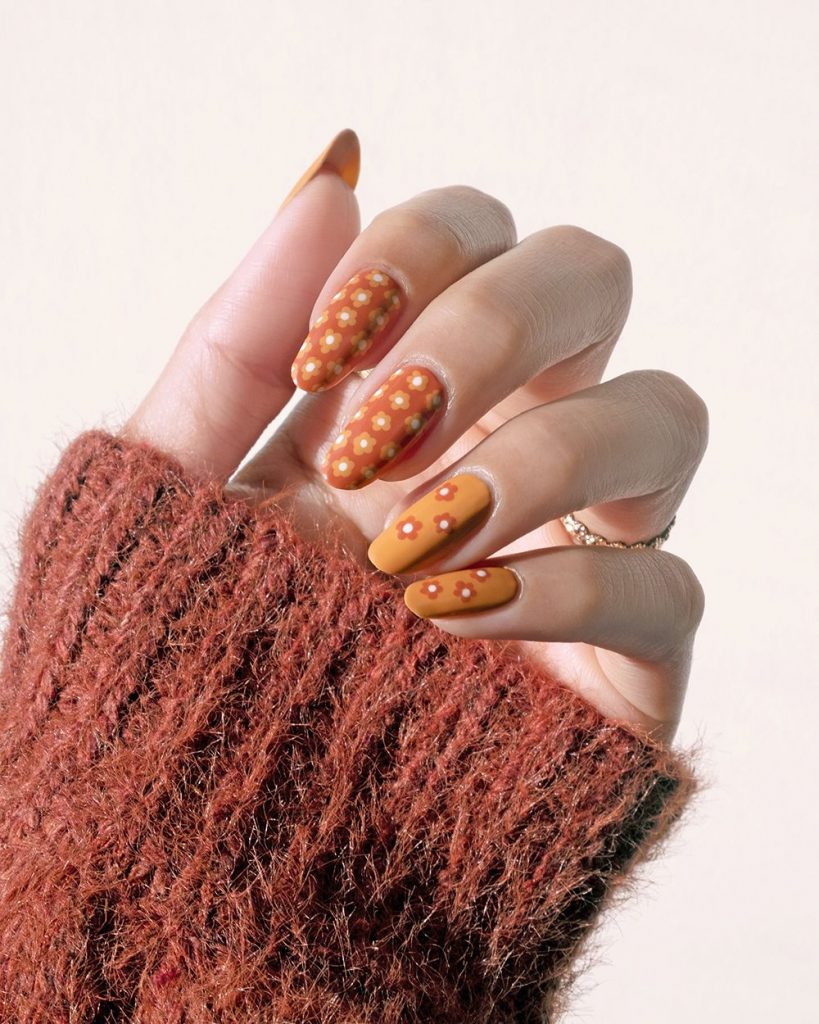 Matte Finish
Matte nails have a velvety and sophisticated appearance that is perfect for the fall season. Choose deep shades like burgundy, forest green, or sapphire blue for a luxurious matte finish.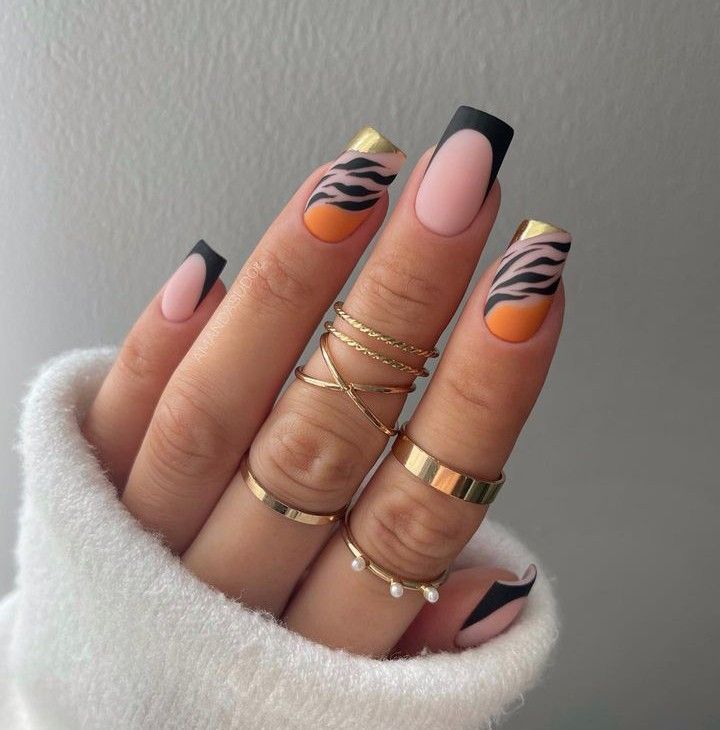 Velvet Nails
Velvet nails are a trend that adds a plush and tactile element to your nails. The velvety texture creates a sense of luxury and sophistication. Choose rich jewel tones like amethyst purple or emerald green for a stunning velvet effect.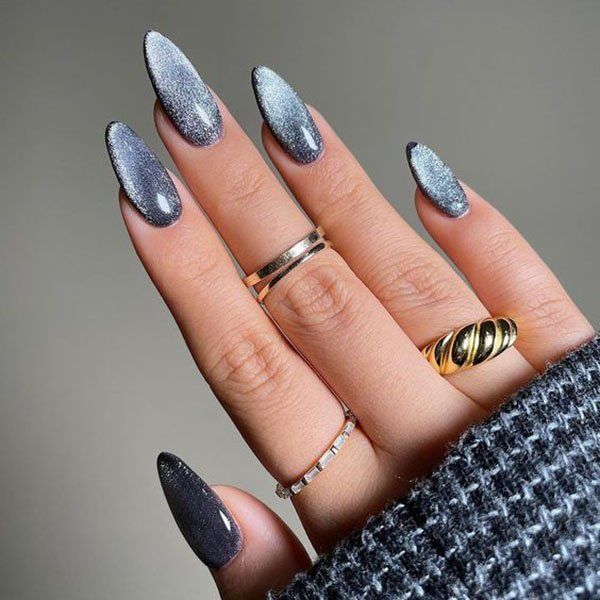 Glitter Accents
Add a touch of glamour to your fall nails with glitter accents. Whether it's a full glitter nail or subtle glitter details, it adds a sparkle that catches the light and brings your nails to life.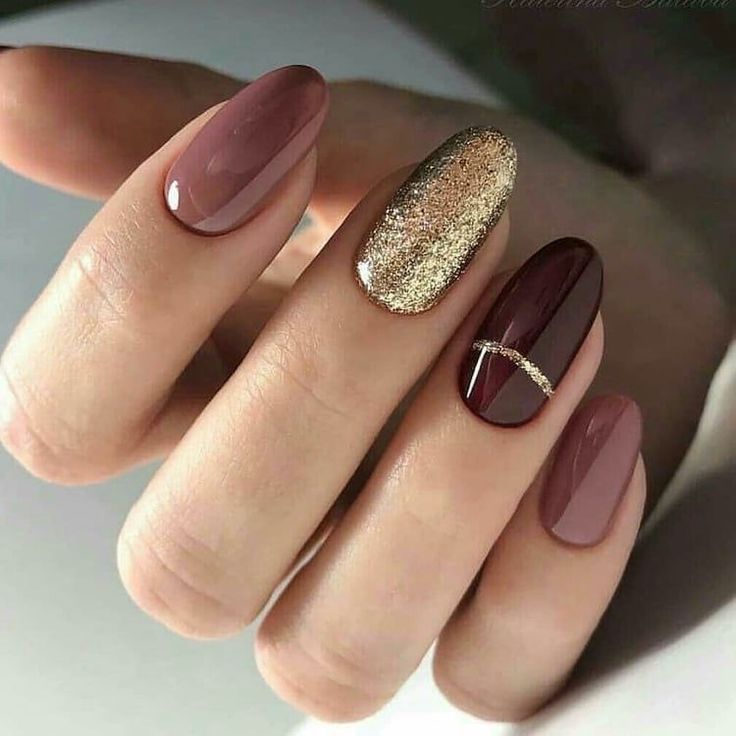 Save Pin