Nails
Gel Nail Designs Peach Color 15 Ideas: Add a Touch of Elegance to Your Nails
Are you looking to add a touch of elegance and sophistication to your nails? Gel nail designs in peach color offer a perfect solution. This soft and versatile shade not only complements various skin tones but also adds a subtle pop of color to your overall look. In this article, we will explore some captivating gel nail designs in peach color that are sure to inspire your next manicure. Let's dive in!
The Allure of Peach: An Introduction
Peach is a warm and inviting color that exudes femininity and grace. Its soft and delicate nature makes it a popular choice for nail designs, providing a refreshing alternative to bolder hues. With its wide range of shades, from light pastels to deeper tones, peach offers endless possibilities for creating unique and captivating nail art.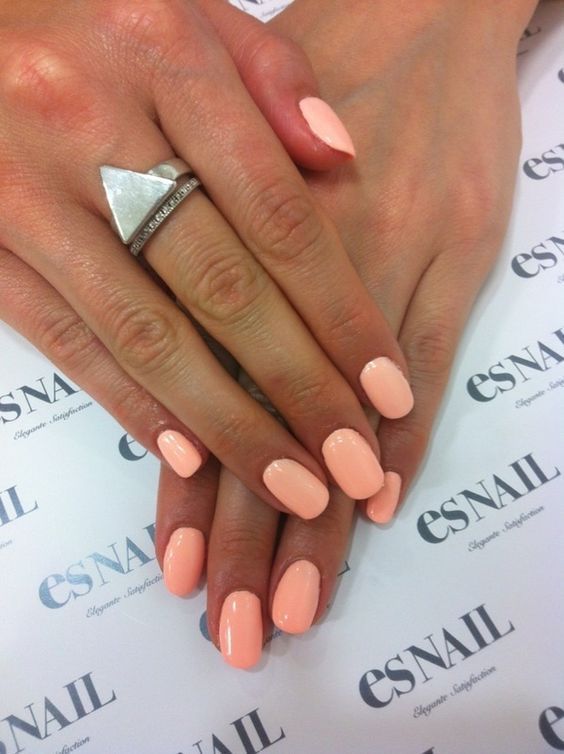 Subtle Elegance: Solid Peach Nails
For a clean and understated look, opt for solid peach nails. This minimalist design is perfect for those who prefer a subtle yet sophisticated manicure. The monochromatic appeal of solid peach nails adds a touch of elegance to any outfit, making it suitable for both casual and formal occasions.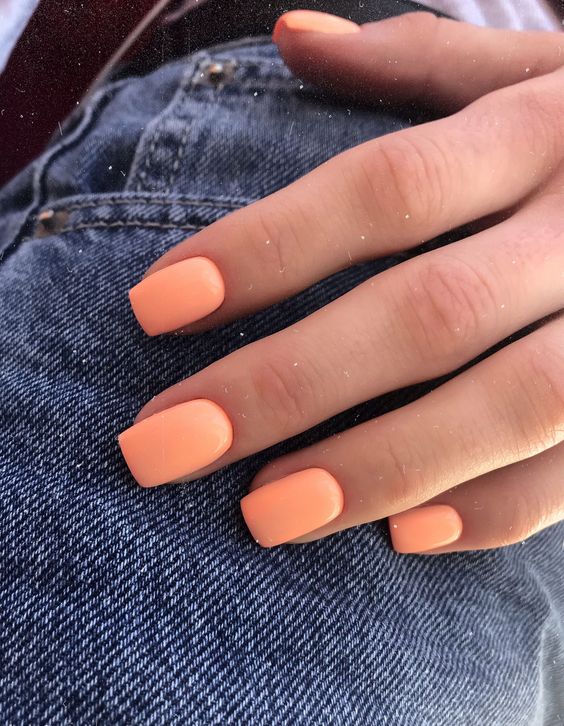 Delicate Accents: Peach French Tips
Give the classic French manicure a twist by incorporating peach into the design. Replace the traditional white tips with a soft peach hue to create a more feminine and modern look. Peach French tips offer a delicate and refined aesthetic that complements various skin tones, making them a versatile choice for any event.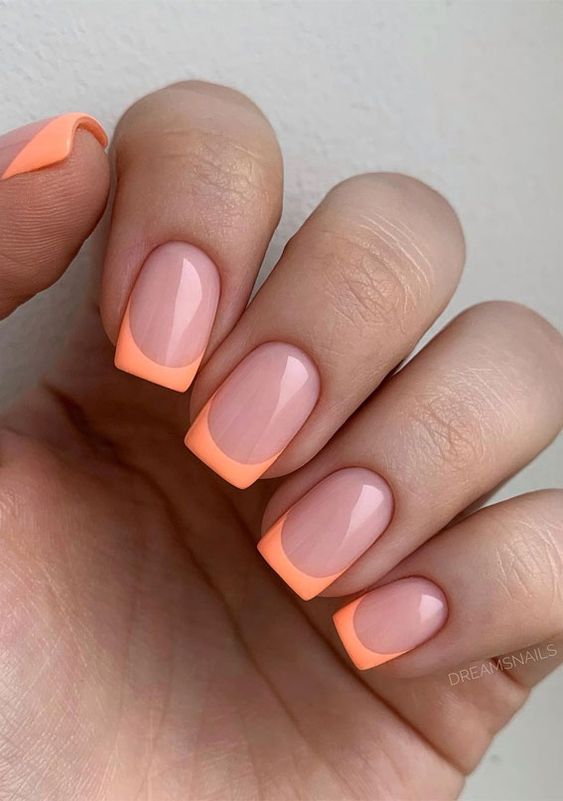 Sparkling Glamour: Glittery Peach Nails
Add some shimmer and shine to your peach nails with a touch of glitter. Whether you prefer subtle sparkles or full-on glamour, glittery peach nails are a glamorous choice. The combination of the gentle peach color and sparkling accents creates a mesmerizing effect that is sure to catch everyone's attention.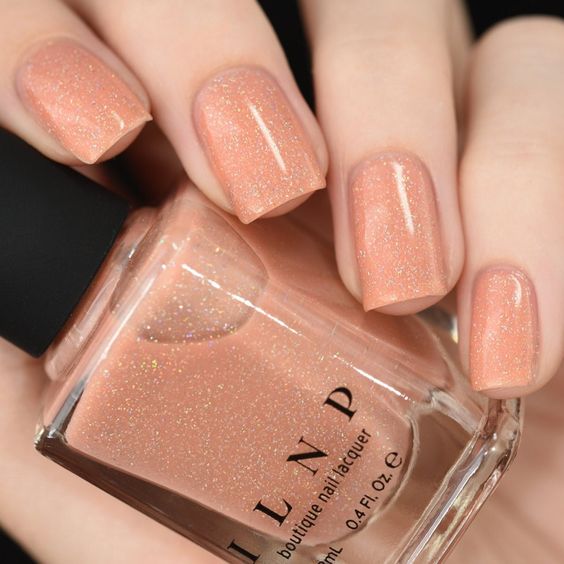 Playful Patterns: Peach Nail Art
Unleash your creativity with peach nail art featuring playful patterns. From chevron stripes to polka dots and abstract designs, there are endless options to experiment with. Peach nail art allows you to showcase your unique style and add a fun and whimsical touch to your manicure.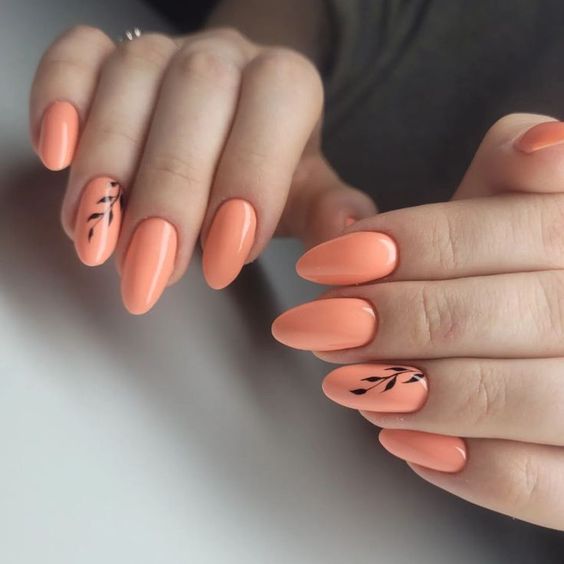 Nature's Beauty: Peach and Floral Designs
Embrace the beauty of nature with peach and floral nail designs. Adorn your nails with delicate blossoms, leaves, or intricate floral patterns. Peach perfectly complements floral elements, creating a harmonious and elegant manicure inspired by the enchanting world of flowers.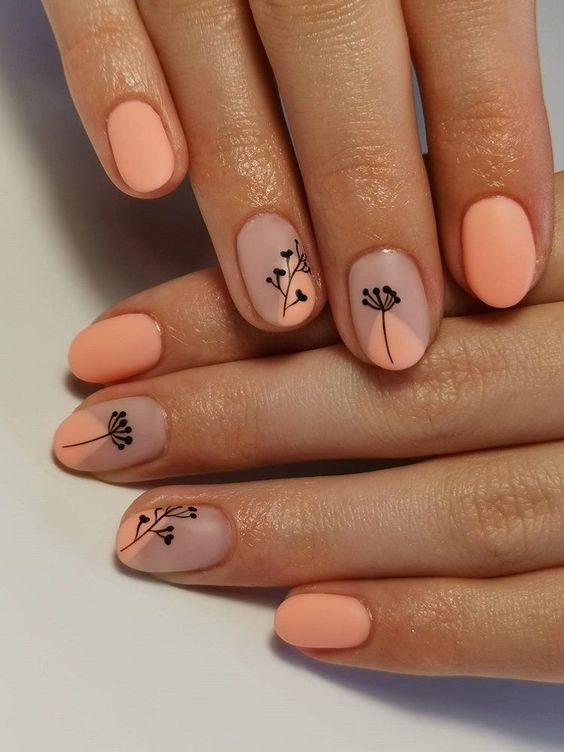 Tropical Vibes: Peach and Palm Tree Nail Art
Transport yourself to a tropical paradise with peach and palm tree nail art. These designs evoke a sense of relaxation and vacation vibes. The combination of peach with palm tree silhouettes or tropical motifs instantly adds a touch of summer to your nails, perfect for beach parties or exotic getaways.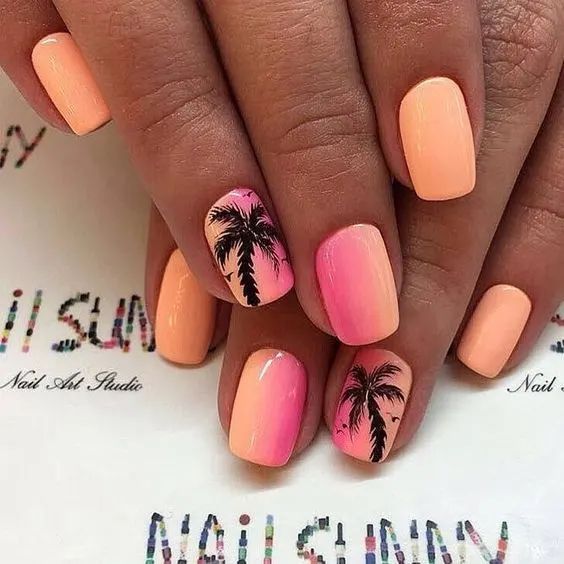 Beachy Hues: Peach Ombre Nails
Capture the essence of a sunset by opting for peach ombre nails. The gradient effect from lighter to darker peach tones creates a mesmerizing visual impact. Peach ombre nails are reminiscent of warm summer evenings, making them a popular choice for those who want to showcase their love for all things beachy.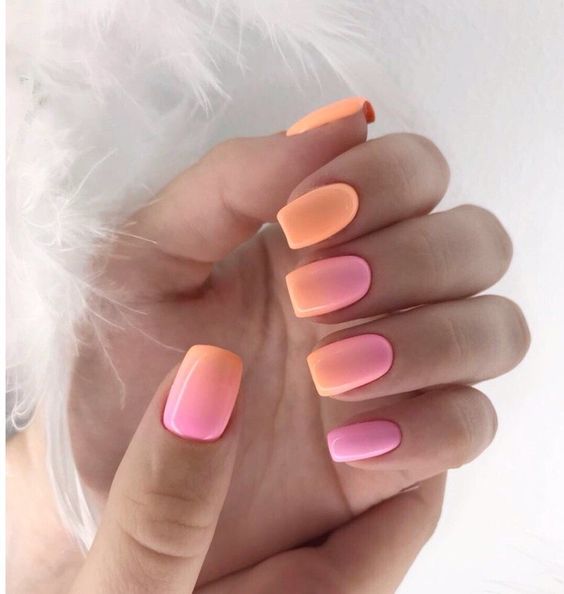 Effortless Chic: Peach and Gold Nail Designs
Elevate your peach nails with a touch of gold. The combination of peach and gold creates a luxurious and chic look. Whether you choose to incorporate gold accents through stripes, geometric shapes, or intricate designs, this glamorous pairing will undoubtedly make your manicure stand out.
Bohemian Rhapsody: Peach and Feather Nail Art
Channel your inner free spirit with peach and feather nail art. Feathers symbolize freedom, creativity, and spirituality, and they make a captivating addition to your peach manicure. This bohemian-inspired design allows you to express your individuality and create a unique and meaningful nail art look.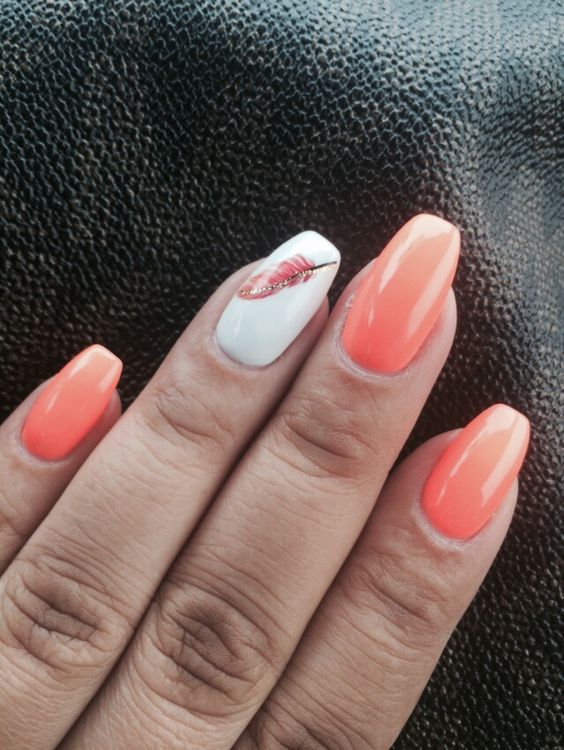 Classic with a Twist: Peach and Black Nail Designs
For a timeless yet edgy look, combine peach with black accents. The contrasting colors add a bold and modern twist to classic peach nails. Whether you opt for geometric patterns, color blocking, or intricate details, peach and black nail designs offer a stylish and sophisticated option for those who like to make a statement.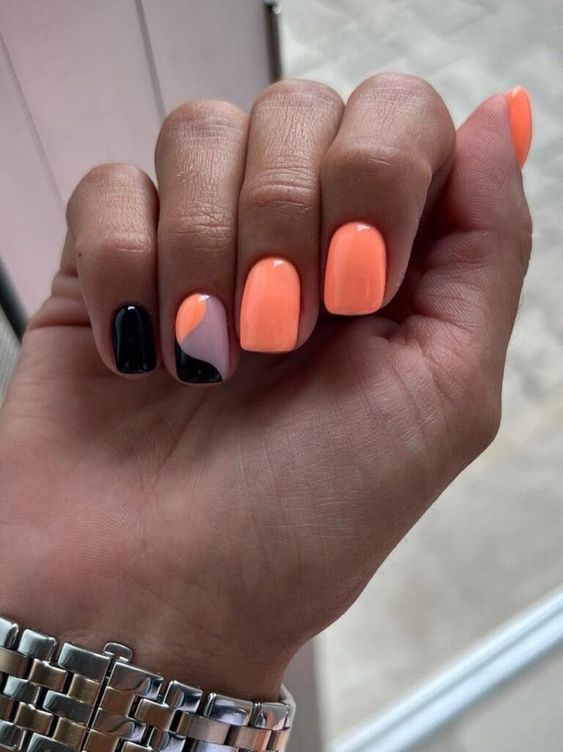 Edgy Elegance: Peach and Marble Nail Art
Marble patterns continue to be a popular trend in the world of nail art. Combine the elegance of marble with the softness of peach for a striking manicure. Peach and marble nail art creates a visually intriguing design that adds a touch of sophistication to your nails.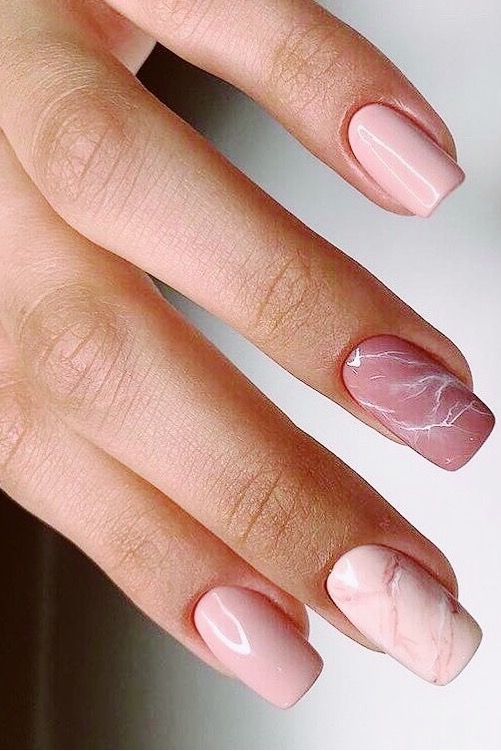 Timeless Romance: Peach and Lace Designs
Indulge in the romance and femininity of lace with peach and lace nail designs. Delicate lace patterns on a peach base create an elegant and graceful look. Whether you choose intricate lace appliques or opt for hand-painted lace details, this timeless combination will never go out of style.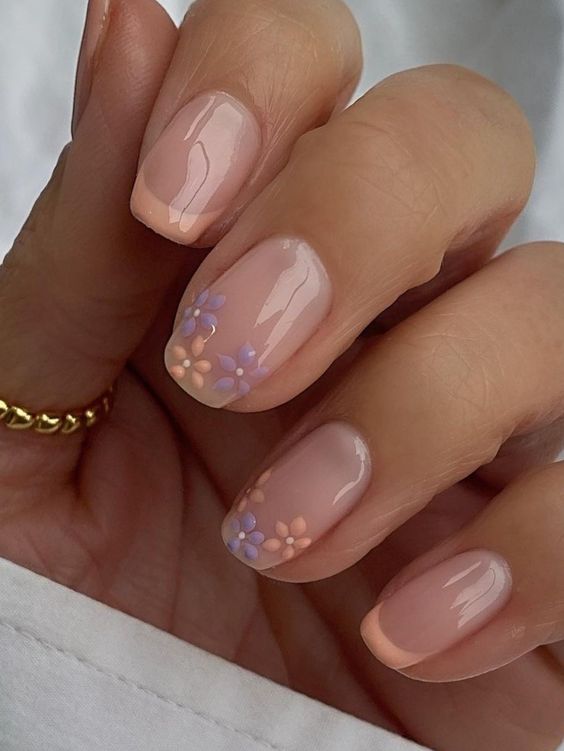 Geometric Delight: Peach and Triangle Nail Art
Geometric nail art offers a modern and trendy aesthetic. Combine the clean lines and shapes of triangles with the softness of peach for a captivating look. Peach and triangle nail art allows you to experiment with different geometric patterns and color combinations, resulting in a unique and eye-catching manicure.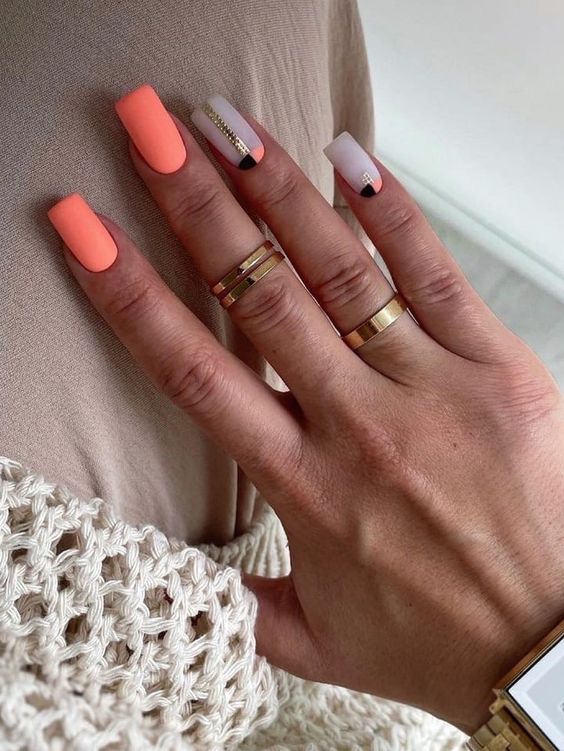 A Touch of Whimsy: Peach and Polka Dot Nails
Inject a playful and retro vibe into your manicure with peach and polka dot nails. Polka dots are a classic pattern that never goes out of style. The combination of peach with polka dots creates a fun and youthful look that is perfect for any occasion.
Save Pin