Nails
Green Fall Nail 2023 16 Ideas: Embrace Nature's Colors in Your Nail Art
As the leaves turn vibrant shades of red, orange, and gold, it's time to revamp your nail game and embrace the beauty of the fall season. Green, a color often associated with nature and renewal, is a perfect choice for your fall nail look. In this article, we will explore fifteen captivating green fall nail ideas for 2023 that will allow you to express your style while staying on-trend. From earthy tones to bold greens, we have curated a range of options that will make your nails stand out this autumn.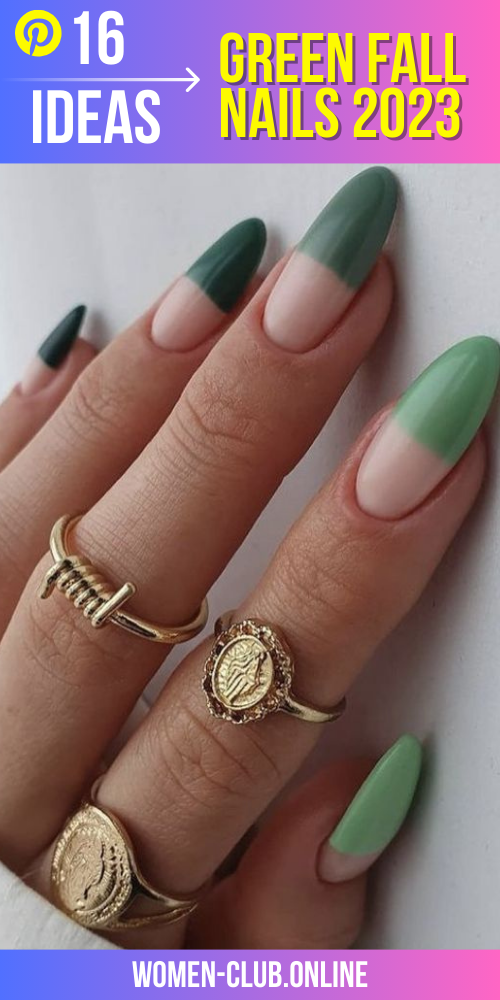 Evergreen Elegance: Classic Green
Start your green fall nail journey with the timeless charm of classic green shades. Opt for deep, dark greens like forest green or pine green to evoke the essence of a lush forest during fall. These shades exude sophistication and pair well with any outfit, making them a versatile choice for any occasion.
Mossy Marvels: Earthy Green
Embrace the earthy tones of fall with mossy green nails. These shades mimic the enchanting moss that covers the forest floor, creating a natural and rustic look. Choose muted greens with a touch of gray or brown undertones for a subtle and understated style.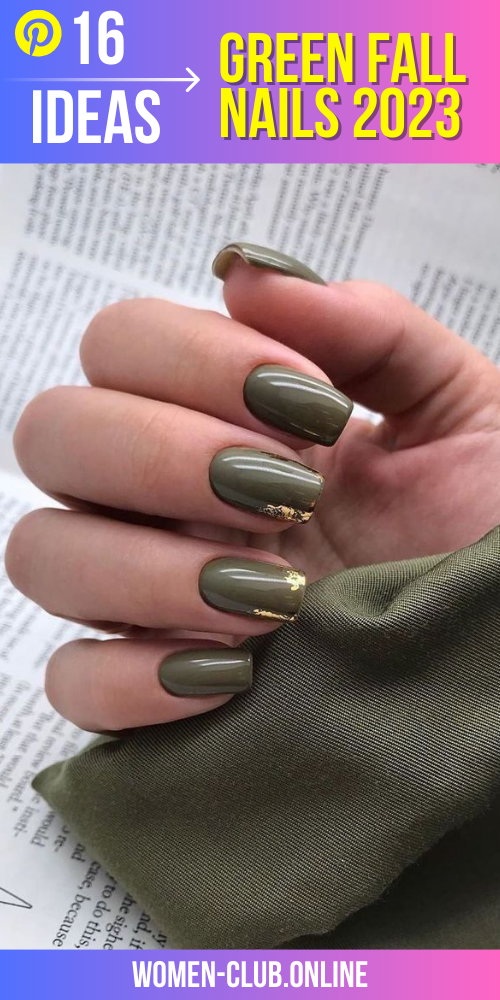 Enchanting Emerald: Rich Green
For those seeking a touch of luxury, opt for enchanting emerald green nails. This jewel-toned shade adds a regal and glamorous touch to your fall look. Whether in a glossy or metallic finish, emerald green nails will catch everyone's attention and add a pop of color to your ensemble.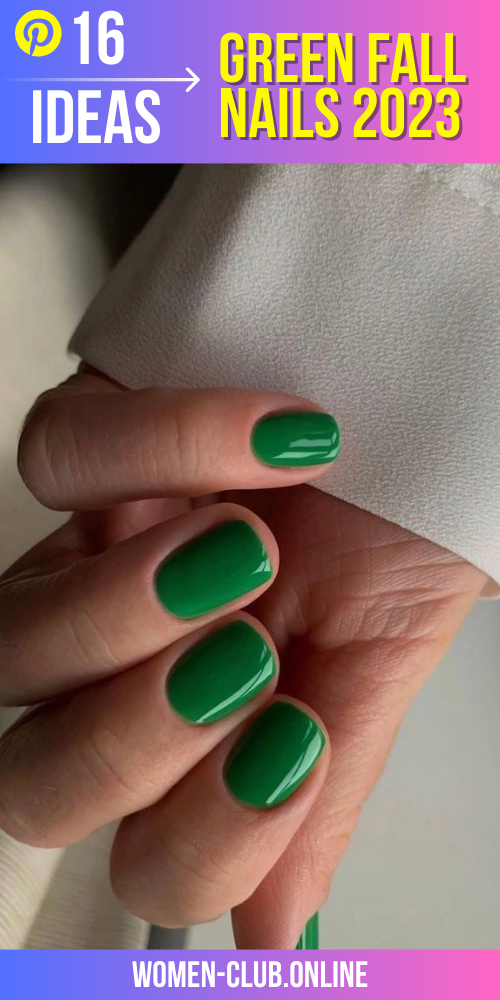 Olive Allure: Sophisticated Green
If you prefer a more refined and sophisticated look, olive green nails are the way to go. This muted green shade offers a subtle and elegant appearance, perfect for both casual and formal settings. Pair it with gold accents for a touch of opulence or keep it minimalist for a chic and understated style.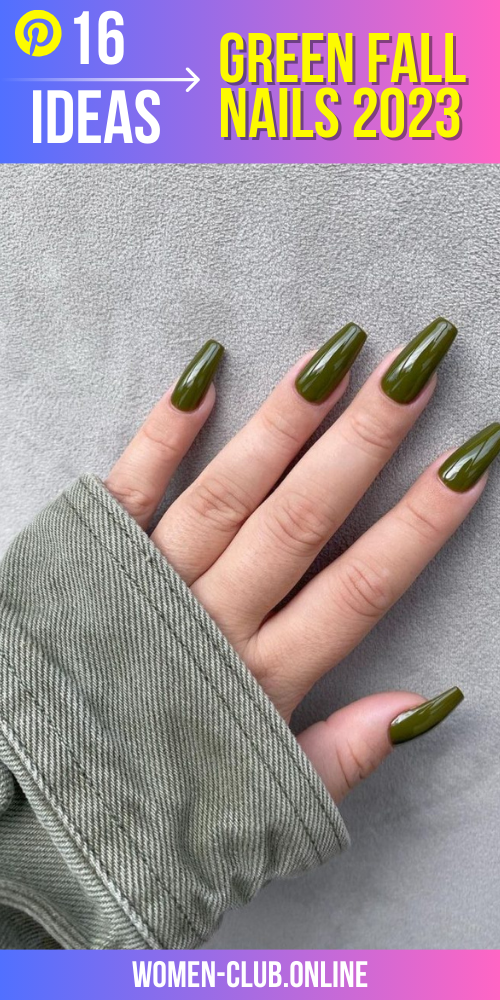 Jade Beauty: Serene Green
Jade green nails evoke a sense of tranquility and serenity, bringing a calm and composed vibe to your fall look. This shade pairs beautifully with earth tones and complements various skin tones. Add a touch of gold detailing or opt for a matte finish to elevate your nail game.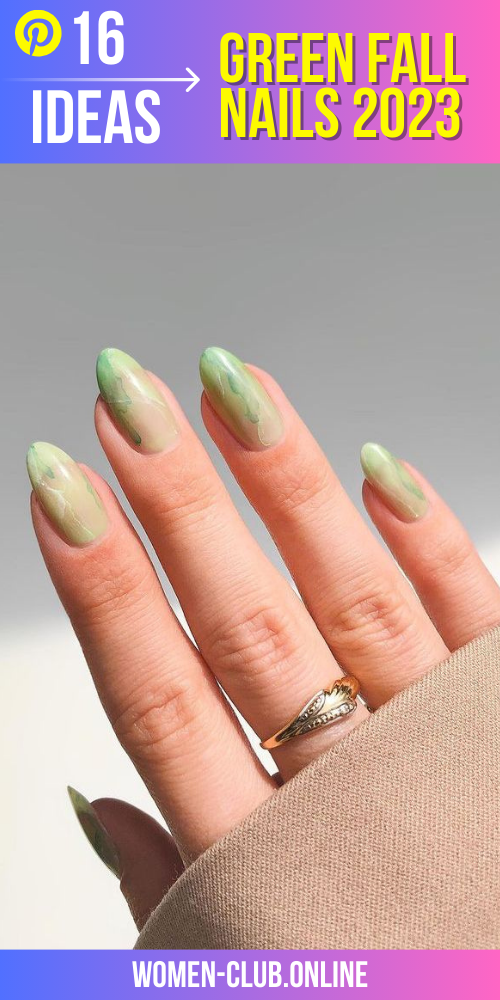 Lucky Clovers: Green with Glitter
Add a sprinkle of luck to your fall nail design with green nails adorned with glitter. Whether you opt for subtle shimmer or bold sparkles, the green and glitter combination will give your nails a festive and eye-catching appeal. Embrace the joyous spirit of fall and let your nails shine.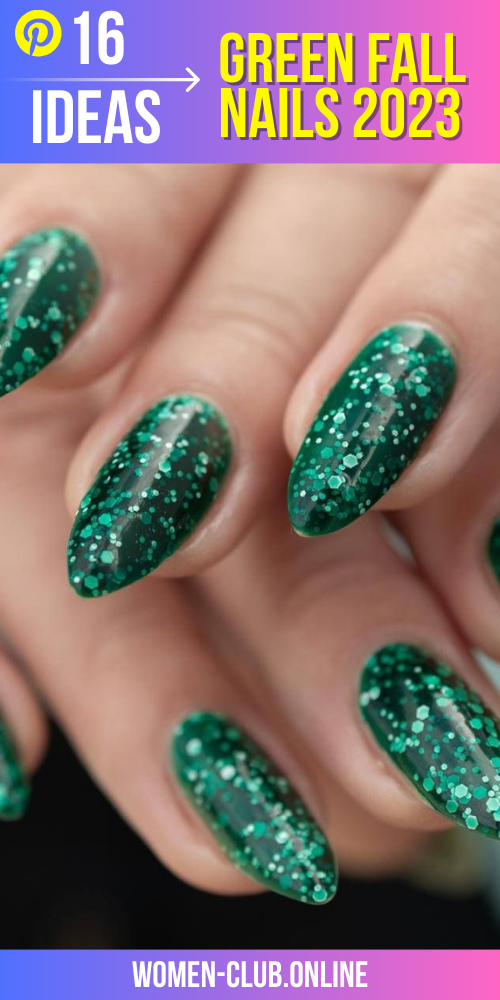 Green With Envy: Gradient Nails
Create a mesmerizing gradient effect on your nails by blending different shades of green. From lighter pastels to deeper hues, the gradient technique allows you to showcase the versatility of green in a captivating way. Experiment with various combinations and unleash your creativity.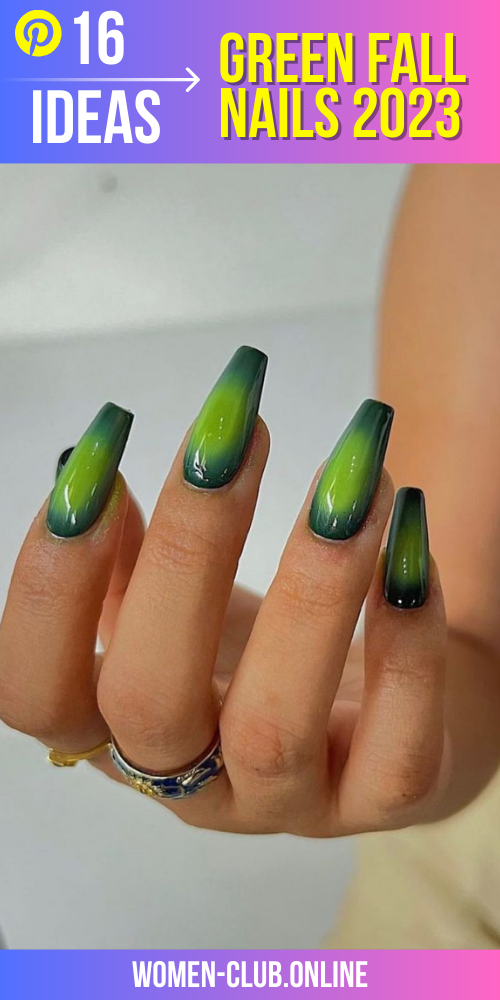 Tropical Paradise: Green with Floral Accents
Bring the tropics to your fingertips with green nails embellished with delicate floral accents. Choose vibrant green shades and add floral patterns in contrasting colors to create a tropical paradise on your nails. This playful and lively design will transport you to a sunny getaway.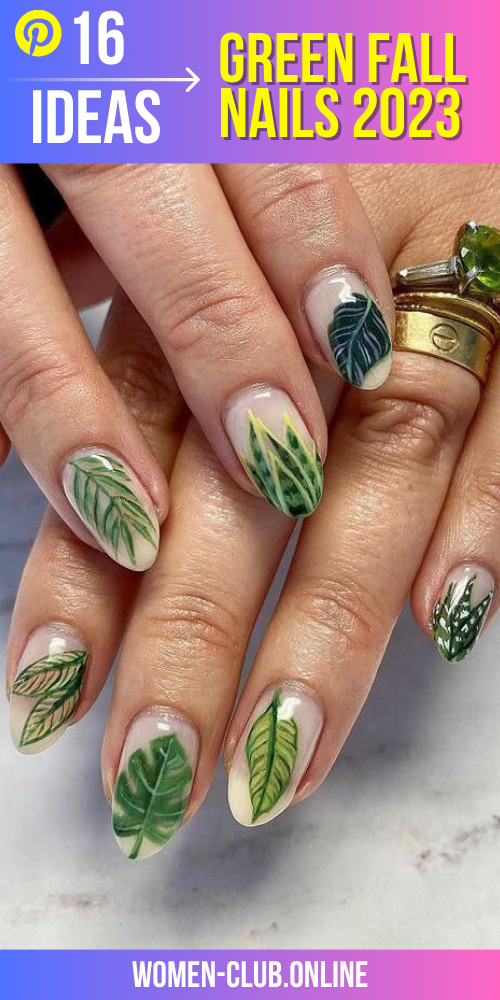 Forest Fantasy: Green with Leaf Designs
Immerse yourself in a forest fantasy with green nails adorned with intricate leaf designs. Whether hand-painted or using nail stickers, leaf motifs add a touch of nature to your nails. Experiment with different shades of green and various leaf shapes to create a whimsical woodland-inspired look.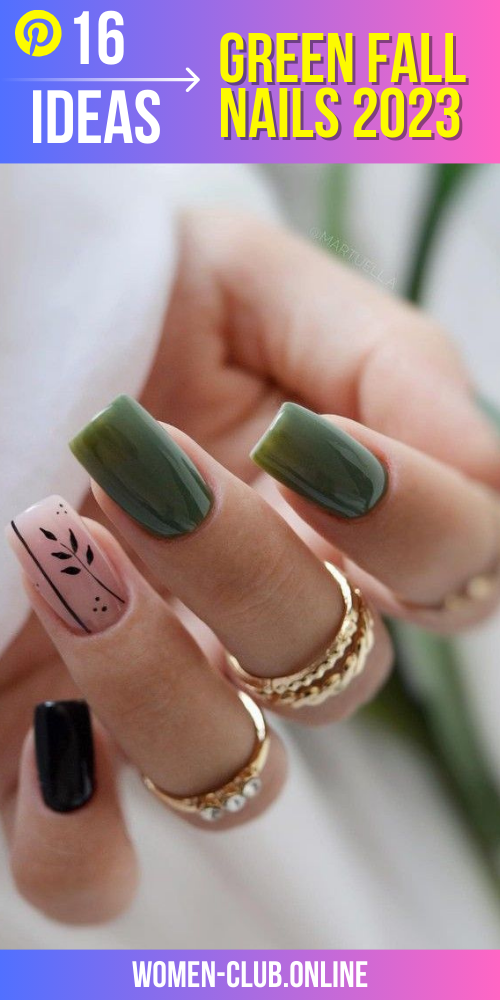 Shimmering Shamrocks: Stamped Nail Art
Pay homage to the Irish heritage and the symbol of luck with shimmering shamrock nail art. Using stamping plates or nail decals, create delicate shamrock patterns on your green nails. Add a touch of gold or silver for a luxurious finish and celebrate the charm of fall.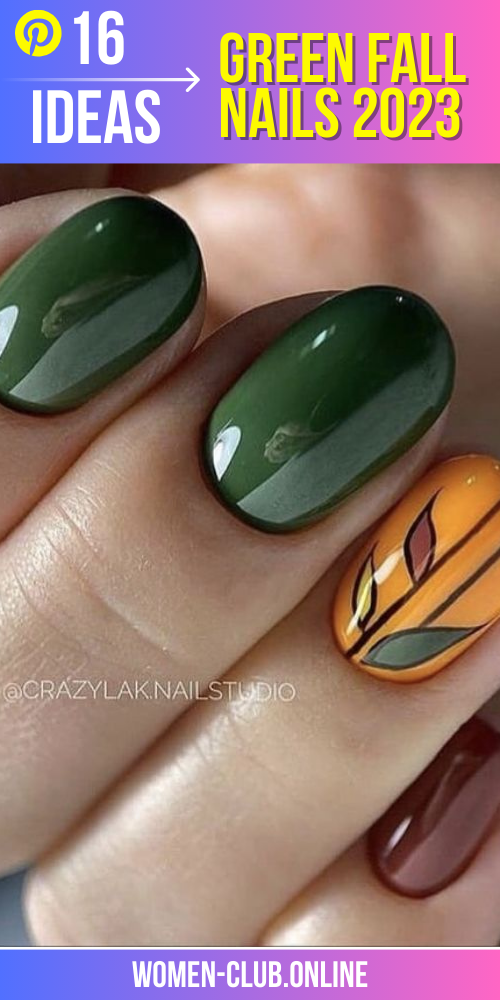 Artistic Foliage: Green with Abstract Patterns
Unleash your inner artist by adorning your green nails with abstract foliage patterns. From brushstroke-inspired designs to geometric shapes, this creative approach allows you to express your individuality. Combine different shades of green and experiment with various patterns for a unique and artistic look.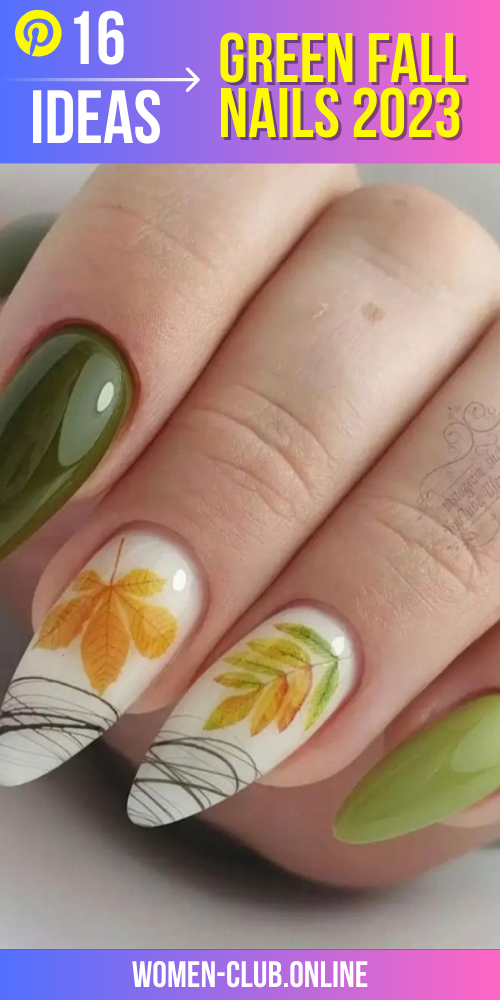 Neon Green Delight: Bold and Vibrant
If you're a fan of vibrant and eye-catching nails, neon green is the perfect choice for you. This bold and daring shade will make a statement and ensure your nails are the center of attention. Let your personality shine with neon green nails that electrify your fall look.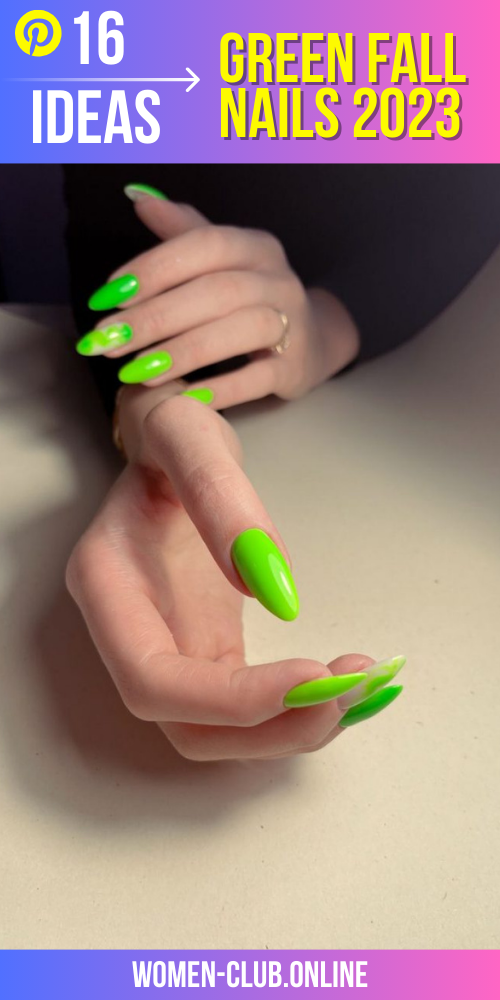 Enigmatic Forest: Matte Green
Create a mysterious and enchanting allure with matte green nails. Matte finishes add depth and sophistication to any nail design. Choose dark green shades with a matte top coat for an elegant and enigmatic look that captivates.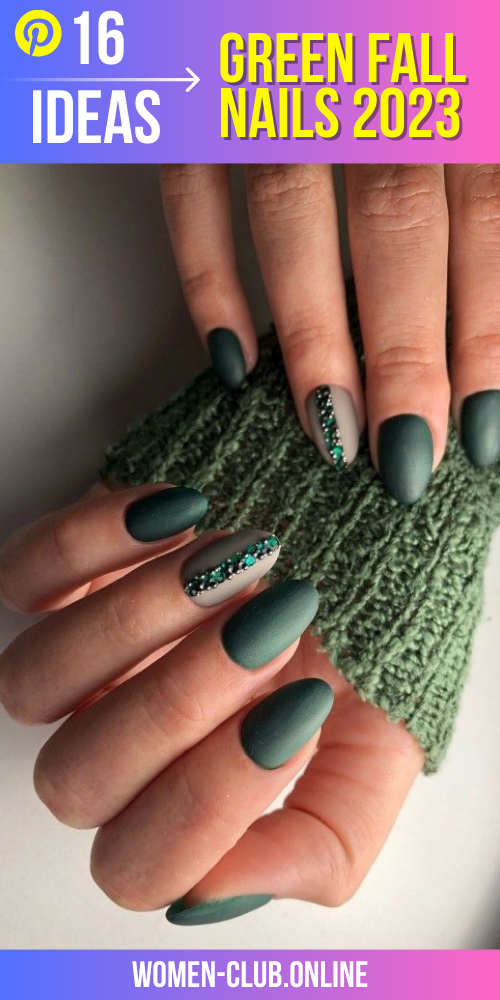 Vineyard Vines: Green with Vine Patterns
Embrace the beauty of nature with green nails adorned with delicate vine patterns. These intricate designs add a touch of elegance and charm to your fall nails. Whether you opt for hand-painted vines or nail stickers, this vineyard-inspired look will make your nails stand out.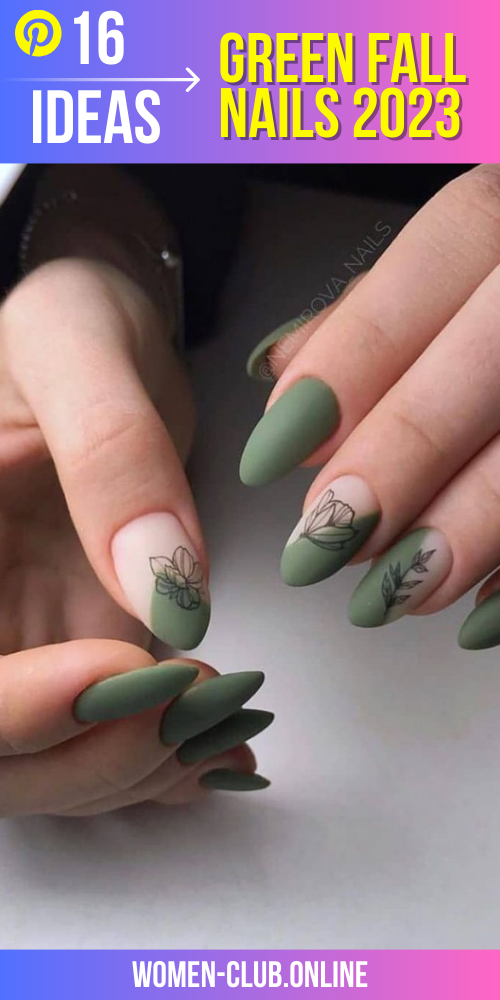 Emerald City: Green with Rhinestones
Elevate your green fall nails to a new level of glamour with the addition of rhinestones. The combination of rich green shades and sparkling embellishments creates a dazzling effect reminiscent of the Emerald City. Make a bold and glamorous statement with this luxurious nail design.