Nails
Red Nails Acrylic 15 Ideas: A Stunning Statement of Elegance
In the world of fashion and beauty, nails have become a canvas for self-expression and creativity. Among the various nail art options, acrylic nails stand out for their durability and versatility. When it comes to making a bold and elegant statement, nothing compares to the allure of red nails. In this article, we will explore some captivating red nails acrylic ideas that will elevate your style and make heads turn.
The Classic Scarlet Elegance
The timeless beauty of scarlet red nails never goes out of style. A classic red acrylic manicure exudes sophistication and confidence, making it a go-to choice for formal events and special occasions. The boldness of the red hue complements all skin tones, making it universally flattering.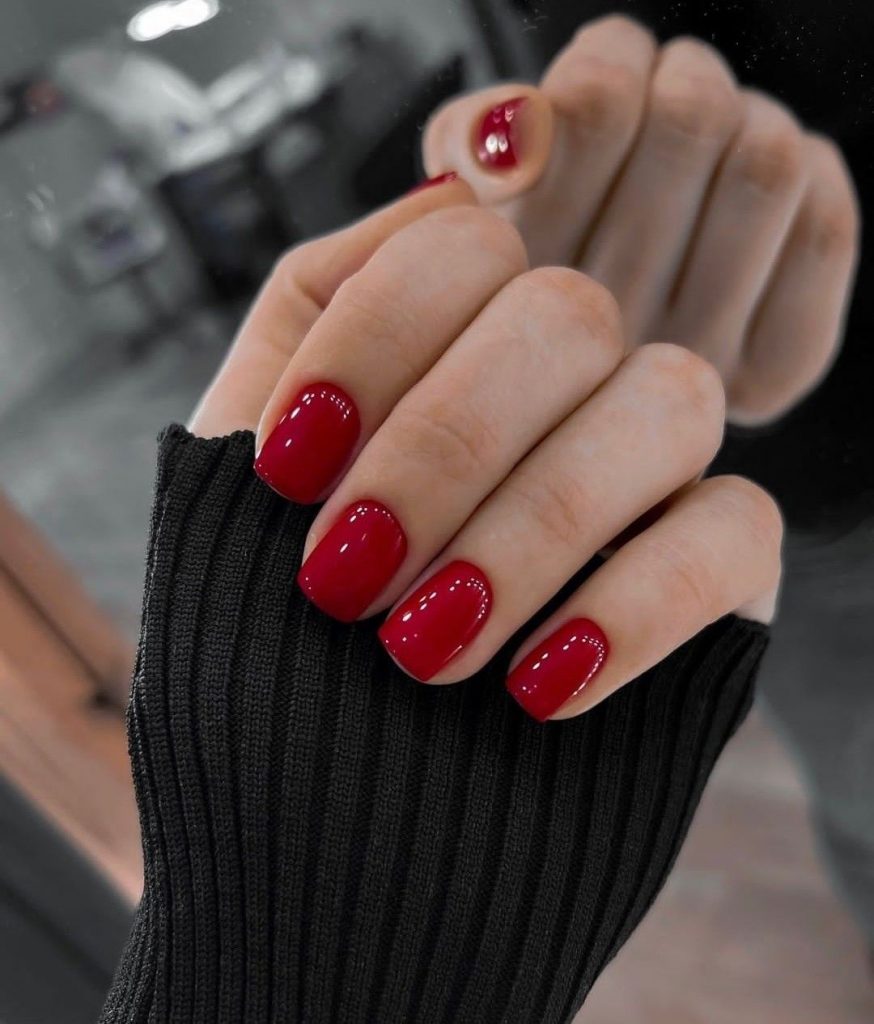 Passionate Crimson Flames
For those seeking a fiery look, crimson red acrylic nails deliver an intense burst of passion. This daring shade of red adds an element of excitement and allure to your overall appearance. Perfect for those who love to make a statement, crimson flames are ideal for parties and nights out on the town.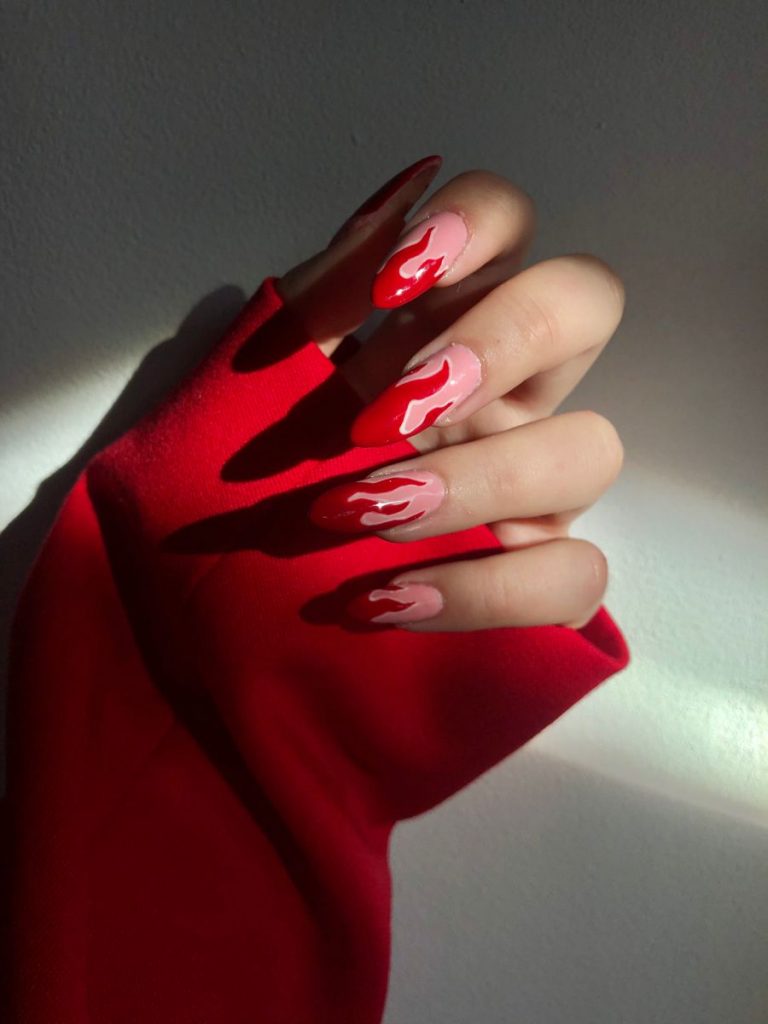 Glamorous Glitterati
If you want to add a touch of glitz and glamour to your red acrylic nails, consider the magic of glitterati. Mixing red with dazzling glitter accentuates the richness of the color and adds a mesmerizing sparkle to your fingertips. Whether it's a festive occasion or you just want to feel fabulous, glitterati nails are a show-stopping choice.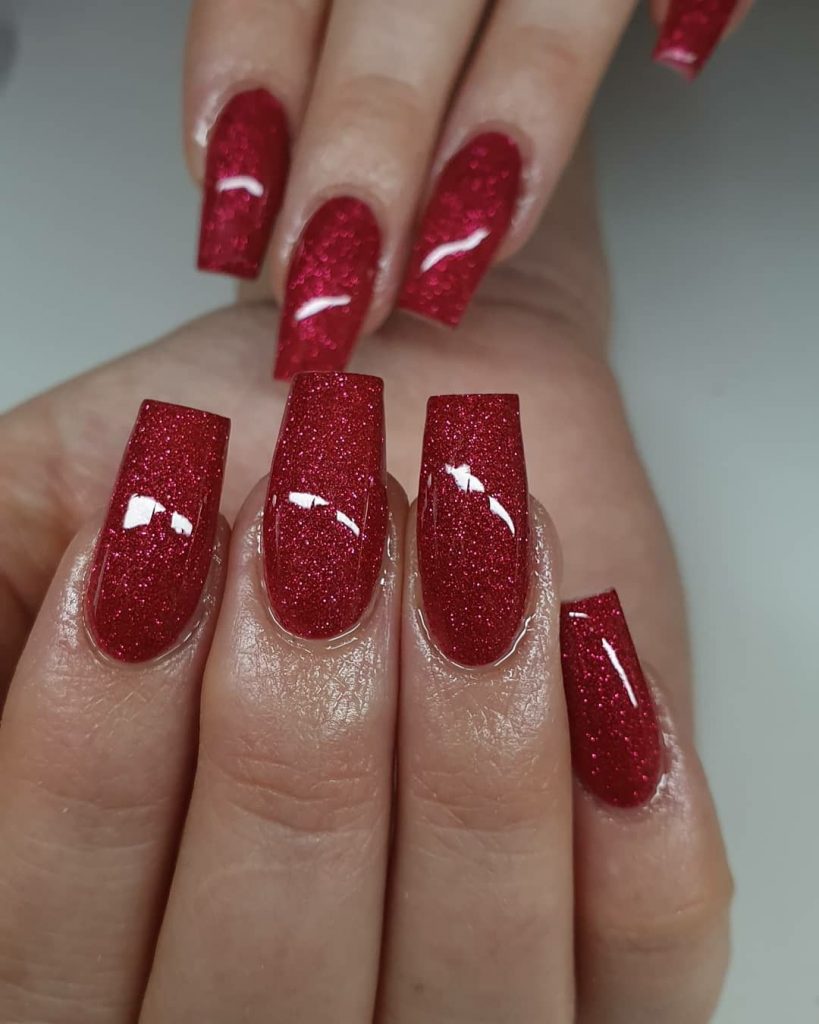 Romantic Roses in Red
Red roses symbolize love and passion, and incorporating this floral motif into your acrylic nails can create a romantic and captivating look. Intricately painted red roses on a neutral or light pink base evoke a sense of enchantment and femininity.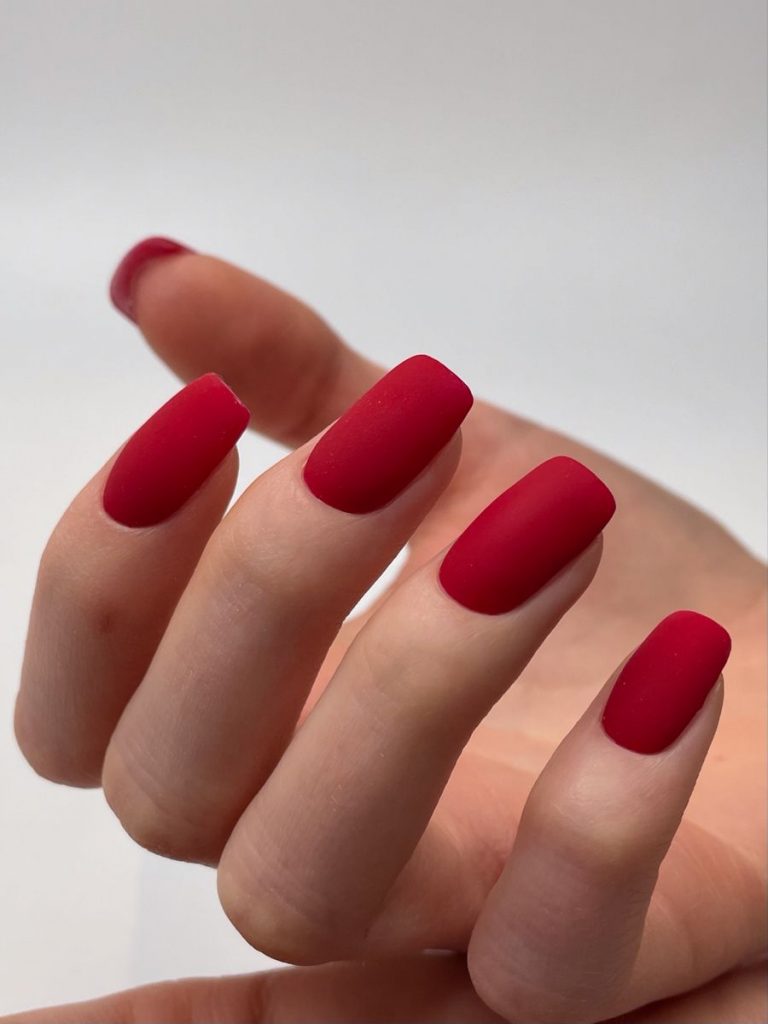 Ombre Magic
Ombre nails are a mesmerizing trend that blends two or more colors seamlessly. Red ombre acrylic nails can vary from a subtle gradient to a striking blend of red hues. This artistic style adds depth and dimension to your nails, making them an artistic masterpiece.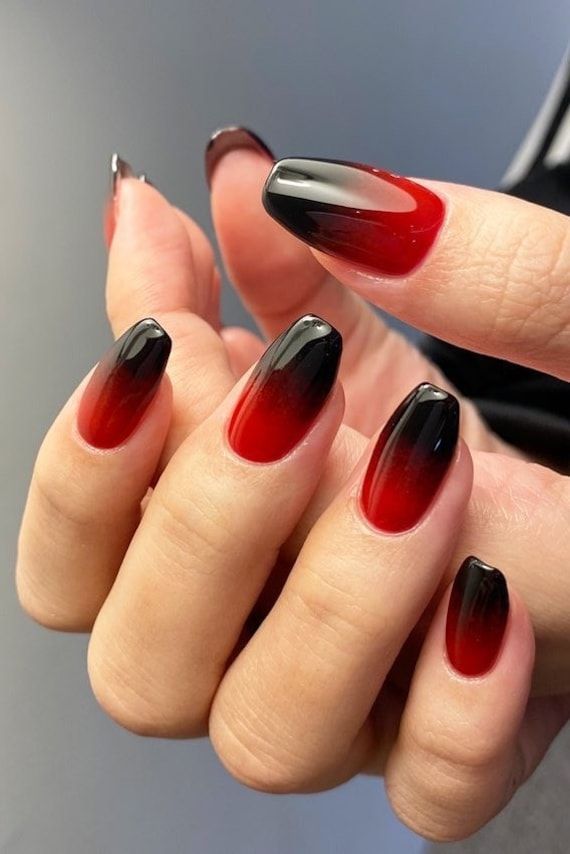 Edgy Matte Red
Matte red acrylic nails offer a contemporary and edgy twist to the classic red manicure. The velvety finish exudes a modern vibe, making a bold statement that commands attention. Perfect for fashion-forward individuals who want to stand out from the crowd.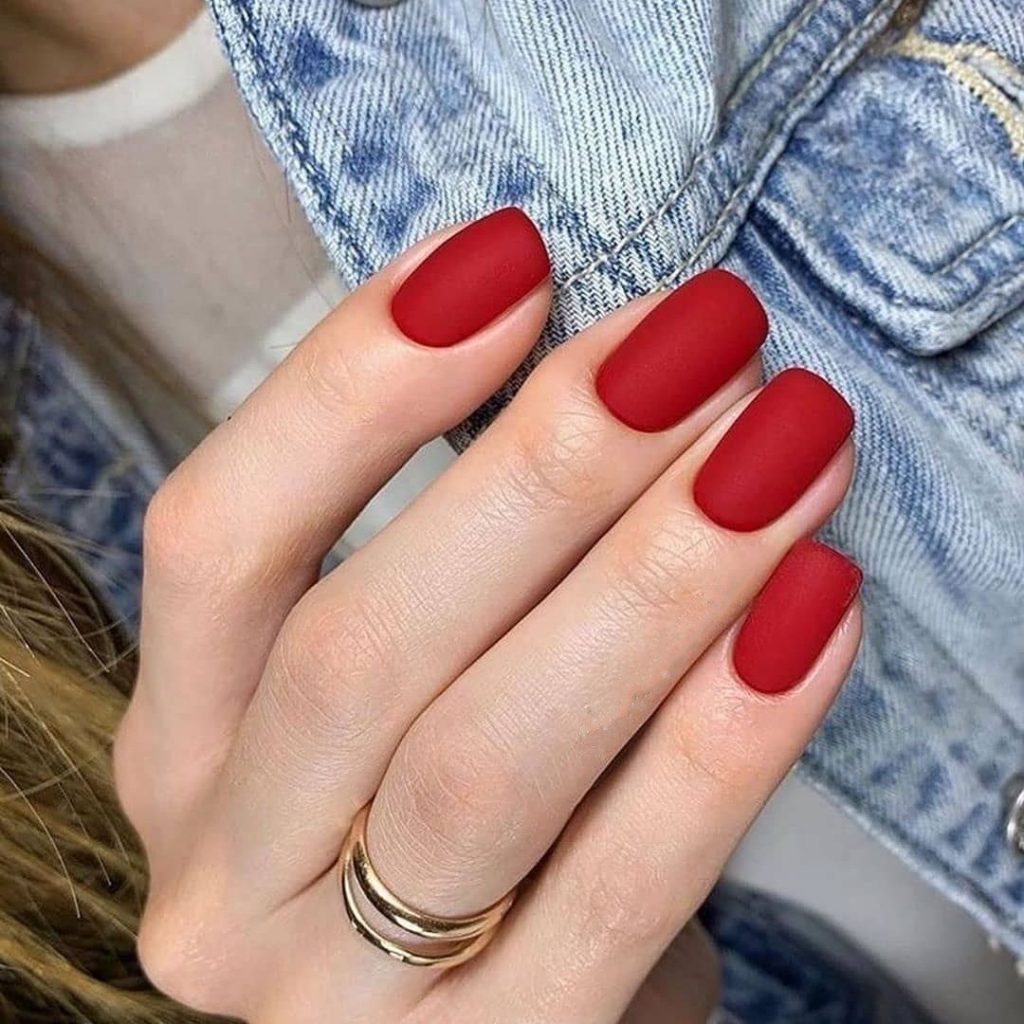 Red and Gold Fusion
Combining red with gold accents creates a luxurious and regal appeal. Gold foil or intricate gold detailing on red acrylic nails brings a touch of opulence and royalty to your fingertips. This exquisite combination is fitting for elegant events and celebrations.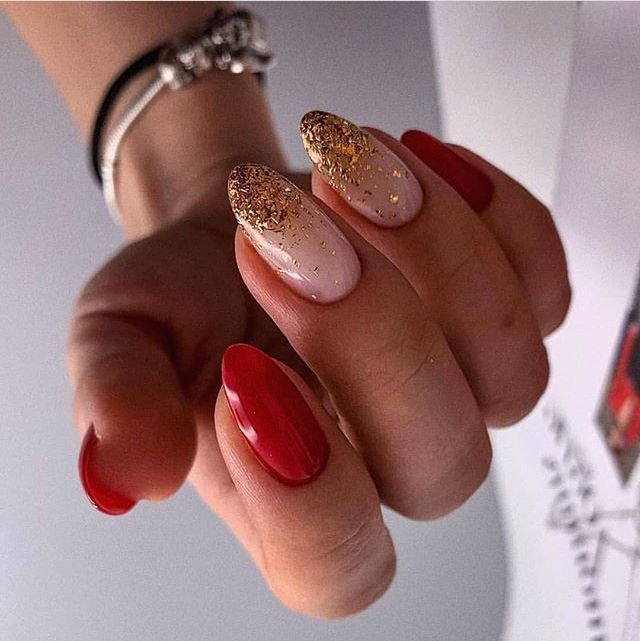 Playful Polka Dots
For a fun and playful look, red acrylic nails adorned with white polka dots bring a retro-inspired charm to your style. This design is perfect for casual outings, and it adds a cheerful touch to your overall appearance.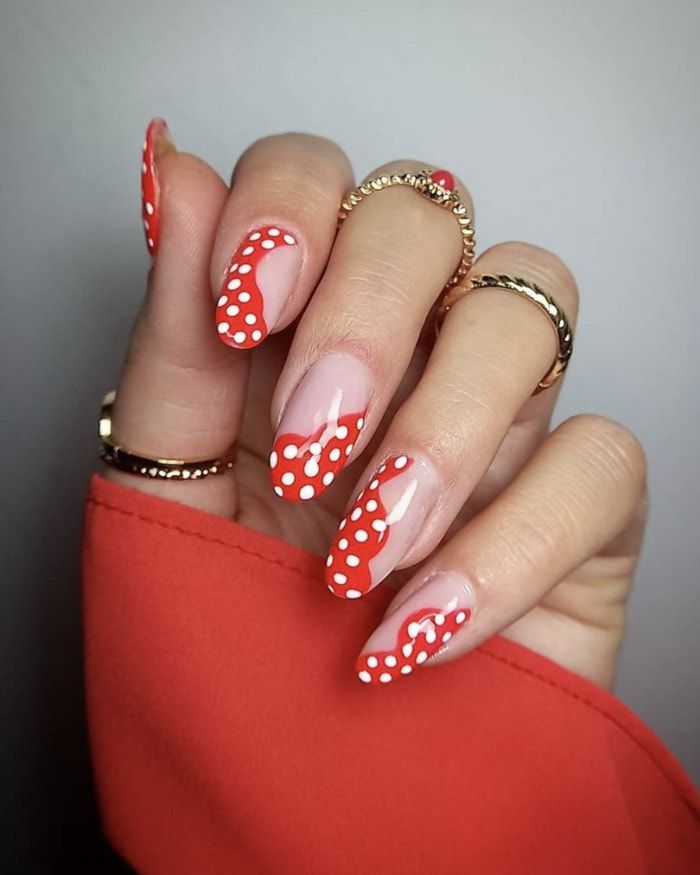 Abstract Artistry
Unleash your inner creativity with abstract red acrylic nails. Swirls, lines, and geometric shapes in red tones can create a unique and artistic expression on your nails. The beauty of abstract nail art lies in its limitless possibilities.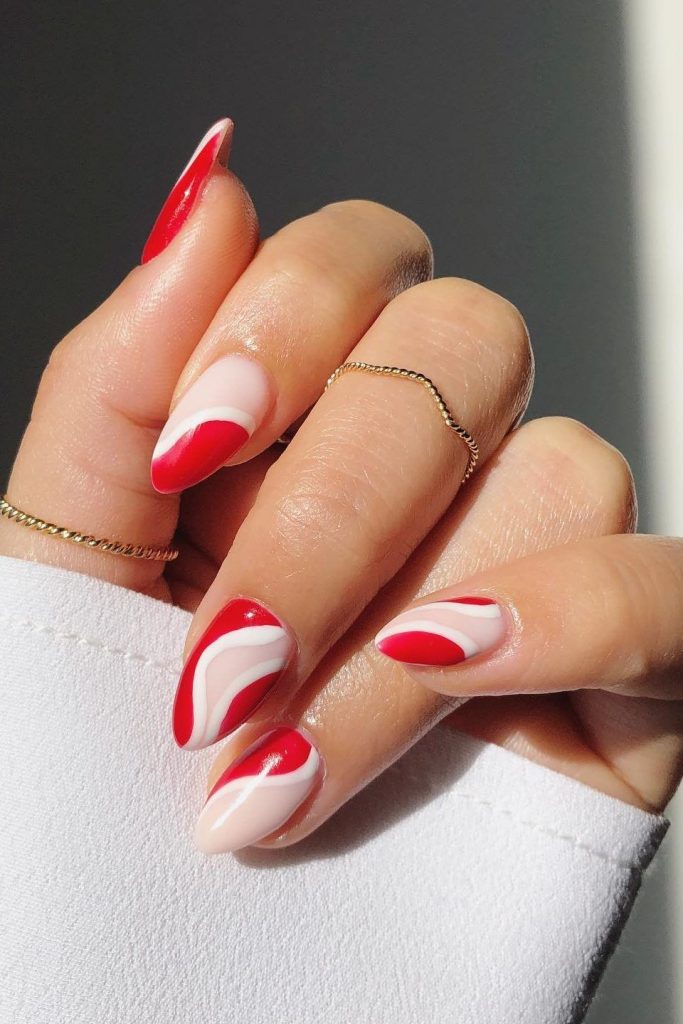 Vintage Hollywood Glam
Embrace the allure of vintage Hollywood with red acrylic nails reminiscent of the golden age of cinema. A combination of red and black with elegant designs such as bows or lace patterns can transport you to a bygone era of glamour.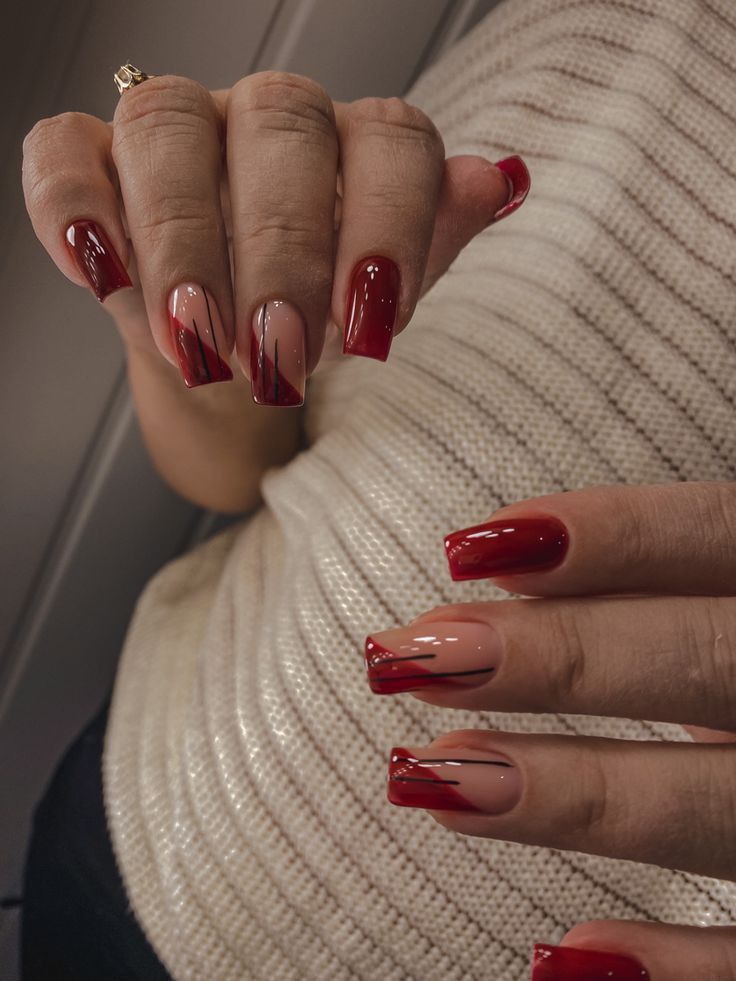 Nautical Vibes
Bring the sea to your fingertips with nautical-themed red acrylic nails. Designs featuring anchors, stripes, and sailor motifs are perfect for beach vacations and summertime adventures.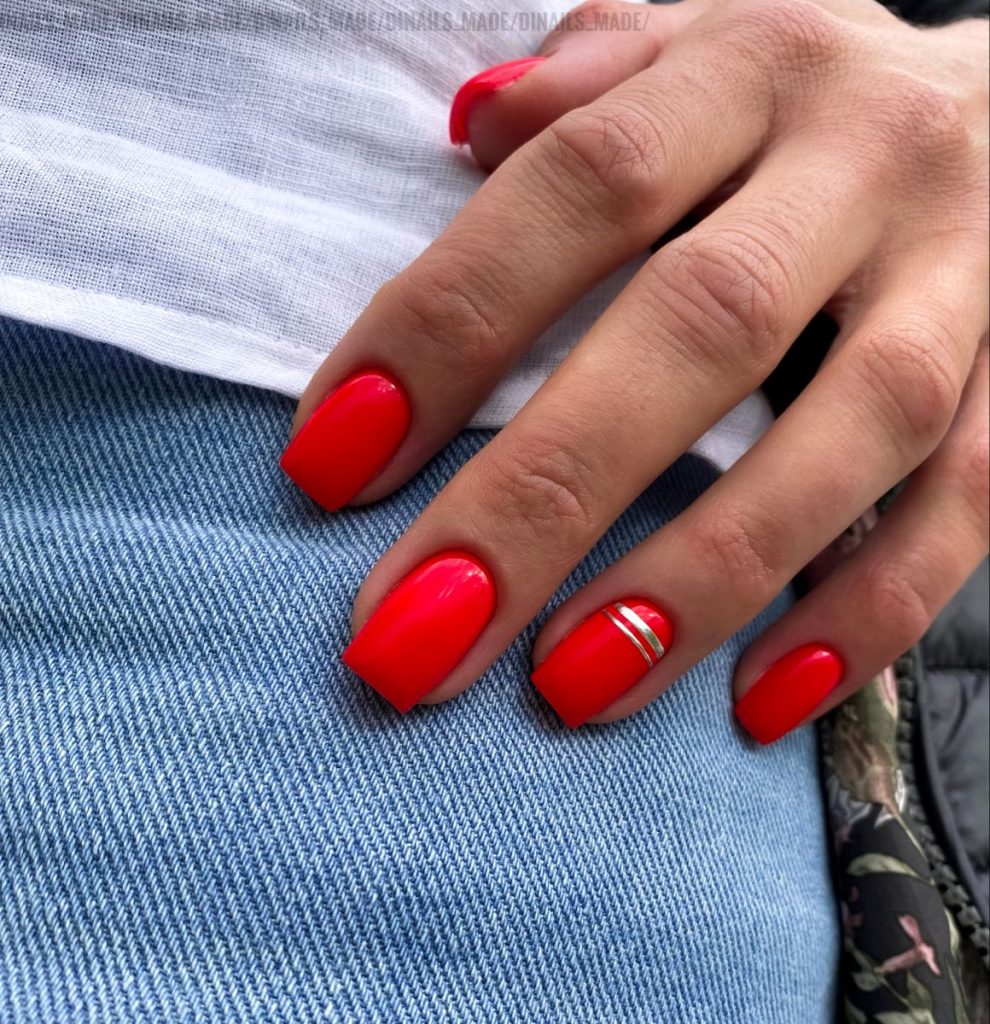 Timeless French Tips with a Twist
Add a modern twist to the classic French tip design by opting for red tips instead of the traditional white. This chic update elevates the elegance of your nails while still maintaining a timeless appeal.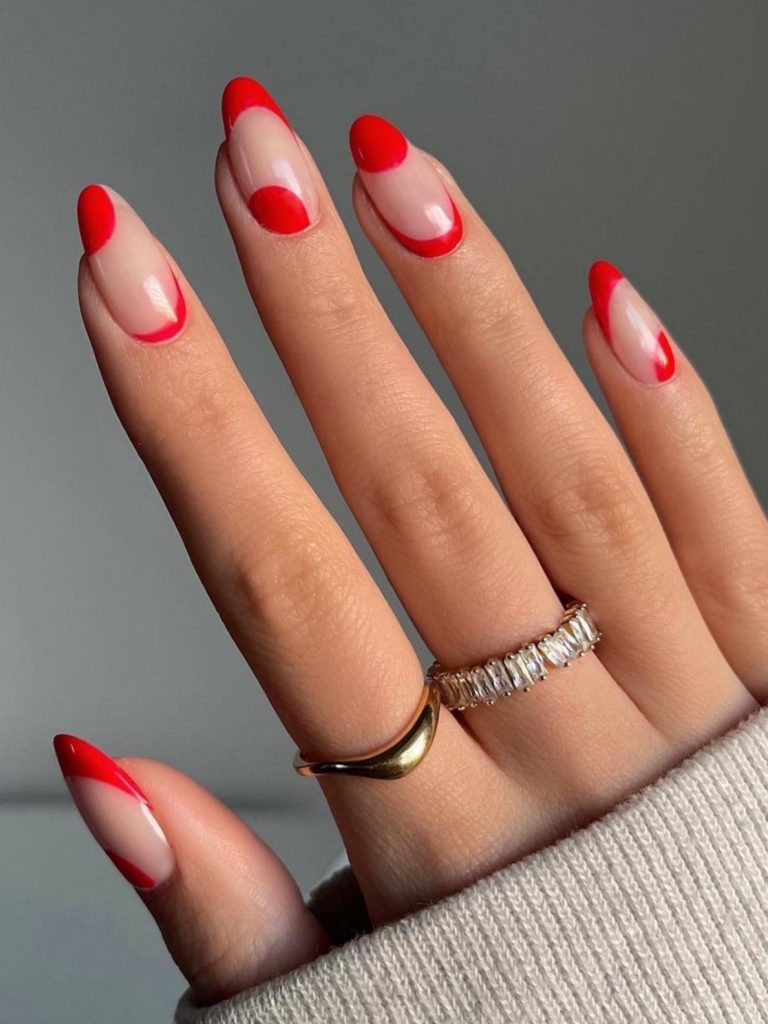 Red Marble Marvel
Marble nail art creates a luxurious and sophisticated look. Red marble acrylic nails combine the richness of red with the elegance of marbling, resulting in a captivating and unique manicure.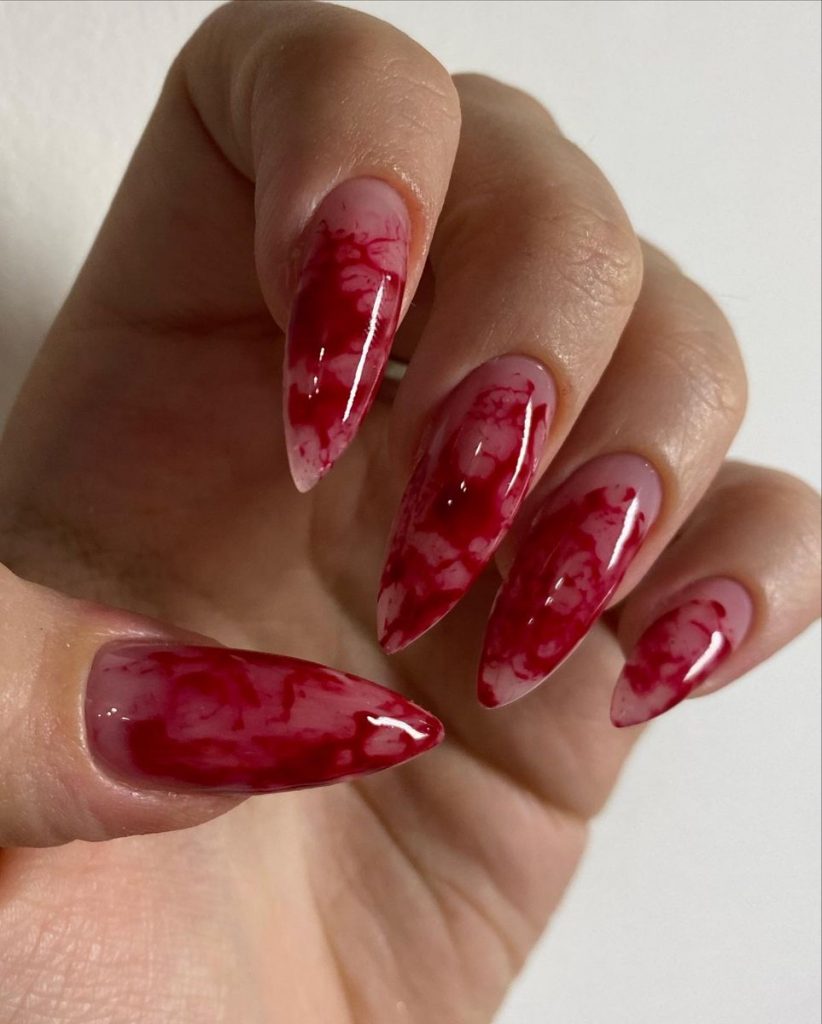 Nature's Red Inspirations
Draw inspiration from nature by incorporating red elements such as leaves, berries, or even ladybugs into your acrylic nails. This organic touch adds a charming and whimsical aspect to your overall style.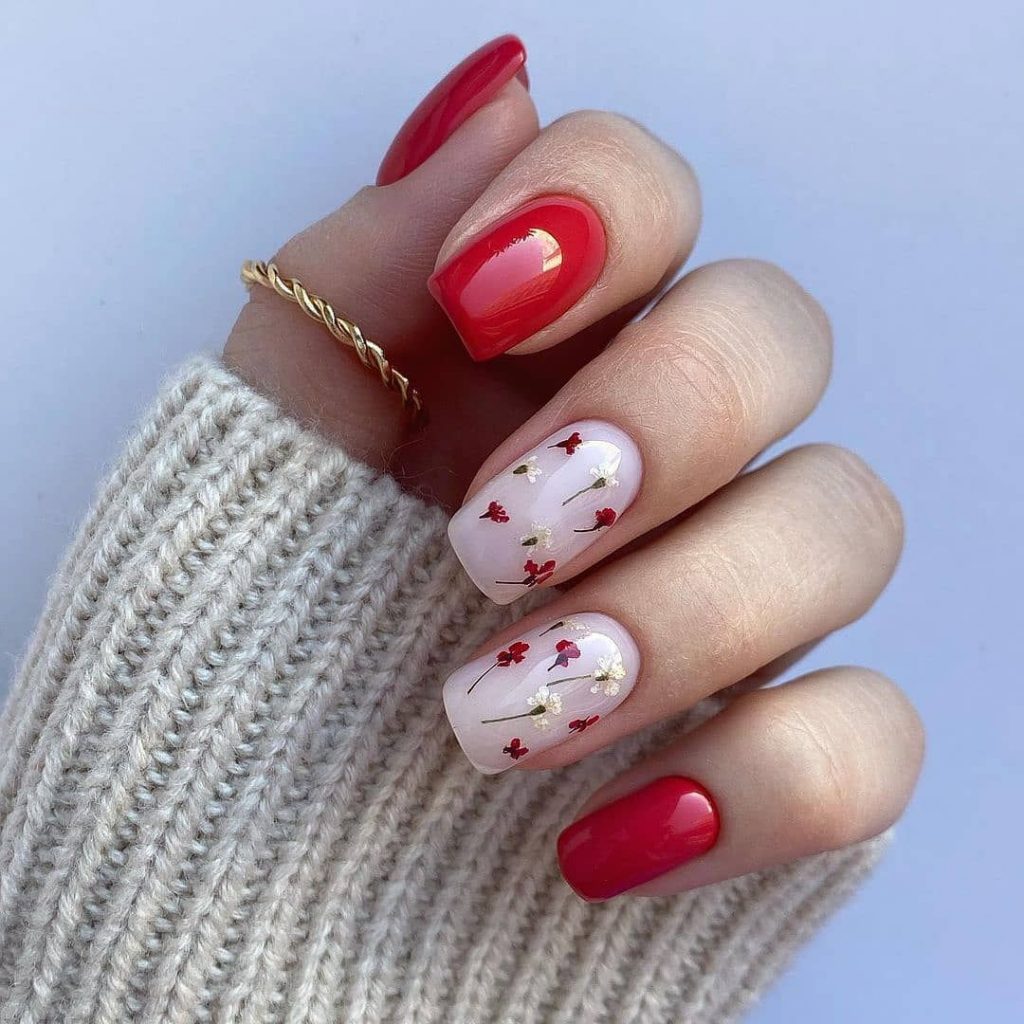 Glazed Cherry Delight
Achieve a luscious and delicious appearance with glazed cherry red acrylic nails. The shiny and glossy finish replicates the juicy allure of ripe cherries, making your nails a delectable treat to behold.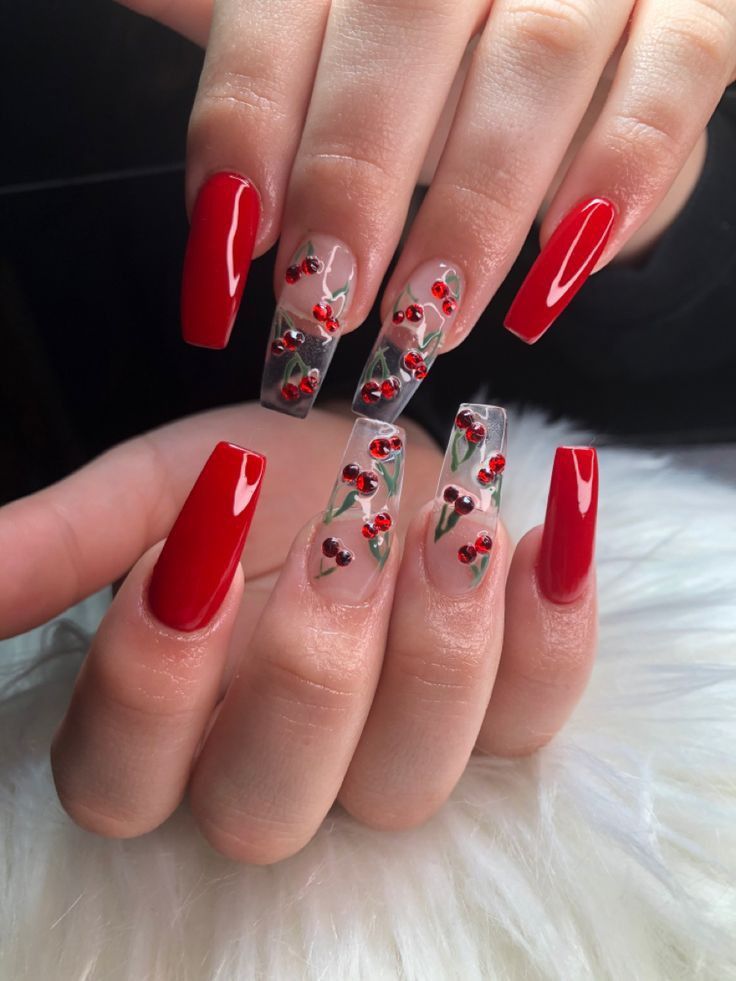 Save Pin