Nails
Summer Ombre Acrylic Coffin Nails 2023: Stunning Glitter Accents in Pink, Blue, Green, Purple & More
Acrylic nails are artificial enhancements that are applied to natural nails to add length, strength, and beauty. They are created by combining a liquid monomer with a powdered polymer to form a thick paste, which is then shaped and molded over the natural nails. Acrylic nails are known for their durability and long-lasting nature, making them a popular choice among nail enthusiasts.
What are Acrylic Nails?
Acrylic nails are a type of artificial nails that are created by mixing a liquid monomer and a powdered polymer. The mixture forms a thick paste that can be applied over natural nails or nail tips. Once applied, the paste hardens and creates a strong, durable layer that can be shaped and filed into various styles and lengths. Acrylic nails can be customized with different colors, designs, and embellishments, making them a versatile option for expressing personal style.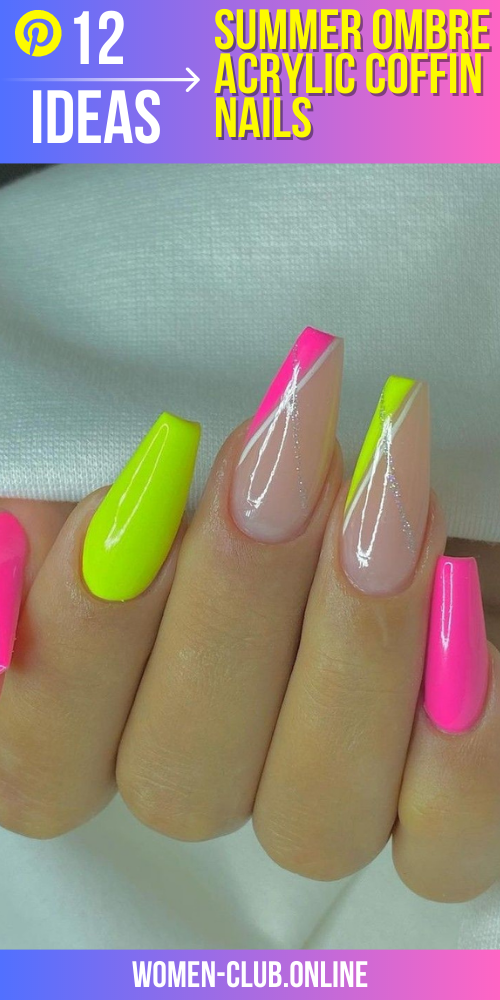 Summer Nail Trends
Every season brings its own set of nail trends, and summer is no exception. When it comes to summer nail art, vibrant colors, playful designs, and tropical elements are in high demand. From bold neons to soft pastels, summer nails are all about embracing the warmth and energy of the season.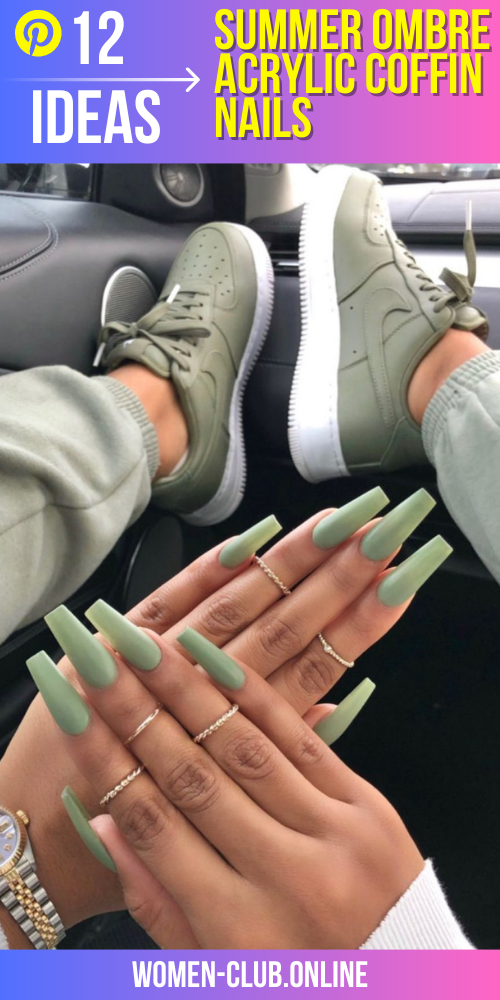 Why Choose Coffin-Shaped Nails?
The coffin shape is characterized by its tapered square tips, resembling the shape of a coffin or a ballerina's pointe shoes. This nail shape has gained immense popularity due to its sleek and sophisticated look. Coffin-shaped nails elongate the fingers, creating an elegant and feminine appearance. They are versatile and can be adorned with various designs, making them a perfect canvas for summer nail art.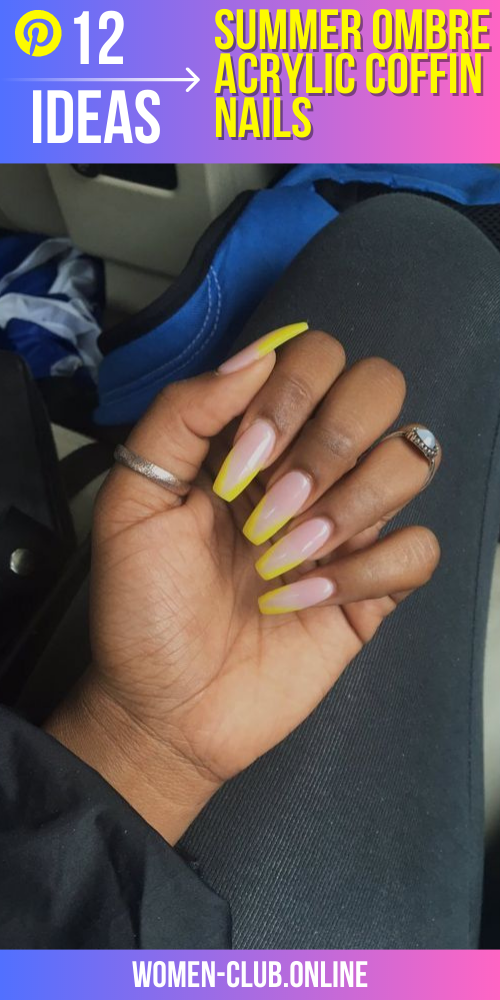 Summer Acrylic Nails: Bright and Bold Colors
When it comes to summer acrylic nails, bold and vibrant colors take center stage. Bright shades like hot pink, electric blue, and neon green are perfect for making a statement. These eye-catching colors complement summer outfits and add a pop of fun to your overall look. Pair them with contrasting shades or incorporate them into nail art designs for a playful and trendy vibe.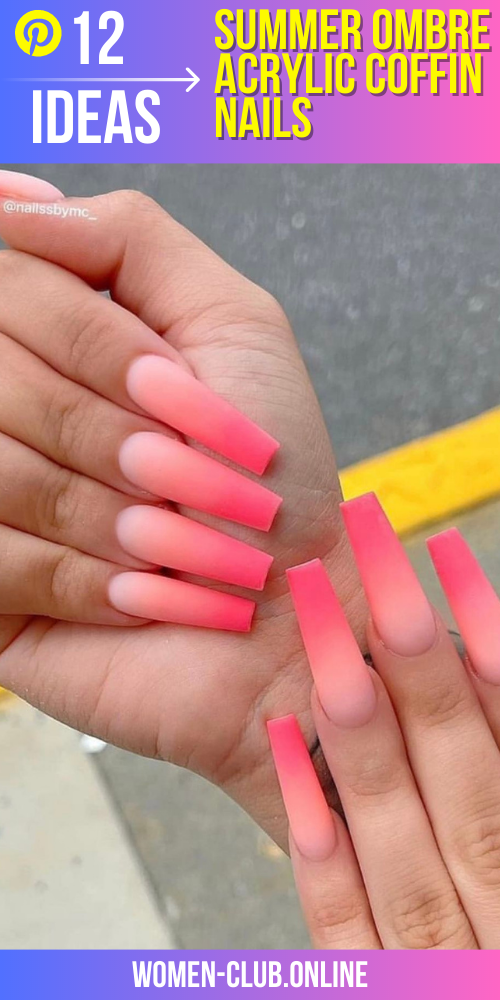 Floral Designs for Summer Nails
Floral designs are a timeless choice for summer nails. Delicate flowers, tropical blooms, or intricate floral patterns can be created using acrylic paints or nail stickers. Floral nail art adds a touch of femininity and elegance to your summer look, making it a popular choice for various occasions.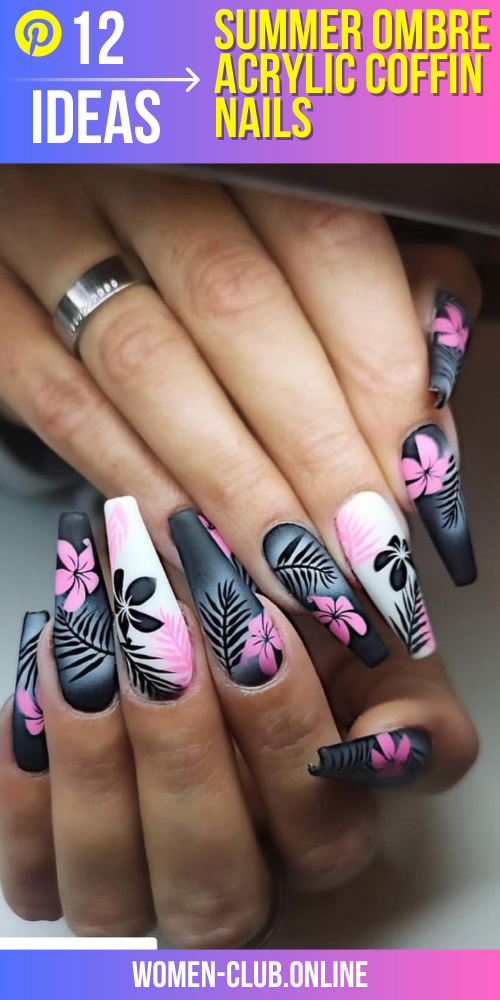 Ombre and Gradient Effects
Ombre and gradient effects are a popular trend in the nail art world. They involve blending two or more colors seamlessly to create a gradient effect on the nails. For summer acrylic nails, you can experiment with vibrant shades like orange fading into yellow or turquoise transitioning into seafoam green. The soft and gradual color changes give a mesmerizing and captivating look to your nails, reminiscent of a beautiful summer sunset.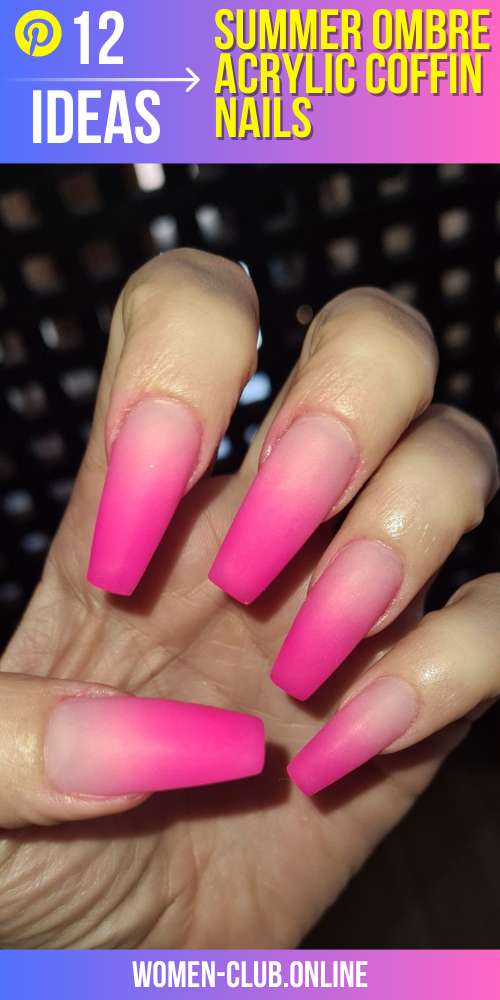 Tropical and Beachy Vibes
Summer is synonymous with beach vacations and tropical getaways. Embrace the summer vibes with acrylic nails that feature tropical motifs and beach-inspired designs. Think palm trees, exotic fruits, flamingos, and seashells. These playful and whimsical designs will transport you to a tropical paradise, even if you're miles away from the beach.
Glitter and Sparkle for Summer Nights
Summer nights are all about parties, celebrations, and dancing under the stars. Add a touch of glamour to your acrylic nails with glitter and sparkle. Whether you opt for a full glitter manicure or accent nails with sparkly details, the shimmering effect will catch the light and make your nails dazzle. Choose colors like gold, silver, or holographic glitters for a glamorous and eye-catching look.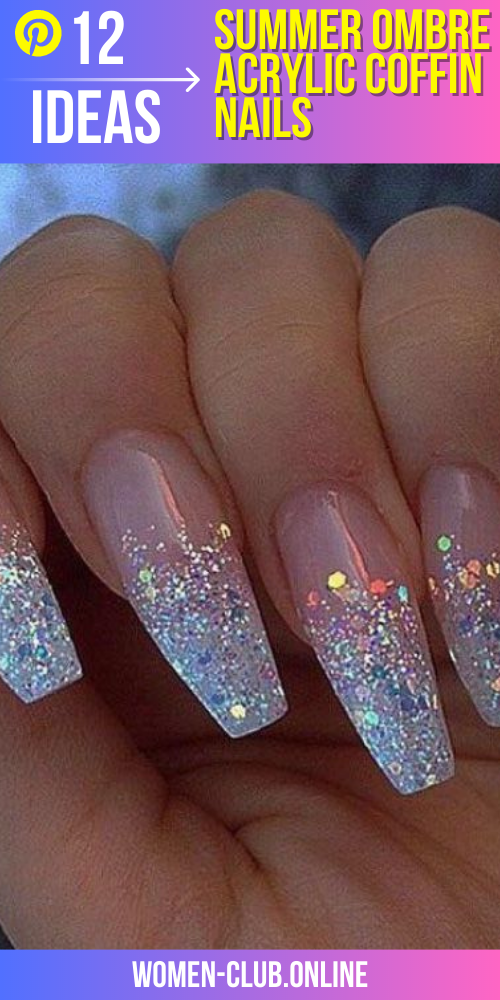 Pastel and Nude Shades
If you prefer a more subtle and understated look, pastel and nude shades are perfect for summer acrylic nails. Soft pinks, lilacs, and mint greens evoke a sense of tranquility and serenity. Nude shades, such as beige and light peach, give a clean and sophisticated appearance. These colors are versatile and can be worn with any outfit, making them a timeless choice for summer nails.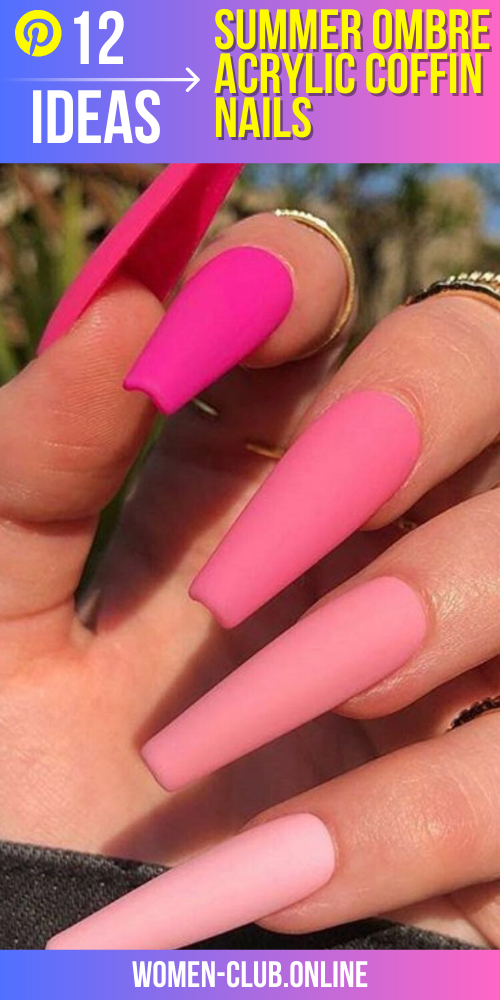 Marble and Geometric Patterns
For a modern and chic look, marble and geometric patterns are a great choice for summer acrylic nails. Marble designs with swirls of different colors create a luxurious and elegant effect. Geometric patterns, such as triangles, lines, and dots, add a contemporary touch to your nails. Experiment with different colors and shapes to create a unique and artistic nail art that reflects your personal style.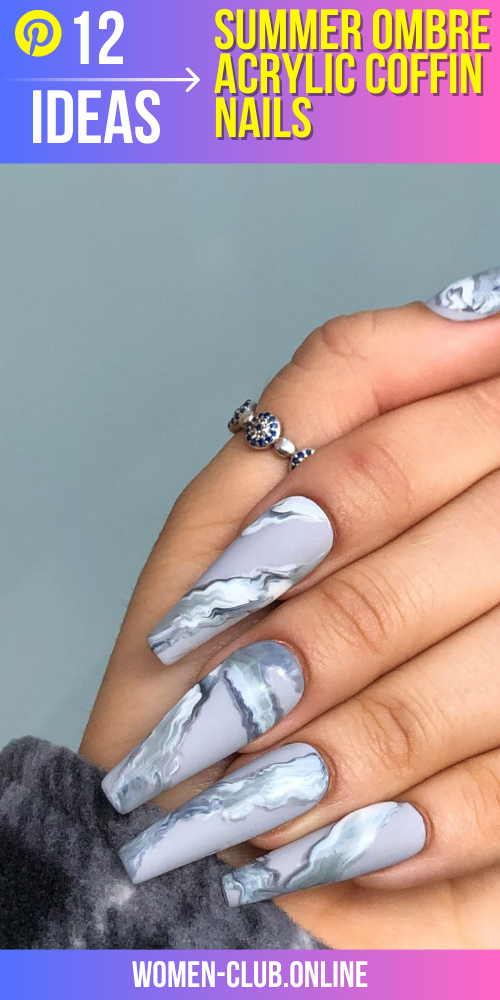 Mix and Match: Fun and Playful Designs
Summer is the season to have fun and let loose, so why not express your creativity with mix-and-match designs? Combine different patterns, colors, and textures on each nail for a playful and eclectic look. Mix polka dots with stripes, florals with geometric shapes, or even incorporate animal prints. The key is to embrace your imagination and have fun experimenting with various combinations.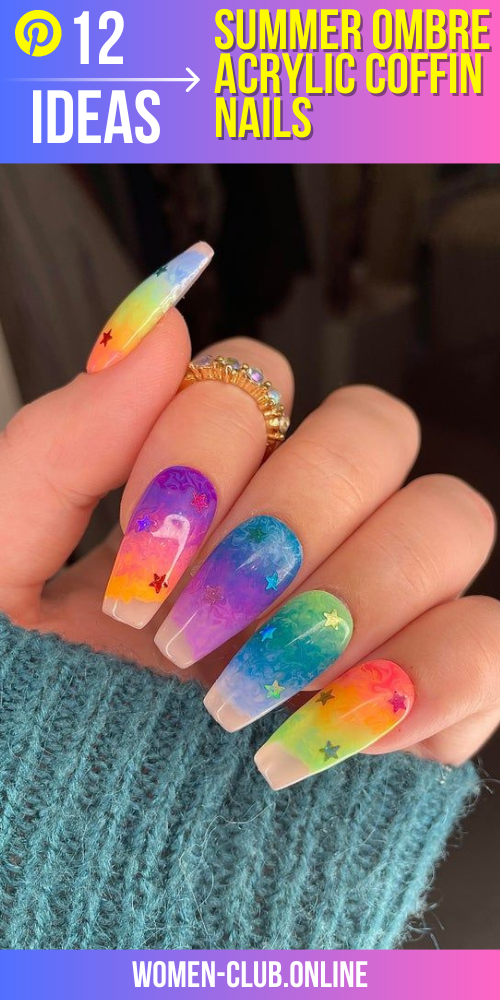 DIY Tips for Applying Acrylic Nails
If you want to try applying acrylic nails at home, here are some tips to help you achieve salon-quality results: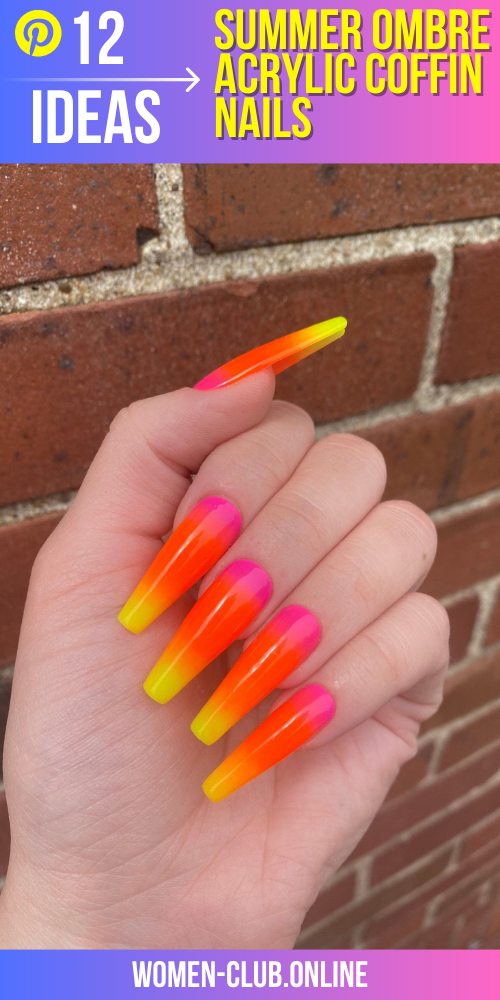 Start with clean and trimmed nails.
Push back your cuticles and gently buff the surface of your nails.
Apply a thin layer of acrylic primer to ensure better adhesion.
Dip your brush into the acrylic liquid, then into the acrylic powder to create a small bead of acrylic.
Place the bead on your nail and use the brush to shape it into the desired length and shape.
Repeat the process for each nail, working one at a time.
Once the acrylic is dry, file and shape your nails to perfection.
Apply a top coat to seal the acrylic and add shine.
Finish with cuticle oil to nourish your nails and surrounding skin.
Remember, practice makes perfect, so don't be discouraged if your first attempt isn't flawless. With time and practice, you'll become more skilled in applying acrylic nails.