Nails
Neon Orange Acrylic Nail Designs for Summer 2023: Bright, Short and Ombre Styles! Nail Art Ideas
Summer is the perfect time to experiment with vibrant and fun nail designs, and one color that captures the essence of the season is orange. With its energetic and cheerful vibes, orange is a fantastic choice for acrylic nails during the summer months. In this article, we will explore various orange acrylic nail ideas that will help you stand out and embrace the sunny season in style.
Why Acrylic Nails for Summer?
Acrylic nails are a popular choice for summer for several reasons. Firstly, acrylic nails are durable and long-lasting, making them ideal for the summer months when we engage in outdoor activities and spend more time in the water. They provide a protective layer for your natural nails, preventing breakage and chipping.
Secondly, acrylic nails offer a wide range of design possibilities. You can experiment with various colors, patterns, and nail art techniques to create unique and eye-catching designs. This versatility allows you to express your personal style and embrace the summer spirit.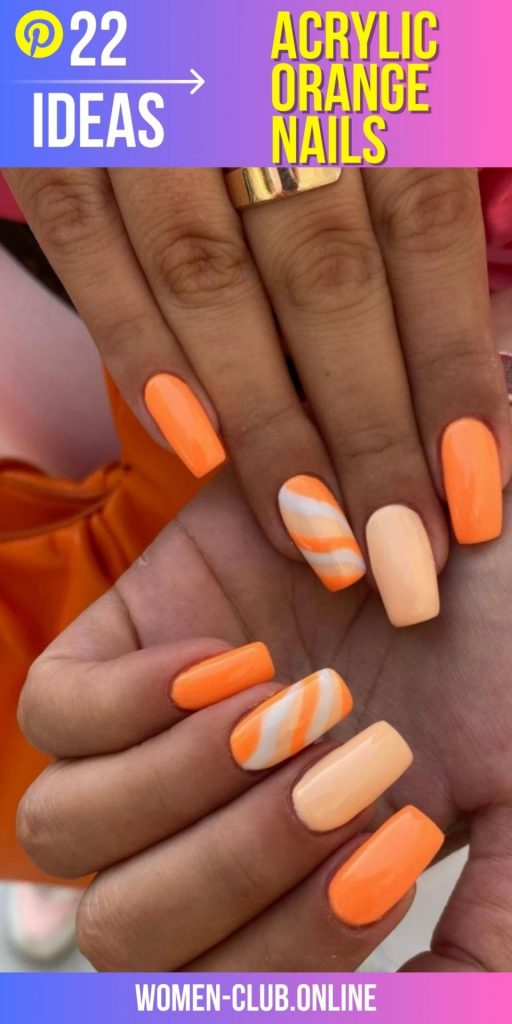 Choosing the Perfect Shade of Orange
When it comes to orange acrylic nails, the shade of orange you choose can make a significant difference in the overall look. The right shade will complement your skin tone and enhance your summer vibes. Here are a few popular orange shades to consider: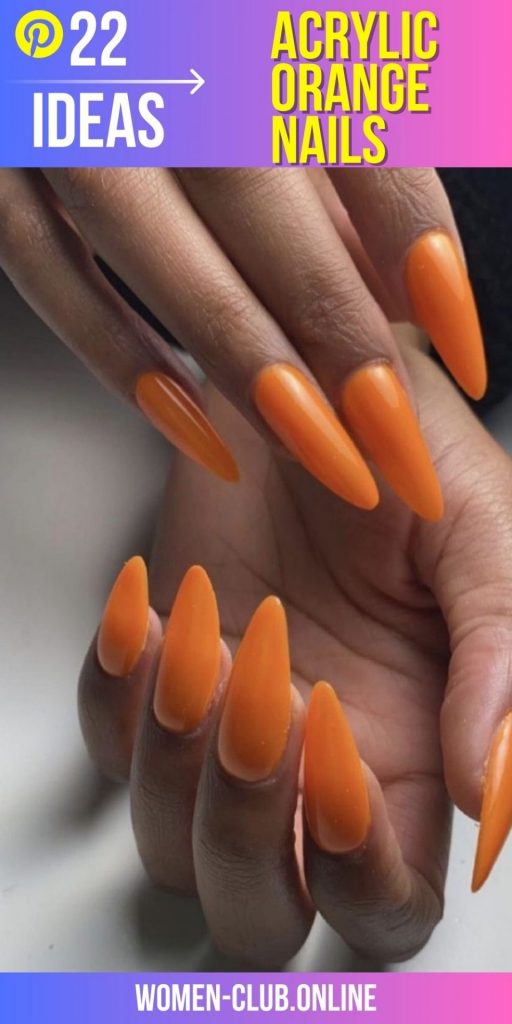 Tangerine Orange: This bright and juicy shade of orange is perfect for those who want to make a bold statement with their nails.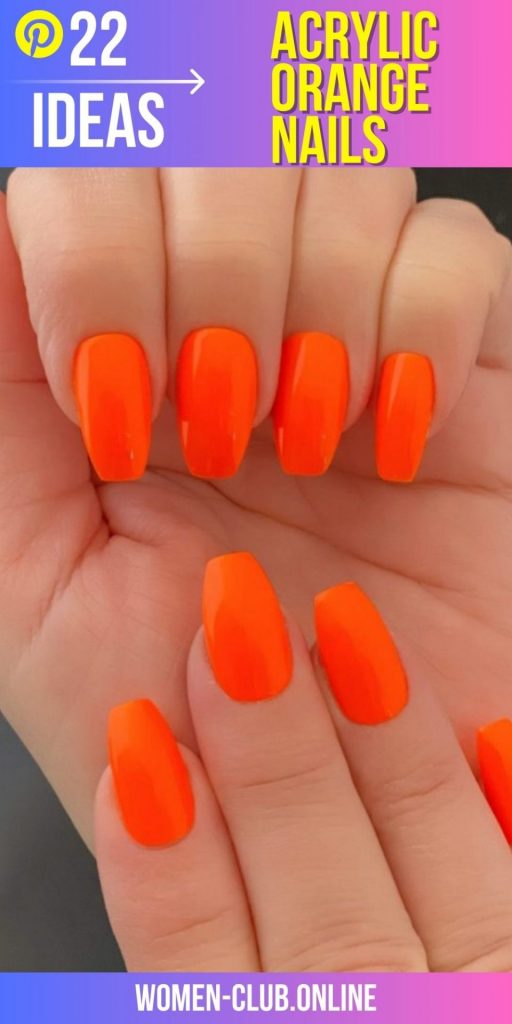 Peachy Orange: A softer and more delicate shade, peachy orange nails exude elegance and sophistication.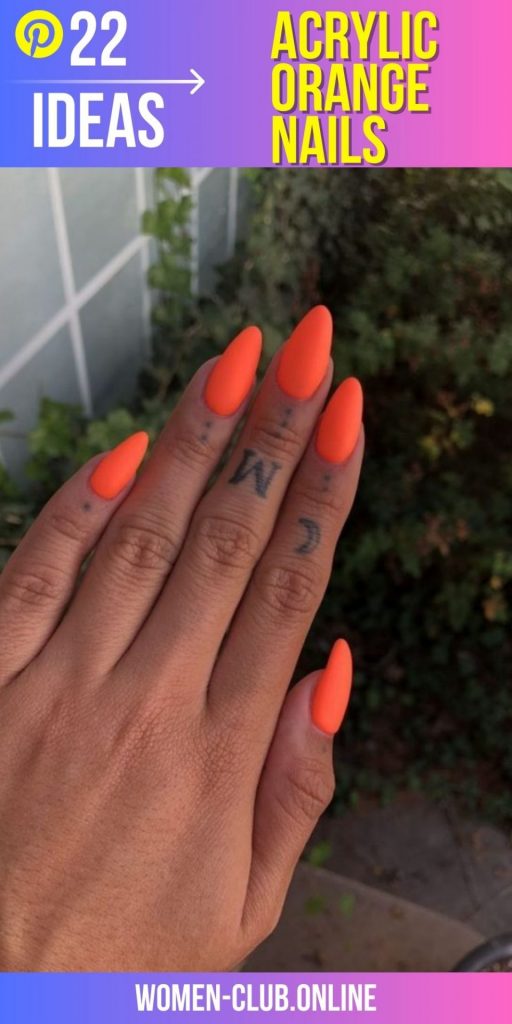 Coral Orange: This shade combines orange with pink undertones, creating a vibrant and tropical look that's perfect for summer.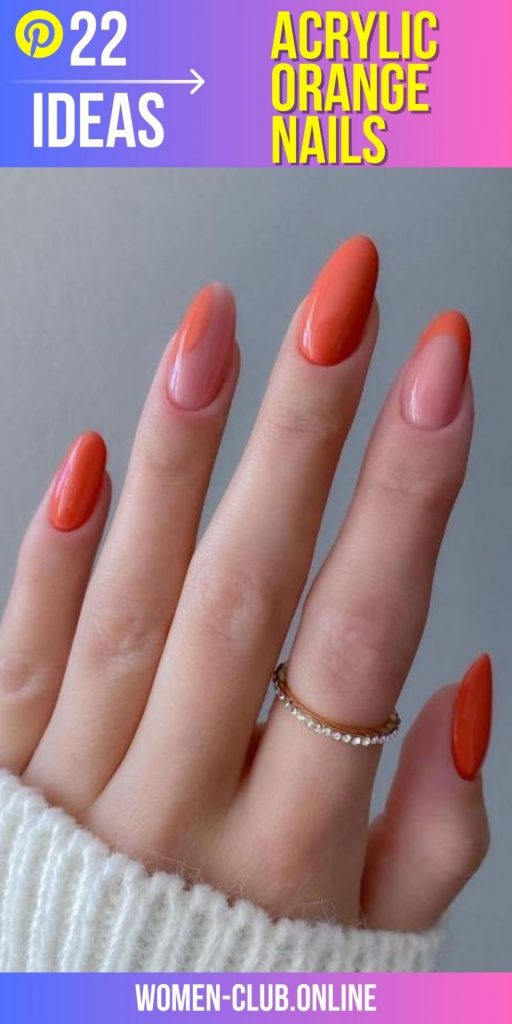 Neon Orange: For those who love to stand out, neon orange nails will definitely make a statement with their intense and electrifying hue.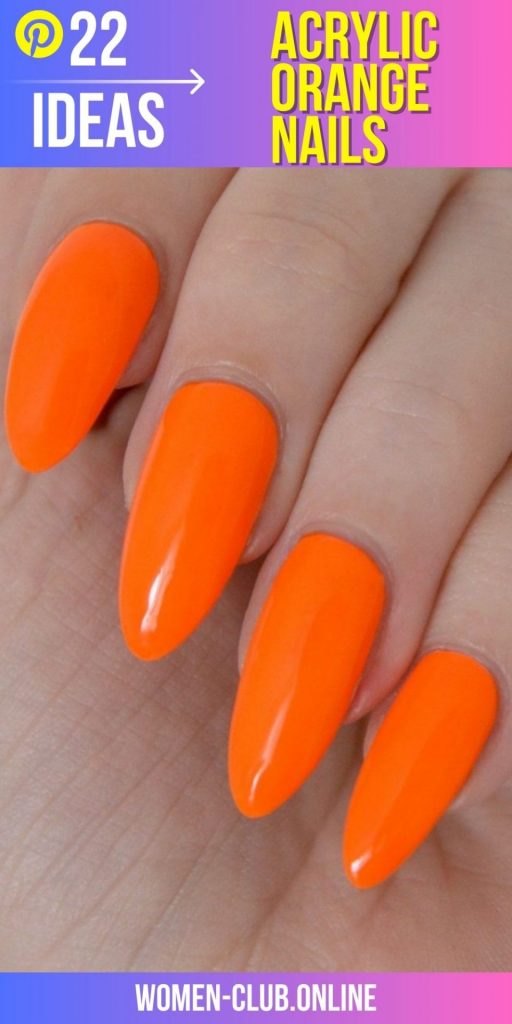 Consider your personal style and the occasion when choosing the perfect shade of orange for your acrylic nails.
Orange Acrylic Nails Design Ideas
Now let's dive into some amazing orange acrylic nail design ideas that will inspire your summer nail art.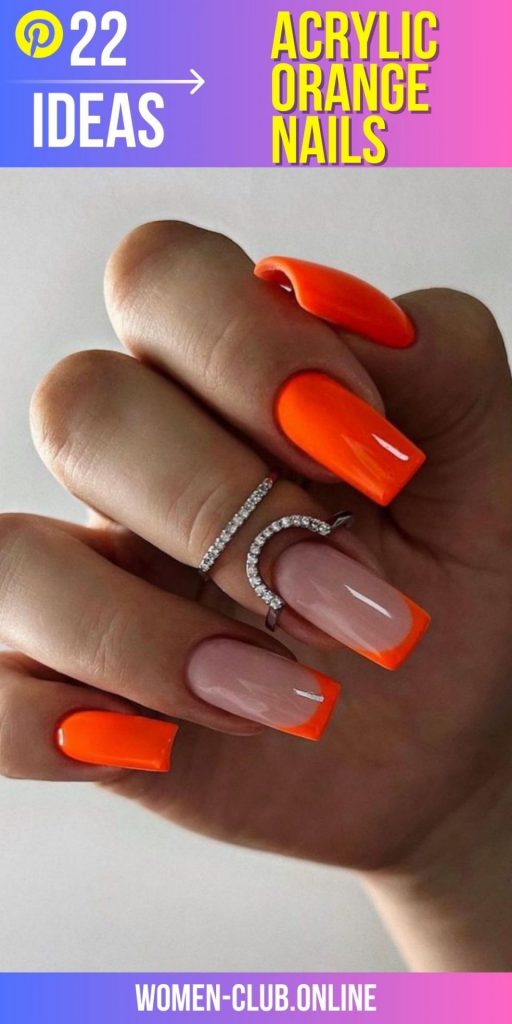 Vibrant Orange Solid Nails
For a classic and chic look, consider opting for vibrant orange solid nails. This simple yet impactful design allows the vibrant orange shade to take center stage and adds a pop of color to your overall appearance.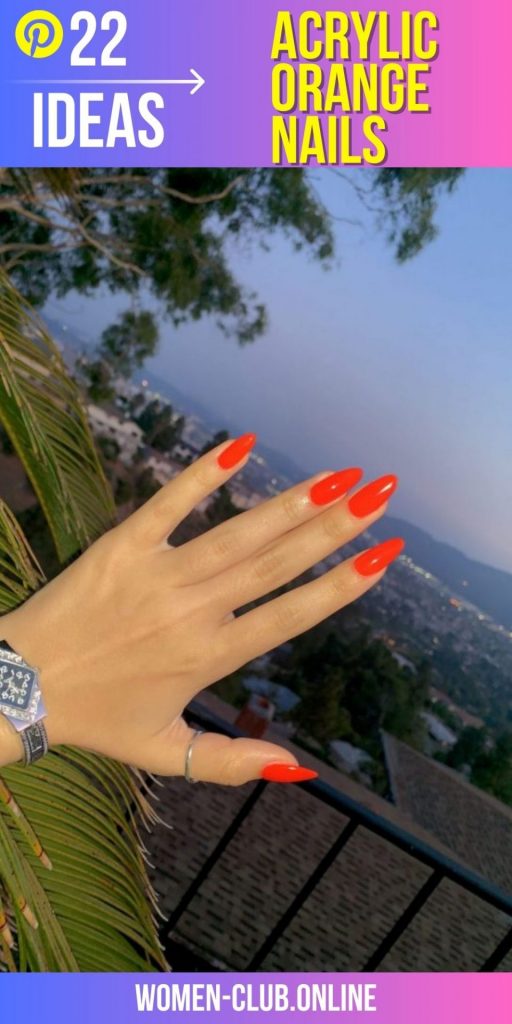 Ombre Orange Nails
Ombre nails have been a popular trend for quite some time, and they work beautifully with orange shades. Create a stunning gradient effect by blending different shades of orange, starting from a lighter hue at the cuticle and gradually transitioning to a darker shade towards the tip of the nails. This ombre effect adds depth and visual interest to your nails, giving them a mesmerizing and sun-kissed appearance.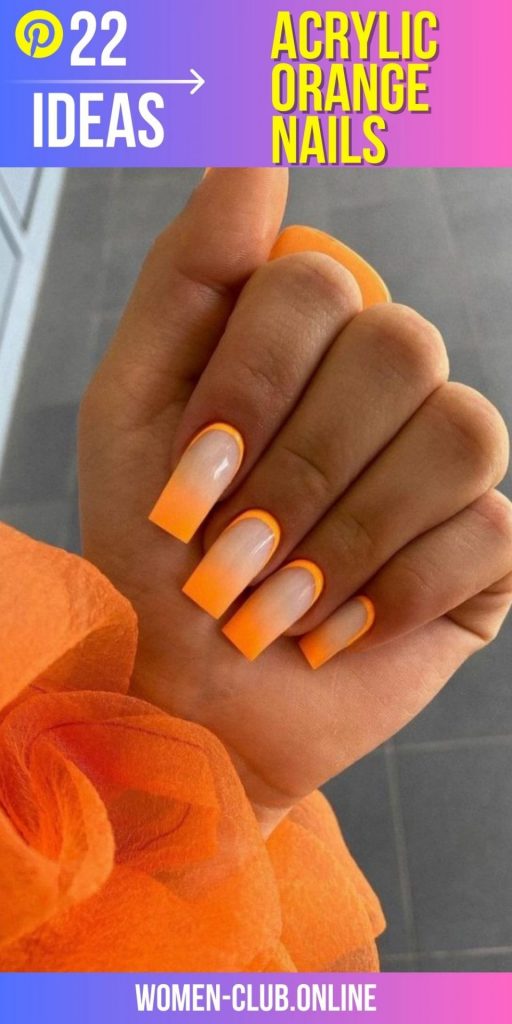 Orange and Gold Glitter Nails
For a glamorous and luxurious look, combine orange with gold glitter. Apply a base coat of orange polish and then add a touch of sparkle by dusting gold glitter on certain areas of the nails or creating intricate patterns. The combination of orange and gold creates a striking contrast that catches the light and adds a touch of elegance to your summer nails.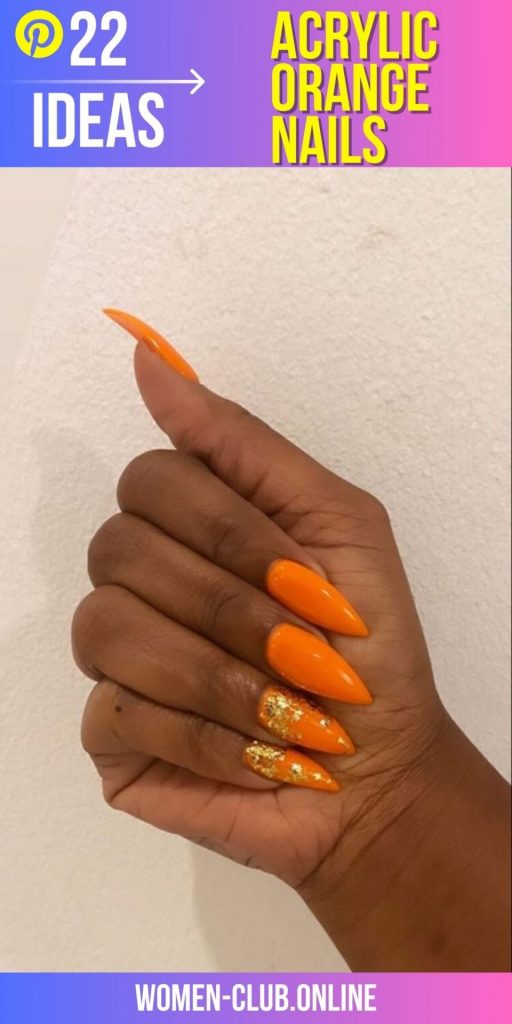 Floral Accents on Orange Nails
Embrace the beauty of summer flowers by incorporating floral accents into your orange acrylic nails. Paint your nails with a solid orange color as the base, and then use a fine brush or nail art pen to add delicate floral designs. You can create dainty blossoms, tropical flowers, or even a bouquet of mixed blooms. Floral accents on orange nails evoke a sense of freshness and femininity, perfect for the summer season.
Citrus-Inspired Nail Art
Emulate the vibrant and zesty feel of citrus fruits on your nails. Paint each nail with a different citrus fruit design, such as oranges, lemons, limes, or grapefruits. This playful and refreshing nail art idea adds a splash of color to your fingertips and brings a fun twist to your summer look.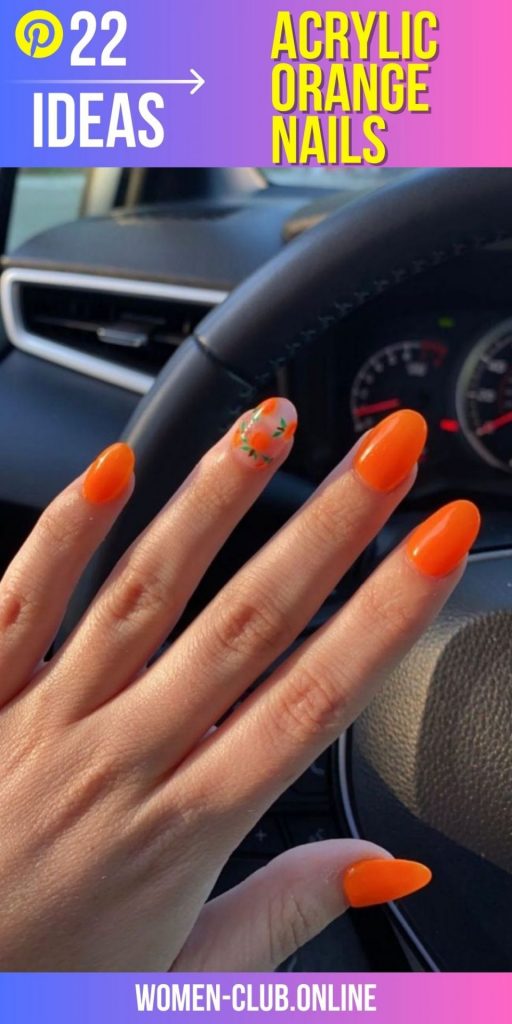 Fruit Slice Nail Design
Take the citrus theme a step further by creating fruit slice nail art. Paint your nails with a vibrant orange base color and then add slices of fruits like oranges, lemons, or watermelons using different shades of green and white polish. This design is not only visually appealing but also a conversation starter, as it showcases your love for summer fruits.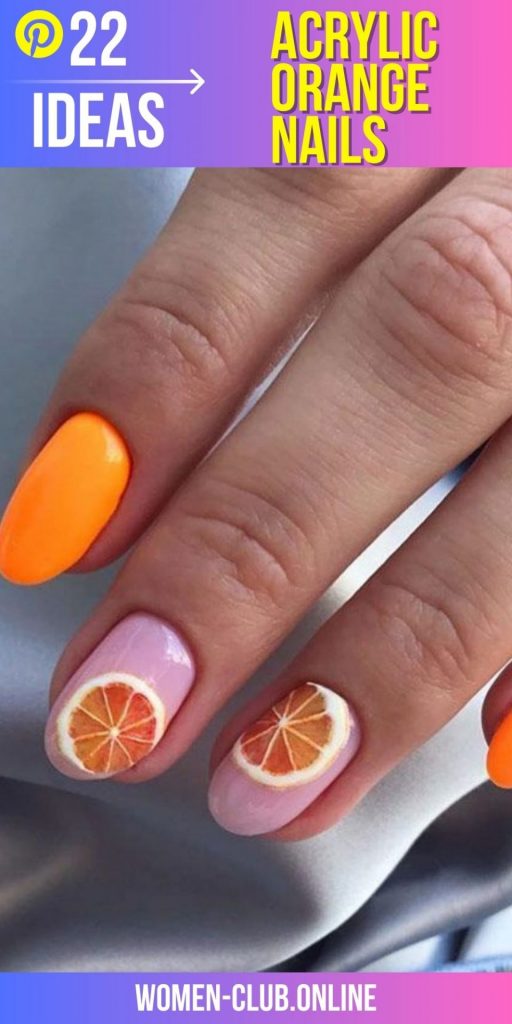 Gradient Orange Nails
If you want to add dimension and visual intrigue to your orange acrylic nails, try a gradient design. Choose multiple shades of orange, ranging from light to dark, and apply them to each nail using a sponge or a nail art brush. Blend the colors seamlessly to create a beautiful gradient effect that transitions from one shade to another. Gradient orange nails are a stunning way to showcase your creativity and add a unique twist to your summer manicure.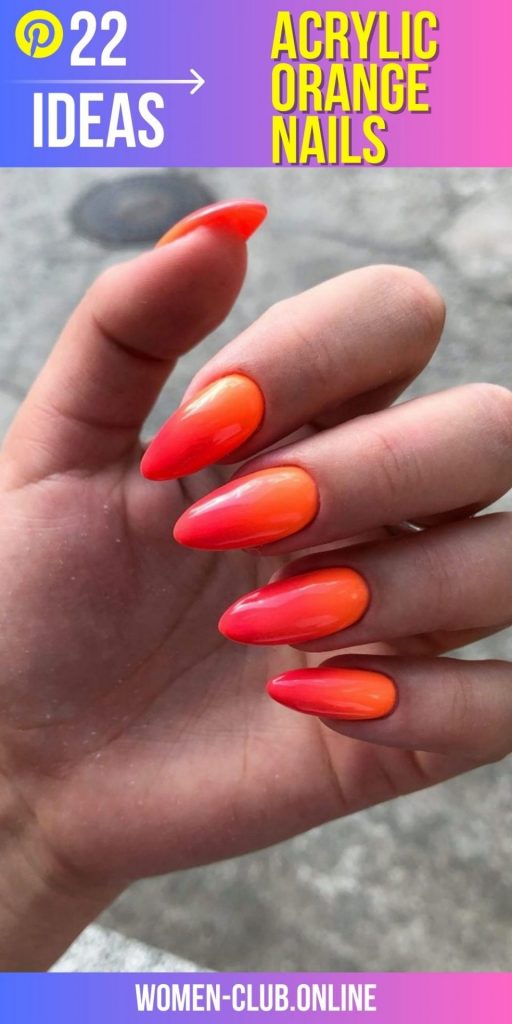 Geometric Patterns with Orange
Geometric patterns are all the rage in nail art, and they work exceptionally well with orange nails. Create bold and modern designs by incorporating geometric shapes like triangles, squares, or chevrons using orange polish. You can keep it simple with a single geometric pattern on each nail or create intricate and interconnected designs for a more intricate look. Geometric patterns add a contemporary and edgy vibe to your summer nails.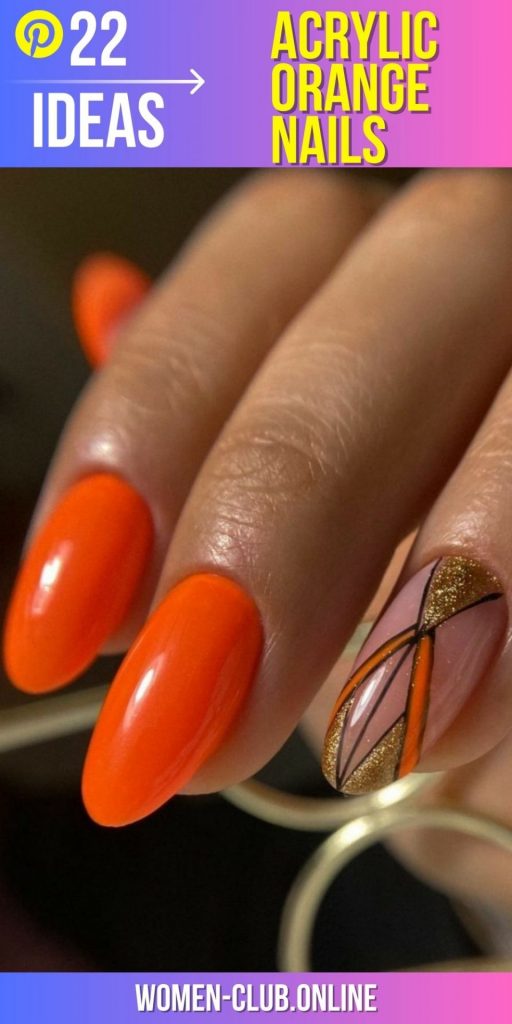 Tropical Sunset Nails
Capture the breathtaking beauty of a tropical sunset on your nails. Start with an orange base and gradually blend in shades of yellow, pink, and purple to mimic the colors of a stunning sunset sky. Use a sponge or a gradient brush to create a smooth transition between the colors. Finish off the design with silhouettes of palm trees or birds to complete the tropical vibe. Tropical sunset nails are a dreamy and enchanting choice for your summer acrylic nails.
Orange French Tips
Put a twist on the classic French manicure by incorporating orange into the design. Instead of the traditional white tips, opt for vibrant orange tips on a natural or neutral-colored base. This modern take on the French manicure adds a pop of color and playfulness to your nails while still maintaining a chic and sophisticated look.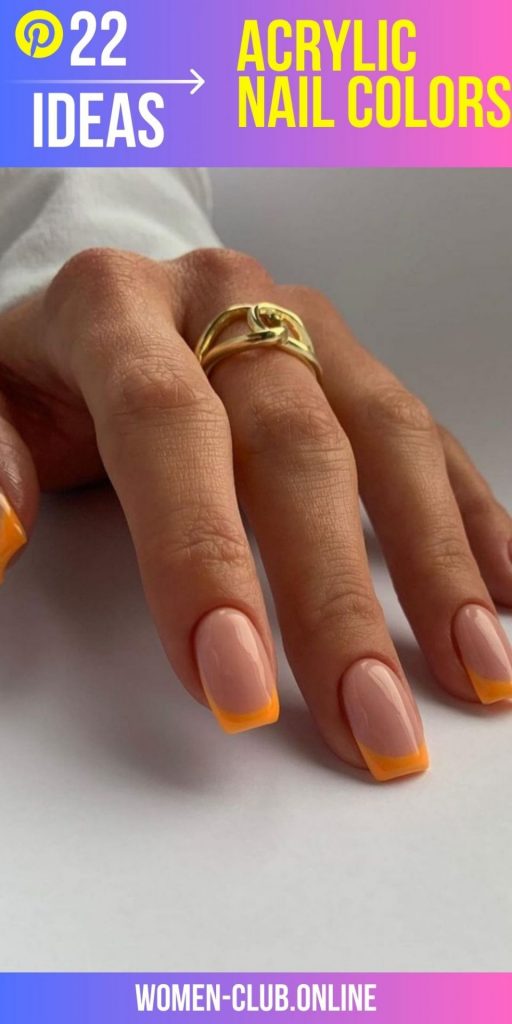 Animal Print with Orange
Animal print is a trendy and bold choice for nail art. Combine the fierceness of animal print with the vibrancy of orange by creating patterns like leopard spots or tiger stripes using orange polish. These designs add an element of wildness and adventure to your summer nails, making them stand out in a crowd.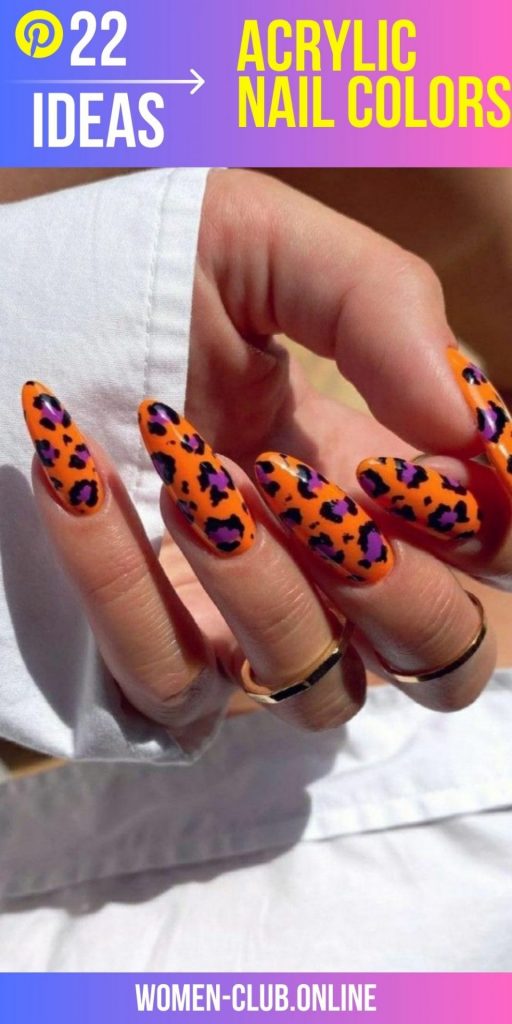 Matte Orange Nails
Matte nails have a velvety and sophisticated appearance that is perfect for those who prefer a more subtle and understated look. Opt for matte orange nails by using a matte top coat over your chosen shade of orange polish. This creates a smooth and non-reflective finish that exudes elegance and complements any summer outfit.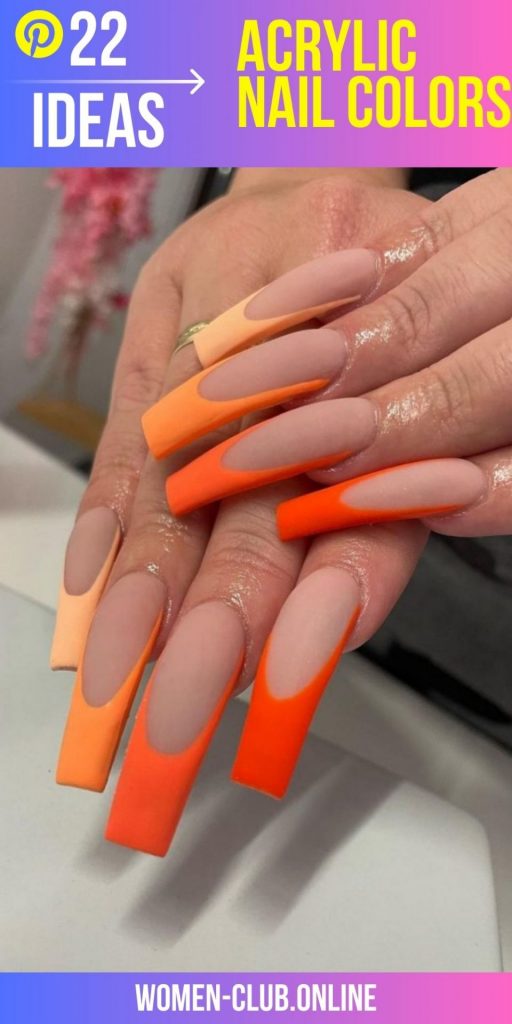 Abstract Orange Nail Art
Unleash your creativity with abstract nail art designs. Use various shades of orange to create unique and artistic patterns on each nail. Whether it's swirls, splatters, or geometric shapes, abstract orange nail art allows you to express your individuality and create a one-of-a-kind manicure that showcases your artistic flair.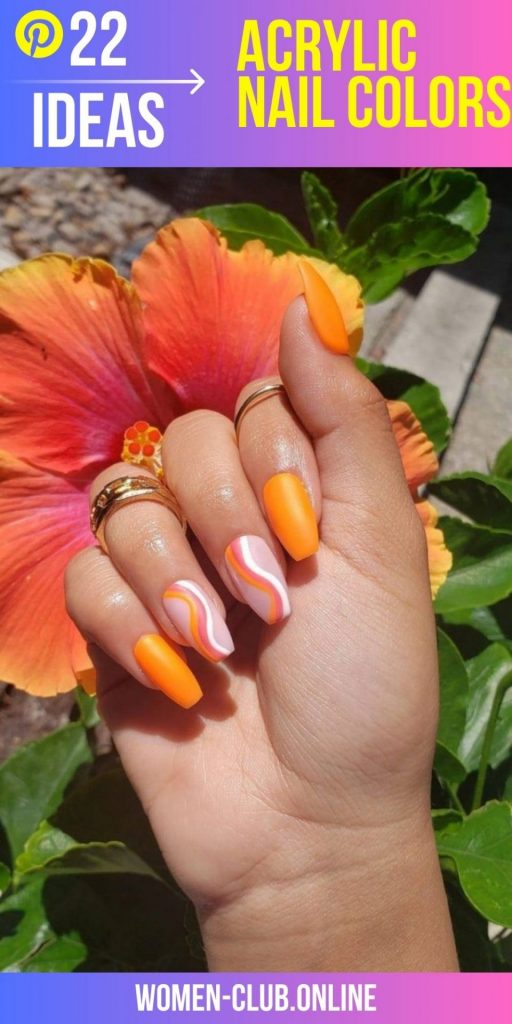 Neon Orange Nails
For those who want to make a bold statement, neon orange nails are the way to go. Neon colors are known for their high visibility and eye-catching appeal. Apply a neon orange shade to your acrylic nails, and watch as they instantly become the focal point of your look. Neon orange nails are perfect for summer parties, festivals, or any occasion where you want to stand out from the crowd.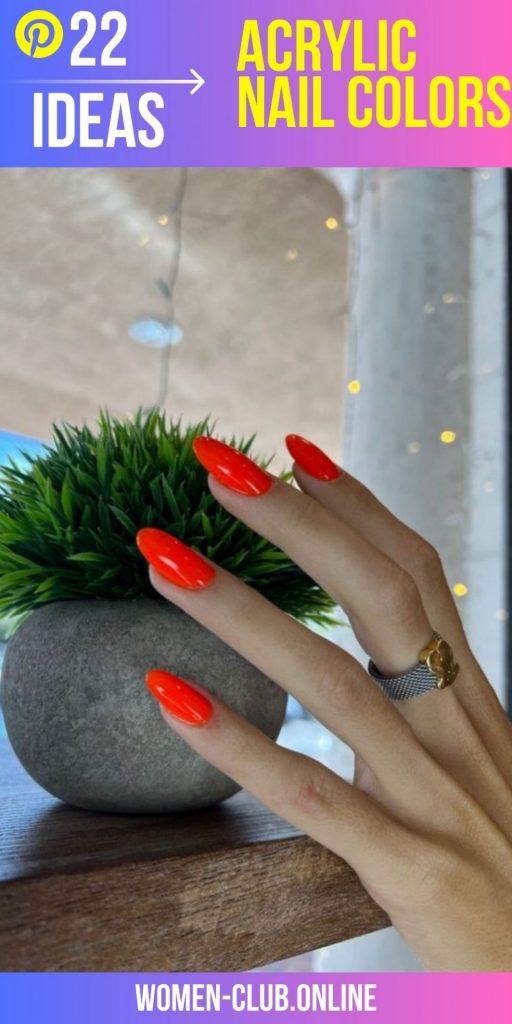 Orange and White Swirls
Create a mesmerizing and elegant look by incorporating swirls of white into your orange nails. Using a fine brush or a dotting tool, create delicate swirls or marble-like patterns by combining white and orange polish. This design adds a touch of sophistication and intrigue to your summer nails, making them appear effortlessly chic.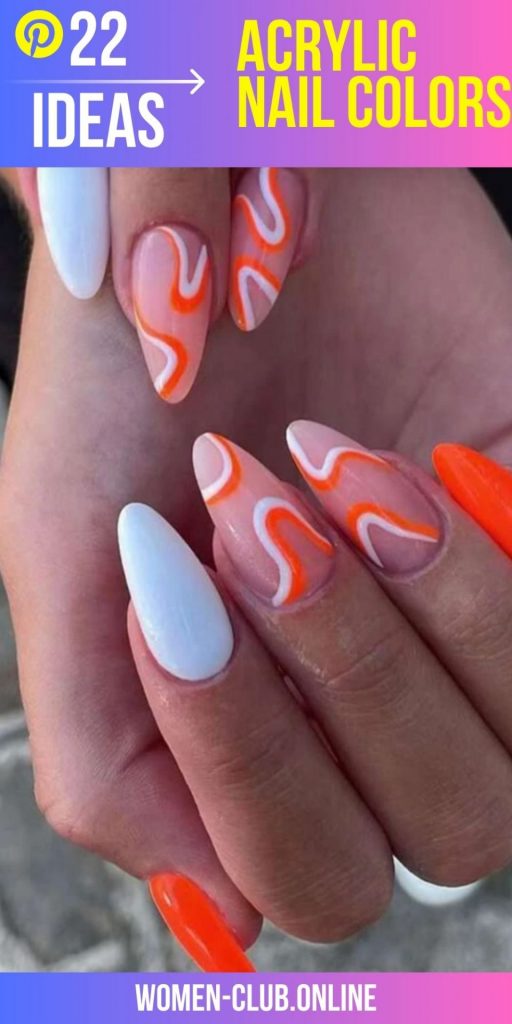 Save Pin