Nails
Summer Nails 2023: The Hottest Trends and Styles – 44 Ideas
Summer is just around the corner, and what better way to embrace the season than by switching up your nail game? Whether you're lounging poolside, hitting the beach, or attending a summer wedding, your nails should be on-point and on-trend. In this article, we'll explore the hottest summer nail trends for 2023, from vibrant colors to fun designs and everything in between.
Classic French manicure.
The French manicure on oval-shaped nails will always remain timeless. This simple style can match any look you have planned for your vacation, whether it's a relaxed day at the beach or a more glamorous beach club look.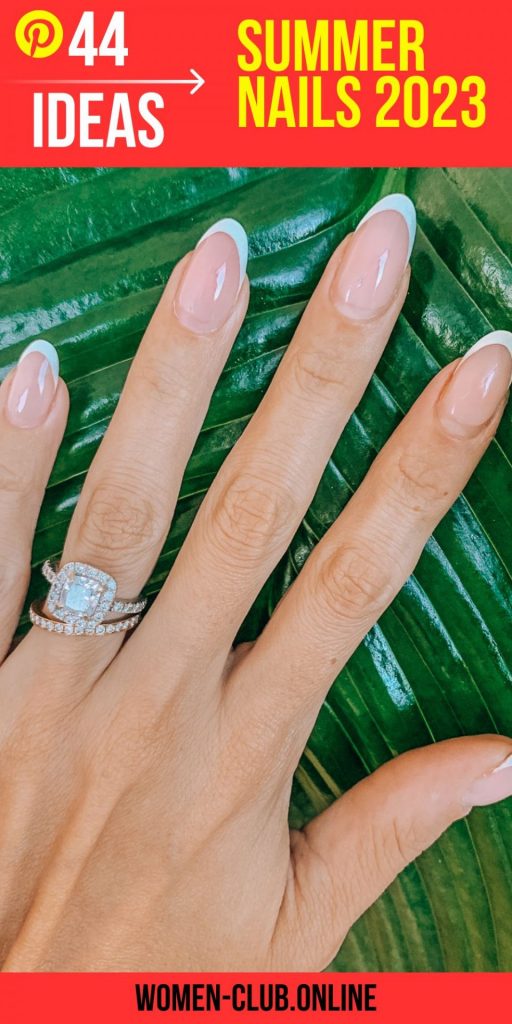 Pink Barbicor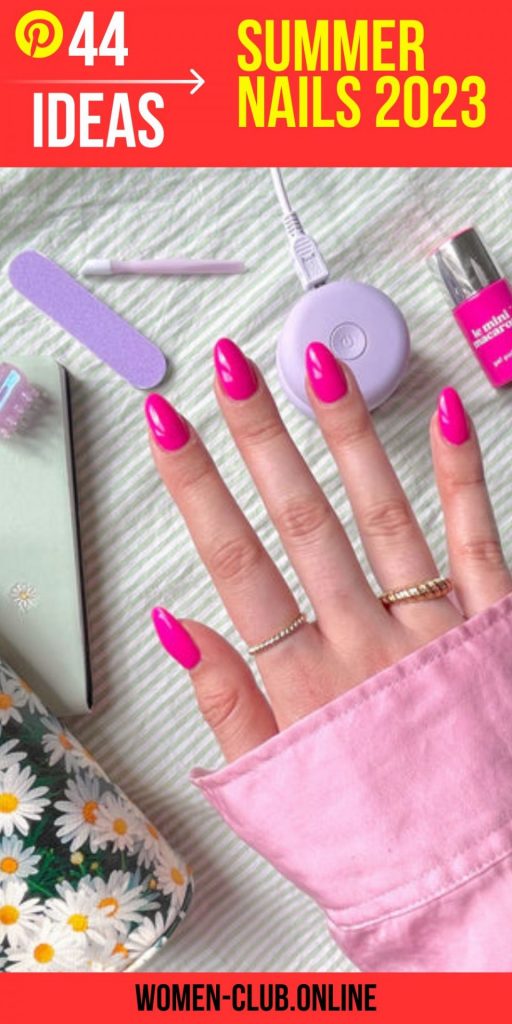 Hot pink is the IT color of summer 2023 with the highly anticipated Barbie movie coming out. Playful pink shades offer limitless nail design options, from flowers and swirls to polka dots or nail stickers.
Playful summer nails are chromed.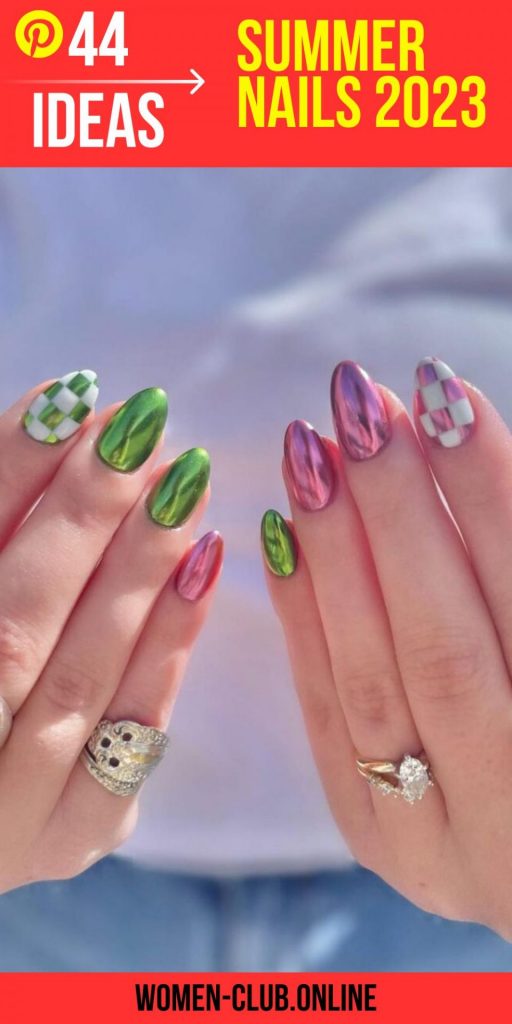 These vibrant, chromatic nails are perfect for soaking up the sun and making memories for a lifetime. Let your right hand take center stage with stunning shades of green from thumb to ring finger, while a delightful splash of pink graces your little finger. Meanwhile, your left hand flaunts a flirtatious and fabulous array of pinks with an amazing hint of green on the little finger.
Playful summer nails.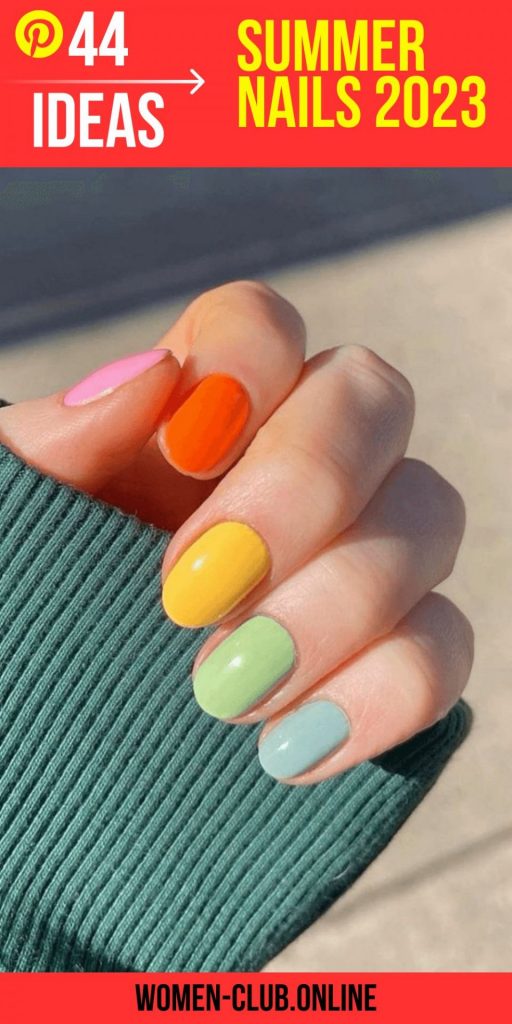 A pastel rainbow is a charming look for a gentle summer girl. It goes perfectly with yellow sundresses. This manicure is so achievable that it will probably take less than an hour.
Neon watermelon nail art.
Watermelon is undoubtedly one of the most delicious fruits and deserves to be featured on your nails. Give this tasty summer classic the respect it deserves.
Yellow floral summer manicure.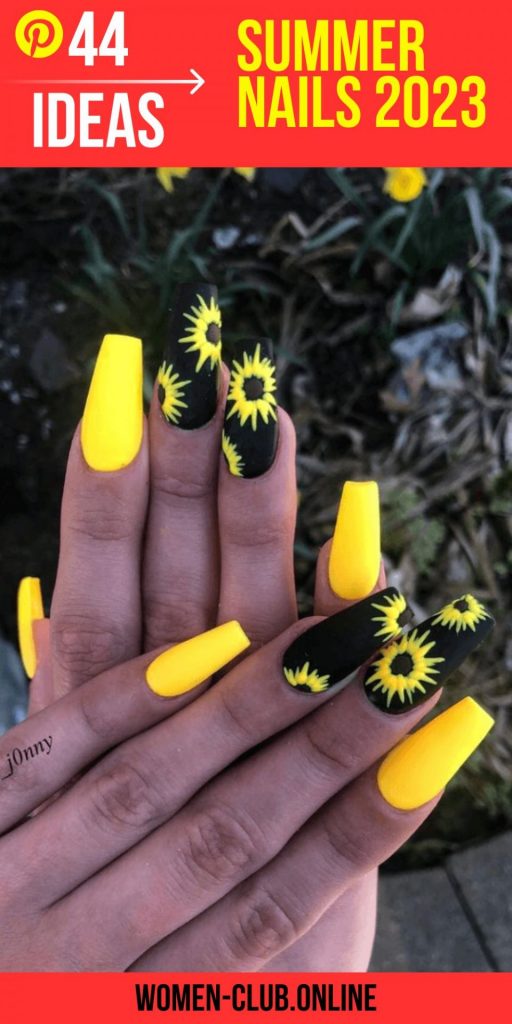 It's impossible to be sad when you see this shade of yellow, especially when it's in the shape of a sunflower. These nails are so bright and vibrant that you can outshine the sun.
Bright light pink nails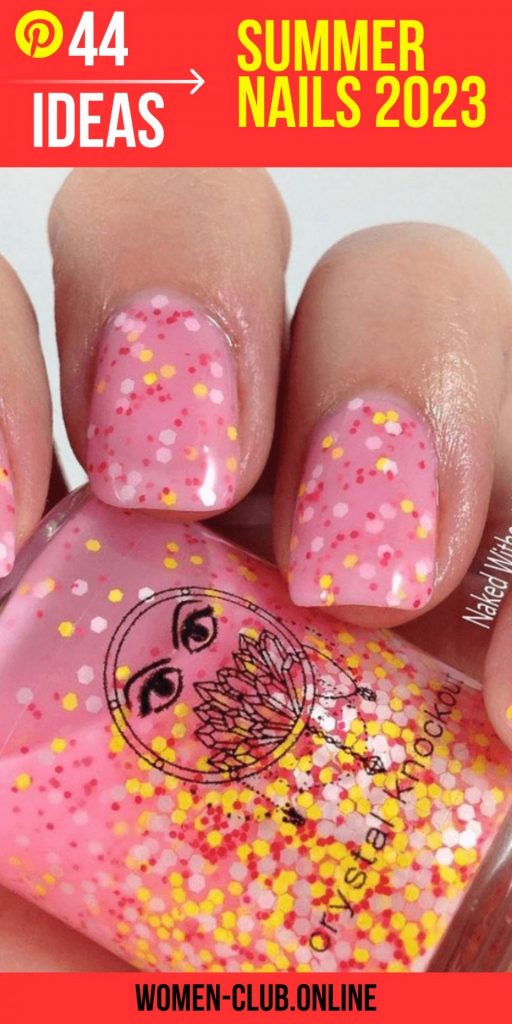 This shade of pink combined with yellow glitter creates a pink lemonade feel. The vibes are so sweet and summery.
Golden summer manicure with stiletto heels.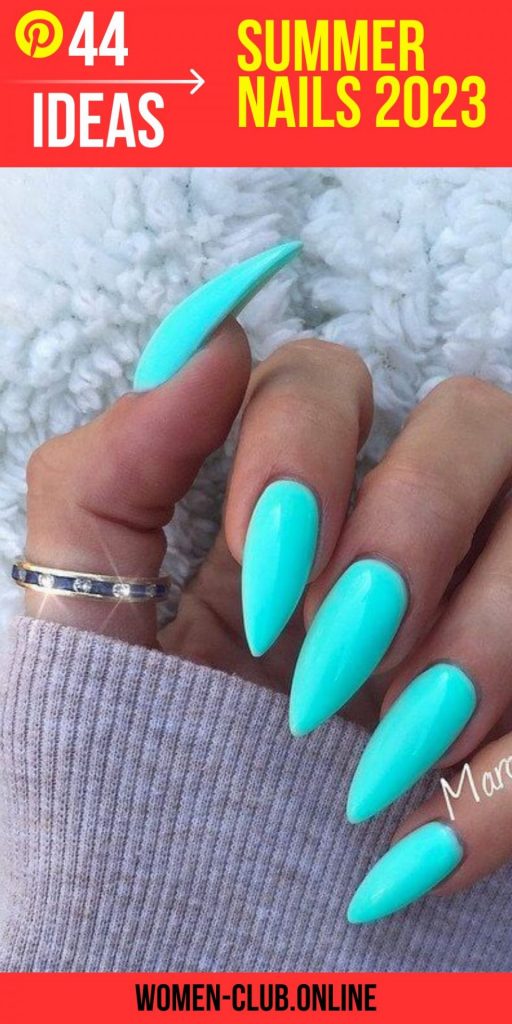 This color immediately takes me to the bright blue of the Caribbean. The bold stiletto shape allows this vibrant color to shine.
Bright and beautiful summer manicure.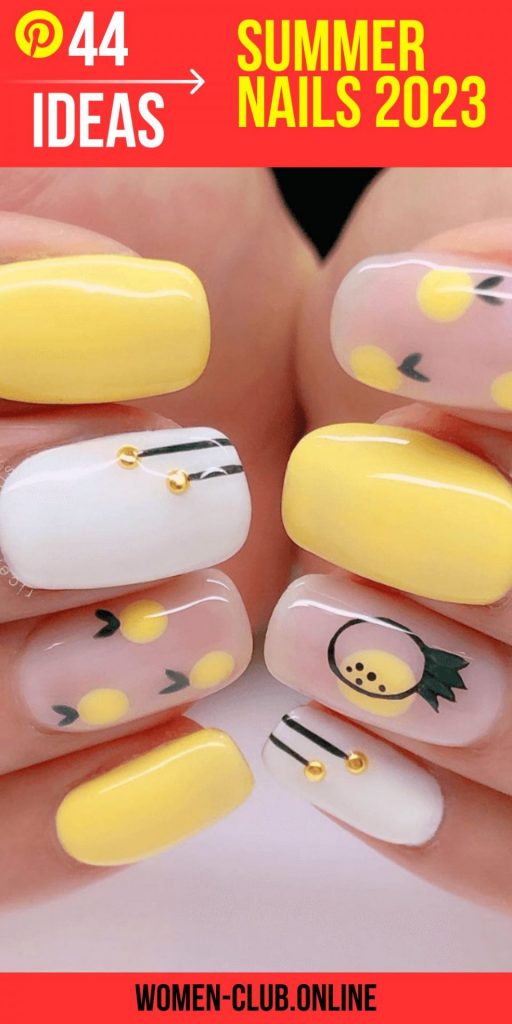 For artsy maximalists, this design is perfect. Get these nails done when you plan to visit your local art gallery this summer.
Bright abstract manicure.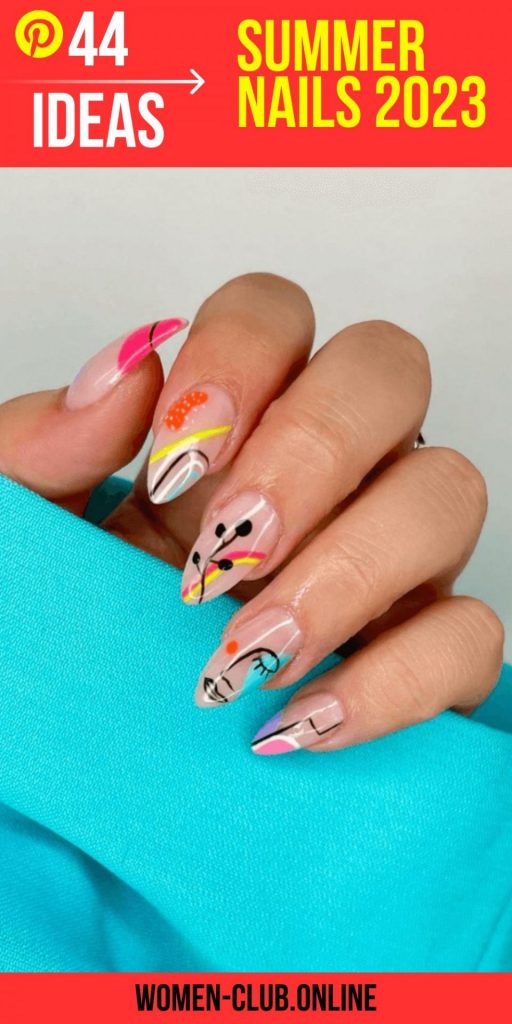 For artsy maximalists. Get these nails done when you plan to visit your local art gallery this summer. While some design elements are quite simple, some features, such as the face, may require professional support. Giving yourself a manicure is always a good idea.
Sunset vibes Forever Nails.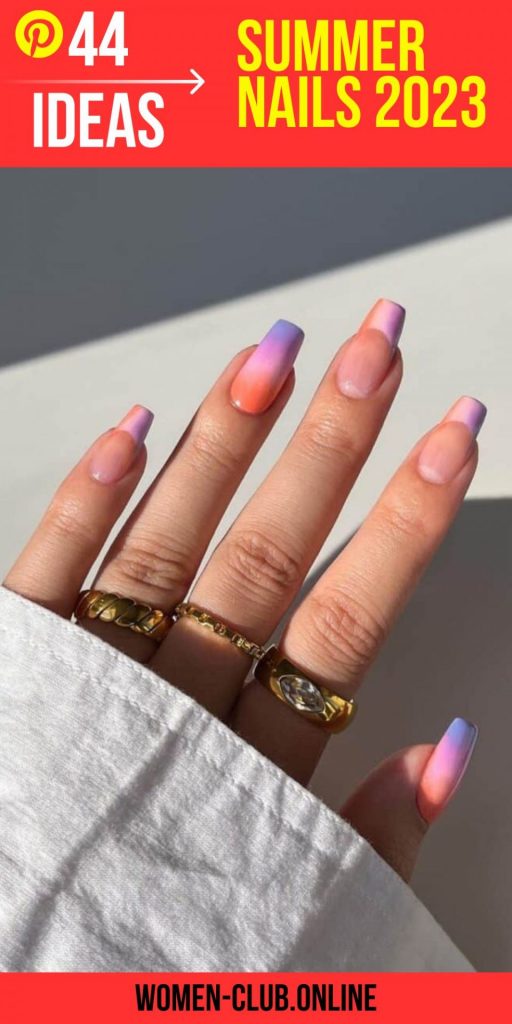 I can't deny that this is ombre at its best.
It's light, feminine and just soothing to the eye. While it can be tricky to recreate, it's more than worth it to create a summer look you'll want to keep forever.
Miami Beach Nails – Meet me in Miami.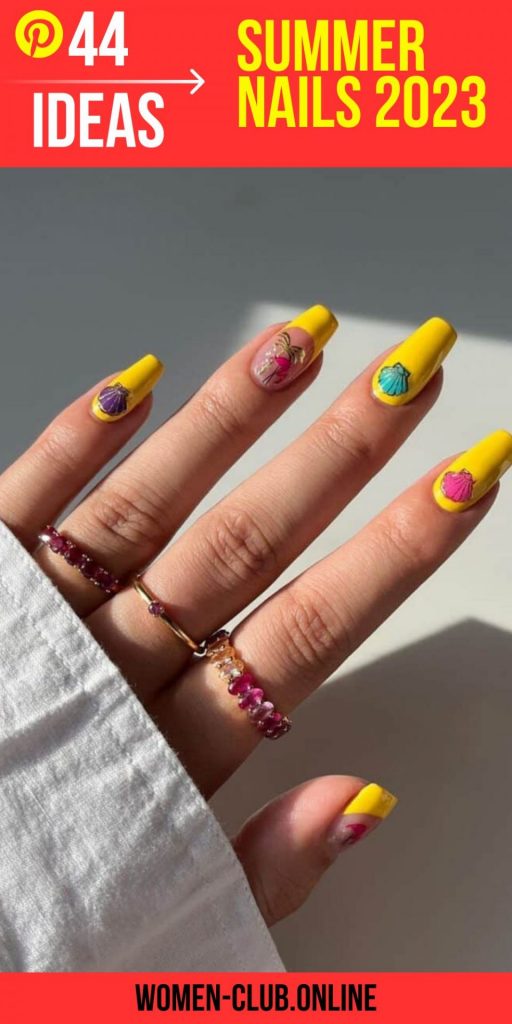 There is no denying that these bright and full of personality nails are striking, if not a bit daring.
The bright yellow is totally unmissable, and the shellfish and palm tree nail art lends a hardcore vibe to this ultra-cool yet downright chic summer manicure.
Pure summer mood.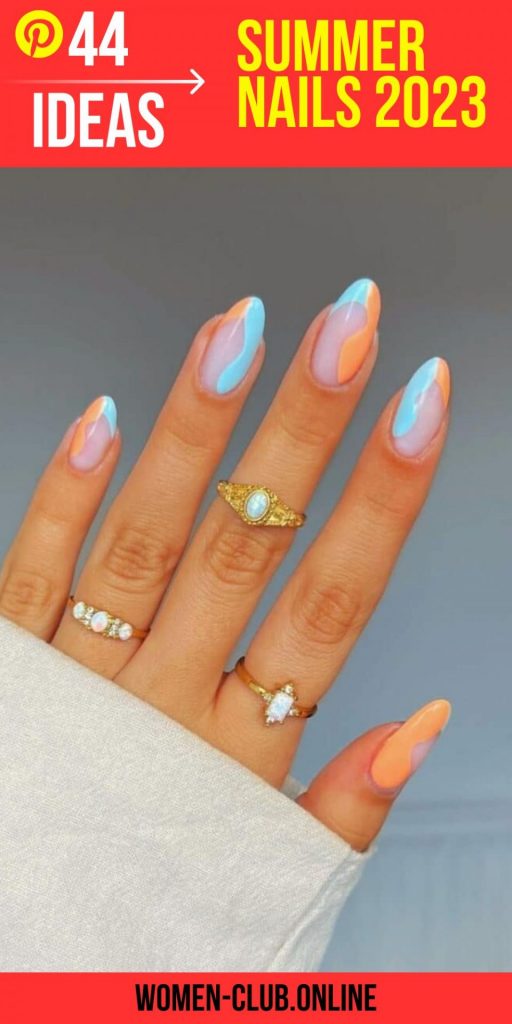 Like you're drinking a cocktail on the beach, these nails are sweet, delicious, and ready for fun!
A two-tone manicure is easy to do at home, just a couple of curls is the most difficult task.
Bright summer manicure. Elegant, sunny and radiant.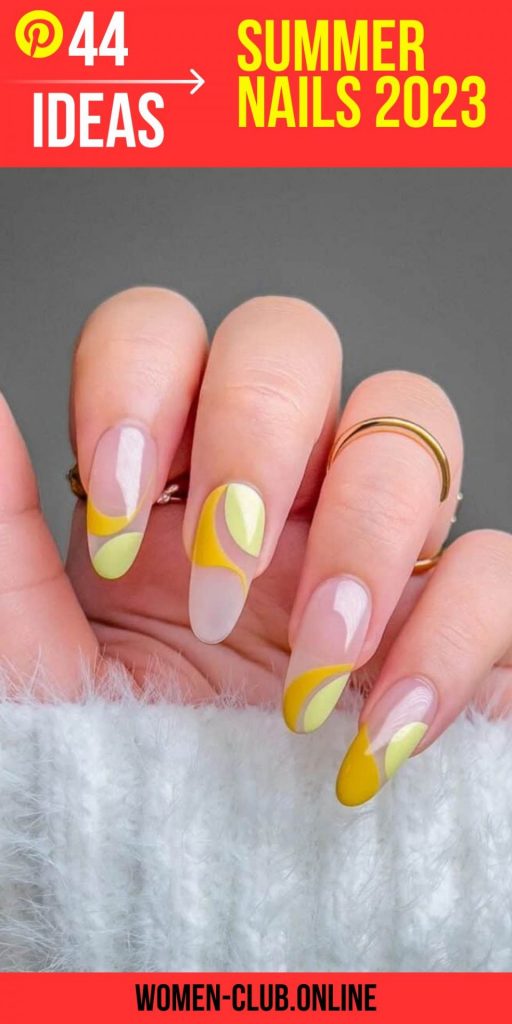 Almost airy freshness and so chic, there is something incredibly fresh or carefree about these nails that remind me of walking around a new city in the sun.
Yellow is a classic summer vibe and curls are on trend right now.
Long purple manicure for summer.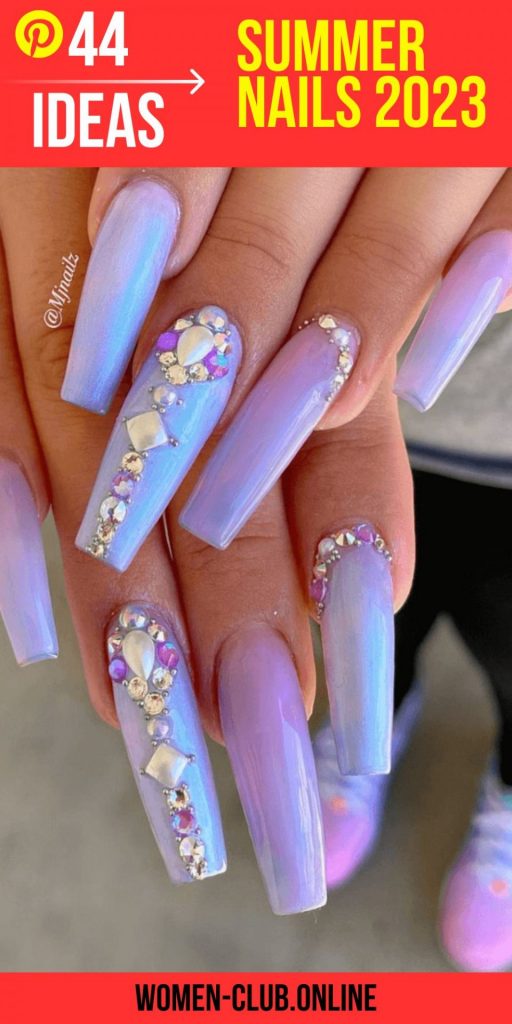 Speaking of pampering yourself with a manicure, there has never been a better time for vibrant summer acrylic nails. Purchasing a set of acrylic paints opens up new layers of self-awareness. Texting will never be the same after you experienced this with long nails. The electric lavender-purple gemstone combo is perfect for an evening out.
White Daisy Blue gel nails.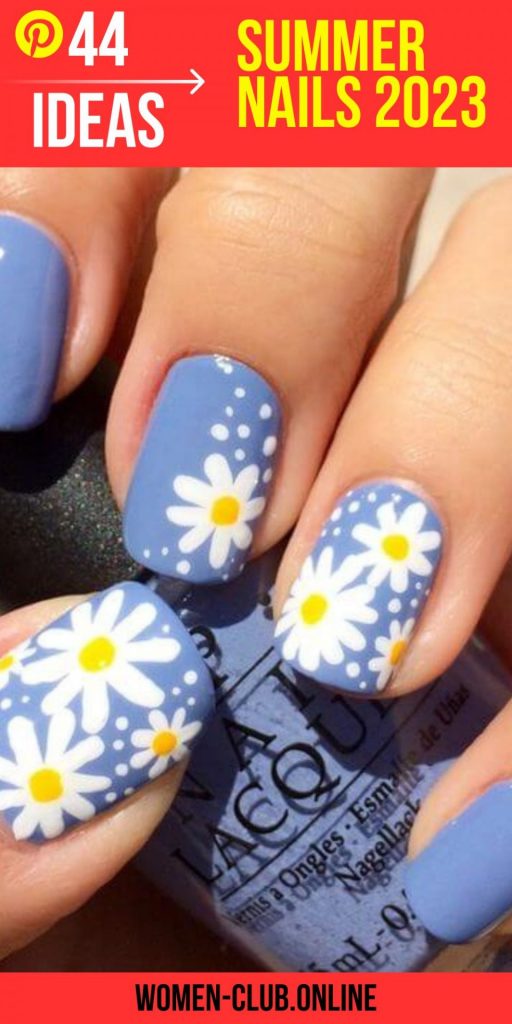 This kind is for picnic sausage boards. This is for the days of the white shirt, denim shorts and red lipstick. The muted blue is reminiscent of a summer sky on a clear day. This helps the graceful daisies pop. Get this floral manicure before your group hike.
Summer acrylic summer manicure.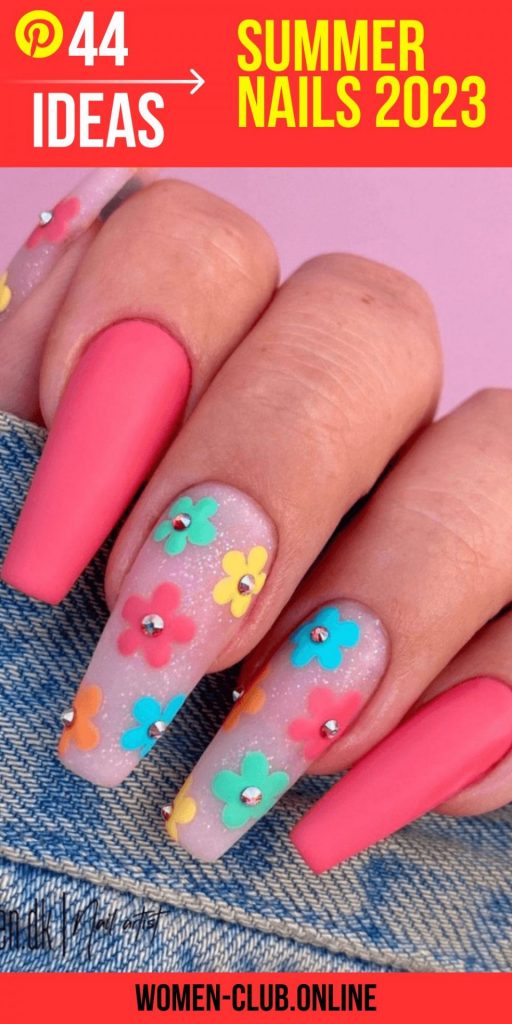 The Y2K influence is evident in these vibrant summer nails. The neon flowers and matte pink on the coffin shape read like a grown-up Lizzie McGuire. Your 13 year old girlfriend only had Claire's glitter polish, give them this manicure.
Summer yellow palm nail design.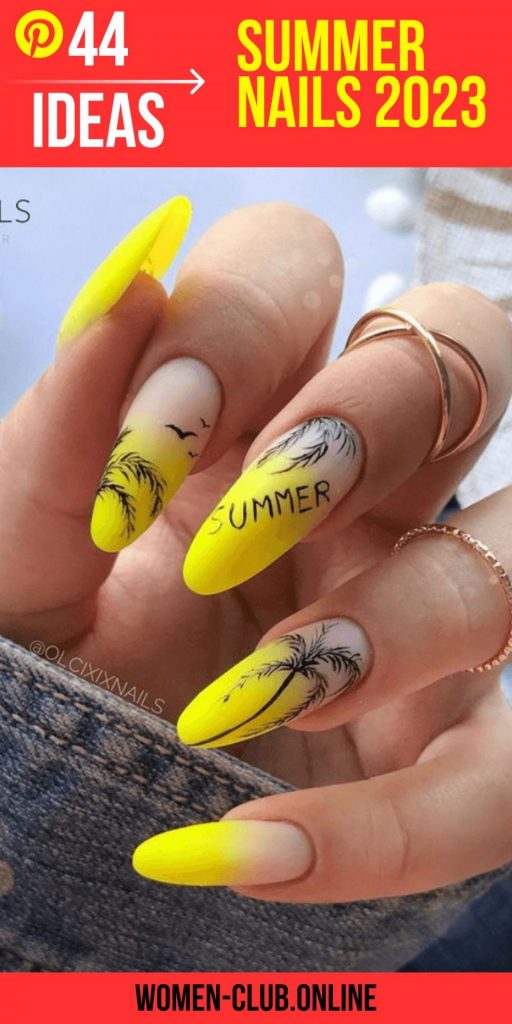 The silhouettes of palm trees on bright yellow nails scream the boardwalk. Now you can match your nails with Roxy's cute swimsuit. Also, if you find it hard to remember what season it is, just write it on your nails as a reminder.
Summer manicure with pink ombre.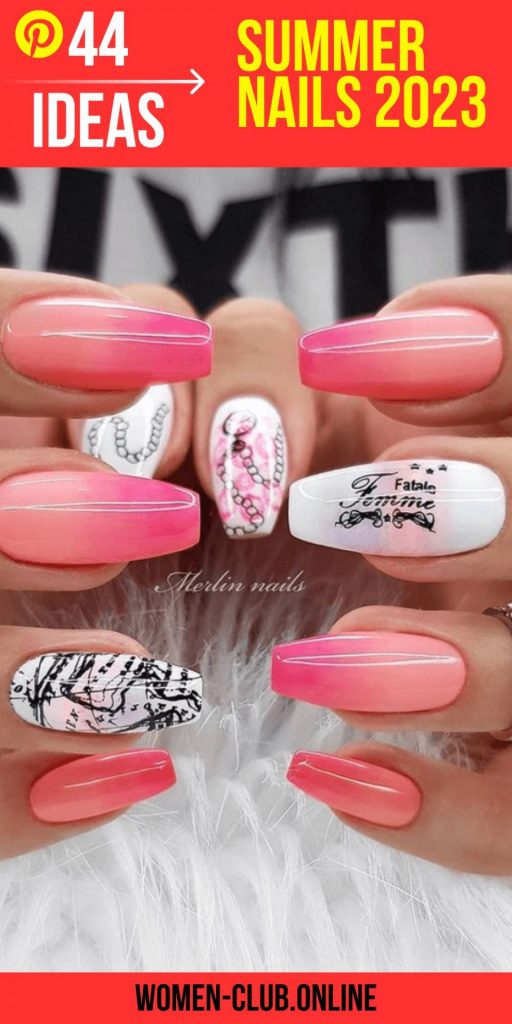 Pink is the color of the season. The only thing that can be better than pink nails is a combination of several shades of pink. A pink ombre is perfect for a brunch, preferably somewhere by the ocean. Mix it with grapefruit mimosa to match your color scheme.
Cherry turquoise nails taste so delicious!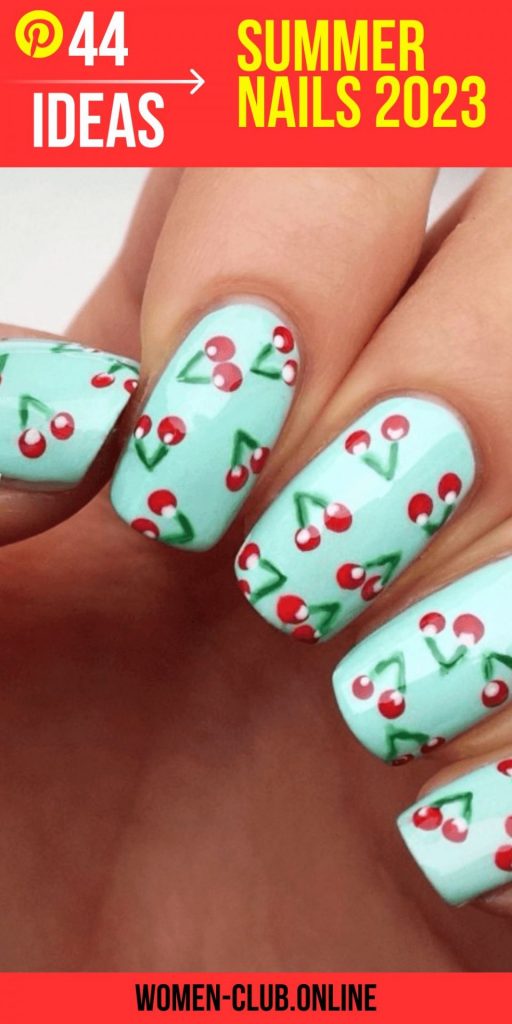 This kitschy manicure is reminiscent of a 1950s teen beach movie. Cherries will look very cute with a Peter Pan collar, a leather jacket and a red bandana in your hair. The design is very achievable for a home manicure. Get this manicure for an outdoor Grease movie this summer.
Summer Nail Candy Pink Ombre.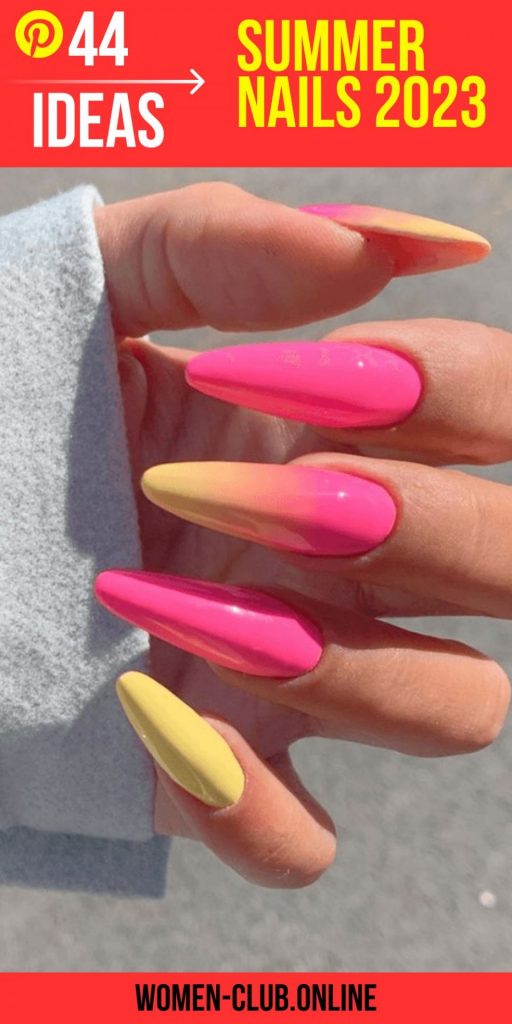 Trendy summer manicure from Galliano.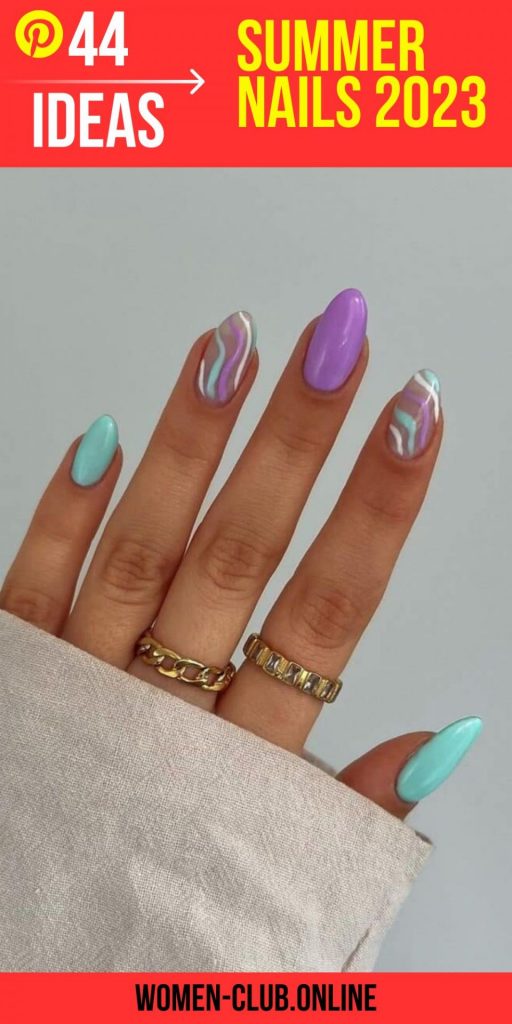 I love the dreamy mix of purple and blue in this summer manicure.
There is something frivolous about the look, thanks in large part to the relaxed curls that are all the rage right now.
Cream summer nails.
When you're ready to kick back and relax in the sun, these cream nails should be by your side!
They look great with a mimosa in your hands, and even better when you open the book you've been meaning to pick up all year!
Summer manicure with ice cream.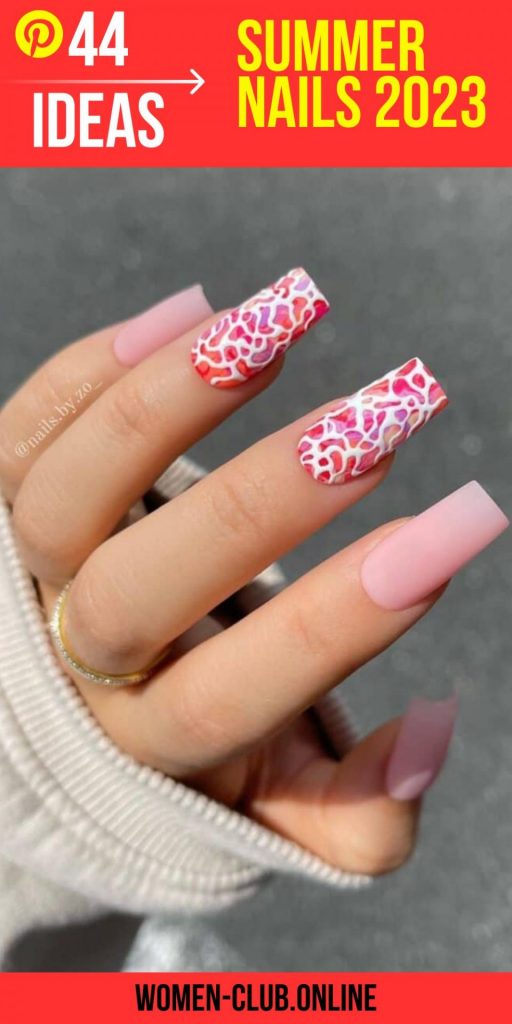 These are incredibly unique and one-of-a-kind trendy nails that will not only satisfy your ice cream cravings this year, but ensure that you will be the only person with this summer nail design!
Nails of the Blue Lagoon.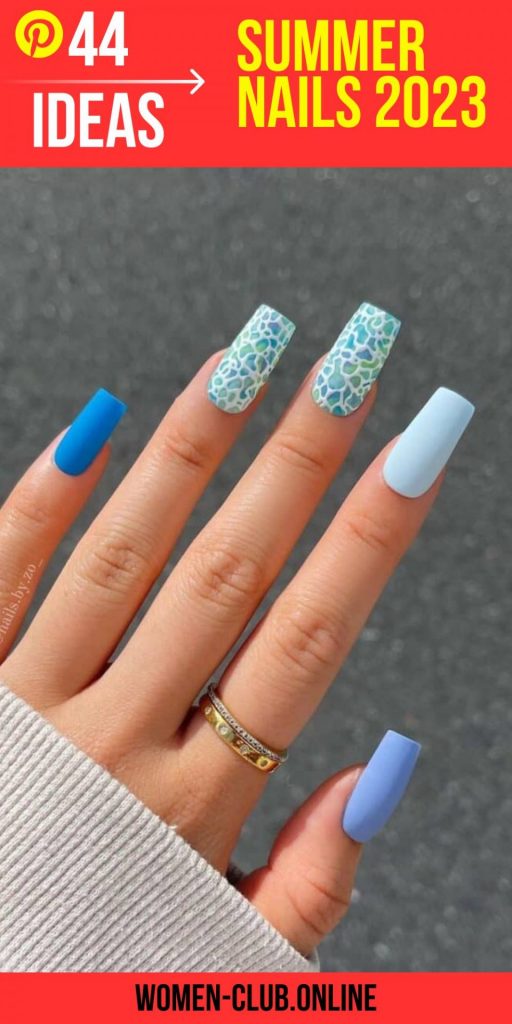 With three different shades of blue and two ocean-inspired accent nails, this summer nail design idea literally looks like the sea would look like if you painted it on your nails – I'm in love!
Dreamer for Naomi.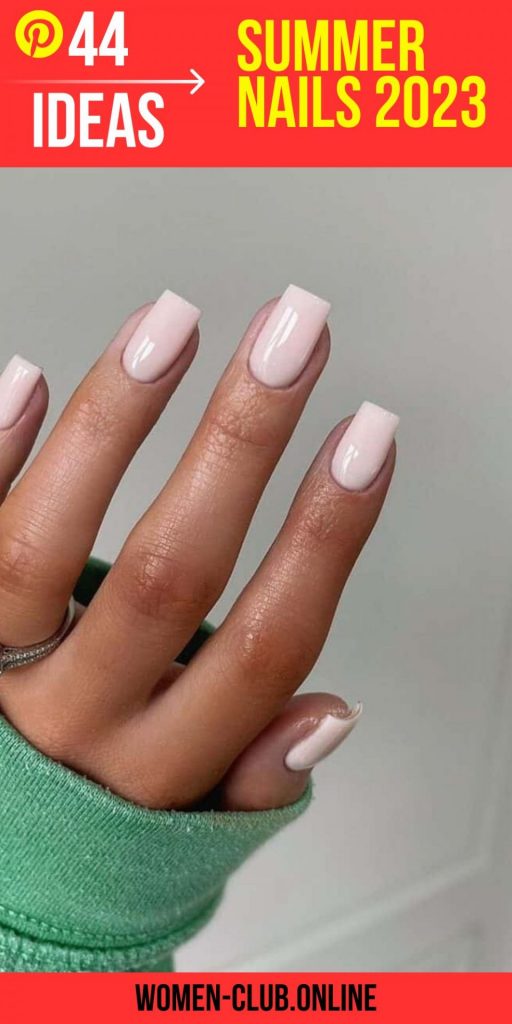 While we don't often see square nails in the summer, I think they're going to be a little trendy this year.
So, if you want to be ahead of the game, these ultra-chic and incredibly easy-to-do summer nails are the idyllic and creamy dreamy style for you. Keep in mind that there is a slight blush in this nail design.
Different shades of green.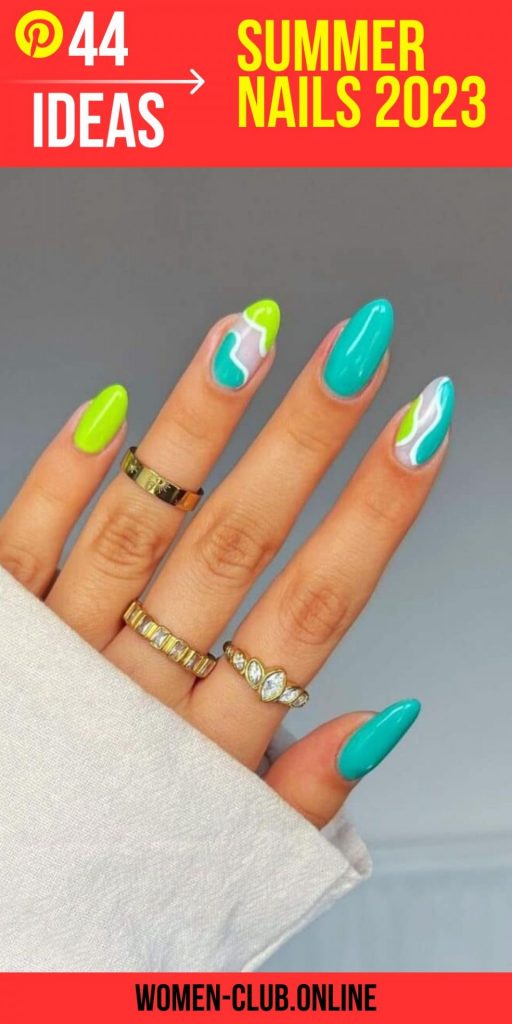 I can barely take my eyes off this green manicure that is fit for a queen ready for summer! This is not only a summer vibe, but also a literal reminder that even more sunny days are ahead!
Blue swirls on nails.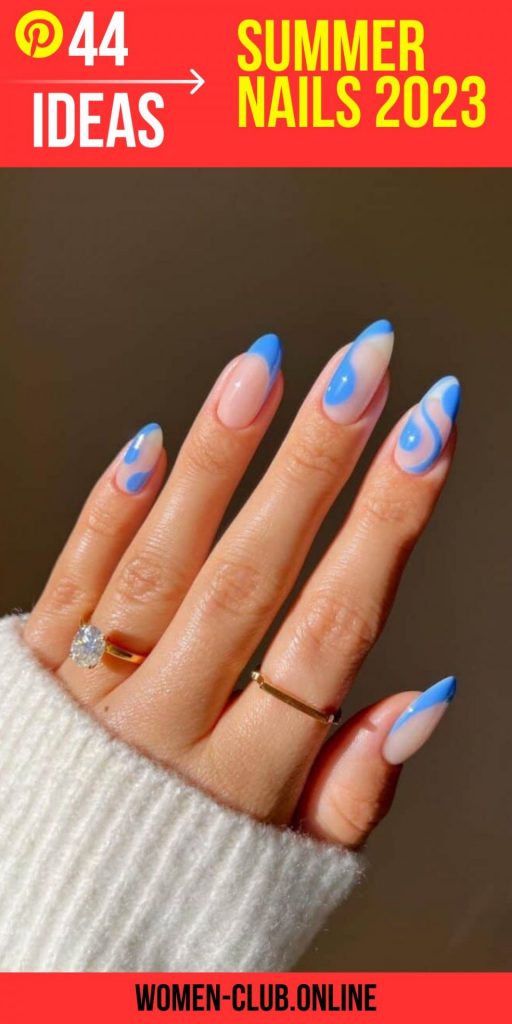 The swirls are huge this year, and here they are in their brightest form for those of you who are feeling a little better this year.
I just love the dramatic curves and rounded endings that are really reminiscent of the water and the sea – very summery!
Beach Vibes nails.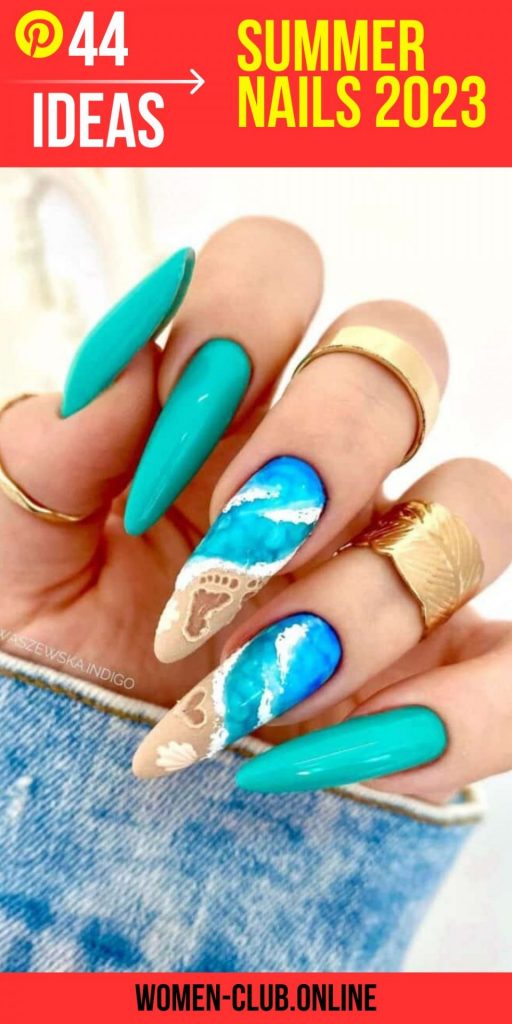 I am in awe of the beauty of these summer nails. It's a little extravagant and a lot more stylish, with your own beach painted on your nails. While you can definitely test your DIY nail art skills with this style, I recommend that you let your manicurist tackle the intricate designs for the best results.
Smiles around nails.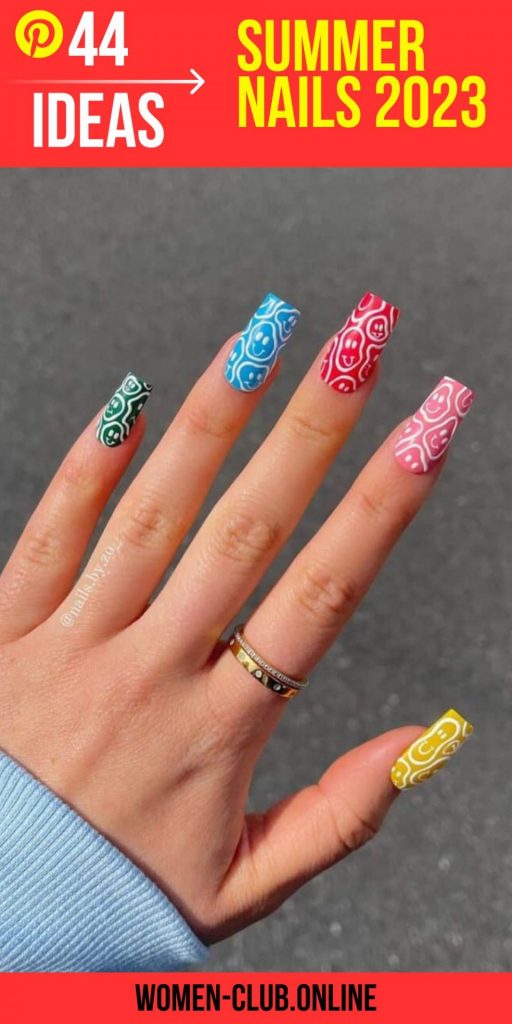 It's a little funky and a lot of fun – these little emoji nails have won my heart!
Not only are they brightly colorful, but the smiley face on the nails also adds an extra touch of personality and glee to a uniquely gorgeous manicure.
Summer nails with lemonade and jelly.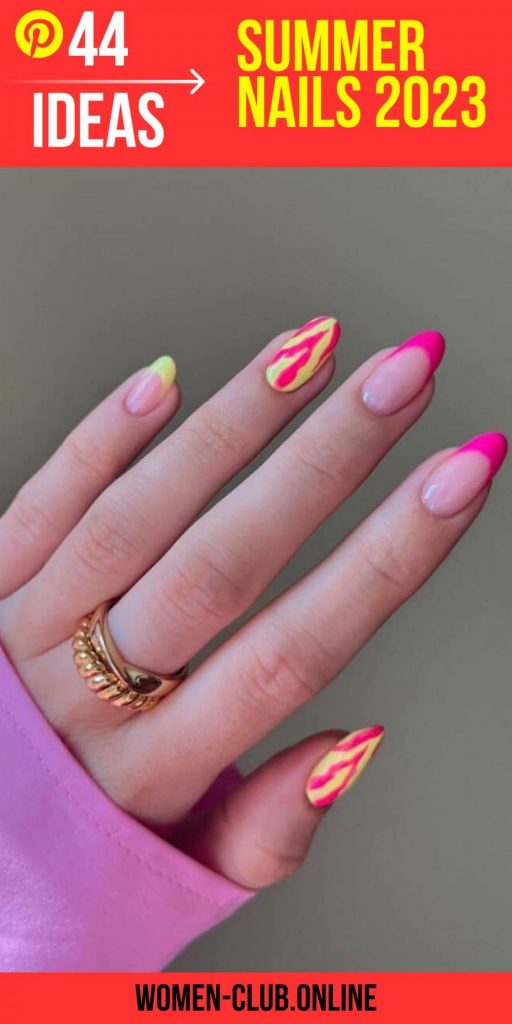 There's something fiery and passionate about these nails, making them the perfect summer nail design for the holidays this year!
To get jagged edges on fire nails, just dip a toothpick in hot pink nail polish and get started!
Dragon nails. Dragon fruit ornaments.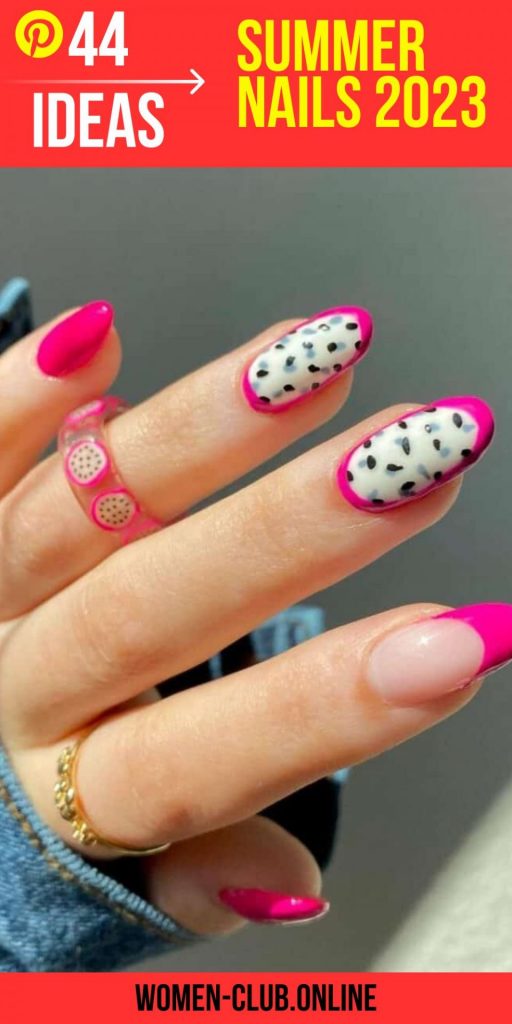 I've never seen anything like these trendy fruit nails before, which take deliciously juicy dragon fruit and paint them on the nails.
It's fun, it's unique and, despite everything, it looks just great!
Trendy neon swirls.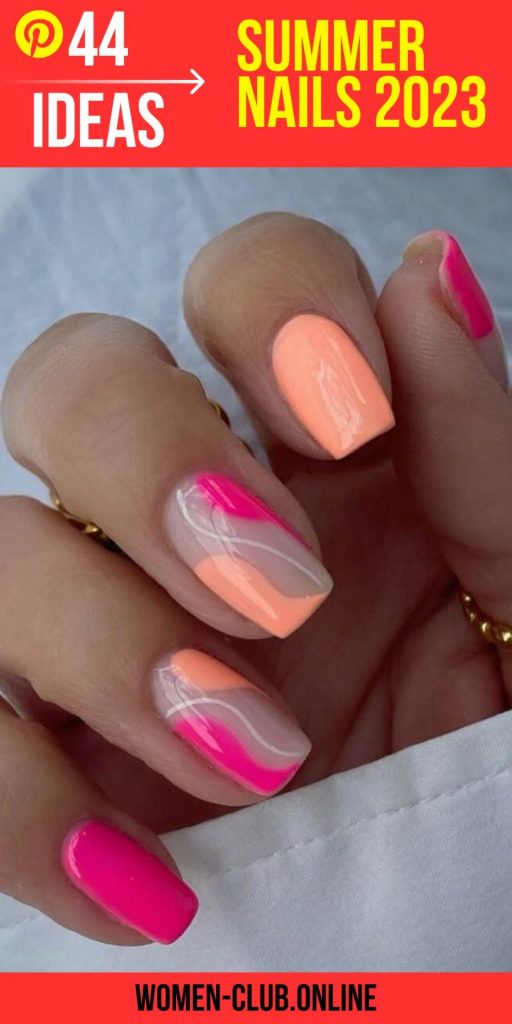 When it comes to trendy summer nail ideas, curls are my favorite.
However, bright neon hues that promise to be incredibly hot this year are quickly gaining popularity, making this neon summer nail design idea one of my favorites on the list.
Nails with rainbow stripes.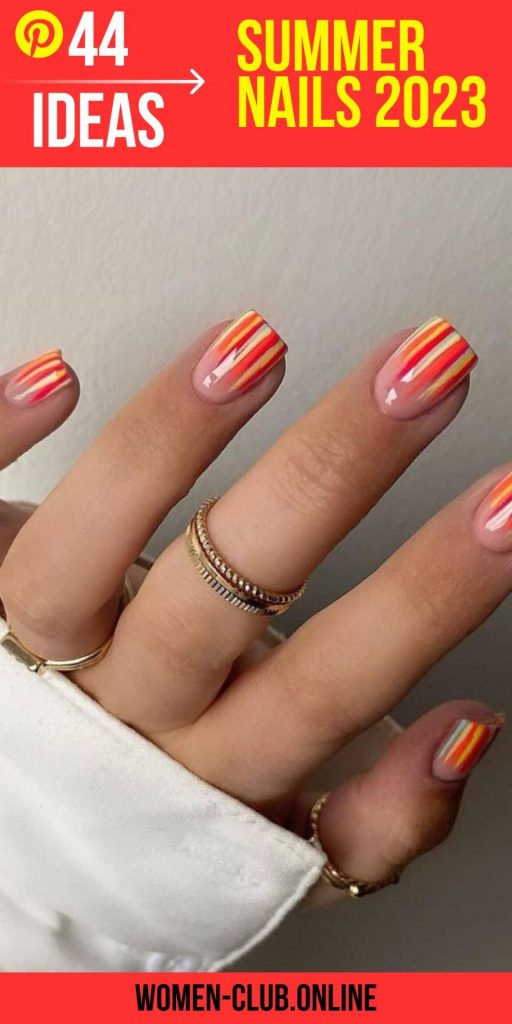 These nails look like little yummy candy making them the perfect member of the cute nails club this summer.
They are also short and compact, which means you can carry them absolutely anywhere.
All you need to complete this look are different colors of nail polish and a few toothpicks to help you complete the fine lines!
Ideas for short colored summer nails.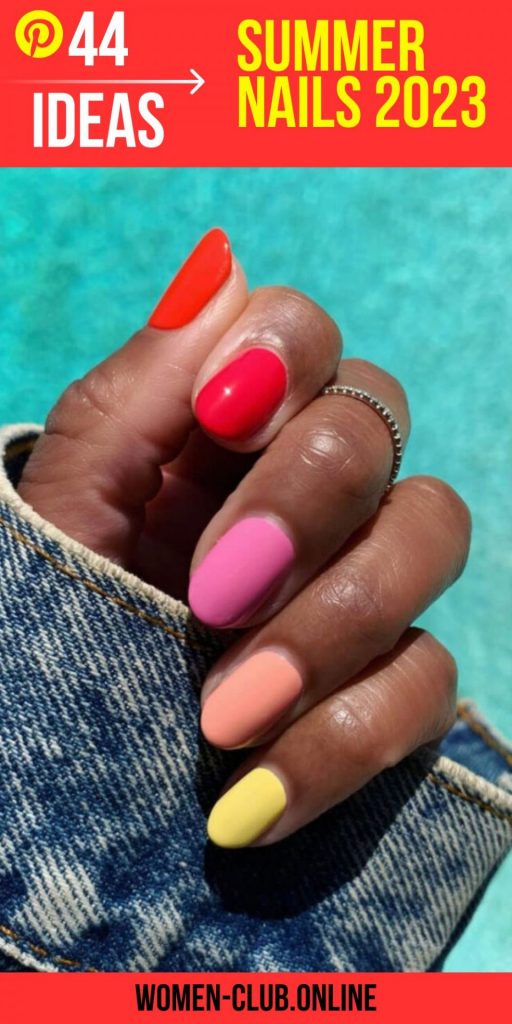 You can't go wrong with a similar color scheme. This manicure has a loud personality but is sophisticated enough to say, "Yes, I know about color theory." These warm tones of candy hues are perfect for roller skating at the end of a summer day.
Blue ombre nails.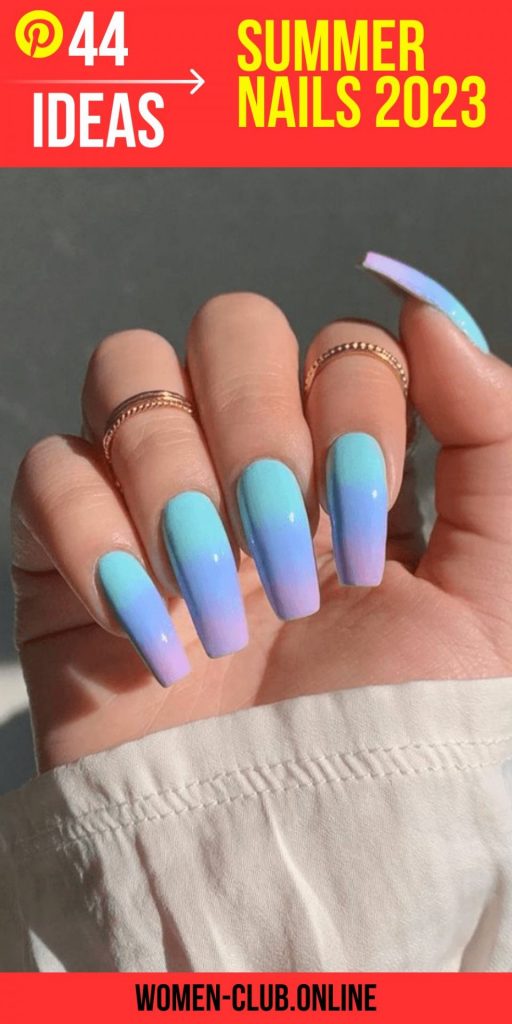 These cool pastel colors are very soothing. And bright shades allow them to shine in the summer sun. Ombre is such an aesthetically pleasing design and these light blue colors work so beautifully together. Take a makeup sponge, apply a white base coat and layer on for opacity.
Neon green, summer nail design.
This neon green pairs beautifully with minimalist line art and neutral tones. This shade gives me minty chocolate chip ice cream or maybe pistachio. Before heading out to escape the heat and eat an ice cream cone, give yourself a manicure to match.
Summer manicure in a pink coffin.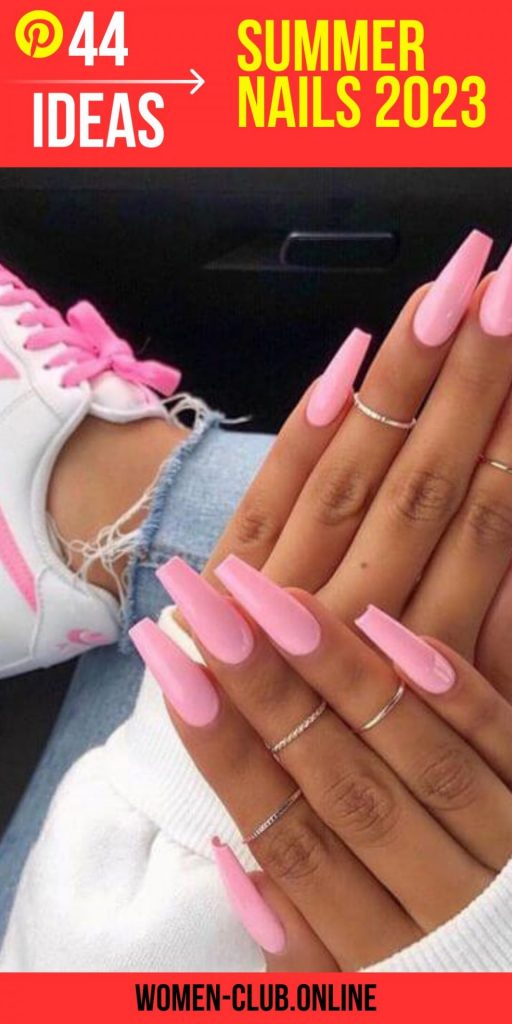 Sometimes nothing beats bubblegum pink nails. Sometimes it's just the confidence boost you need, these nails are strong. Especially this color in combination with the shape of the coffin, which I like the most. You deserve it.
Summer nail design for a garden party.
From picnics to parties, these nails are the "IT" girls' nails this summer.
They have just the right amount of bright, mixed with charming, with an added touch of charm. I seriously can't get enough of them and fully plan to try them out for myself in the summer of 2023.
Nails waiting for the heat.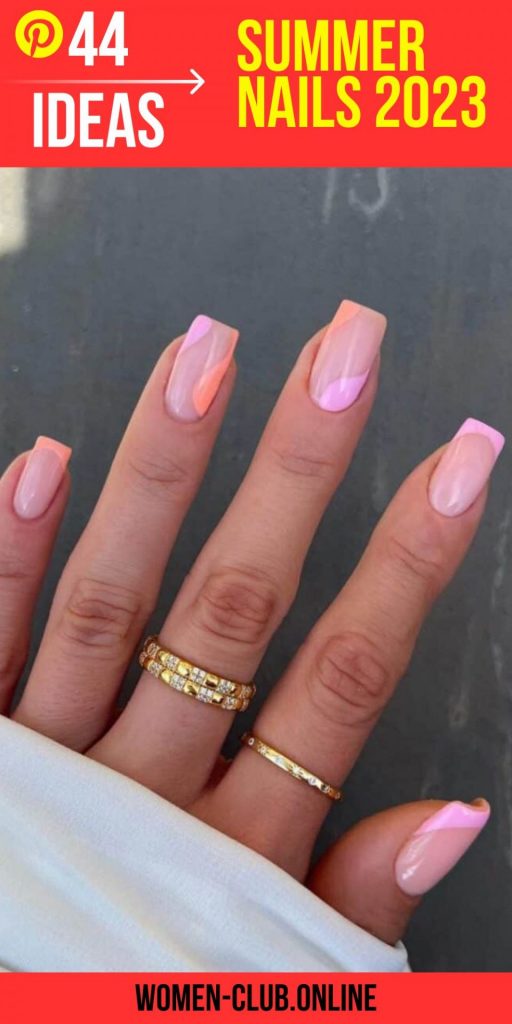 These nails really warm with their warm vibe and pastel lights that make me plan my first summer vacation of the year right now!
Mushroom nails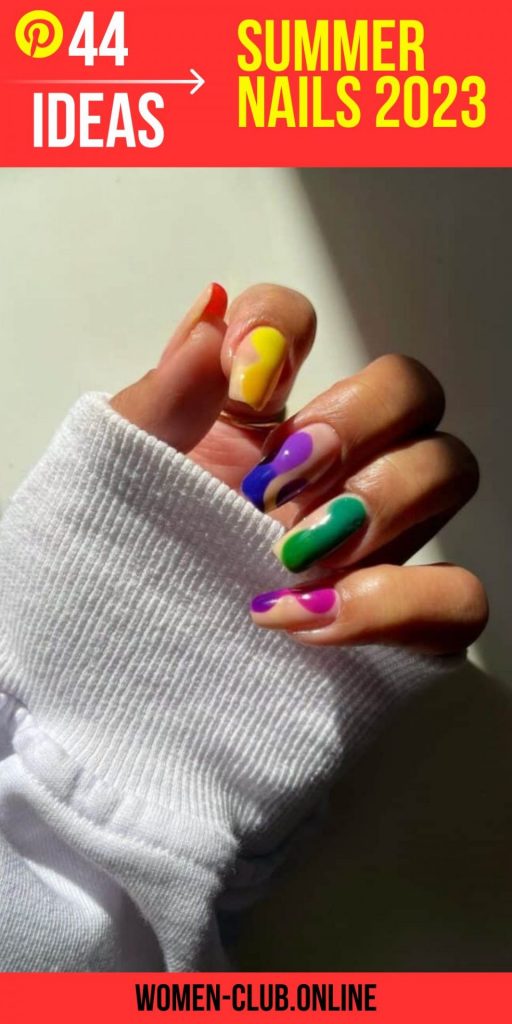 Sunny skies are the limit of these gorgeous summer nails.
The multicolored appeal is only enhanced by the free-spirited "custom" design that lets your imagination run wild as you complete this must-have summer nail look.
Nail design at the beginning of summer.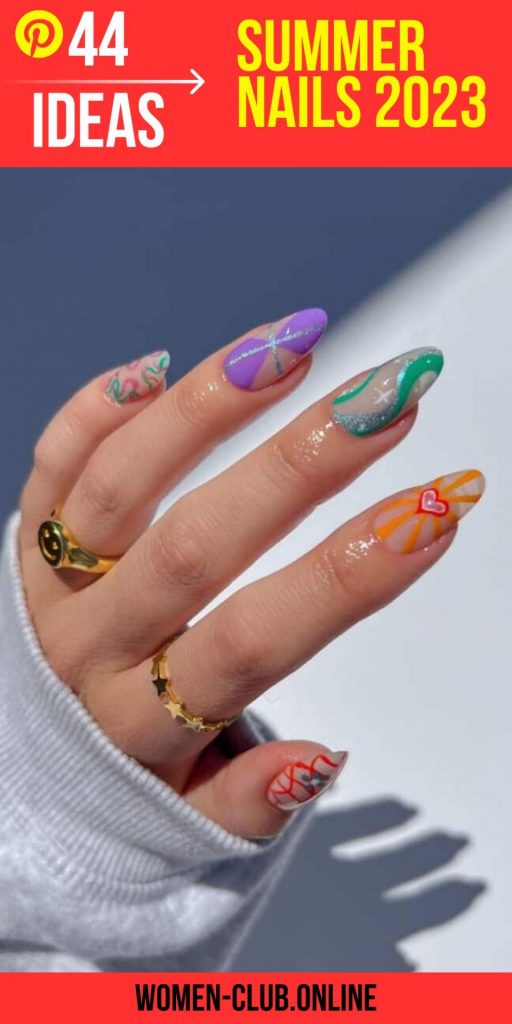 Bring Summer! One look at these beautiful and fun nails makes me wish I was on vacation right this second!
I think these nails are perfect for the start of summer when excitement is in the air and everyone is just happy to soak up those first rays of the sun.
French Tips glossy pins.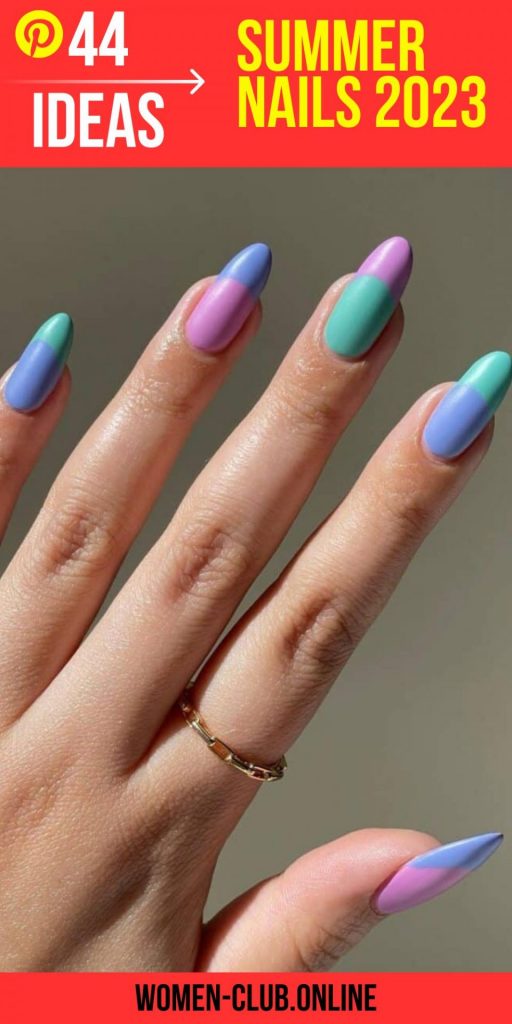 I can hardly believe that such a gorgeous unique summer nail design exists! Taking color blocking to a whole new level, these nails refuse to be ordinary, which means that if you dare to try them –
Lip gloss!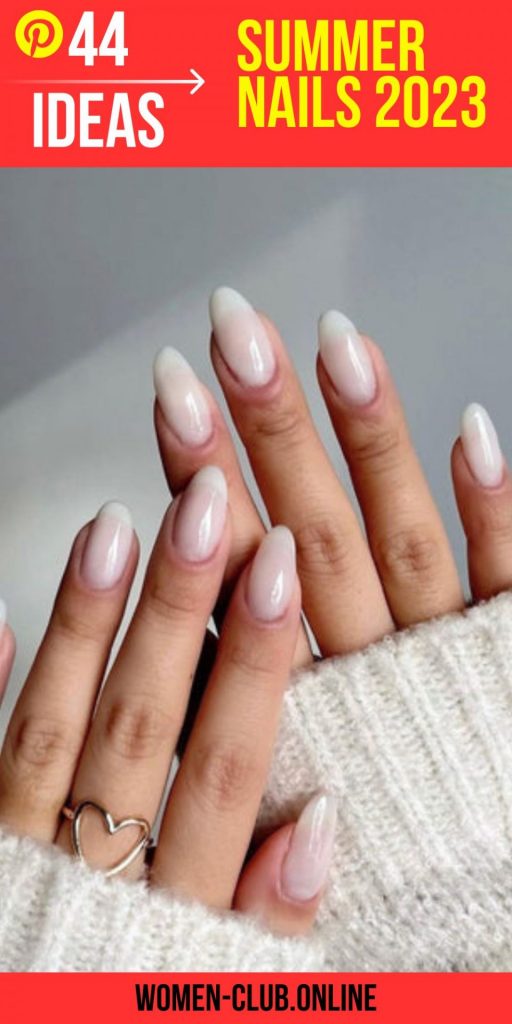 If you loved the clean girly nails aesthetic from last year, then the lip gloss trend is perfect for you! This natural manicure has the perfect subtle sheen and shine to keep your nails looking chic, polished and radiant all summer long. We love this manicure trend because it naturally brings out the beauty of every skin tone and your nails will never clash with any outfit. As with lip gloss, you'll need to try all three of our new sheer shades.