Nails
Summer Nails Orange 2023: 22 Ideas
Summer is here, and it's time to give your nails a fresh and vibrant makeover. When it comes to summer nail colors, orange stands out as a bold and eye-catching choice. The warmth and energy associated with the color make it perfect for embracing the sunny days and adding a pop of color to your overall look. In this article, we'll explore 22 unique and stunning ideas for summer nails in orange that will make you stand out from the crowd.
The Popularity of Orange Nails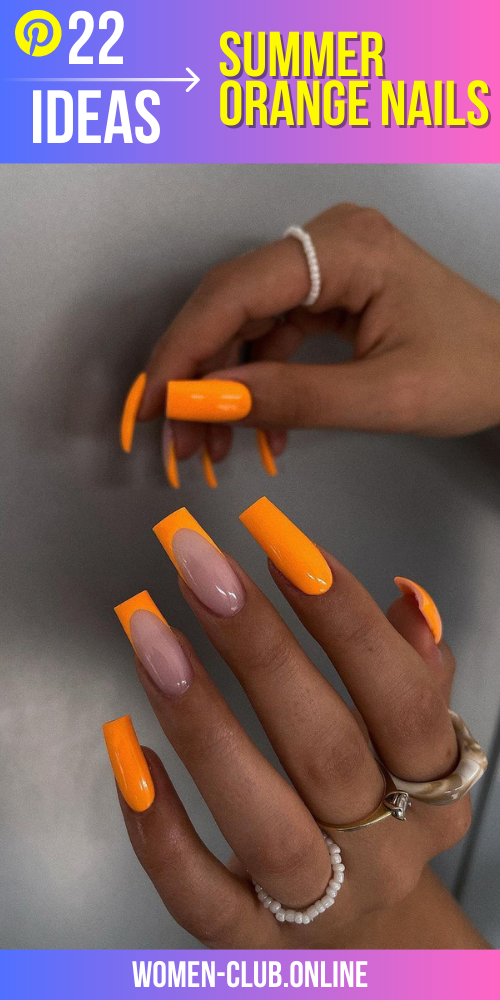 Orange nails have gained tremendous popularity in recent years, and for good reason. As a summer nail color, orange exudes a sense of happiness, vitality, and adventure. It's a color that represents warmth, enthusiasm, and creativity, making it an ideal choice for those who want their nails to reflect their vibrant and lively personality.
Another reason for the popularity of orange nails is the versatility of the color. From soft and subtle shades to bold and vibrant hues, there is an orange nail color for every style and occasion. Whether you prefer a classic and elegant look or want to make a statement with your nails, orange offers a wide range of possibilities.
22 Ideas for Summer Nails in Orange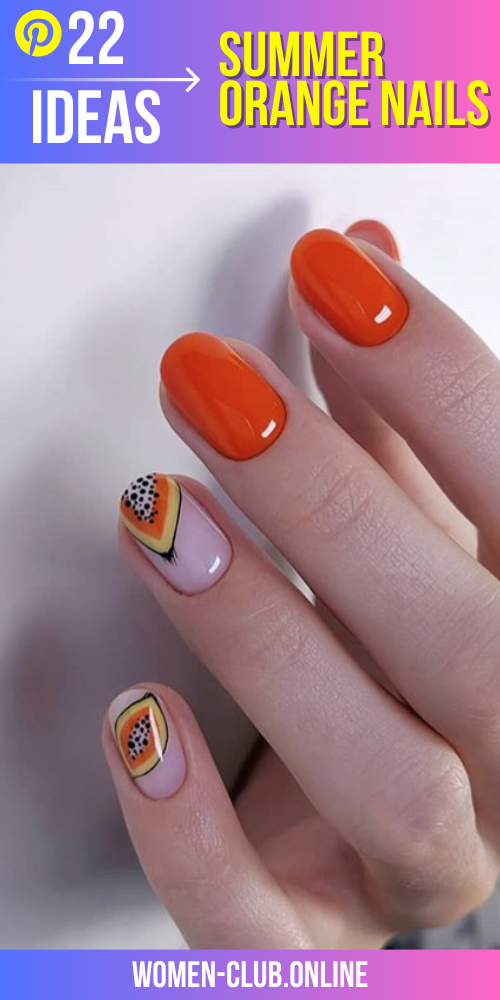 Subtle and Elegant Orange Nail Designs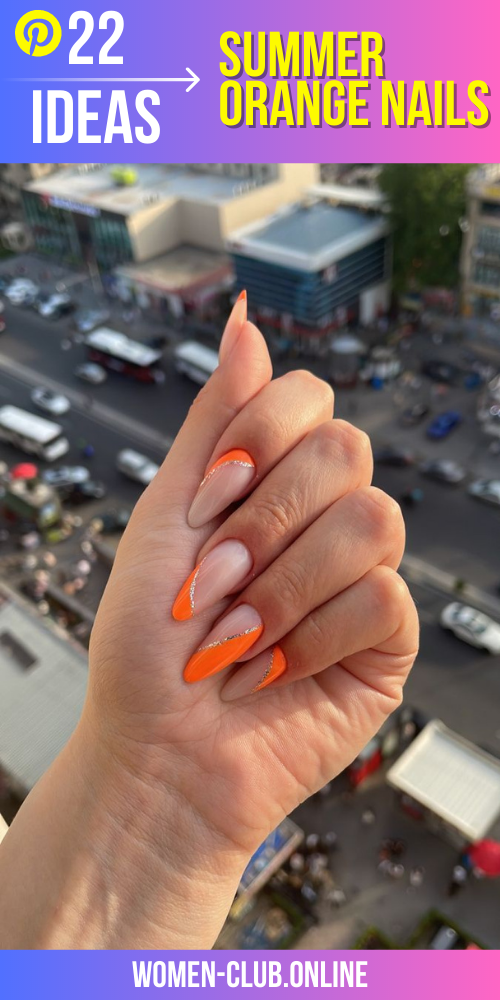 Soft peachy-orange ombre nails: Create a graceful transition from a soft peachy shade to a delicate orange hue. This ombre effect adds a touch of elegance to your nails, perfect for a summer brunch or a romantic evening out.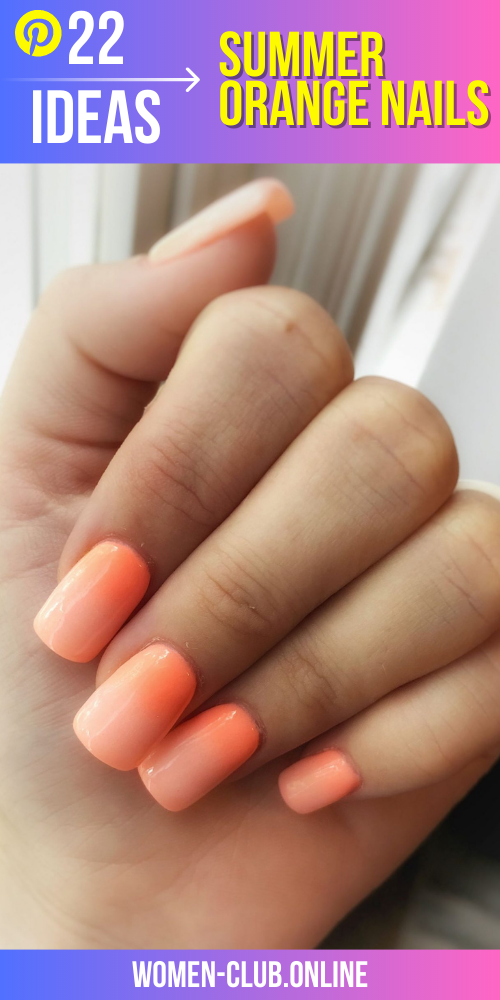 Delicate floral nail art with orange accents: Paint your nails with a soft pastel base color and add intricate floral designs using orange as the accent color. This design adds a feminine and romantic touch to your overall look.
Nude nails with a pop of orange on the tips: Keep your nails natural and understated with a nude base color, and then add a bold twist by applying an orange shade to the tips. This minimalistic yet chic design is suitable for both casual and formal occasions.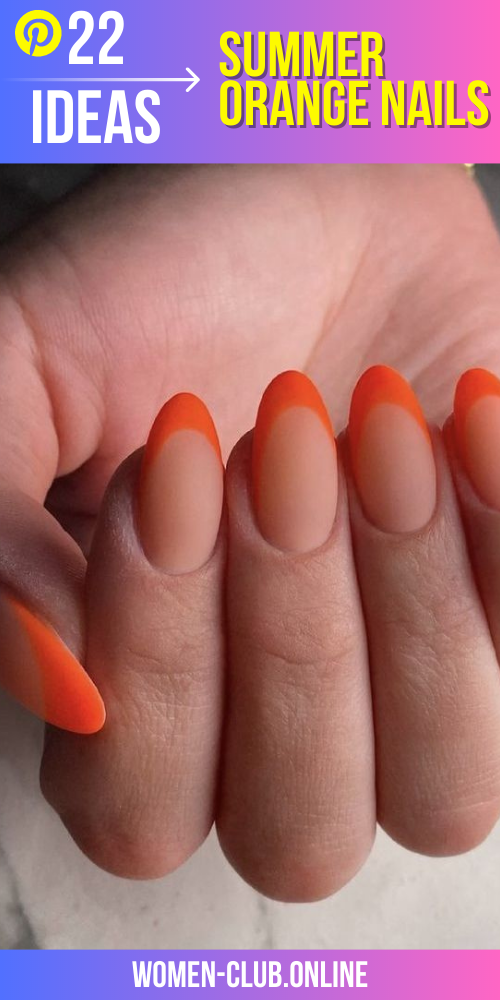 Vibrant and Bold Orange Nail Designs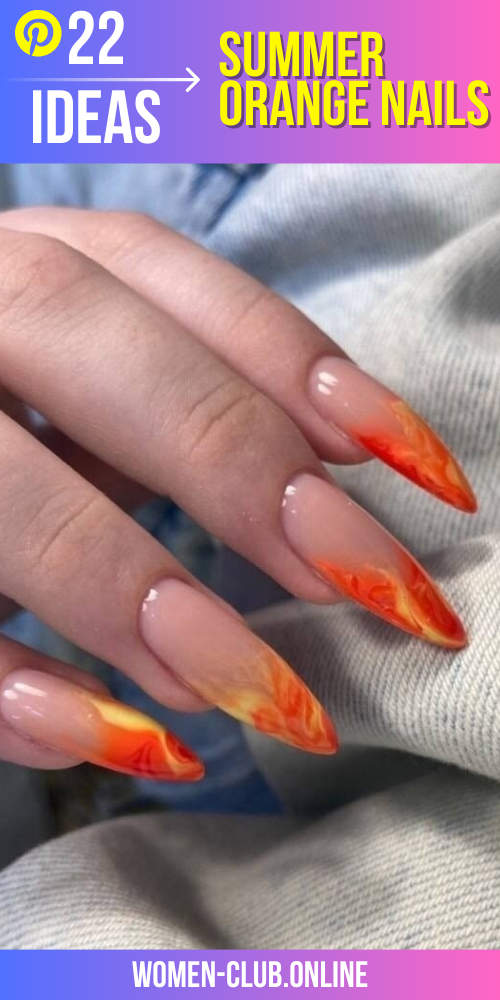 Neon orange gradient nails: Create a striking gradient effect by blending neon orange shades on each nail. This vibrant and attention-grabbing design is perfect for those who want to make a bold statement with their nails.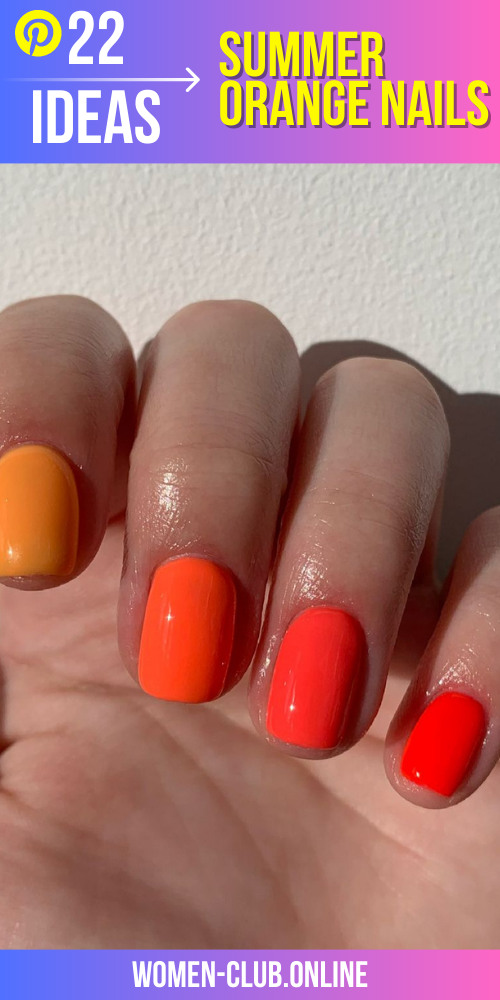 Geometric patterns in bright orange shades: Embrace your creative side by opting for geometric patterns in bright orange colors. From stripes to triangles, these designs will add a modern and edgy vibe to your nails.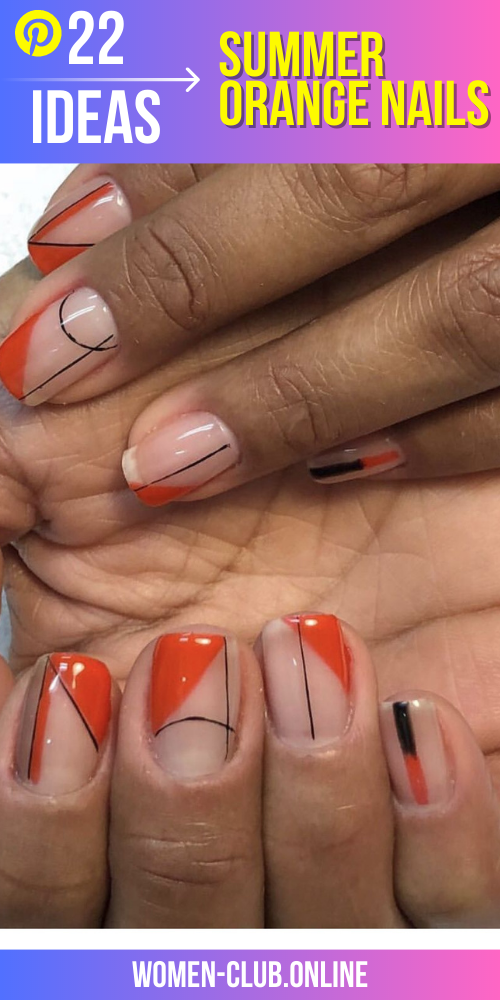 Orange and gold glitter ombre nails: Sparkle and shine with ombre nails that combine orange and gold glitter. This glamorous design is ideal for special occasions or when you simply want to add a touch of luxury to your nails.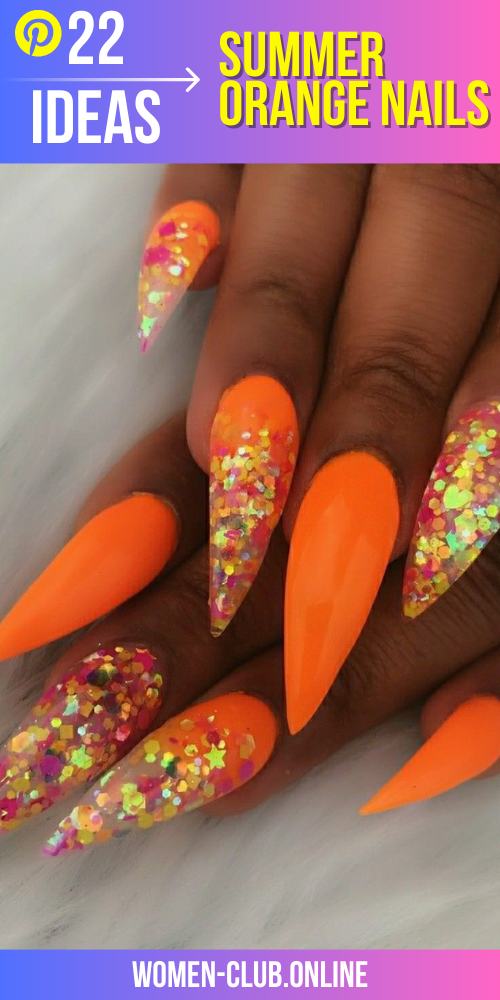 Playful and Fun Orange Nail Designs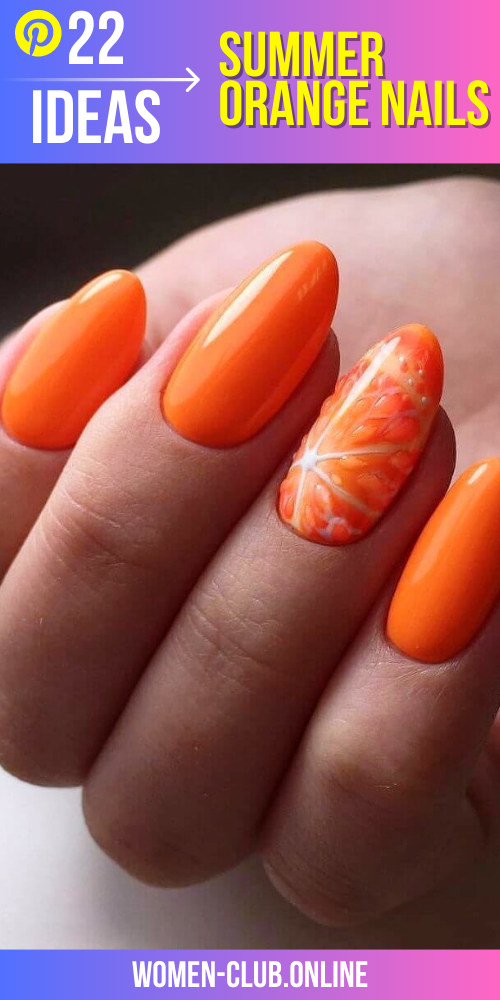 Orange slice nail art: Create a playful summer vibe with nails adorned with orange slice designs. This cheerful and refreshing design is sure to brighten up your day and make a statement.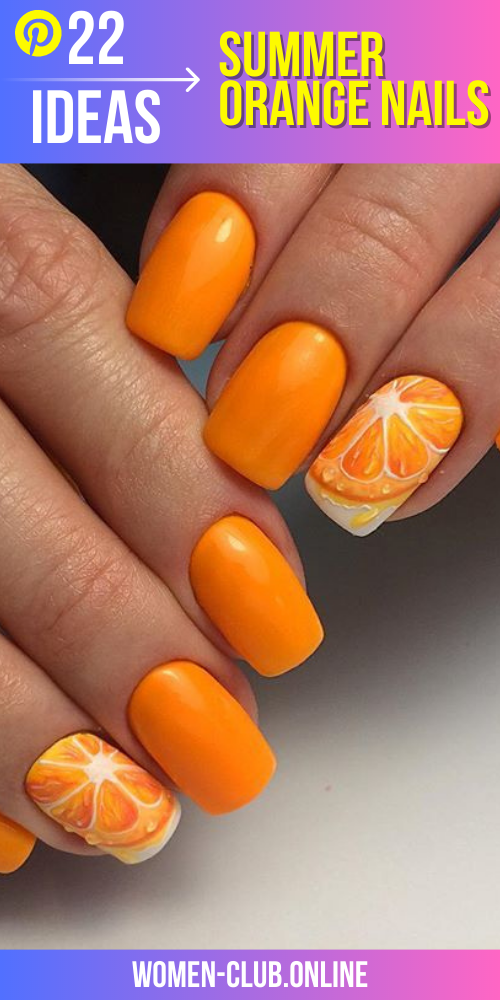 Citrus-themed nails with oranges and lemons: Channel the tropical vibes by incorporating citrus fruits like oranges and lemons into your nail art. This fun and lively design will transport you to a sunny paradise.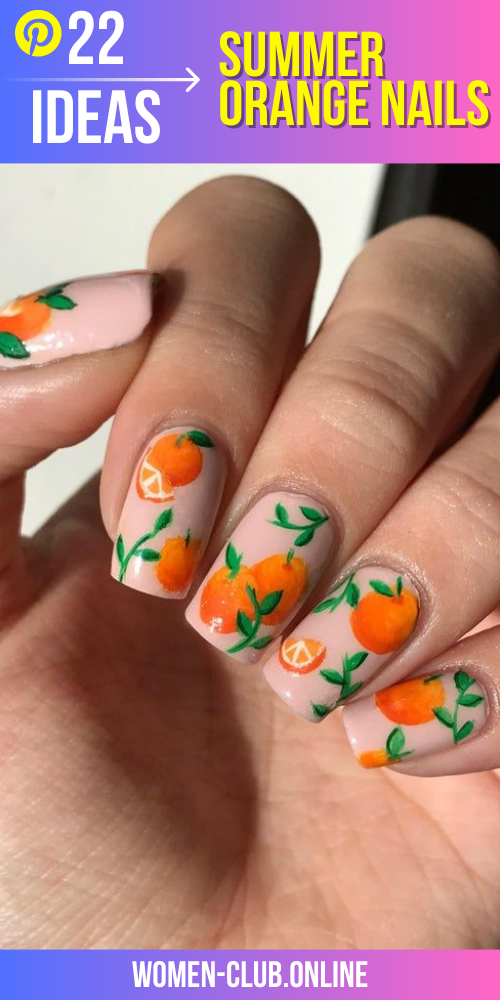 Tropical sunset nail design in orange and pink: Capture the beauty of a summer sunset on your nails with a blend of orange and pink shades. This captivating design will evoke feelings of warmth and relaxation.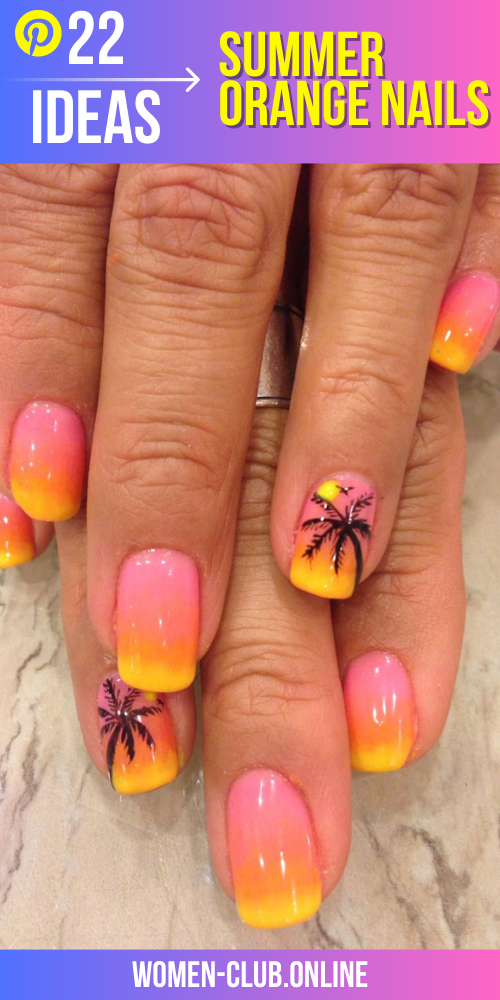 Chic and Sophisticated Orange Nail Designs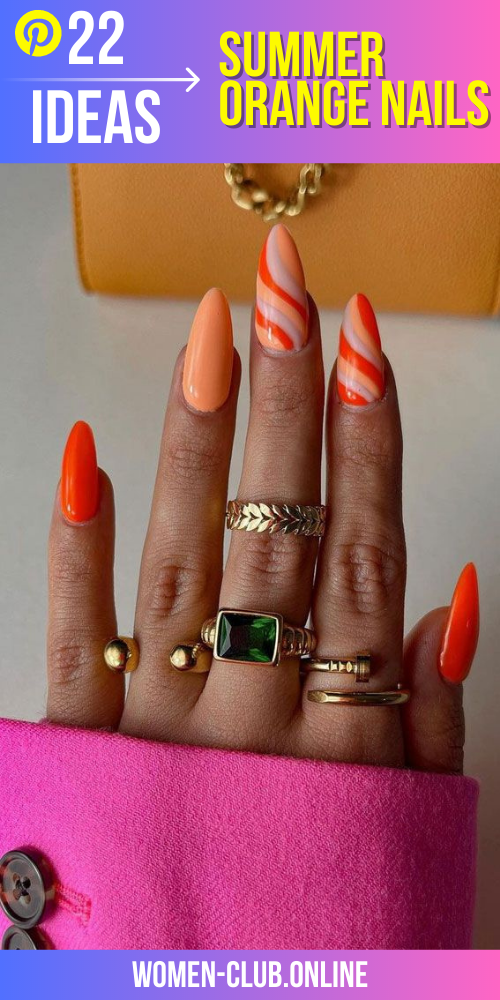 Matte orange nails with metallic accents: Achieve a modern and sophisticated look by opting for matte orange nails with metallic accents. The combination of matte and metallic finishes adds depth and elegance to your manicure.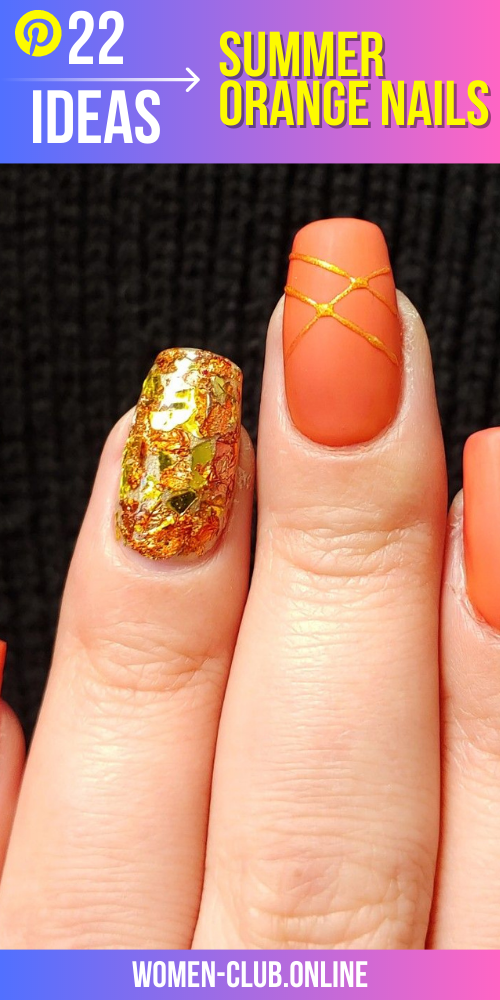 Orange marble nail art with a glossy finish: Create a luxurious marble effect on your nails using shades of orange. Finish it off with a glossy topcoat for a polished and refined look.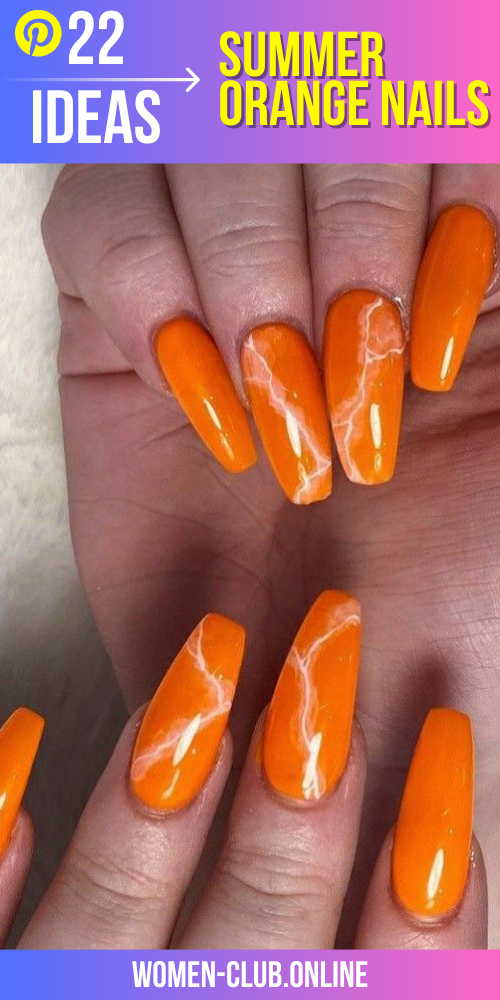 Orange and white negative space nails: Embrace the negative space trend by leaving parts of your nails bare and incorporating orange and white patterns. This minimalist design is effortlessly chic and perfect for any occasion.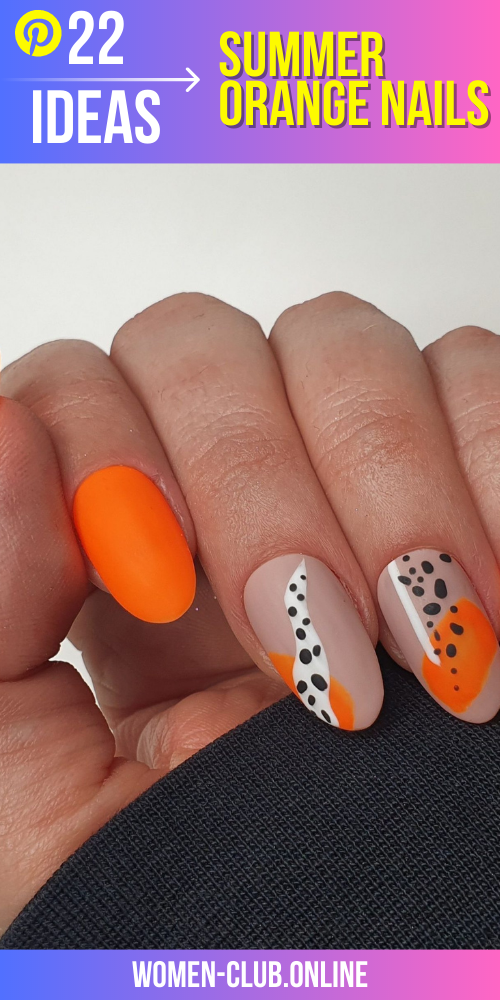 Whimsical and Creative Orange Nail Designs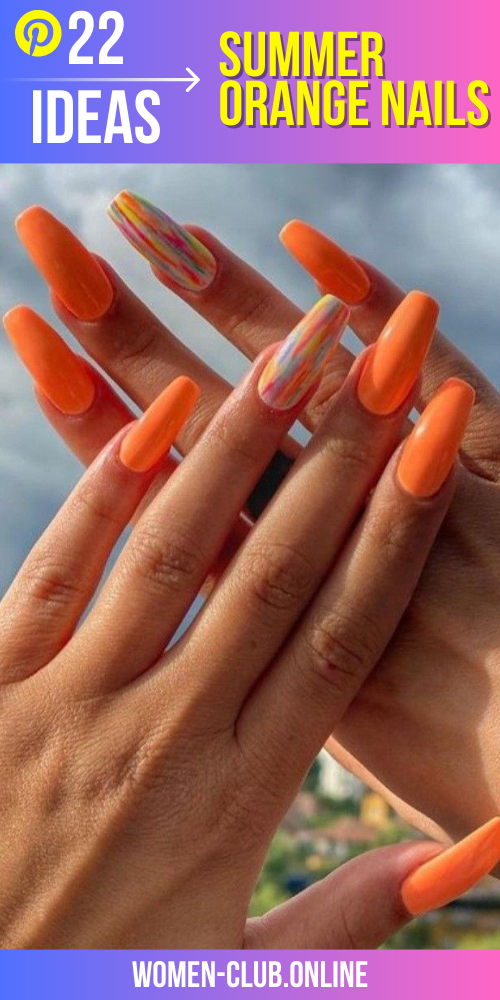 Orange watermelon nails: Get creative with nail art that resembles juicy watermelons using orange as the main color. This whimsical design will add a touch of fun to your summer look.
Orange tie-dye nails with a psychedelic touch: Experiment with a tie-dye effect using orange shades for a psychedelic and unique nail design. Let your creativity flow and enjoy the burst of color on your fingertips.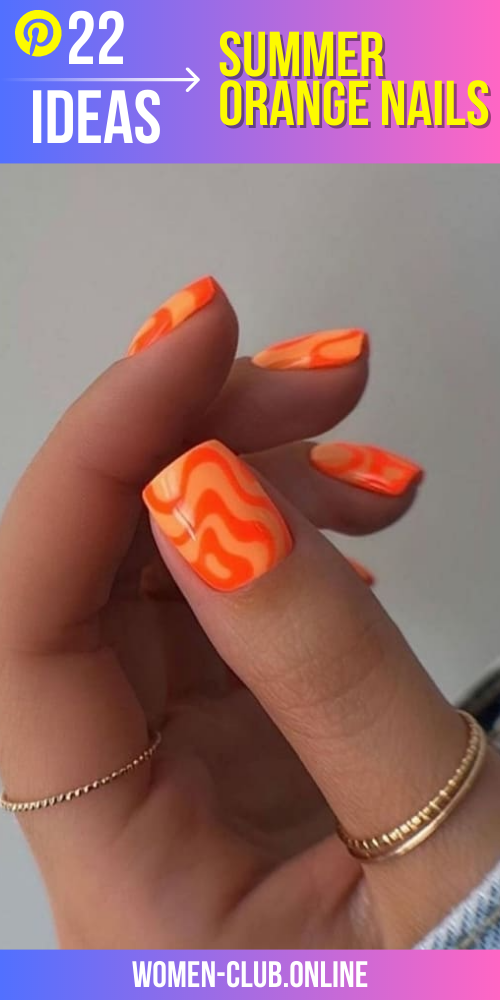 Fruit-inspired nail art with orange as the main element: Combine different fruits like oranges, pineapples, and strawberries in your nail art for a fresh and fruity look. This playful and eye-catching design will showcase your love for summer and all things tropical.