Nails
Yellow Nails 22 Ideas: Adding a Pop of Sunshine to Your Style
Are you tired of the same old nail colors and designs? Looking for something vibrant and unique to make a statement? Look no further – yellow nails are here to bring a pop of sunshine into your style! From subtle accents to bold statements, yellow nails can add that touch of brightness that will make your nails stand out. In this article, we'll explore some captivating yellow nail ideas that will undoubtedly catch the eye.
The Allure of Yellow Nails
Yellow nails are like a burst of sunshine for your fingertips. The color yellow symbolizes positivity, happiness, and energy. Choosing yellow for your nails instantly brightens up your overall appearance and adds a touch of playfulness to your style. Whether you're headed to a casual hangout or a formal event, yellow nails can adapt and enhance any look.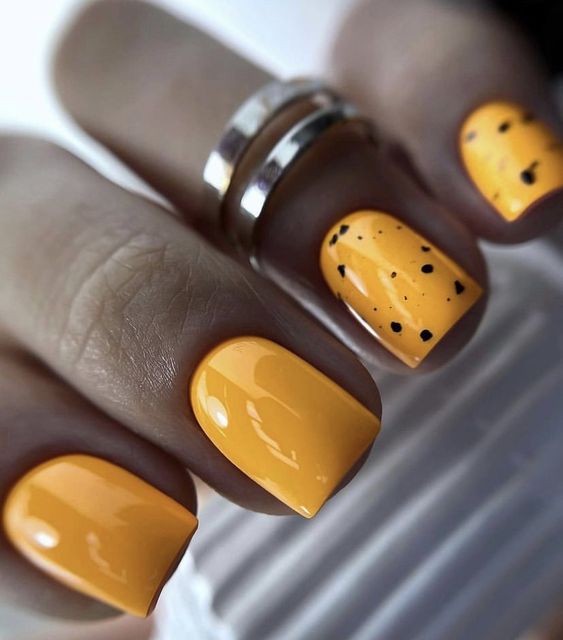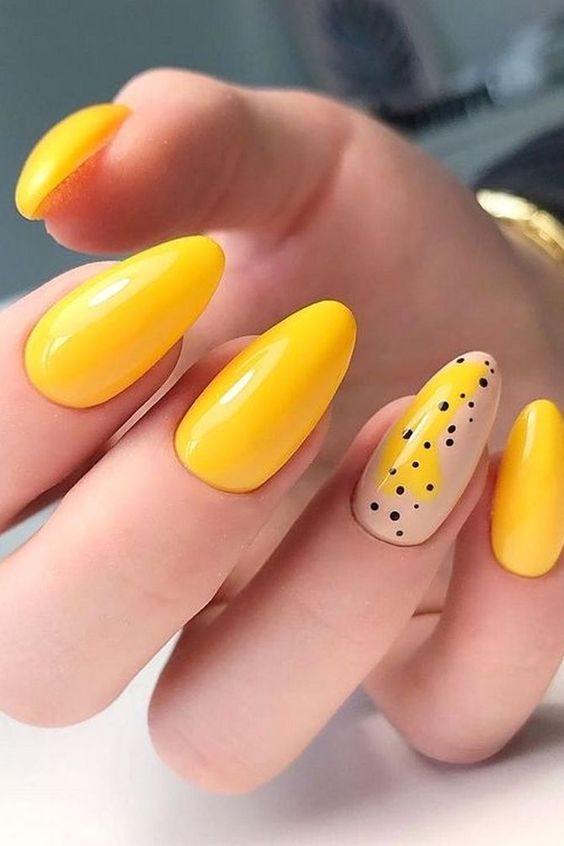 Choosing the Right Shade of Yellow
Just as there are countless shades of yellow in nature, there are many shades of yellow nail polish to choose from. From pastel lemon to vibrant mustard, each shade brings its own charm. Consider your skin tone and personal style when selecting the perfect shade. Lighter shades work well for a delicate look, while deeper shades can make a bold statement.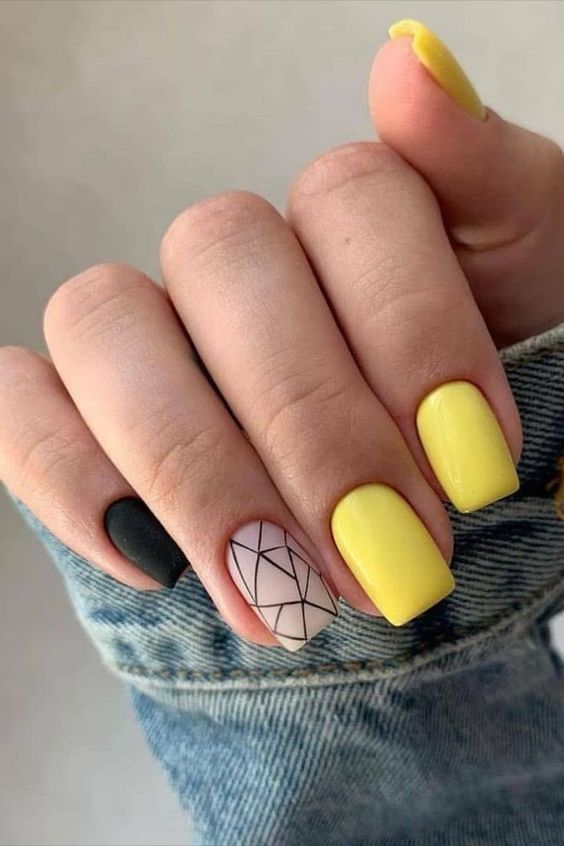 Elegant and Understated: Subtle Yellow Accents
If you're new to the world of yellow nails, start with subtle accents. A soft yellow French tip or a delicate yellow heart on a nude base can add a touch of elegance to your nails without being too overwhelming. It's a great way to dip your toes, or rather, your fingertips, into the world of yellow nail art.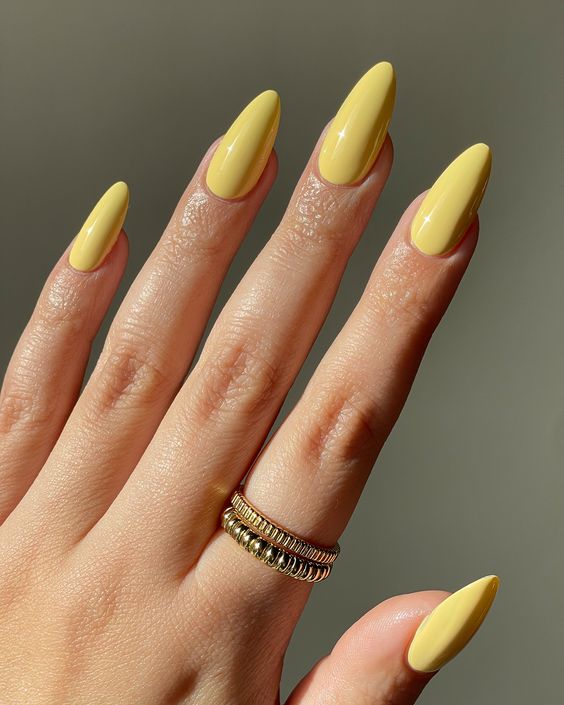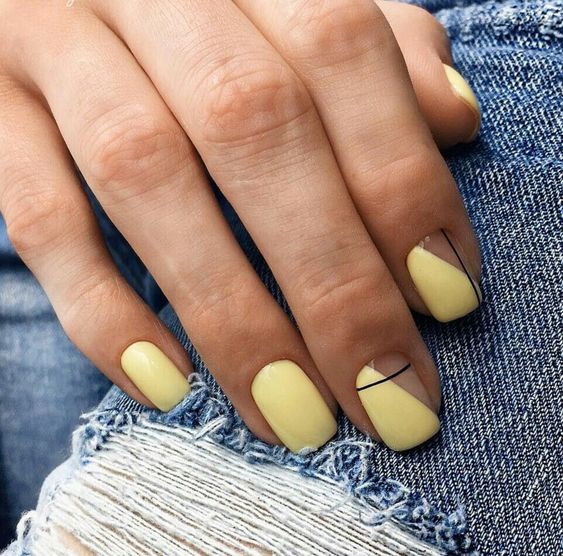 Sunflower Dreams: Floral Yellow Nail Art
For a natural and refreshing look, why not adorn your nails with charming sunflower designs? Sunflowers are known for their vibrant yellow petals, and replicating them on your nails can create a cheerful and eye-catching design. You can go for a single sunflower accent on each nail or cover them all with a beautiful sunflower bouquet.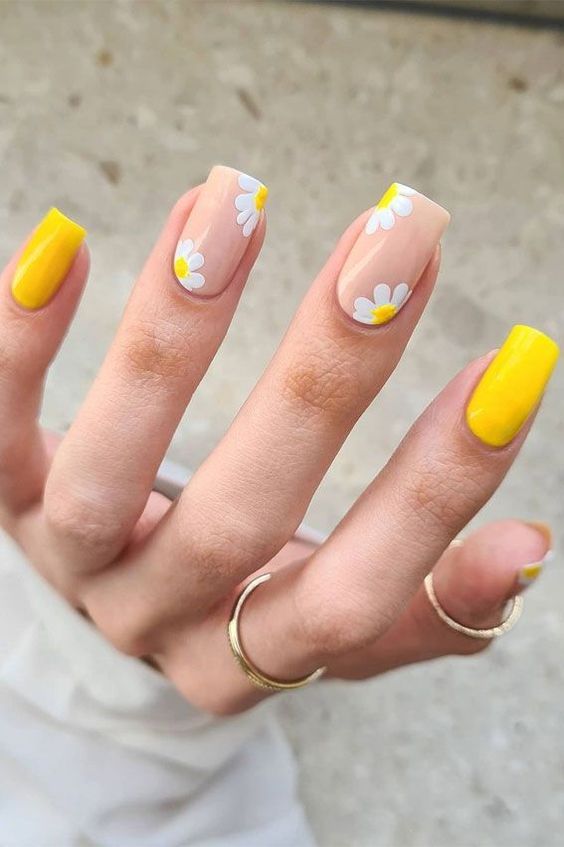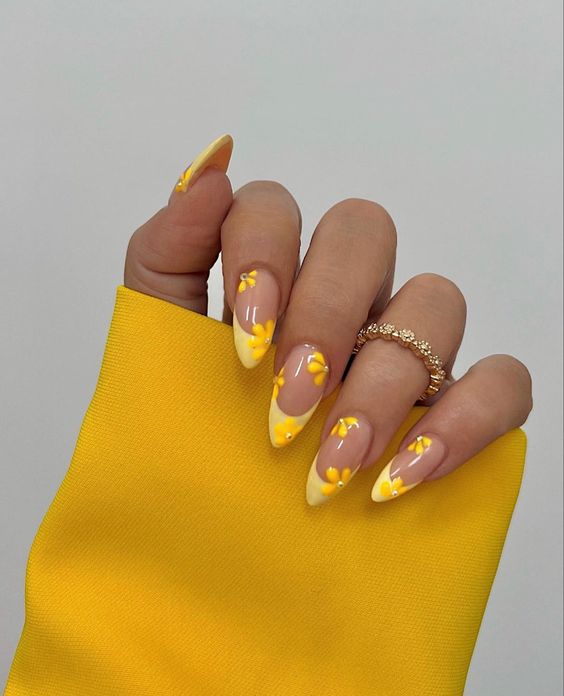 Mellow Yellow Ombre: Gradient Nails to Impress
Ombre nails continue to be a trend, and combining them with yellow creates a stunning effect. Transitioning from a pale yellow at the base of the nail to a deeper shade towards the tips offers a smooth gradient that's both soothing and fashionable. It's an excellent choice for those who want a trendy yet versatile look.
Buzzworthy Style: Combining Yellow with Black
Yellow and black are a classic combination that exudes boldness and confidence. Consider creating striking nail art by alternating between yellow and black nails. You can also try yellow and black stripes, polka dots, or even tiny bee designs for a whimsical touch. This pairing guarantees nails that demand attention.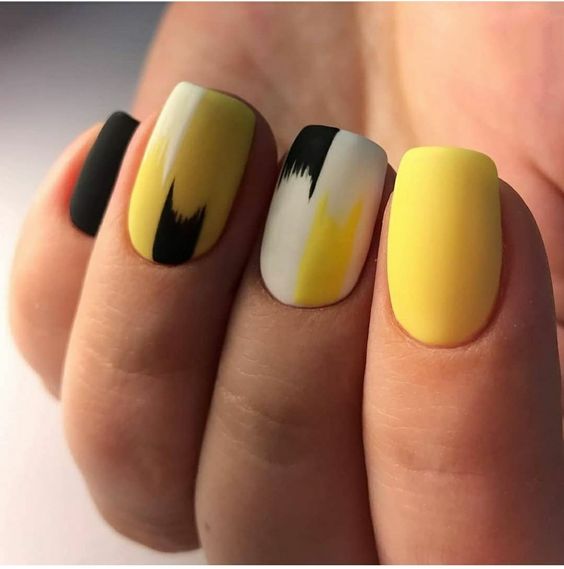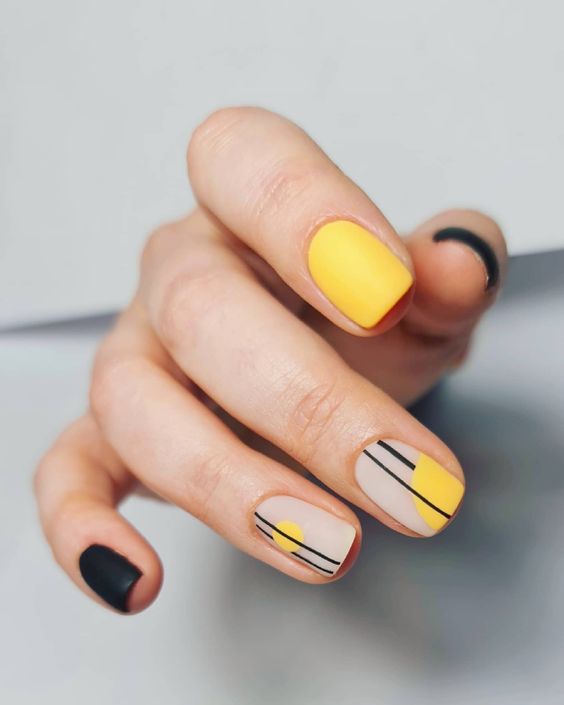 Tropical Vibes: Pineapple and Palm Tree Designs
Dreaming of a tropical getaway? Bring those vacation vibes to your nails with pineapple and palm tree designs. Yellow nails can serve as the perfect canvas for these playful patterns. Pineapples and palm trees against a yellow backdrop instantly transport you to a sunny beach paradise.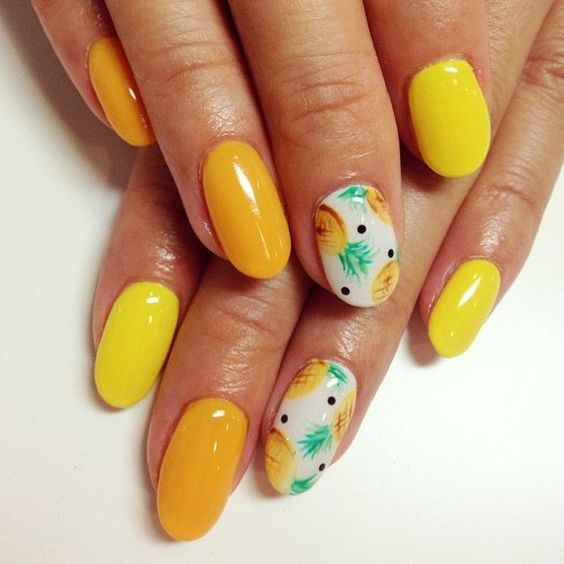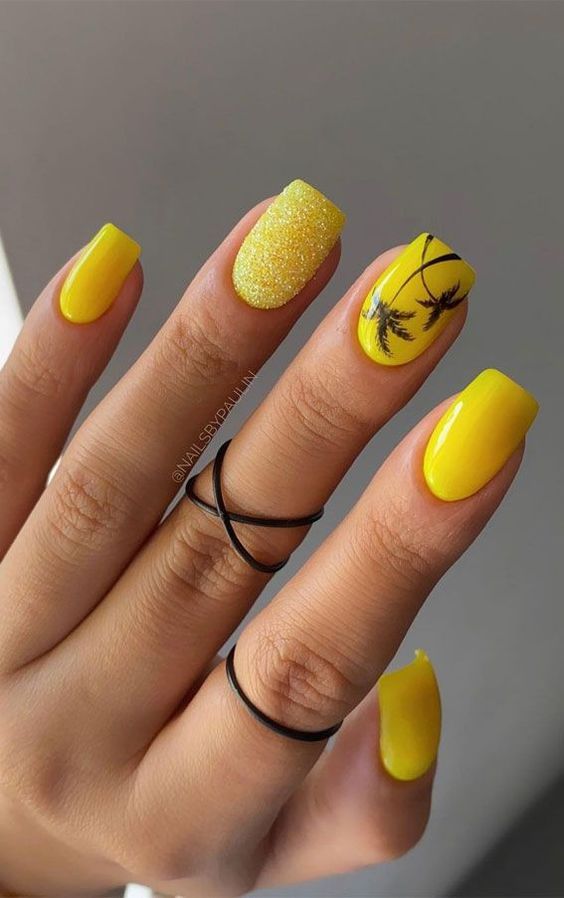 Abstract Sunshine: Playful Geometric Nail Patterns
Unleash your creative side with abstract geometric nail patterns. Triangles, squares, and zigzags in various shades of yellow can create a unique and artistic look. Whether you're aiming for a futuristic style or a quirky design, geometric patterns allow you to experiment and express yourself.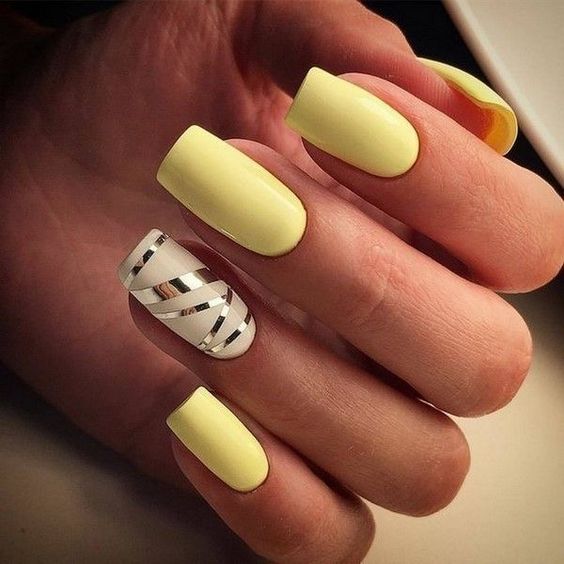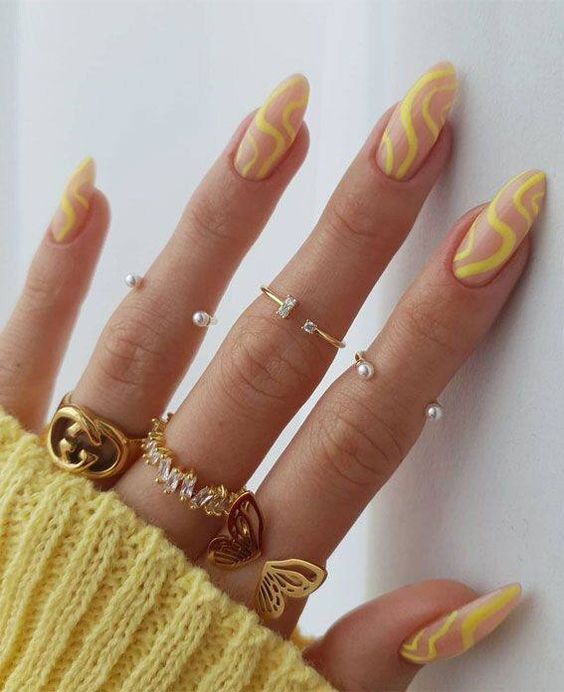 Matte Magic: Contemporary Velvet Yellow Nails
Matte yellow nails add a touch of sophistication to your style. The velvety texture of matte nail polish gives your nails a modern and refined appearance. From soft pastel matte yellow to deep mustard, this finish can elevate your nails to a whole new level of elegance.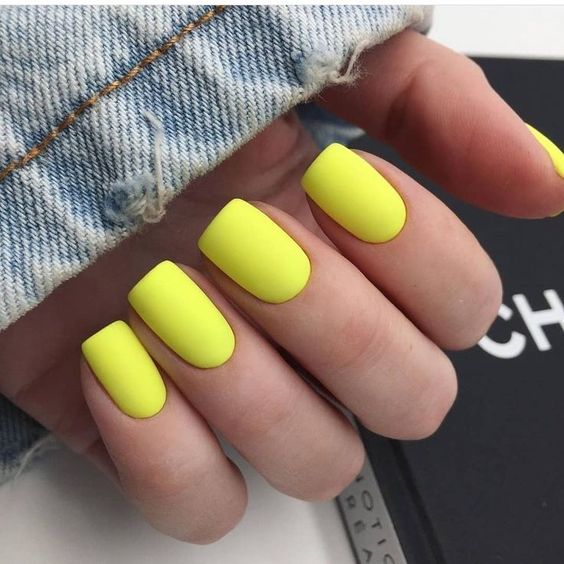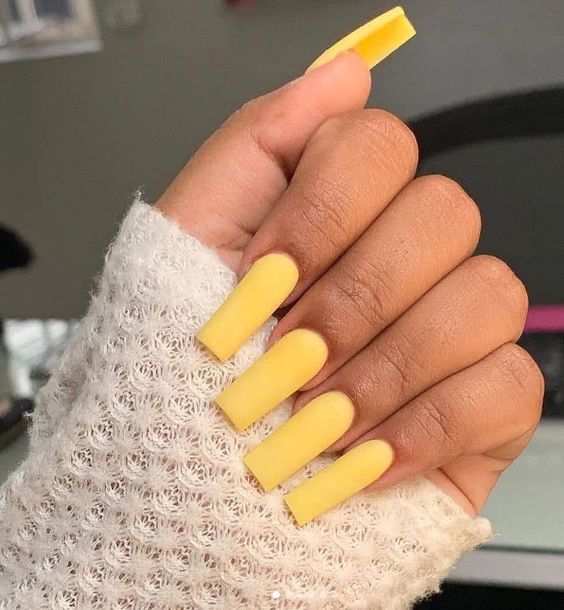 Glitz and Glamour: Yellow Nails with Sparkles
For special occasions or when you simply want to shine, consider adding sparkles to your yellow nails. Glittery yellow nail polish or strategically placed rhinestones can create a dazzling effect. These sparkling yellow nails are perfect for parties, weddings, and any event where you want to make a statement.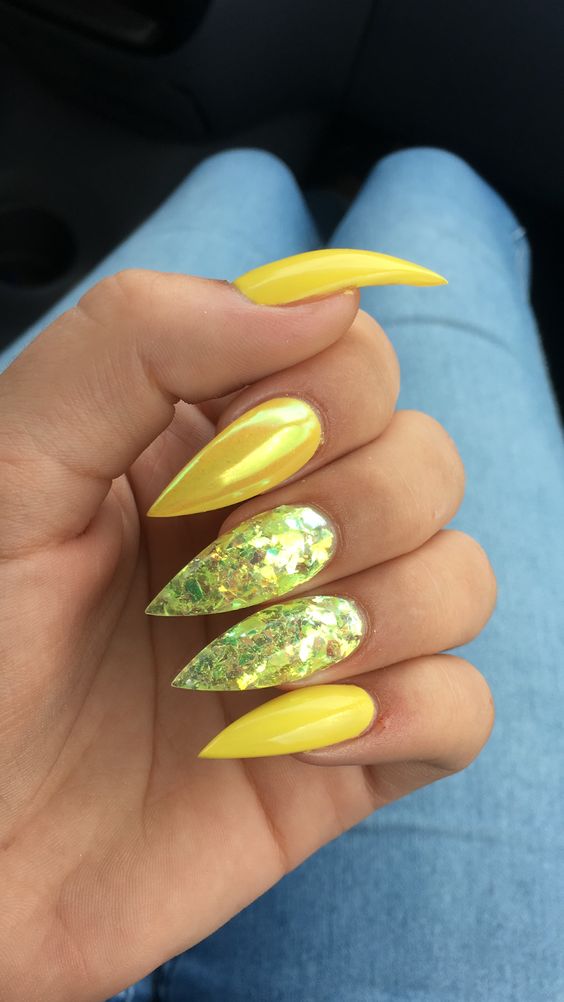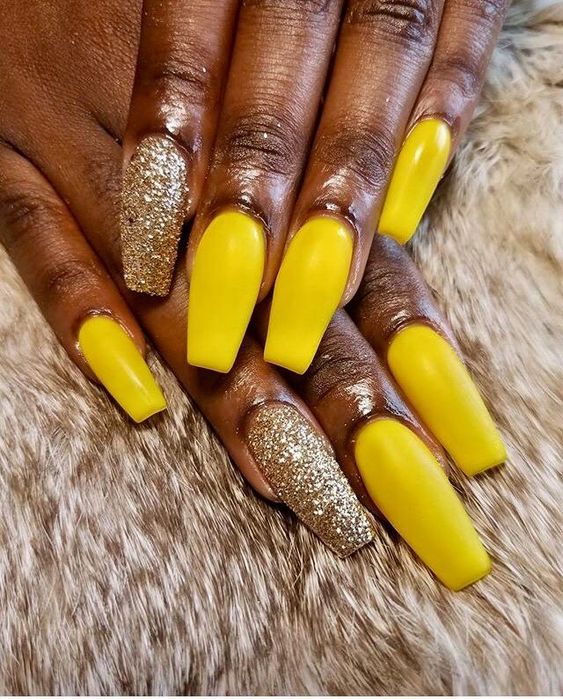 Fresh Lemonade: Fruit-Inspired Yellow Manicure
If you're a fan of fruity goodness, why not turn your nails into a citrusy delight? Lemon-inspired nail art with slices, wedges, or even lemonade glass motifs can bring a refreshing twist to your style. It's a fun and cheerful way to celebrate the vibrancy of the color yellow.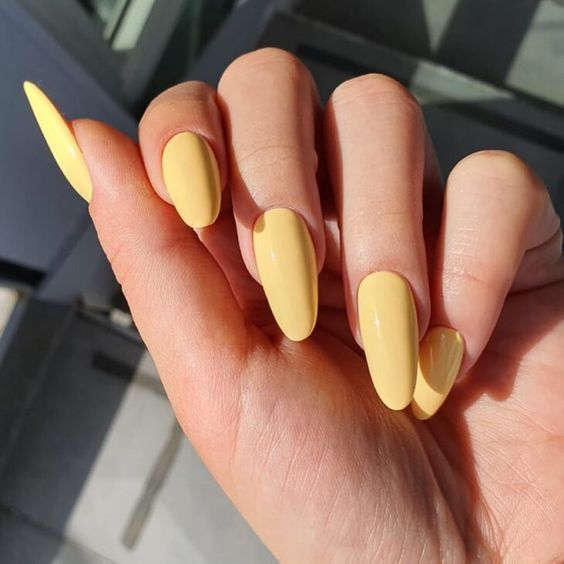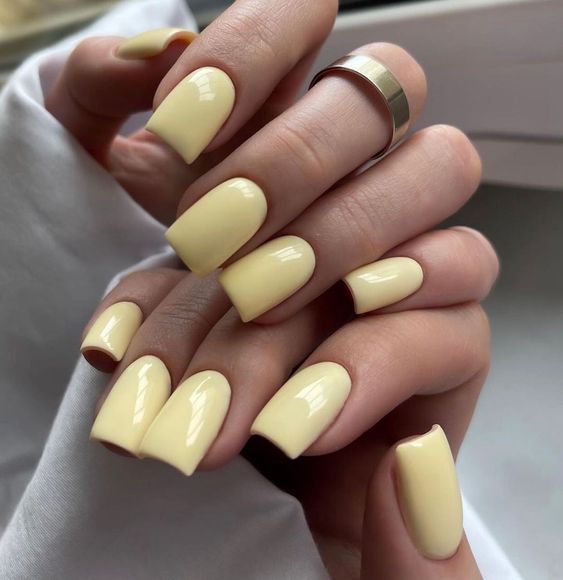 Save Pin