Hairstyles
2024's Chic Bubble Hairstyles 16 Ideas: Elegant to Sporty
As the world of fashion continually evolves, so do the trends in hairstyling. Among the myriad of styles making a comeback, the bubble hairstyle 2024 has bubbled up to the forefront, offering a playful yet chic look that's capturing the attention of style enthusiasts across the globe. This article dives into the effervescence of the bubble hairstyle, presenting an array of ideas from classic to innovative, tailored for the modern woman aged 25 to 55 who is keen to infuse a dash of fun into her fashion repertoire. Let's unravel these buoyant styles that are not only cute but also remarkably easy to do.
Elegant Simplicity with a Twist
Our journey into the bubble hairstyle begins with a classic rendition of this playful look. Imagine a half up half down style where the hair is sleek at the crown, cascading into segmented bubbles, each bound with simple ties. It's an easy to master style that suits medium hair to long hair, perfect for adding a touch of sophistication to a casual outing or a professional ensemble.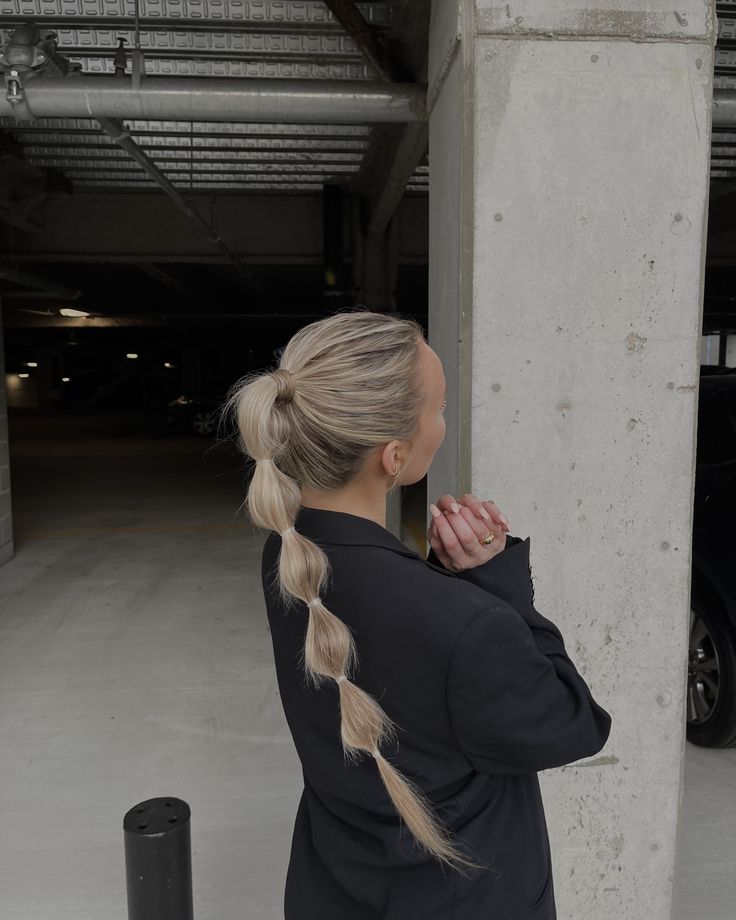 The Powerpuff Statement
Next, we transition to a more dramatic interpretation – a double bubble ponytail that wouldn't be out of place in the Powerpuff universe. This look takes the bubble hairstyle 2024 to new heights with its bold use of color and volume, creating a statement that's both powerful and playful. Ideal for those with long hair, it's a testament to how the bubble hairstyle can be both cute and empowering.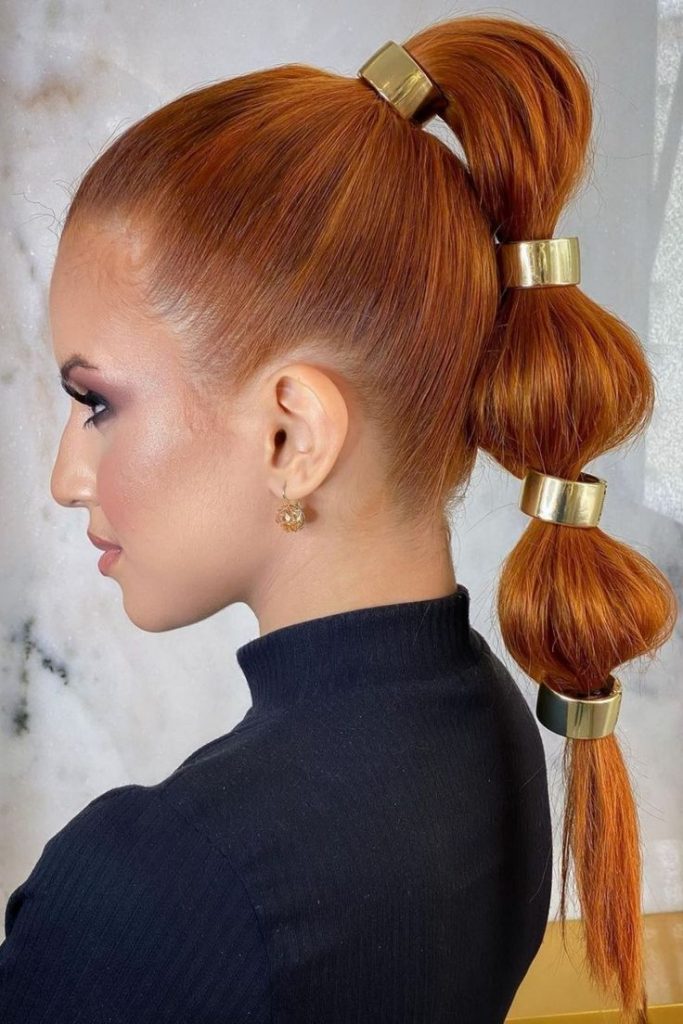 Subtle Elegance for Every Occasion
For a more understated approach, consider a bubble ponytail that features soft, subtle bubbles. It's an easy and natural hair style that exudes elegance without overpowering the wearer's features. This look can seamlessly transition from a day in the office to an evening of fine dining, proving that the bubble hairstyle is as versatile as it is delightful.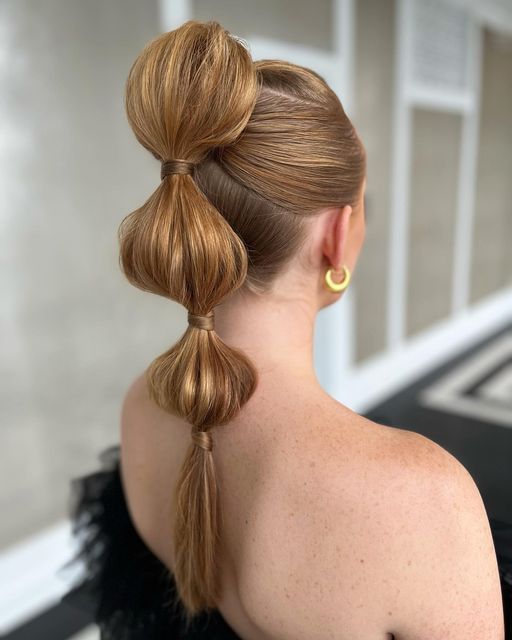 Casual Chic for the Trendsetter
For those who prefer a shorter take on the trend, a bubble braid with minimal accessories offers a cute and casual look. This style is perfect for a relaxed weekend or a friendly get-together, showcasing how the bubble hairstyle can be adapted for short hair without losing its charm.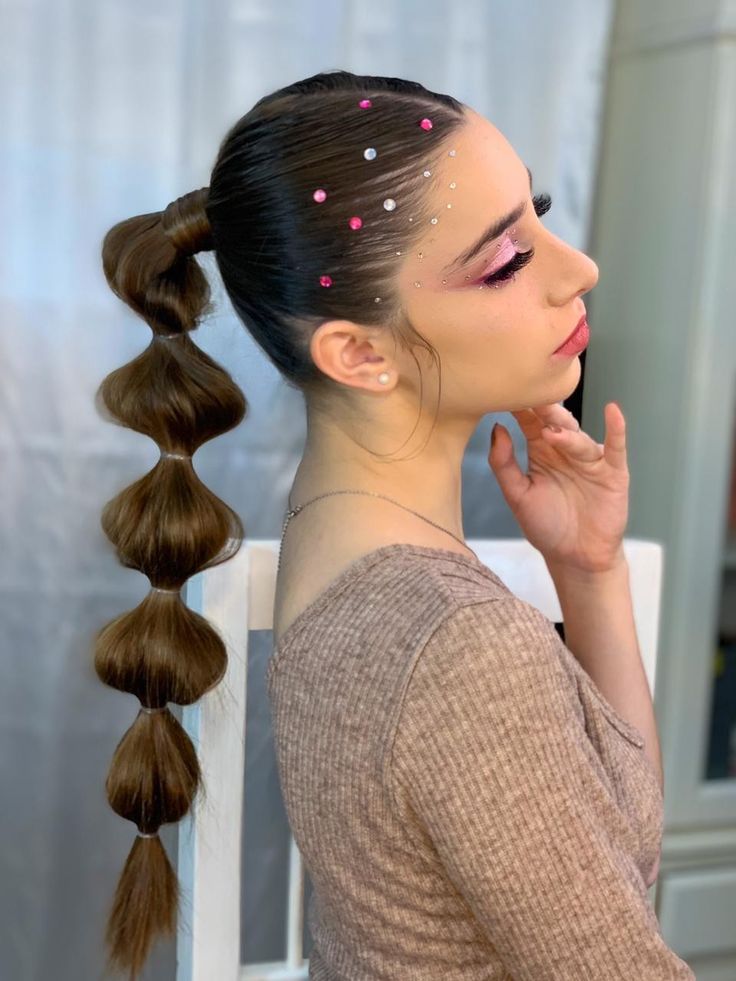 Bold and Beautiful for the Fashion-Forward
Embracing the bubble hairstyle with a bold approach can lead to a stunning result, as seen in this image. A series of well-defined bubbles, accessorized with statement pieces, makes this look suitable for a fashion-forward event or a bold social statement. It's a style that beckons the onlooker's gaze and holds it with its unique allure.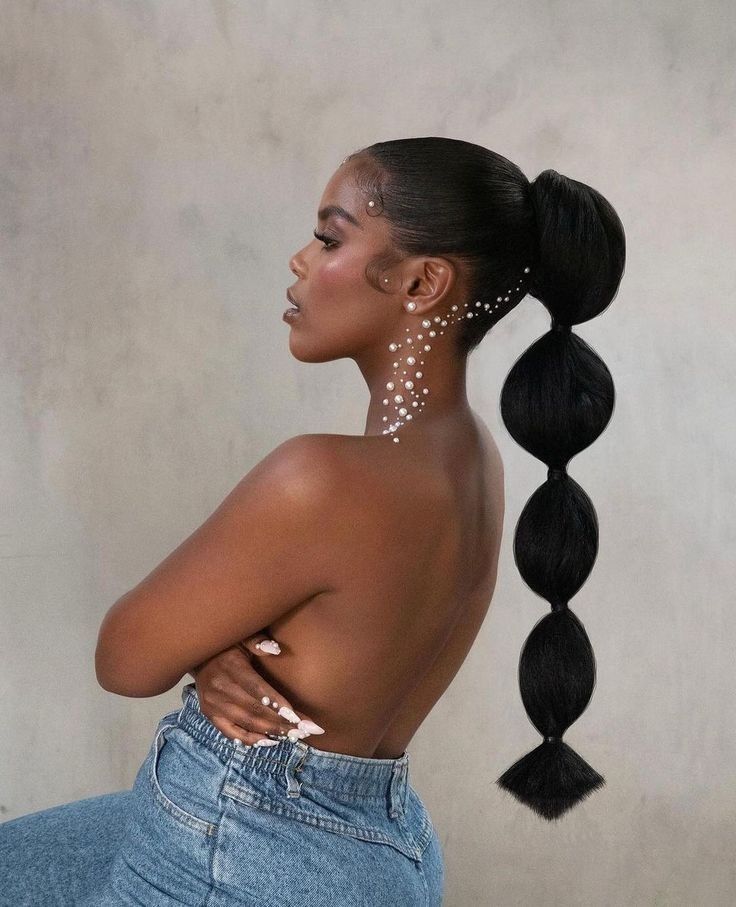 Sporty and Spirited for the Active Soul
For the active woman, whether she's into volleyball, softball, or just enjoys a good workout, this style proves that the bubble hairstyle can be both functional and fashionable. It keeps the hair away from the face while also allowing for a spirited expression of personal style.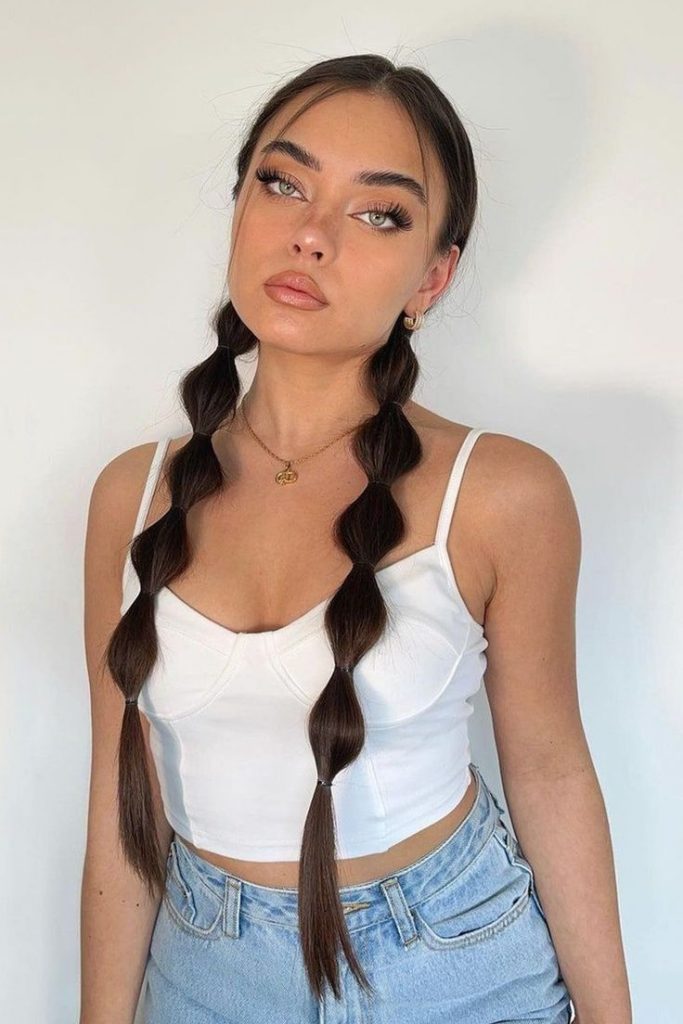 Youthful and Vibrant for All Ages
No age limit applies to enjoying the bubble hairstyle, and this look is a testament to that. It's a vibrant and youthful style that brings out the fun-loving personality in anyone. With the right tutorial, it's an easy look to achieve, making it a go-to for those spontaneous outings.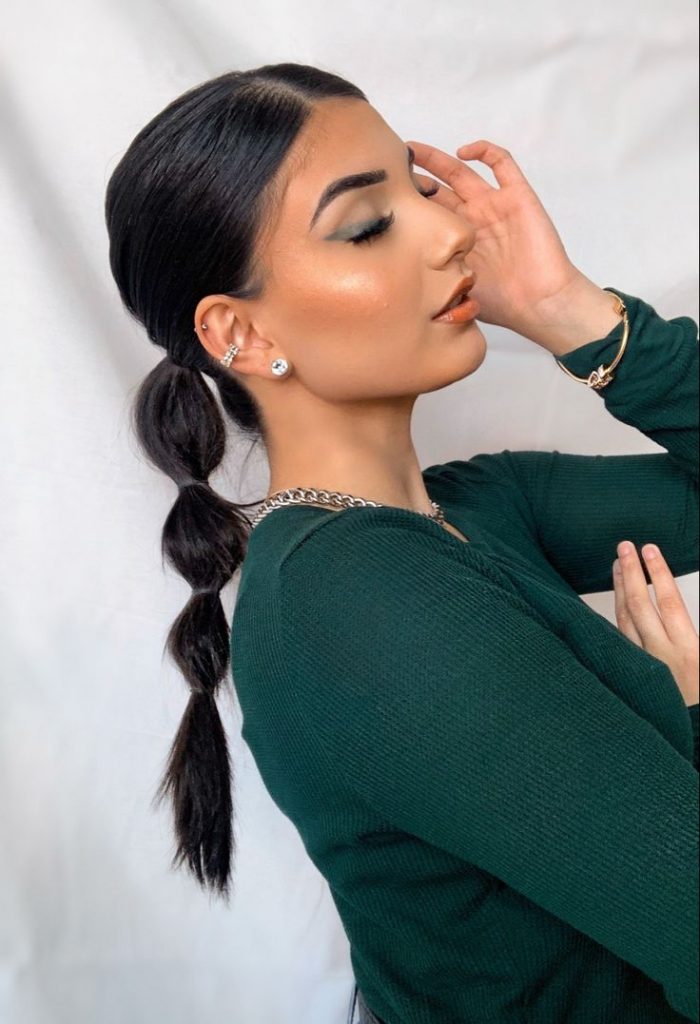 Sophisticated and Sleek for the Professional
Finally, we have a bubble hairstyle that's been refined for the professional realm. It's a sleek look with bubbles that add just the right amount of playfulness to a serious outfit. This style can complement a business suit or a formal dress, proving that the bubble hairstyle can be as adaptable as it is enchanting.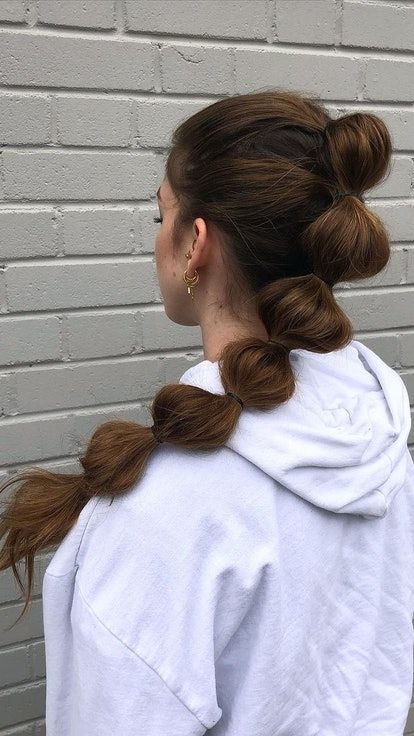 Youthful Pigtails with a Modern Twist
Here we have a fresh take on the classic pigtails. Segmented into beautiful bubbles, these double pigtails are not just for kids; they're a youthful yet modern choice for anyone looking to add a bit of fun to their look. With the added contrast of colour, it's perfect for those with curly hair or those looking to buy into the trend without a high cost.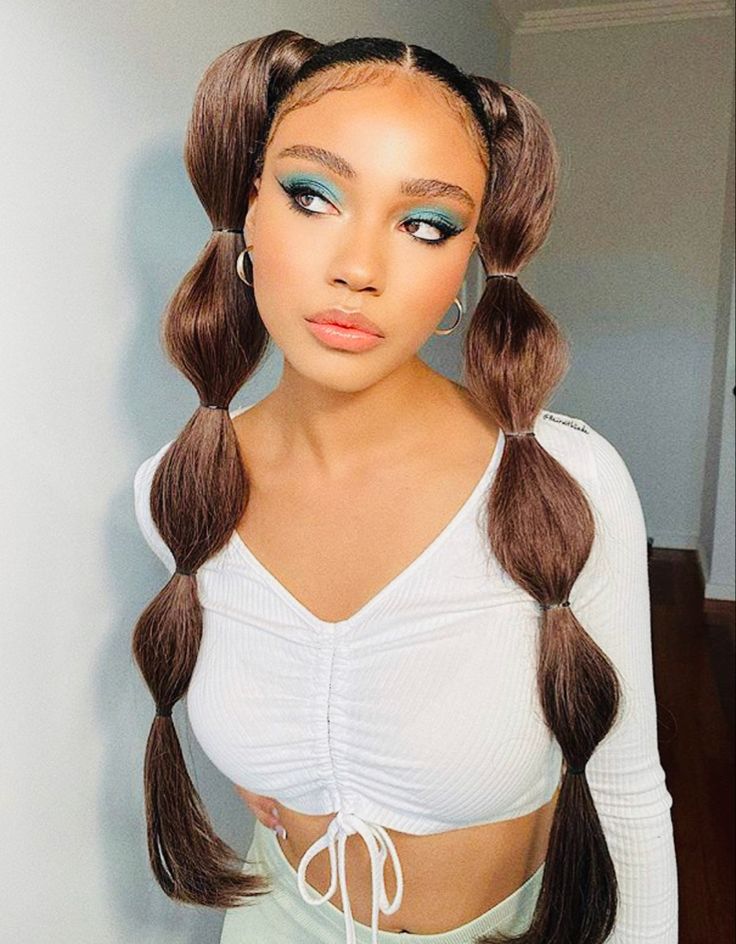 Pearlescent Elegance
Elevating the bubble hairstyle with luxurious pearls gives an air of elegance that can transition from daytime grace to evening glamour. This hairstyle reflects sophistication, perfect for those who want to order their look to suit a special occasion without compromising on the fun of the bubble style.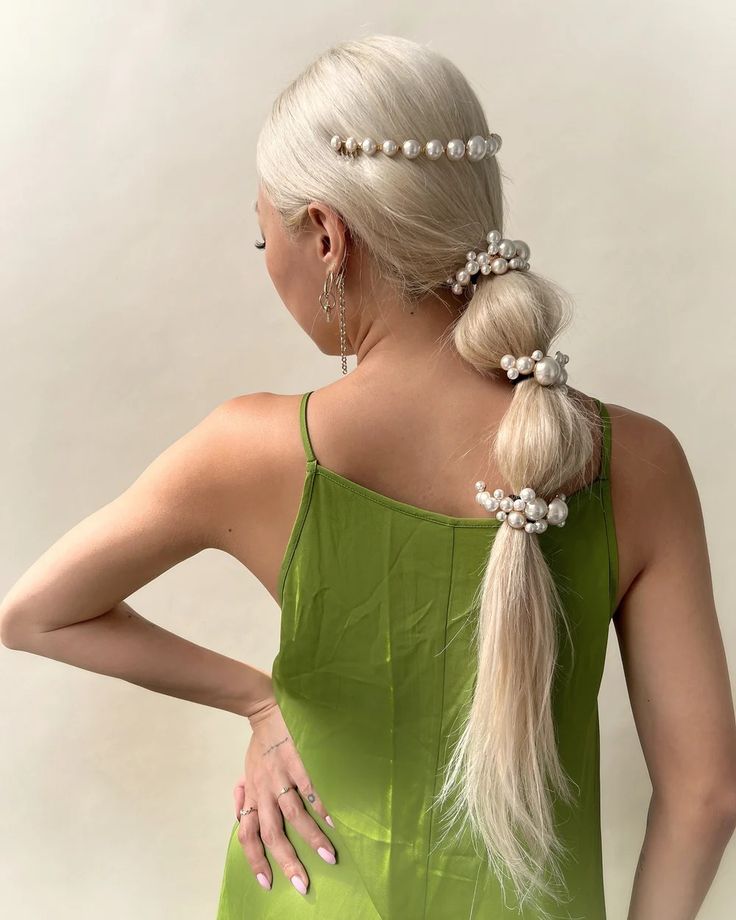 Bohemian Rhapsody
This style is a bohemian dream, with bubbles cascading down in a relaxed yet intricate manner. It's a versatile look that can be dressed up or down, showing the adaptability of the bubble hairstyle for natural hair, medium hair, or long hair.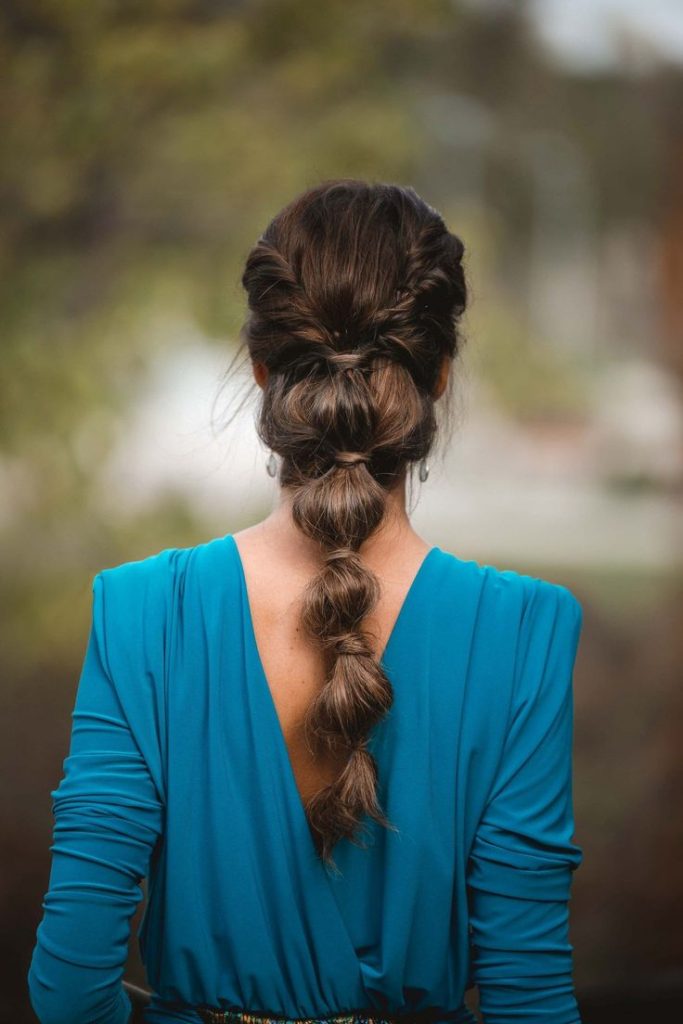 Sleek and Chic
For the minimalist, this sleek bubble ponytail is a perfect blend of simplicity and style. It's an easy and softball-proof hairstyle, ideal for the active woman who also appreciates a sleek aesthetic. It's a look that says less is more, and the tutorial on how to achieve this could be a hit.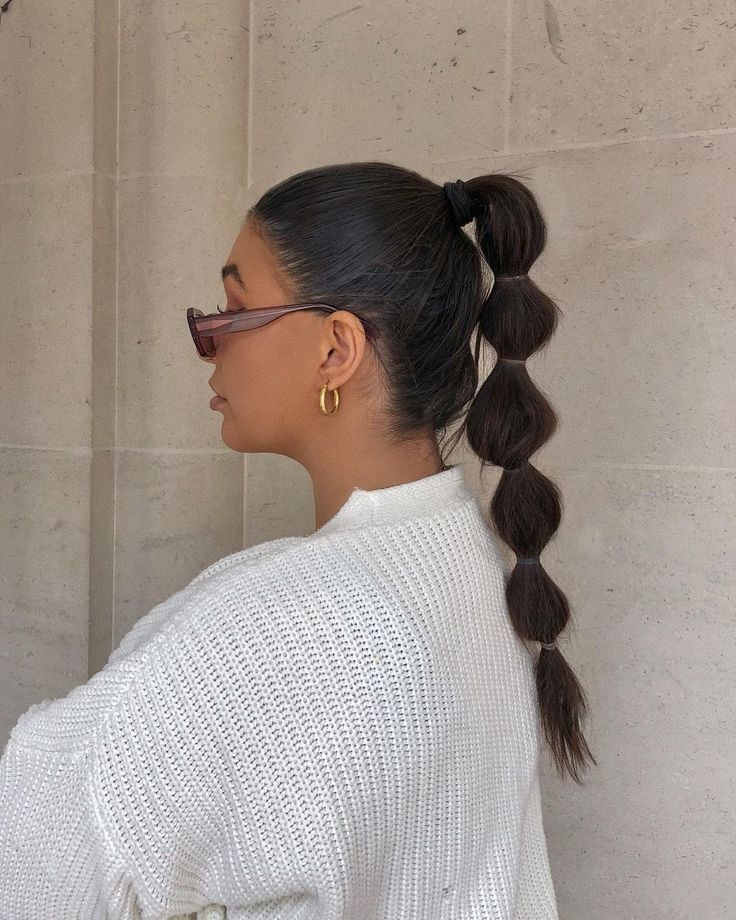 Bold and Structured
A more structured bubble ponytail with defined sections is a bold statement. This style could be a favourite among those who love a more geometric approach to their hair. It's a style that can hold its own, whether you're in a business meeting or at a volleyball game.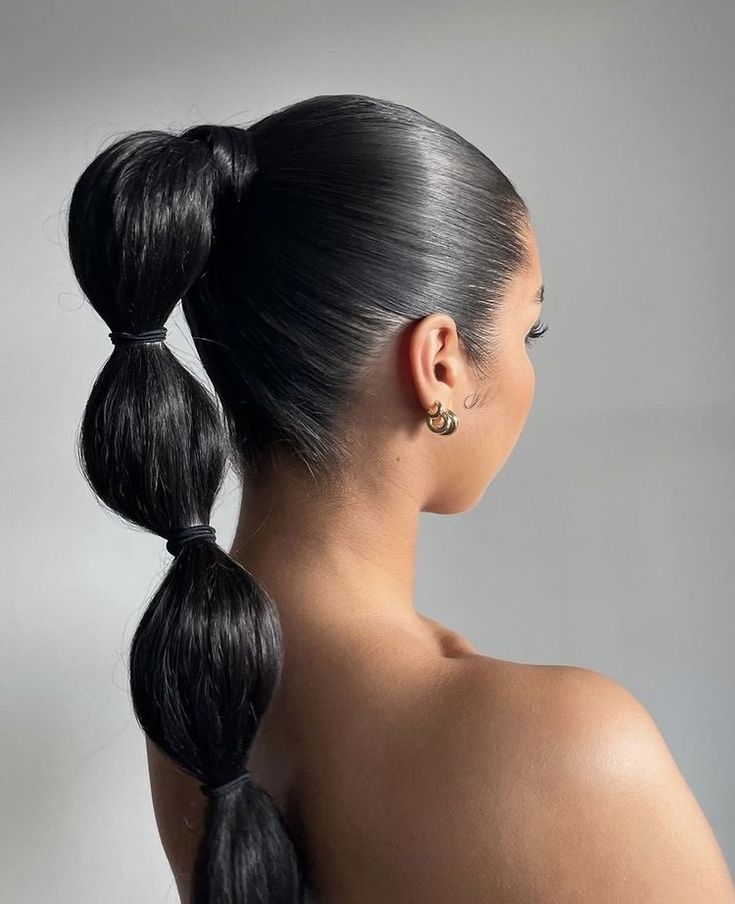 Casual Elegance
Casual doesn't have to be plain, and this bubble ponytail proves just that. Perfect for a brunch date or a casual Friday at the office, this style is both easy to make and effortlessly stylish.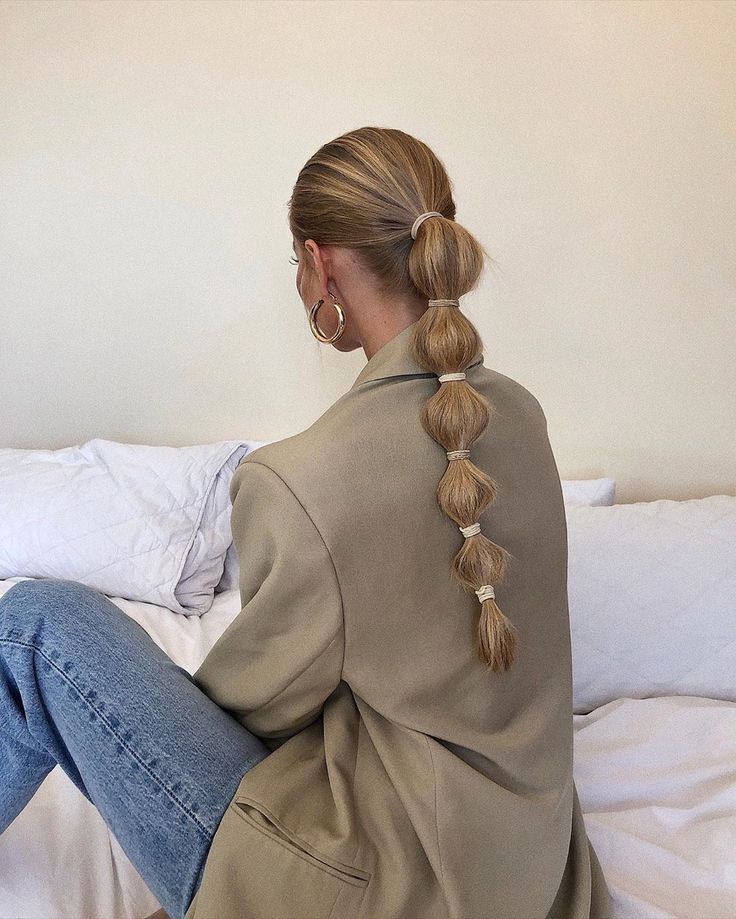 Back to Black Elegance
Here's a look that's as timeless as it is contemporary. The deep hue of the hair accentuates each bubble, making it a stunning choice for those with natural hair looking to add a touch of drama to their style.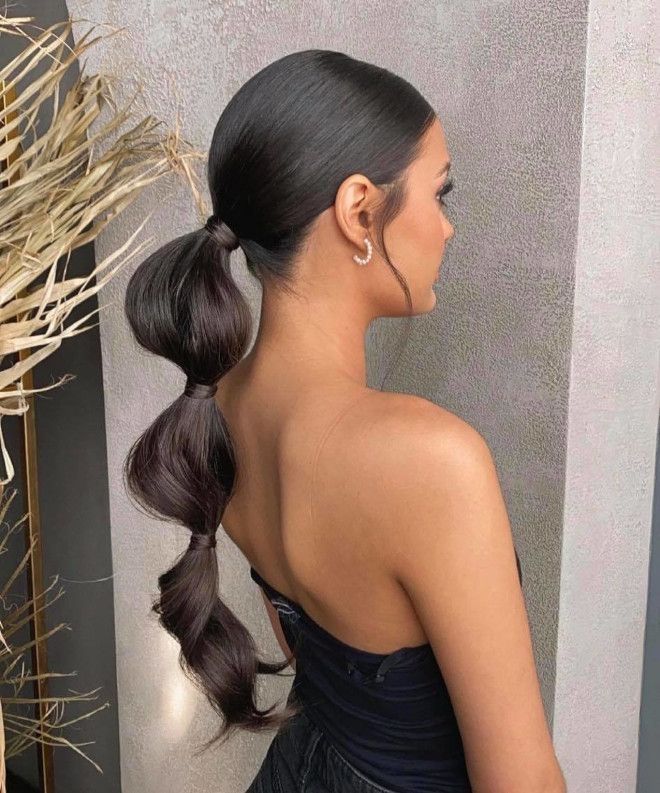 Sophisticated Simplicity
Last but not least, this bubble hairstyle is understated sophistication at its best. It's the perfect example of how a simple idea, executed well, can create a look of pure elegance. Ideal for short to medium hair, this could be the next cute hit for those looking for easy, chic hairstyles.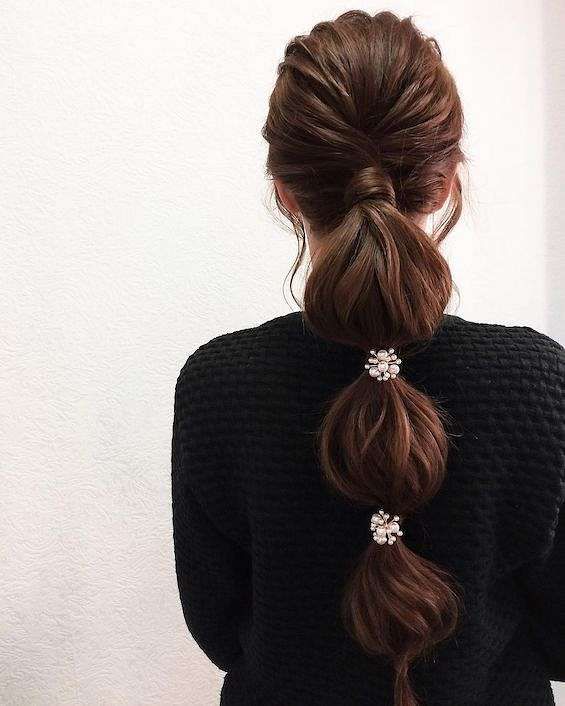 Conclusion:
As we conclude our foray into the bubble hairstyle 2024 trends, it's evident that this playful style has evolved to suit a variety of tastes and occasions. From the laid-back bohemian to the sophisticated minimalist, there's a bubble hairstyle out there for every woman looking to infuse her look with a touch of whimsy. Whether you're seeking a new everyday style or a special occasion 'do, the bubble hairstyle is a versatile and fun option to explore. So why not give it a try? Share your thoughts or your own bubble hairstyle experiments in the comments below – we'd love to hear from you!
Save Pin